THE FRONT ROW rotation has worked for Munster this season, and while their scrum hasn't been a destructive weapon, it's given them a platform and clean ball for a lot of the season.
Their biggest strength is undoubtedly their loosehead options, with Dave Kilcoyne and James Cronin both in with a shout of a World Cup spot, while John Ryan has shown a lot of consistency, especially when he was thrown into the starting line-up away to Clermont in December.
However, for this weekend's Guinness Pro12 final against Glasgow, their performers at tighthead could prove key.
Glasgow's Ryan Grant struggled at times to deal with Ulster's Ricky Lutton, conceding two penalties and getting driven back, as Ulster turned over possession in a third scrum.
In the first instance, Grant completely caves in under the straight drive of Lutton to hand a penalty to Ulster midway through the first half.
It's difficult to see conclusively, but you can just about pinpoint the body of Grant in the still frame below. Watch how his body position is perpendicular to the Ulster drive, showing how he turned and drove inside to try stop Ulster moving forward.
Grant concedes another scrum penalty just five minutes later, failing to take the hit from Lutton, and dropping both his bind and his legs, leaving George Clancy no option but to penalise him.
You can see below that Grant has got his technique all wrong, with his feet directly below his body, resulting in him dropping.
In contrast, you can see how Lutton has his body perfectly positioned, with a 90 degree angle at his hips, and around a 120 degree bend at the knees.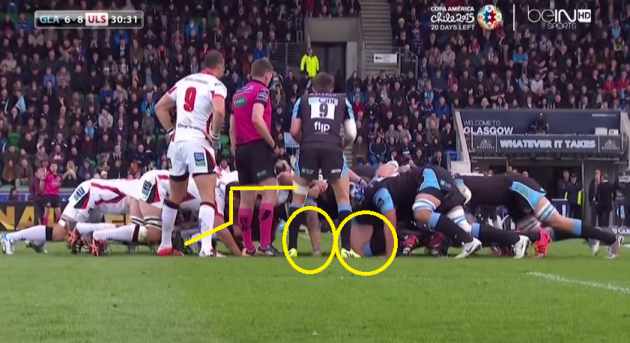 Stephen Archer displayed a similar body position in the lead up to Munster's first try against the Ospreys on Saturday.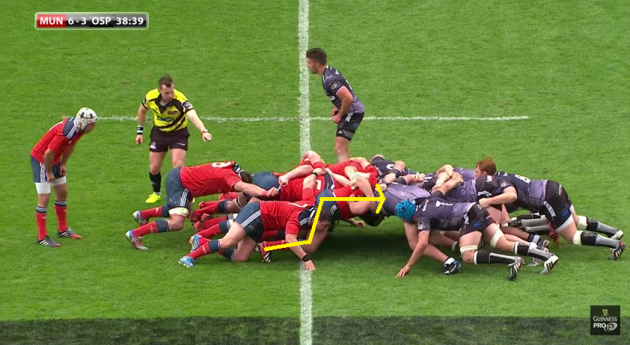 Archer managed to get a nudge forward on his side to open pitch out for Munster to attack, and they would have had even more space had Justin Tipuric not illegally detached from the scrum before the ball had left.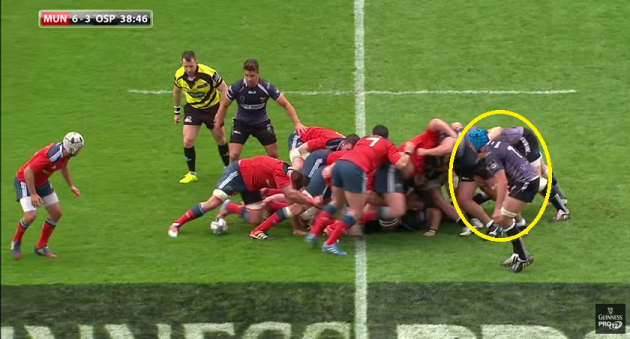 Glasgow were struggling at loosehead in the opening half last week, and they a hook against the head when Grant was driven back yet again from Lutton.
Watch the position of the packs just as the ball is about to be fed.
And now watch how far Ulster drive forward on the put in.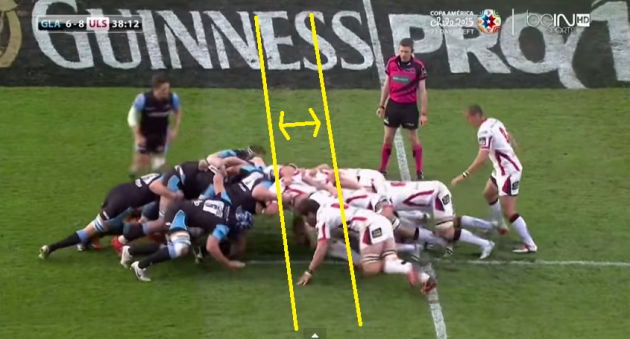 Grant was replaced by Gordon Reid early in the second half, and the replacement had a much cleaner performance at scrum time, keeping his side stable.
We can see the angles on his first scrum, and note how the body positions of him and Lutton are almost symmetrical. This should be the case for most scrums, but unfortunately we don't see it often enough.
It won't win you many penalties, but if you can maintain that position, you'll provide regular, clean ball to your backline on your own feed.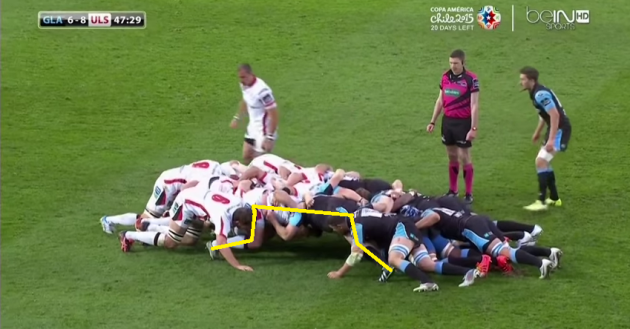 Whether Grant or Reid starts this Saturday evening, Munster must be prepared to counter a crooked drive from the loosehead pair. It was something they ran into against the Ospreys, and was handled well by Archer.
Despite the Ospreys scoring directly from it, this second-half scrum was a good example of how to deal with a crooked drive.
As we can see below, the Ospreys' Nicky Smith has angled in dramatically on Archer, but the tight-head is holding his position, rather than attack.
In this situation, the further Archer tries to drive forward, the more he will be driven in, and the more crooked his body becomes. Instead, he maintains his position, and in turn keeps the scrum stable.
In the end, the Ospreys turned over the ball to score a try, but it was a result of a breakdown in communication between CJ Stander and Duncan Williams, rather than a malfunction of the scrum.
BJ Botha replaced Archer in the second half, and also had to deal with the crooked drives coming from his opponent.
However, Botha attacked too much, and as a result popped up.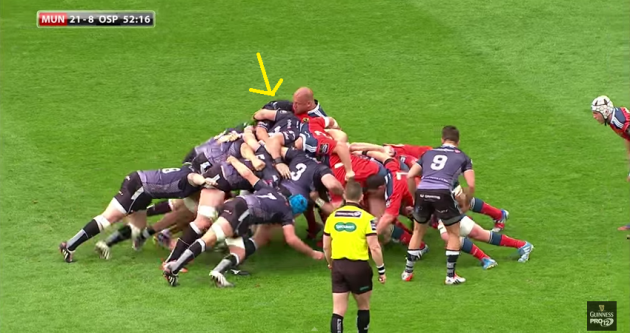 Munster will be hoping that Nigel Owens spots that infringement more than he did on Saturday. If he doesn't, it's vital they remain as patient as Archer was in that earlier scrum, to give themselves an attacking platform in the game.