DAVID WALLACE CAN'T quite believe it has been that long. 
'Has it been 15 years already?' Wallace asks.
"I didn't see that coming. When I heard it was 15 years I thought there must have been some mistake but there it is." 
True, it will probably make a lot of us feel old, but the season where Munster made their first ever Heineken Cup final was just about 15 years ago now. To mark the start of the European Champions Cup, TheScore.ie caught up with three Munster legends, David Wallace, Mick Galwey and Alan Quinlan, to get their memories of the campaign that started Munster's love affair with European rugby.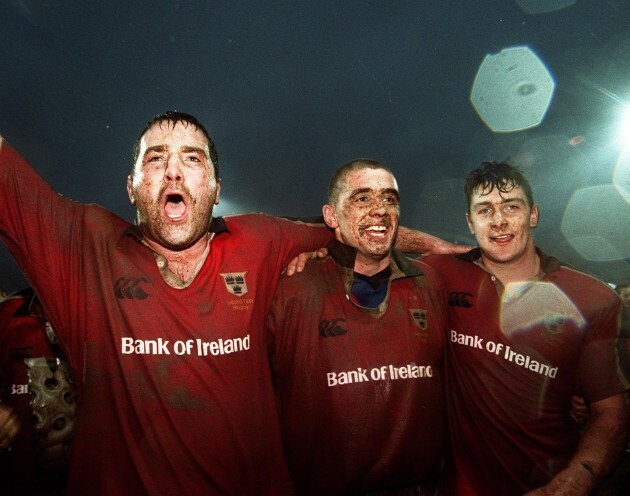 Lorraine O'Sullivan / INPHO Foley, Quinlan and Wallace - not a bad back row, is it? Lorraine O'Sullivan / INPHO / INPHO
The Prologue
The World Cup had taken place in the autumn of 1999 and the inter-pro series was also finished before the Heineken Cup started. Munster had romped through the inter-pros, beating all three provinces home and away. Despite that, not everyone was bullish on their European chances…..
Mick Galwey: It was an unusual start to the season because the World Cup was on that year. Munster didn't have much of a representation in the squad so we had most of our players still together. We had started the season well because the inter-pro series was before the Heineken Cup and we had won that.
David Wallace: We had won all of our inter-pro games and had beaten an Ireland XV in Thomond Park too. We were coming into Europe on a roll of wins and had won some of those games very well.
MG: John Langford had just come in and he had great experience from the Australia set-up. Keith Wood was back for the year too.
Alan Quinlan: Keith Wood, Mick Galwey, John Langford and Peter Clohessy were all phenomenal leaders in the squad.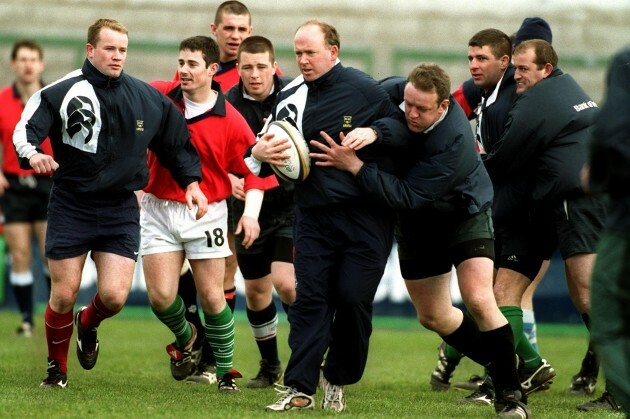 Andrew Paton / INPHO Munster's squad going into 1999/00 had a nice blend of youth and experience. Andrew Paton / INPHO / INPHO
MG: Ronan O'Gara and Peter Stringer came out of nowhere. We had a great influx of young players coming in to add to what we already had.
DW: We had a good team and we had ROG who was able to kick us into every corner and control the game well. We were a good side but we didn't take professionalism as seriously as they did in England until Fergal O'Callaghan came in as our fitness coach. Our fitness levels took a big jump then.
MG: I knew immediately that the young players were exceptional, talented and that they had something special. People always say that young players learn a lot from old players when they come into a team, but the older players learned a lot from them too.
DW: I think we benefited from their guile and experience and they might have benefited a bit from our attitude to professionalism.
MG: In one meeting we were going around the group setting goals for the upcoming season and the majority of us were saying that we just wanted to make sure we won all our home games. It got to Keith Wood, and I will always remember this, he said 'We will win the Heineken Cup'.
AQ: I certainly had no feeling of winning the tournament or making a final. The ambition I had was to get out of our group.
DW: We sort of scoffed at it because we were very far away from that at the time.
AQ: I had no huge expectations coming into the season.
MG: Nobody had been brave enough to say that before. I'm not saying that Keith was braver than us but nobody had said something like that before. We were making strides, and we knew we had to start winning away from home to progress.
The away scalp
Munster started their pool strongly, beating Pontypridd 32-10 in Thomond Park. Then came their first big test: Saracens away at Vicarage Road .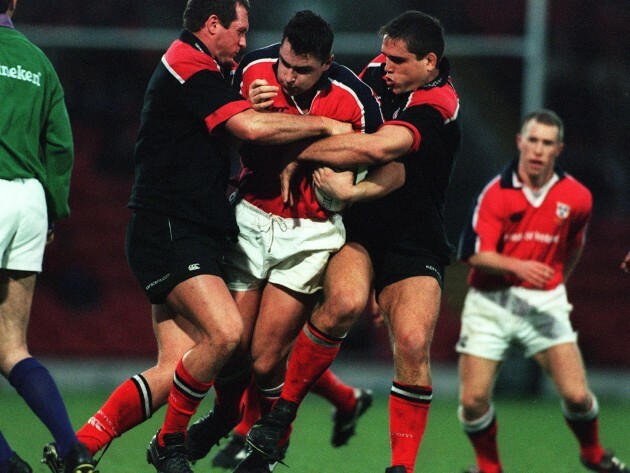 Andrew Paton / INPHO David Wallace was up against Richard Hill and Tony Diprose at Vicarage Road. Andrew Paton / INPHO / INPHO
MG: They were a phenomenal side. You only had to look through their line-up: Tony Diprose, Francois Pienaar, Richard Hill, Danny Grewcock, Thierry Lacroix. They were excellent.
AQ: We were a bunch of unknowns mostly and they were a star-studded side. Francois Pienaar was coming to the end of his career but I had actually just started reading his book at the time so that was a bit strange.  Tony Diprose and Richard Hill were in the prime of their careers. I was pretty nervous and I didn't expect to get a result if I'm honest.
Saracens raced out to a huge lead in the first half after two early tries and still lead comfortably at half-time.
David Llewellyn (Independent journalist) : Saracens were playing like demons at that point, scrapping for everything, and maybe Munster's energies were focused only on the scrapping.
AQ: We were twenty points down at one stage but we fought back really well and Jeremy Staunton scored a very late try for us to snatch it.
Munster roared back to pip Saracens 35-34 in Vicarage Road after tries from Killian Keane, Mike Mullins, Anthony Foley and Jeremy Staunton.
Francois Pienaar (speaking in the Independent): There was one team that came out to play in the second half, and one that stayed in the dressing-room. We were the team in the dressing- room.
DW: Beating Saracens away was a big watershed for us and we actually were big news at home. You would fly home and hear that there were 4,000 people queueing outside Thomond Park for tickets.
MG: We always had our loyal supporters before that, but that was mostly made up of family and friends.
DW: There was a bit of a groundswell of support and some hysteria then and we knew we were doing something right.
The Kidney Factor
It was during this season that Declan Kidney's attention to detail first came to the fore in the Munster set-up. Saracens' Vicarage Road ground was known for its blaring music so Kidney came up with ways to prepare his players. More than that though, he got them believing that they could go all the way.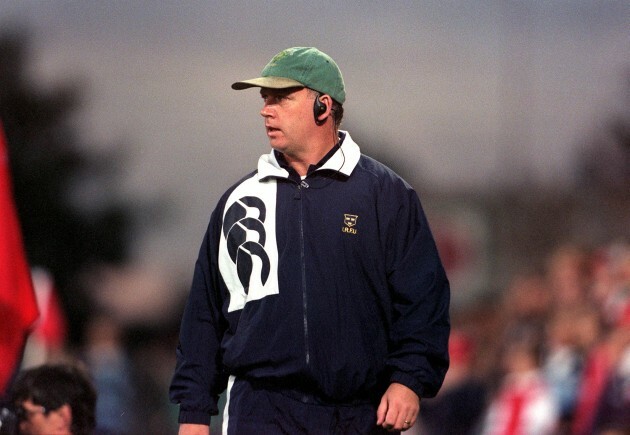 Tom Honan / INPHO Kidney always knew how to get the Munster players mentally ready. Tom Honan / INPHO / INPHO
AQ: I remember Declan had first came in during 1997 and said that we would win the Heineken Cup. Nobody believed him.
MG: He had a great way of getting us to peak at the right time.
DW: He would always be doing little things to get you ready, like producing newspaper clips to fire you up.
MG: Every little thing was taken care of.
DW: Before the Saracens away game we were training in Thomond Park and he had music blaring over the tannoy to get us ready for their ground because they used to have loud music after scores. Then he was driving a remote control car around a team meeting because that is how Saracens would bring out the tee.
AQ: He was great at recreating the stuff we would deal with by using those little distractions.
DW: I actually think he might have had an air horn as well that he used to blow in the team meetings so we be used to the noise of the crowd and the ground.
MG: It was all about attention to detail with him. If you were training on Thursday, to leave on Friday and to play on Saturday, he would have every single thing planned out for you.
Saracens Part Two
After beating Colomiers 31-15 in France and 23-5 in Thomond Park, Saracens came to Limerick. It would be the first of many English sides to come to the famous ground, and get hit by the passion from the stand as well as from the players.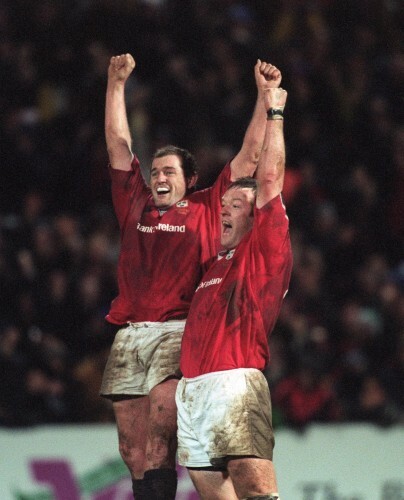 Patrick Bolger / INPHO Mick Galwey and Peter Clohessy celebrate Ronan O'Gara's winning conversion against Saracens. Patrick Bolger / INPHO / INPHO
AQ: It was one of the first times a big English team had come over and the atmosphere was unreal.
DW: The Thomond Park capacity was 13,000 but there must have been at least 21,000 in the ground.
AQ:  There were people climbing over walls to get in.
DW: There was fog and mist around the ground that added to the occasion. I think that day Thomond Park turned into the intense cauldron that it is today.
AQ: The odyssey with the fans started after that Saracens game and after that it became the norm. It was a good journey.
Once again, Munster were on the ropes late on, trailing 24-30 with time running out. But the Munster spirit showed up again.
DW: I remember we were behind but kept going phase after phase. Pick and drive. Pick and drive. Pick and drive. Eventually we had a lineout and Keith Wood went over and then ROG nailed the conversion off the post if I remember correctly.
Conor Ryan / YouTube
AQ: One of my best rugby memories was Keith Wood's try. The noise from the ground and the sense of pride I felt was unreal. I often think about that moment.
The knockout stages
Despite losing their final pool game 38-36 to Pontypridd, Munster hosted their quarter-final clash with Stade Francais at Thomond Park, which they won 27-10. After that, it was on to Bordeaux to face Toulouse with a place in the final at stake.
Patrick Bolger / INPHO Jason Holland scores the decisive try in Bordeaux. Patrick Bolger / INPHO / INPHO
AQ: The Stade game was brilliant but we didn't feel any pressure. There was no mention of 'this is the first ever Heineken Cup knockout game in Thomond Park'. We just saw it as a huge opportunity. We won a lot easier than I thought we would actually.
DW: I remember watching Toulouse vs Munster on television in Donnybrook after an A match in 1996 and they hammered us. I vividly recall us losing 60-19. But even when we got drawn to play them away there was no big panic. We backed ourselves.
AQ: I was apprehensive and nervous. I realised how difficult a task it was. Even if we went out and got hammered, it still would have been a successful season from my point of view.
DW: It was a fantastic day and the atmosphere was great. There was apparently 3,000 Munster fans there but there have to have been more.
MG: It was that day in Bordeaux when I think the Munster army started really getting up and running.
DW: It was the middle of May and it was absolutely beautiful in France that day. A great day for rugby.
MG: The heat was something we would have never played in before but again, Declan [Kidney] had something ready for us. He had ice bathes ready in the changing room for us after the warm-up. And he got us to warm-up in front of the French fans to get us ready for the intense atmosphere.
Whatever Declan Kidney and the players did, it worked because Munster produced one of their best ever performances to beat Toulouse 31-25 after tries (shown below, in order) from John Hayes, Ronan O'Gara and Jason Holland.
Mildy Mac / YouTube
Mildy Mac / YouTube
Mildy Mac / YouTube
DW: I remember talking to my brother in the airport after the game and he was like 'O my God, you just beat Toulouse away in a Heineken Cup semi-final' but I wasn't shocked or surprised.
AQ:  I'd be lying if I said I thought we would win.
The Final
They lost another final in 2002 and then finally won two after that, but the pain of losing 9-8 to Northampton at Twickenham in the 2000 Heineken Cup final is still raw for the players. David Wallace scored a try that day – the first by a forward in a Heineken Cup final – but some missed kicks by Ronan O'Gara allowed Northampton to eke out a win.
Patrick Bolger / INPHO The slimmest of margins separated the sides. Patrick Bolger / INPHO / INPHO
DW: Before the final we had a meeting – not just for the starting team but the whole squad – and there must have been about 40 people there. But it was a very emotional meeting and everyone said how much a win would mean to them and some people were crying. Maybe we got a bit too overawed by the occasion.
AQ: We were a bit deflated on the day and maybe we were a bit overwhelmed by the occasion. We had played so much better in the semi-final and I think Northampton just edged us on the day with some extra sharpness.
Patrick Bolger / INPHO The Munster players knew they let an opportunity slip. Patrick Bolger / INPHO / INPHO
DW: Sometimes I wish I didn't score the try because maybe I got complacent afterwards. Maybe I thought my job was done and didn't give it as much, I don't know.
MG: I'll always think we should have done better in that final. Northampton were an excellent side but we didn't do ourselves justice.
DW: There is no question that we didn't play anywhere near the standard that we had been playing to. Of all the games I ever played, that is one I would love to play again.