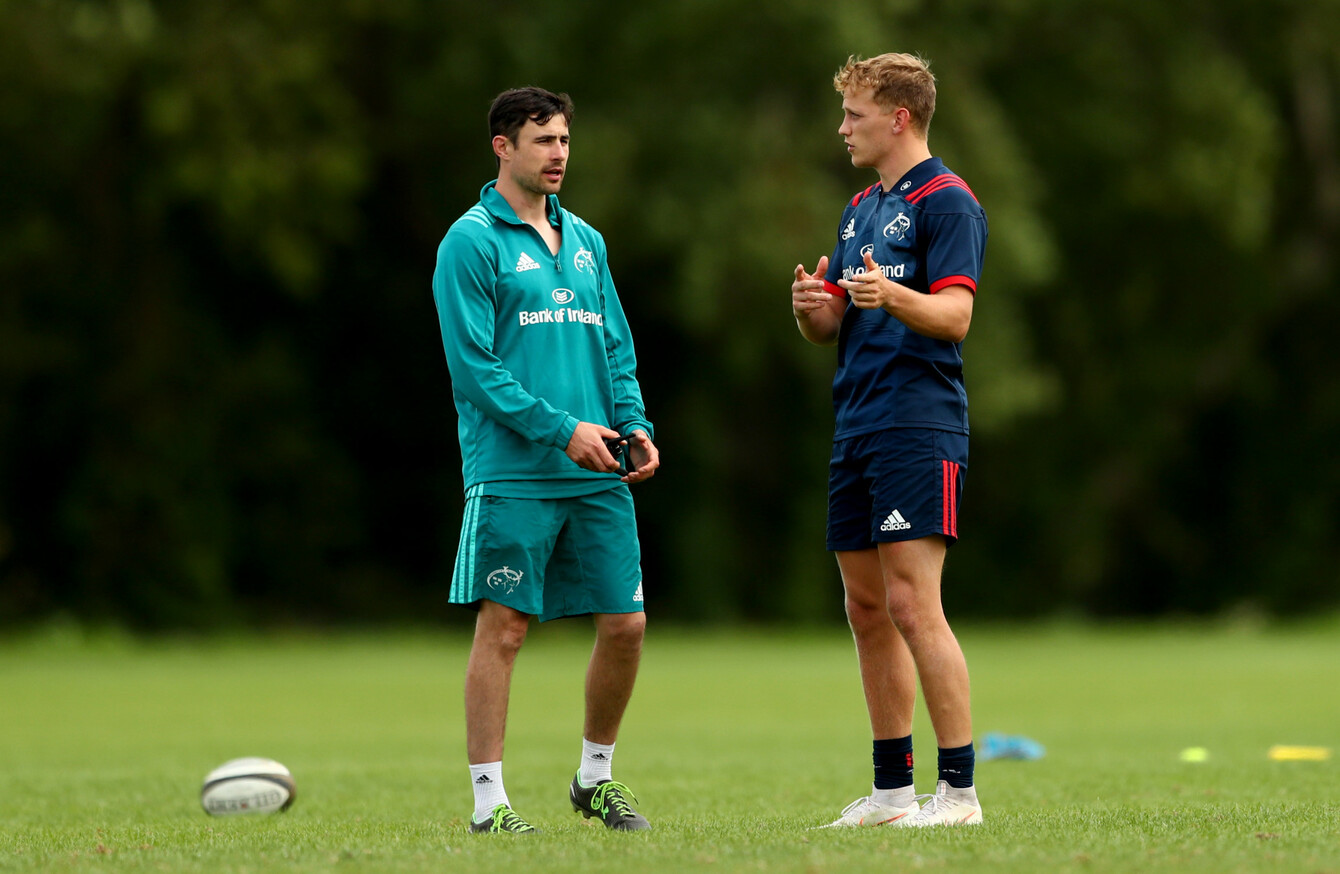 Felix Jones speaks with new signing Mike Haley during squad training at UL on Monday.
Image: James Crombie/INPHO
Felix Jones speaks with new signing Mike Haley during squad training at UL on Monday.
Image: James Crombie/INPHO
Updated Aug 14th 2018, 8:57 AM
A NEW SEASON will naturally engender renewed levels of optimism, but the pain of two semi-final defeats still runs deep around Munster's high performance centre in Limerick, as the province gear up for their return to action this Friday.
Johann van Graan's first season in charge of the southern province ended in bitter disappointment at the RDS last May, as Munster suffered an agonising one-point defeat to Leinster in the Pro14 semi-final, a fortnight after being blown away by Racing 92 in the last four of the Champions Cup.
Captain Peter O'Mahony said he 'was tired of losing lessons' after Munster suffered a sixth defeat in six European semi-final ties, while they have now also lost three Pro14 semi-finals and two finals since last lifting the trophy in 2011.
It left van Graan, the players and his coaching staff with plenty to think about over the summer months, and while the South African says he enjoyed his break which included a trip home and a holiday in Europe, he has been searching hard for the final piece of the jigsaw which will see Munster become winners again.
In a bid to find the elusive 1% which he believes will help his side bridge the gap and end a seven-year trophy drought, van Graan sent forwards coach Jerry Flannery and attack coach Felix Jones to New Zealand, where they spent time with Super Rugby champions Crusaders and Hurricanes respectively.
Flannery linked up with former team-mate Ronan O'Gara in Christchurch while former Munster centre Jason Holland is on the coaching staff at the Hurricanes and hosted Jones for a period.
"Some of the coaches went to New Zealand, some went to South Africa, some of them went to Europe," Van Graan explained.
"We covered a lot of different areas. We didn't just focus on-field, we focussed on off-field; diet, sleep, recovery because the small margins are pretty important in this game.
"We won a [Champions Cup v Toulon] quarter-final by one-point and lost a semi-final by one point. I believe I've said it before, one point is the biggest and smallest margin in the world and we're really looking for the 1%. We tried to learn from the best all over the world, not only in rugby but in other sporting codes because I believe you can always learn from the best.
"I took my time away from the game and read a lot and thought a lot about the game.
"Once we got back it was a fresh start, we focused on the process and one of the main things that we identified was in order to improve the team you need to improve the individual. Like I said, off field first, and that semi-final against Leinster some of the passing probably wasn't up to standard.
"There is a few areas in the game that we identified that we really had a good look at and tried to improve it and hopefully it will come through in the games."
Van Graan has worked with a core group of around 30 players over the course of the seven-week pre-season block, and says he has been "looking to redefine our processes and our game this summer" ahead of their Pro14 campaign opener against Cheetahs at Thomond Park on 1 September.
One of the key areas, he says, has been on developing and fine-tuning individual skill sets, including the catch and pass and individual breakdown detail, with Friday's friendly against London Irish providing the perfect opportunity for players to execute those skills in a match situation.
"It's early days, that's why it's pre-season friendlies, we're going to give a lot of guys opportunities, try different things, try one or two new combinations and once we get to the league phase we'll start at zero again," he continued.
"I believe 90% of what rugby teams do are the same. You have got a scrum and there is a lineout, there is kick-offs, there is a kicking game, you have got attack and defence.
"I think the biggest difference between teams is where on the field they do what. I think we sometimes get seen as very conservative in our own half. Possibly we can look to exploit that part of the game.
"Also it depends on what defence you face: if you face a rush defence in your own half it is very difficult to play around that. Like I said we did our research in terms of where we want to go, with the players we have signed I believe it is five very exciting players that can add a lot to the attacking side of the game, but also if you looked at the European final, defence wins you trophies. I think having balance in our game – like I said an all-round game and that's what we're trying to develop."
The42 is on Instagram! Tap the button below on your phone to follow us!