THEY ARE A Cork club getting set to play in a Munster football final next Sunday and yet their location breeds a high level of familiarity with Kerry, the county of their opponents.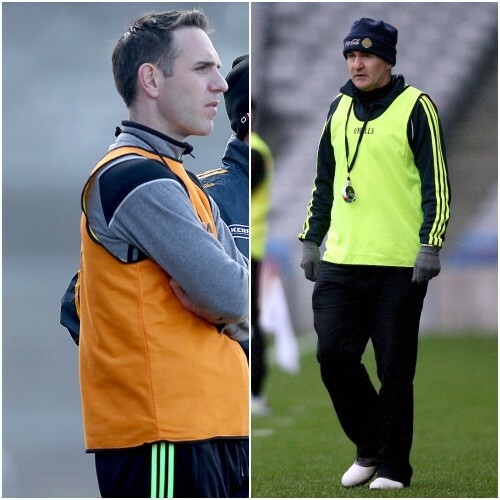 INPHO Declan O'Sullivan and John Fintan Daly will be in opposition next Sunday. INPHO
It's the curious backdrop for Knocknagree, a small junior club based hard on the border that splits the Cork and Kerry football heartlands.
They are applying the finishing touches this week to their preparations for a meeting with South Kerry's Dromid Pearses in the last Munster club football final of the 2017 season.
It's an odd scenario that a club who have always been exposed to the rhythms of Kerry football are getting set for a first adult championship match against a club from the Kingdom.
The explanation lies in the geography. Here's the lesson. Knocknagree are situated in the Kerry parish of Rathmore, one of three football clubs there that ply their trade. They are affiliated to Cork, the other two – Rathmore and Gneeveguilla – are represented in Kerry.
"We are a bit unique," admits John Fintan Daly, who juggles the managerial and coaching roles for Knocknagree.
"Of the 260 odd GAA clubs in Cork, I believe we're the only club in Cork that is in the parish of another county. We're in the parish of Rathmore, our sister clubs would be Rathmore and Gneeveguilla.
"Because we're in the parish of Rathmore, we wouldn't have any issue with playing teams from Kerry. As recently as the start of this year, we'd a great start to the season, we won the Páidí Ó Sé tournament playing against Kerry teams. So we wouldn't have that issue.
"The biggest influence on our football to be fair would be from Kerry rather than a Cork influence. We play no hurling. We wouldn't know what to do with a hurley. We don't play any other games.
"We go to school in Rathmore. We socialise locally and in Killarney, which is our local town. Our parish is together, our churches are together. So as you can imagine we're very closely linked."
The intense rivalries that are common between adjacent clubs do not apply here. Knocknagree's neighbours act as some of their biggest supporters.
"Anybody will actually tell you we had massive support from Rathmore and Gneeveguilla in the county final and in a lot of games prior to that and indeed over the years. We don't get to play each other and we would support one another.
"And we would support them as well regularly back in Killarney in big games. That's nothing new. We are one parish after all.
"Gneeveguilla won a Munster intermediate in 2010. They beat Newcestown in a semi-final that year in a great match and all of Knocknagree was there supporting them."
That band of supporters will head towards Mallow on Sunday as part of an early December double-header that has carved a niche in the Munster calendar as it brings the curtain down on a season of games.
It's grassroots stuff with two junior finals drawing four clubs from Cork, Kerry, Tipperary and Waterford. For the bulk of the figures involved it is a rare day in the provincial spotlight but there are big names speckled amongst the protagonists.
In the hurling Brendan Cummins will be between the posts for Ballybacon-Grange against an Ardmore team that includes the Prendergast brothers, Declan and Seamus. In the football Knocknagree's opponents Dromid Pearses are managed by Declan O'Sullivan.
Sam Barnes / SPORTSFILE Brendan Cummins and Seamus Prendergast are in opposition on Sunday. Sam Barnes / SPORTSFILE / SPORTSFILE
Between them that quartet have amassed 20 Munster senior medals. Cummins and O'Sullivan have a combined total of seven All-Ireland senior titles and eight All-Star awards. With their feted inter-county careers behind them, the focus is trained on club matters.
In Daly's view giving all clubs the opportunity to succeed beyond their local arena has been one of the most progressive projects the GAA have embarked upon.
Five years ago he was the guiding hand at the tiller as Kerry's Miltown-Castlemaine lifted the All-Ireland intermediate football title.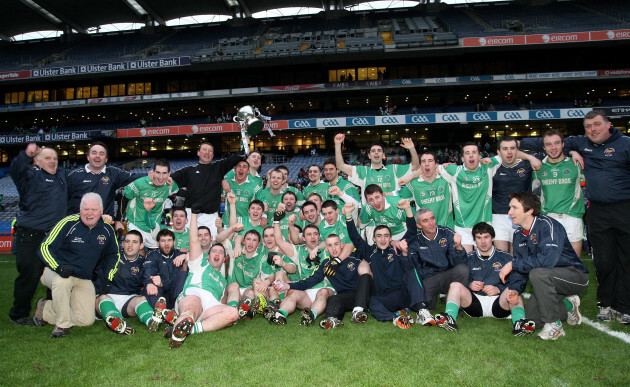 Ryan Byrne / INPHO The Milltown Castlemaine team celebrating their All-Ireland intermediate final win in 2012. Ryan Byrne / INPHO / INPHO
Kanturk has been his work base for several years and he saw the powerful effect a club campaign can have on a community when they recently became Munster intermediate hurling kingpins.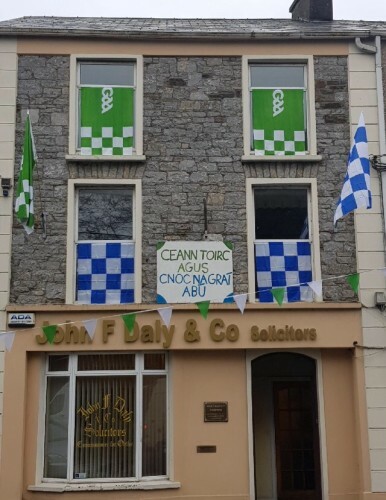 John Fintan Daly John Fintan Daly
"I've been fortunate to see before how great these competitions are. I think Sean Kelly deserves huge credit. A lot of people think of him when Croke Park was opened up to rugby and soccer but he also opened it up to junior and intermediate clubs which was a fantastic thing.
"Before that the majority of players could never dream of playing in Croke Park, ever since then they can. I know Sean and I don't think he ever got as much credit as he deserved for that.
"Even last Monday morning I was listening to RTÉ Radio and they had Sean Cavanagh on. He'd won an Ulster final with his club Moy the day before. It was just a brilliant interview as you could hear how it meant so much to him."
Back in 1994 Daly coached Cork to land the All-Ireland U21 football title. It was the springboard for senior careers for players like Brian Corcoran, Joe Kavanagh, Kevin O'Dwyer and Podsie O'Mahony.
Before that he cut his teeth with divisional outfit Duhallow, who draw their players from the north-west area of the county, as they claimed back-to-back senior titles in Cork in 1990 and 1991.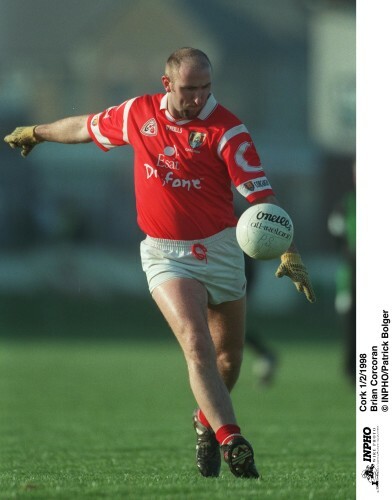 Patrick Bolger / INPHO Former Cork hurler and footballer Brian Corcoran. Patrick Bolger / INPHO / INPHO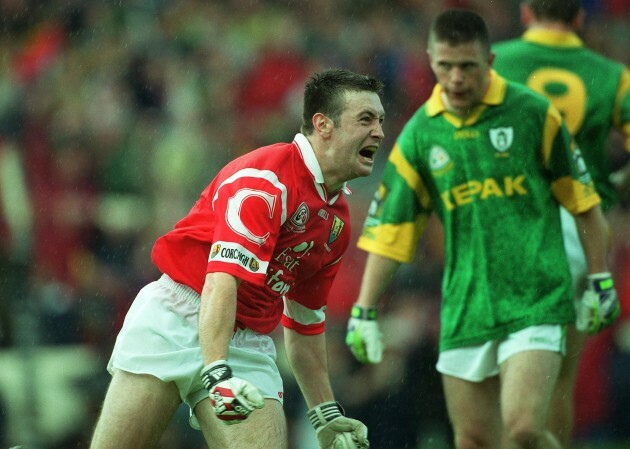 Billy Stickland / INPHO Joe Kavanagh celebrates his goal in the 1999 All-Ireland senior football final. Billy Stickland / INPHO / INPHO
His coaching career has continued since but being at the helm of his native club means this feat assumes greater significance.
Knocknagree were triumphant on the Cork junior football stage this year for the first time since 1991. That propelled them towards the novelty of a Munster campaign that has seen them sweep past Tipperary's Knockavilla Donaskeigh Kickhams by 22 points and Waterford's Sliabh gCua St Mary's by 12 points.
It's been a long and arduous season. They have packed in 130 training sessions and a league final in Cork next week will mark their 40th game in 2017.
The scale of the challenge is apparent to Daly but he feels the team can embrace it.
"There's some amazing stats in the contrast between Cork and Kerry. First of all because of the way the grading is in the two counties, Dromid technically in the order of merit the 25th best team in Kerry and they're playing the 56th best team in Cork.
"We play in a championship every year that has over 100 teams, whereas their championship has 16 teams.
"No Cork junior or intermediate team have beaten a club from Kerry over the last 10 years in 20 contests. No Cork junior or intermediate team has won a Munster club final against a Kerry club since 2003.
"Based on that we must be outsiders but we won't fear them. We do respect them hugely as you would any club coming out of South Kerry.
"But we're so looking forward to it. I've seen all year how what this run does for everyone in the community. It's great for the Knocknagree disapora to come back and go to our matches.
"We've a young team but they've been brilliant all year with their football and commitment. This battle has taken a long time and a lot of work to get here. It's probably a once-off opportunity that we have but we're we're going to give it our best shot."
The42 has just published its first book, Behind The Lines, a collection of some of the year's best sports stories. Pick up your copy in Eason's, or order it here today (€10):