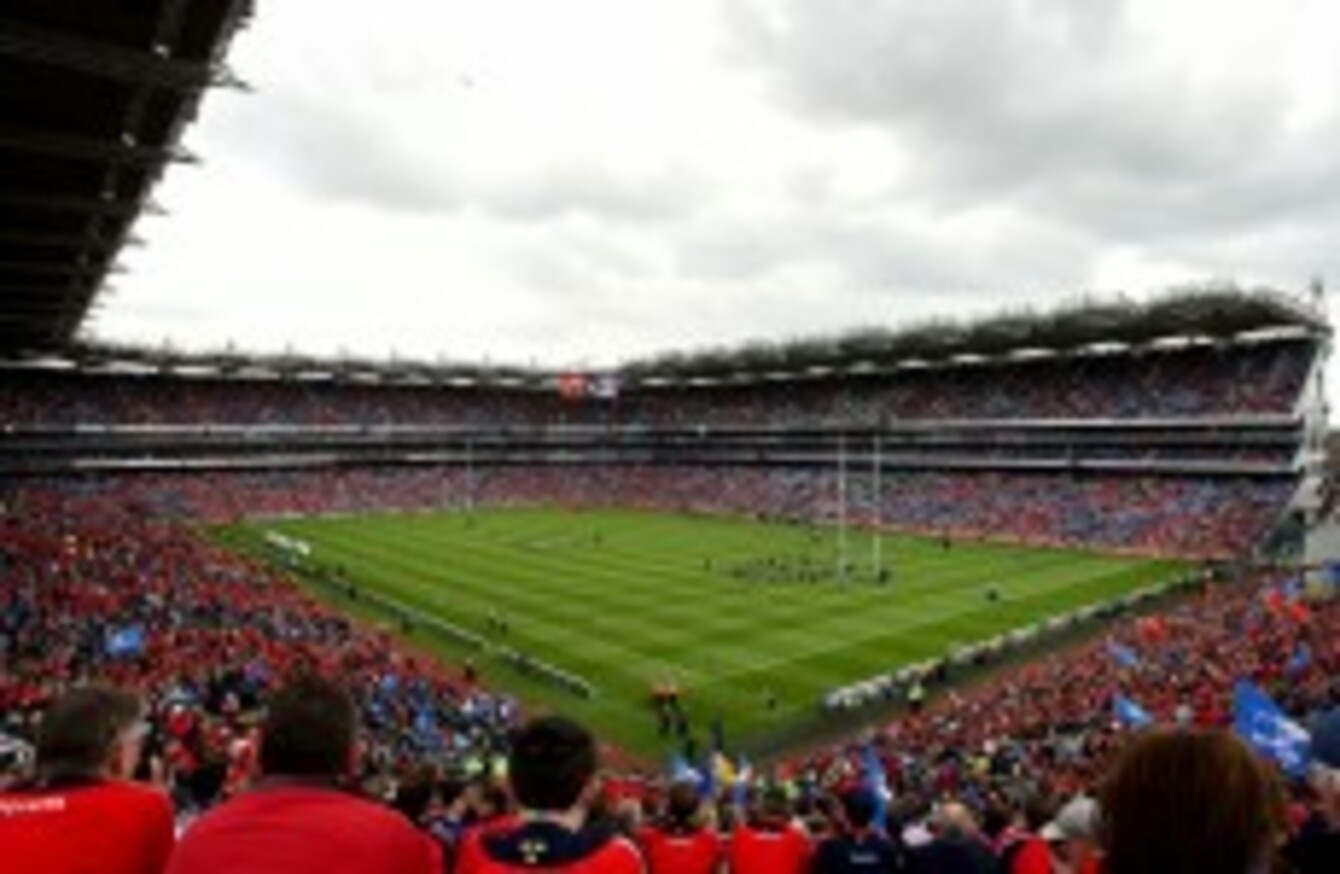 Munster faced Leinster in Croke Park in 2009.
Image: INPHO/James Crombie
Munster faced Leinster in Croke Park in 2009.
Image: INPHO/James Crombie
THE GAA WILL not switch April's football league finals from Croke Park, even if the stadium is sought by the ERC for a potential Heineken Cup semi-final between Leinster and Munster.
The two Irish provinces are both in quarter-final action on the weekend of April 5th-6th with Munster hosting Toulouse while Leinster travel to face Toulon.
If they are successful in those games, the pair will meet at the semi-final stage on the weekend of April 26th-27th  and public demand for tickets is likely to exceed the 51,700 supporters that the Aviva Stadium could accommodate. Five years ago the pair met in Croke Park with Leinster triumphing 25-9.
The ERC have yet to make an approach about possibly using Croke Park but the stadium and commercial director Peter McKenna has revealed that Saturday April 26th would be ruled out due to a clash with the Division 3 and 4 football league finals. Then on Sunday April 27th, the Division 1 and 2 football league finals are pencilled in.
"We haven't been approached but if people are interested they should contact us. Our difficulty is that we have the third and fourth league finals here in Croke Park (on the Saturday).
"We couldn't contemplate moving those, they are part of the fixtures. The match then would have to go for the following weekend. That would be our thought process around it.
"I suppose being courteous, it's the Aviva's business. We don't want to be, like, muddying the waters. But certainly (it) has always been that if there's a national interest in something like this, and the ground is available, we'd work with them. Obviously we're going to be working with them on the 2023 Rugby World Cup bid."
Croke Park stadium director Peter McKenna
Pic: INPHO/Donall Farmer