As always, we'd love to hear your thoughts on the game. E-mail will@the42.ie, tweet @Rugby_ie, post a message to our Facebook wall, or leave a comment below.
You may need to refresh the page for YouTube videos and other elements to display correctly.
Hello friends, and welcome to The42′s liveblog of Munster v Ospreys.
Last night's semi-final between Glasgow and Ulster was a bit of a screamer, and today's is going to be even better.
Here is how the two teams will line out.
Munster: 15 Felix Jones, 14 Keith Earls, 13 Andrew Smith, 12 Denis Hurley (c), 11 Simon Zebo, 10 Ian Keatley, 9 Conor Murray, 8 CJ Stander, 7 Paddy Butler, 6 Peter O'Mahony (c), 5 Paul O'Connell, 4 Donnacha Ryan, 3 Stephen Archer, 2 Eusebio Guinazu, 1 David Kilcoyne.
Replacements: 16 Duncan Casey, 17 John Ryan, 18 BJ Botha, 19 Billy Holland, 20 Jack O'Donoghue, 21 Duncan Williams, 22 JJ Hanrahan, 23 Ronan O'Mahony.
Ospreys: 15 Dan Evans, 14 Jeff Hassler, 13 Ben John, 12 Josh Matavesi, 11 Eli Walker, 10 Dan Biggar, 9 Rhys Webb, 8 Dan Baker, 7 Justin Tipuric, 6 Dan Lydiate, 5 Alun Wyn Jones (c), 4 Tyler Ardron, 3 Dmitri Arhip, 2 Scott Baldwin, 1 Nicky Smith.
Replacements: 16 Sam Parry, 17 Marc Thomas, 18 Aaron Jarvis, 19 Rory Thornton, 20 James King, 21 Tom Habberfield, 22 Sam Davies, 23 Jonathan Spratt.
It is worth remembering that the Ospreys turned Munster over in Limerick at the start of the year and have a history of upsetting Irish teams.
PRO12 Rugby / YouTube
Still, Munster are five-point favourites and seem to be peaking at the right time.
Munster actually played – and beat – the Ospreys in a Pro12 semi-final back in 2011. Anyone remember Danny Barnes?
schultzjeanbaptiste / YouTube
During the Six Nations, Johnny Sexton and Conor Murray got lots of kudos for being the premier northern hemisphere half-back pairing, but Dan Biggar and Rhys Webb are playing similarly excellent recently.
Webb's cheeky try against Glasgow a few weeks ago was a particular highlight.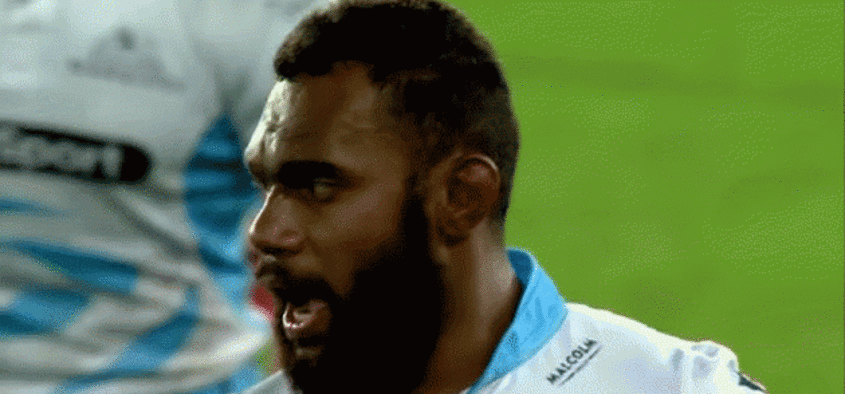 Every time Alun Wyn Jones faces Paul O'Connell, the earth shakes. Jones seems to be Paulie's natural successor in terms of quality northern hemisphere second rows.
James Crombie / INPHO James Crombie / INPHO / INPHO
Munster have been on a roll at home since being slapped by the Ospreys back in September.
The teams are coming out onto the pitch! Can Munster do the business?
Still a good few empty seats in the upper tier at Thomond, which is disappointing.
May 23rd 2015, 2:32 PM
1min
May 23rd 2015, 2:33 PM
1min
Ospreys build some early pressure right on the outskirts of the Munster 22 but it ends with Dan Biggar steering a drop goal just wide.
May 23rd 2015, 2:34 PM
2min
The Ospreys are back in the Munster 22. 10m from the line now.
May 23rd 2015, 2:35 PM
3min
Close from the Ospreys! Biggar's pass almost finds hooker Scott Baldwin but the ball bounces into touch 5m out.
May 23rd 2015, 2:36 PM
4mins
It has been all Ospreys at the moment. They are in possession AGAIN outside the 22.
May 23rd 2015, 2:38 PM
6mins
Eli Walker manufactures a few yards on the left wing but Conor Murray hauls him down a metre short of the line. Centres Josh Matevesi and Ben John both did excellently to keep the ball alive in the build-up. Munster escape by forcing a turnover penalty on their own try-line.
May 23rd 2015, 2:40 PM
8mins
Dave Kilcoyne did his best Cian Healy impression there, barrelling his way into the Ospreys 22. After a few more strong carries from the pack, Stephen Archer almost muscled over in the left-hand corner but drooped the ball. Great response from the home side.
He is a homebird, is Dan!
May 23rd 2015, 2:43 PM
11mins
Munster get penalised on halfway for hands in the ruck and the Ospreys have a lineout on the Munster 22.
May 23rd 2015, 2:44 PM
12mins
And now another penalty in the shadow of the Munster posts will allow Biggar to put the Ospreys in front. They deserve their lead too.
Munster 0-3 Ospreys
Biggar makes no mistake and the visitors have finally made their pressure tell.
May 23rd 2015, 2:46 PM
15mins
Andrew Smith carries strongly and Munster are into the Ospreys 22.
May 23rd 2015, 2:48 PM
16mins
Baldwin is penalised for a high tackle on Stephen Archer and Munster should level the match now.
May 23rd 2015, 2:49 PM
16mins
Conor Murray is down grabbing his ankle. Looks like his game could be over.
May 23rd 2015, 2:50 PM
17mins
Munster 3-3 Ospreys
Keatley slots the easy penalty and we are level.
May 23rd 2015, 2:50 PM
18mins
Murray is off and Duncan Williams is on. Hopefully it isn't a long-term injury.
May 23rd 2015, 2:55 PM
21mins
Munster win a scrum penalty on halfway and now have a lineout just inside the Ospreys 22.
May 23rd 2015, 2:56 PM
22mins
Ospreys collapse the Munster maul and the home side have a very kickable penalty. Also, Munster assistant coach Mick O'Driscoll says Conor Murray might be out for a couple of weeks.
Munster 6-3 Ospreys
The visitors have played a bit more rugby but Munster have absorbed the pressure well.
May 23rd 2015, 2:58 PM
24mins
Oh no! Keatley tries a reverse kick but it does not go well. Ospreys have a lineout inside the Munster half after the out-half's kick goes out on the full.
May 23rd 2015, 3:01 PM
26mins
Rhys Webb makes a dart in the Munster 22 but throws an errant pass that Paddy Butler reels in. Keatley then finds touch outside his 22.
May 23rd 2015, 3:02 PM
27mins
Ospreys fullback Dan Evans makes a lovely arching run across the pitch but his pop pass is fumbled by Alun Wyn Jones on halfway.
May 23rd 2015, 3:05 PM
30mins
Munster poach an Ospreys lineout and are now on the charge in the Ospreys 22!
May 23rd 2015, 3:06 PM
31mins
After ten phases, CJ Stander carries a little too high and the Ospreys strip the ball.
May 23rd 2015, 3:08 PM
32mins
Lydiate has had a good game for the visitors. He just lumberjacked Paddy Butler!
May 23rd 2015, 3:09 PM
33mins
Massive mistake by Dan Biggar! Ospreys win a penalty but the out-half kicks the ball dead as he tries to milk a few extra yards for the lineout.
May 23rd 2015, 3:10 PM
34mins
And Munster win a penalty from the resulting scrum. Big momentum shift.
May 23rd 2015, 3:11 PM
35mins
Rhys Webb is pinged for obstruction on his own 10m line and Munster can extend their lead just before half time.
May 23rd 2015, 3:12 PM
36mins
May 23rd 2015, 3:15 PM
38mins
The kicking has been shocking in the last few minutes. Dan Evans has just lazily lumped a left-footer dead. Poor end to the half. The game has petered out a bit in the last 10 minutes.
TRY! Munster 11-3 Ospreys
Ian Keatley throws a delicious offload inside to Stander, who combines with Paddy Butler to send Zebo over. Great try!
HT Munster 11-3 Ospreys
Keatley misses the conversion but Munster just hit the Ospreys with a hammer!
Just to describe the try a bit more:
Ian Keatley took the ball off the scrum and ducked back inside. He was tackled but freed his hands and found Stander with an offload. Stander motored for about 15m before feeding Butler, who generously allowed Zebo to run the ball into the corner.
Zebo celebrated with the classic Bebeto 'baby' celebration. He became a father last week.
There are shanks… and then there is this Ian Keatley conversion.
https://vine.co/v/eqrauWwQ6Fp
May 23rd 2015, 3:31 PM
40mins
The second half is off here!
May 23rd 2015, 3:32 PM
41mins
Lydiate is off, and is now icing his shoulder on the bench. He tallied ten chop tackles in the first half!
May 23rd 2015, 3:34 PM
43mins
TRY! Munster 16-3 Ospreys
The Munster pack piled into the Ospreys 22 and then Keatley found Denis Hurley out wide, who showed great skill to get past Eli Walker and Dan Evans to score. A superb finish.
May 23rd 2015, 3:35 PM
44mins
Another poor Keatley kick misses the mark, but Munster are in total control now with a 13-point lead. Game over?
May 23rd 2015, 3:36 PM
45mins
Peter O'Mahony has been replaced by Billy Holland.
May 23rd 2015, 3:38 PM
46mins
So POM and Murray have both gone off injured. Joe Schmidt probably looks like the monkey-covering-his-eyes emoji right about now.
TRY! Munster 16-8 Ospreys
My lord, Rhys Webb is such a thief! CJ Stander picked off the back of the scrum 40m out and threw the ball straight into Webb's hands, who sauntered home. Great awareness by the scrum-half but very poor from Stander.
TRY! Munster 21-8 Ospreys
What a response from Munster! Kilcoyne carries strongly near the line and two phases later, Paddy Butler barges over. The openside has been one of Munster's best performers today. Also, Stander started it all with a big carry to move into the opposition half.
May 23rd 2015, 3:43 PM
51mins
Another missed kick from Keatley though…
May 23rd 2015, 3:44 PM
52mins
That ridiculous Stander pass aside, Munster have been very comfortable from about ten minutes on.
TRY! Munster 21-15 Ospreys
What a finish from Jeff Hassler! The wing picks up a loose ball on halfway and dances around Stander and BJ Botha before holding off Simon Zebo to score under the posts.
May 23rd 2015, 3:45 PM
54mins
May 23rd 2015, 3:46 PM
54mins
And now Keatley kicks out on the full! The out-half has had a nightmare with the boot.
May 23rd 2015, 3:47 PM
56mins
Eli Walker carries high in the Munster half – easy work for Donnacha Ryan and Paulie. Scrum to Munster.
May 23rd 2015, 3:50 PM
58mins
A lot of people on Twitter want JJ Hanrahan on for Ian Keatley. The place-kicks are becoming a big problem.
May 23rd 2015, 3:52 PM
59mins
Another poor kick from Dan Evans rolls over the try-line. The players need to stop using the boot today, it really isn't working for anyone.
May 23rd 2015, 3:53 PM
60mins
Hassler makes another big carry into the Munster 22 before Keatley stops him. Just when it looks like a try is coming, Butler forces a big, big turnover and the home side clears.
May 23rd 2015, 3:55 PM
62mins
Josh Matevesi cuts a scintillating line that sees him glide through the Munster defence but his try-scoring pass is batted back by a Munster hand and turned over. The Ospreys are gunning for that go-ahead try at the moment.
May 23rd 2015, 3:58 PM
65mins
Ospreys have a lineout on their own 10m line now. 15 to go.
May 23rd 2015, 3:59 PM
65mins
Ospreys win a penalty in front of the posts after Munster go off their feet. Looks like Biggar will go for the posts.
May 23rd 2015, 4:00 PM
66mins
Simon Zebo is currently receiving attention. Looks like it might be a concussion.
May 23rd 2015, 4:02 PM
66mins
Zebo sitting up now but looks shaken. Being helped to his feet by the medic.
May 23rd 2015, 4:04 PM
67mins
Munster 21-18 Ospreys
Biggar finally gets us started again by slotting the straightforward penalty.
May 23rd 2015, 4:08 PM
71mins
Ten minutes to go now and the Ospreys are trying to launch an attack from deep.
May 23rd 2015, 4:08 PM
71mins
But Munster counter and Duncan Williams pins them back inside their own 22.
May 23rd 2015, 4:10 PM
72mins
Baldwin is pinged for holding on in his own 22 and Munster will have a chance to extend their lead to six. Can Keatley make it though?
May 23rd 2015, 4:11 PM
73mins
My god… Keatley shanked another one. When does Hanrahan come on?!
May 23rd 2015, 4:11 PM
73mins
Anthony Foley must be following this feed… Hanrahan is on for Keatley.
May 23rd 2015, 4:12 PM
74mins
Munster win a scrum penalty on the Ospreys 10m line in front of the posts. Hanrahan will step up now.
May 23rd 2015, 4:13 PM
75mins
And now Hanrahan misses a sitter! This is an embarrassing display of kicking.
May 23rd 2015, 4:15 PM
76mins
Ronan O'Mahony almost sneaks over in the left corner but his grubber dribbles into touch.
May 23rd 2015, 4:16 PM
77mins
Munster win another penalty in the Ospreys 22 but opt for the corner this time. Wonder why…
May 23rd 2015, 4:17 PM
79mins
But now Ospreys win a turnover penalty! They have a lineout on their own 10m line now. A penalty for extra-time, a try for the win.
May 23rd 2015, 4:19 PM
80mins
TMO time! Ospreys score a try through Josh Matevesi but it looks like Rhys Webb knocked on in the build-up.
FT Munster 21-18 Ospreys
Munster survive! Nigel Owens awards a knock-on and Anthony Foley's men are through to the final to face Glasgow. What a crazy finish to the game though. Ian Keatley's kicking made sure the Ospreys stayed in touch but overall, Munster deserved it.
That's all for our liveblog today. Make sure to check the site in the next few minutes for all the reaction from Thomond Park.