THE STADE DE FRANCE pitch was not resembling an ice block and Munster were aiming to go one (point) better than Ireland managed against France back in February.
A win for Rob Penney's side would have put them in pole position in Pool 1 but Racing were up for the fight..
As always, we'd love to hear from you, so send us your thoughts and comments on all the action.
E-mail us at patrick@thescore.ie, tweet us @thescore_ie, post to our Facebook wall or leave a comment below.
Racing Metro 22-17 Munster
One win down for the Irish provinces, three to go. Welcome along to our live coverage of Munster's tricky away clash with Racing Metro.
We'll get you started with a bit of background and build-up to the game and then give you the teams.
Here are the teams:
Munster: I Keatley; D Howlett (c), C Laulala, J Downey, S Zebo; R O'Gara, C Murray. D Kilcoyne, D Varley, BJ Botha; B Holland, P O'Connell; D Ryan, S Dougall, P O'Mahony.

Replacements: M Sherry, M Horan, S Archer, D O'Callaghan, P Butler, P Stringer, D Barnes, D Hurley.
Racing Metro: B Fall; J Jane, M Bergamasco, JM Hernandez, J Saubade; O Barkley, M Machenaud: A lo Cicero, D Szarzewski, L Ducalcon; K Ghezal, F van der Merwe; A Battut, J Cronjes (c), M Matadigo.

Replacements: T Bianchin, E Ben Arous, B Sa, F Metz, B la Roux, C Gerondeau, S Descons, V Vakatawa.
It's raining in Paris. Metro, who tried to sign up Cardiff's Alex Cuthbert in the summer, have Olly Barkley in their Starting XV and he, along with will look to cause trouble for the Munster back three of Zebo, Howlett and Keatley. There was one person sad to see the Englishman leave Bath last month.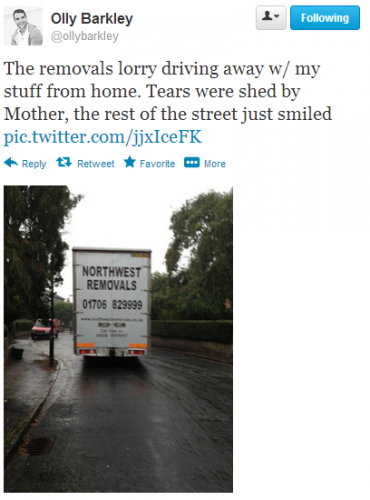 And we have some Breaking News for you as Juan Martin Hernandez has been drafted into the Racing backline in place of Fabrice Estabanez.
Rob Penney, speaking before kick-off, says Paul O'Connell is 100% and feels Munster need to 'be mindful of our discipline' and improve their defending significantly.
You can also reach me for comments @patmccarry during the game. To get you in the mood for more heroics, here is that fantastic passage of play (audio) against Northampton Saints last season and the superb, slightly biased, commentary of RTÉ's Michael Corcoran:
YouTube credit: OTB878
The weather has improved somewhat in Paris but it is still going to be a greasy ball and a treacherous surface to play on. Sean Dougall and Dave Kilcoyne making their first Heineken Cup starts. Munster will be delighted to have Paul O'Connell back.
Doug Howlett looks pumped and Kilcoyne and O'Mahony are red-faced as they walk onto the pitch. I'd say they got quite a talking to from Paulie, O'Gara and captain Doug.
Racing Metro have six forwards on their eight-man bench. We know how they will be playing – kick for the corners and put the ball up the jersey when they get it up front.
Kick-off in Paris and Munster gain possession.
Munster fans, are you happy to see these chaps lining up together in the backline?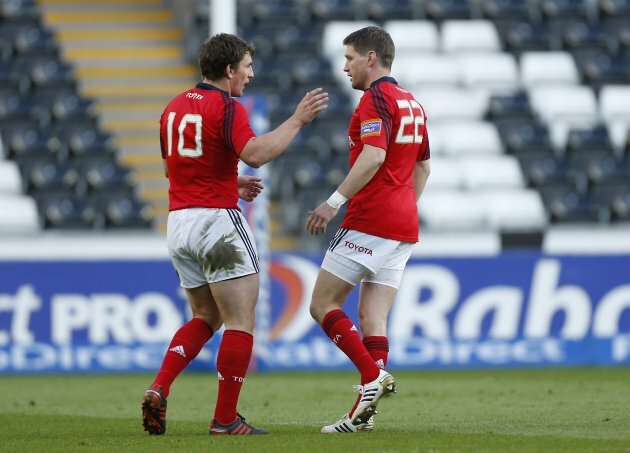 Keatley and O'Gara. (©INPHO/Billy Stickland)
The Munster pack starting well and Keatley intelligently kicks and chases to force Fall to touch down over his own line. Munster scrum on 5m.
Jersey grabs already as BJ Botha and Ryan are involved with some post-scrum antics. Munster so close to a penalty try but get the penalty instead. They choose to go again. Great start by the pack.
O'Mahony picks and tries to go from the back of the scrum. He is isolated and does well to hold on. Ryan and Murray have darts but play is eventually called back for a penalty. O'Gara and O'Connell call for the penalty, captain Doug agrees. 15 metres out and O'Gara slots in over to make it Racing 0-3 Munster after nine minutes.
O'Connell shows great legs to join the chase in an O'Gara up-and-under. The ball bounces his way, he feeds Laulala, who flings a pass to Conor Murray. He is bundled out in the Racing '22 and O'Connell concedes a penalty at the line-out.
Julien Jane knocks on and Zebo bursts forward again. Maxime Machenaud has to hack it out for a Munster line-out.
TRY! Murray's pass hangs in the air after he peels off the back of the Munster line-out, O'Mahony does well to grasp it and he laps it up for Dougall to power through and dive under the posts. O'Gara chips over the conversion. It is Racing 0-10 Munster after 16 mins.
This is where Munster have been sloppy this season – giving away penalties when they get on top. Downey goes off his feet and Barkley has a 45-metre penalty chance. It creeps over – Racing 3-10 Munster
Mirco Bergamasco chips out on the full and Munster get a lineout just inside the Racing half. Awful throw from Varley evades the 16 expectant men in the lineout. Munster reel backwards into their 22 and Keatley has to kick for touch.
Brilliant pressure from Munster as Kilcoyne hacks a loose ball free. Great chase from Murray and Cronje then gets Barkley in a lot of hot soup with a scoop pass through his legs. Barkley is bundled out of play. Munster scrum.
TMO after initial try awarded.
Smart decision. Looked for all money that O'Connell was over for a try but the lock lost control at the last moment to knock it own. Racing get a penalty at the scrum – Varley tries to give Kilcoyne advice on the hoof – and kick clear.
Colm Connolly, commenting below, says the pitch is in some state. He's not wrong. Munster, still, are trying to run the ball as much as possible. O'Gara almost costs his side dearly with a poorly judged chip on for Downey. Cronje can't take advantage of the loose ball and knocks on.
The Kiwis would call it 'puss'. More wayward stuff from Dimitri Szarzewski at the Racing lineout and Munster get possession back. O'Gara then kicks expertly to touch to put the home side on their heels. Another fumbled lineout but they clear.
Broken play up the left and the ball is hacked upfield by Lo Cicero after a terrible O'Gara pass goes astray. Maxime Machenaud chases on and grounds it with his stomach. TMO first but a TRY is given. Barkley adds the extras and, somehow, it is Racing 10-10 Munster.
Big news here as O'Gara goes off for Munster. Hurley is on at full-back while Keatley goes up to out-half. 34 minutes gone and the tide is turning slightly.
Laulala has a kick charged down and Keatley has to scramble back to kick to touch beyond his own tryline. Murray was very, very lucky there not to get a yellow card as he tripped, then pulled down second-row Karim Ghezal, who was closing in on the loose ball before Keatley gathered.
Racing Metro pushing for a try to end the half. Munster need to regroup and quickly.
Good defence by Ryan but Munster, moments later, concede a penalty. Barkley, from out near the right touchline, gets his kick to make it Racing 13-10 Munster.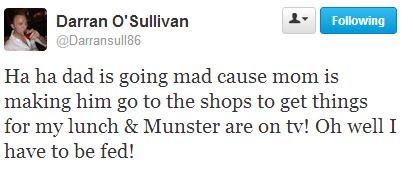 Some guys have no luck.
HALF-TIME in Paris and it will come as welcome relieve to Munster who attempted to get some phases together but ended up hurtling backwards. They could have led 17-3 after O'Connell came close but somehow find themselves losing 10-13.
Better news over in Parma, where Connacht lead Zebre 9-3 at the break. Dan Parks doing the kicking damage for the westerners.
Here's what some of the Munster lads got up to during their Heineken Cup preparations.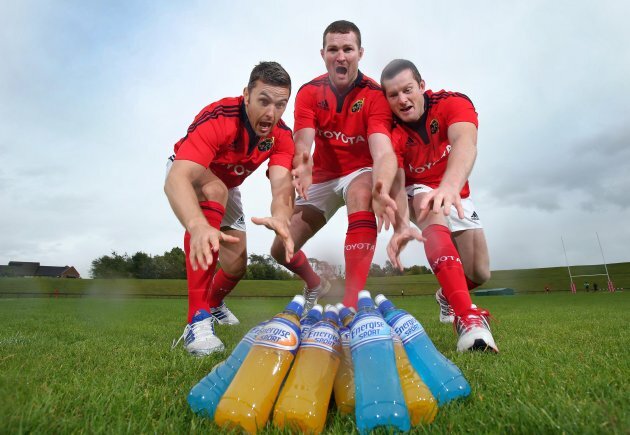 Those were the days my friens. (©INPHO/Cathal Noonan)
The SECOND-HALF is underway. Barkley kicks to touch and Varley with the throw to Ryan. Munster haring forward.
Julien Jane fumbles a Hurley kick over the touchline to give Munster a lineout and a good attacking platform.
Antoine Battut gets his hands on another less than perfect Varley throw. Munster get possession back and Zebo makes good progress up the left.
Jane nearly through on a kick and chase but Murray does well to slide back and nab possession. Hernandez, in the lead up to that, clattered Laulala. Barkley gets another penalty chance out on the left touchline, 45 metres out again. If he gets this, it will be a fine kick.
Stupendous kick from the English out-half as he makes it Racing 16-10 Munster with 52 minutes on the clock.
How is Conor Murray not seeing yellow? He deliberately jogs in front of Benjamin Fall, who has his eyes on an up-and-under. Stupid penalty to give away, straight in front of the posts and 40 metres out, and the Munster man is extremely lucky not to go to the sin bin. Barkley misses the kick wide and left for a Munster reprieve.
Keatley knows on a high ball but Jane wastes the attacking chance as he kicks forward but over the dead-ball line. Keatley is better the next time around as he takes a towering kick. Munster opt to run from their 22 and are rewarded. 50-metres gained after six phases and O'Mahony comes achingly close to touching down a Zebo grubber but Fall is brave and bloodied.
Most of Munster's attacks are going through Zebo on the left. Howlett has been quiet today. Sherry, who came on for Varley, is faring better at the lineouts and finds Ryan at the tail as Munster press forward.
There is still a game here for the winning as the clock ticks 59:00.
Good Munster pressure gains them at penalty as the Racing scrum buckles. Keatley fails his audition, however, with a kick that sails meekly to the left. O'Mahony is then bundled into touch after the restart. Szarzewski is up for this.
Jane and Fall combine again to win Racing a penalty at the breakdown, with Murray wrapped up tightly. O'Connell goes off with 64 minutes gone.
Going slightly better for Connacht in Italy as John Muldoon gets a try and Eric Elwood's men lead Zebre 19-3.
Munster are looking turgid here and a Zebo misfield means Hurley needs to be sharp to clean up the mess.

10 minutes left and Munster steal a lineout. Murray box-kicks to near the halfway. Munster up into the Racing 22 now.
TRY! Wonderful solo effort from Zebo who burst through a stretched Racing defence to slide over on the left-hand side. Keatley with a tough kick but he lands it. Racing 16-17 Munster.
Five minutes to go and Zebo is needed in defence now. Kicks being traded back and forth but Racing playing in their own half still.
Conor Murray! Disaster here as he misses out on trapping a Racing kick over the top. He picks the ball up and jogs back to the 22. For some reason he opts to run, dummies, and gets caught in possession. He gives away the penalty and Barkley steps up to nail it. With two minutes to go it is Racing 19-17 Munster.
Racing sub Virimi Vakatawa chases down a high ball and wrestles possession for his team. The French side pile forward and Hurley is the one penalised. Barkley getting treatment so Bergamasco steps forward from 35 metres out and gets his kick – Racing 22-17 Munster.
One last chance with a Munster scrum inside their own half but near the halfway. They are wheeled easily and lose the ball, which is then punted out. Racing Metro win.
Simon Zebo looked to have done the job their for Munster but a Conor Murray solo effort put them in a whole heap of trouble. Rob Penney's men looked very good for the first 30 minutes but fell away badly. A losing bonus point but the word 'bonus' is the furthest thing from Munster minds.
Stay with us for match reactions, Munster ratings and Sean Farrell is live for us at the RDS for Leinster v Exeter. Keep him company for a while – it gets nippy up in that press box.