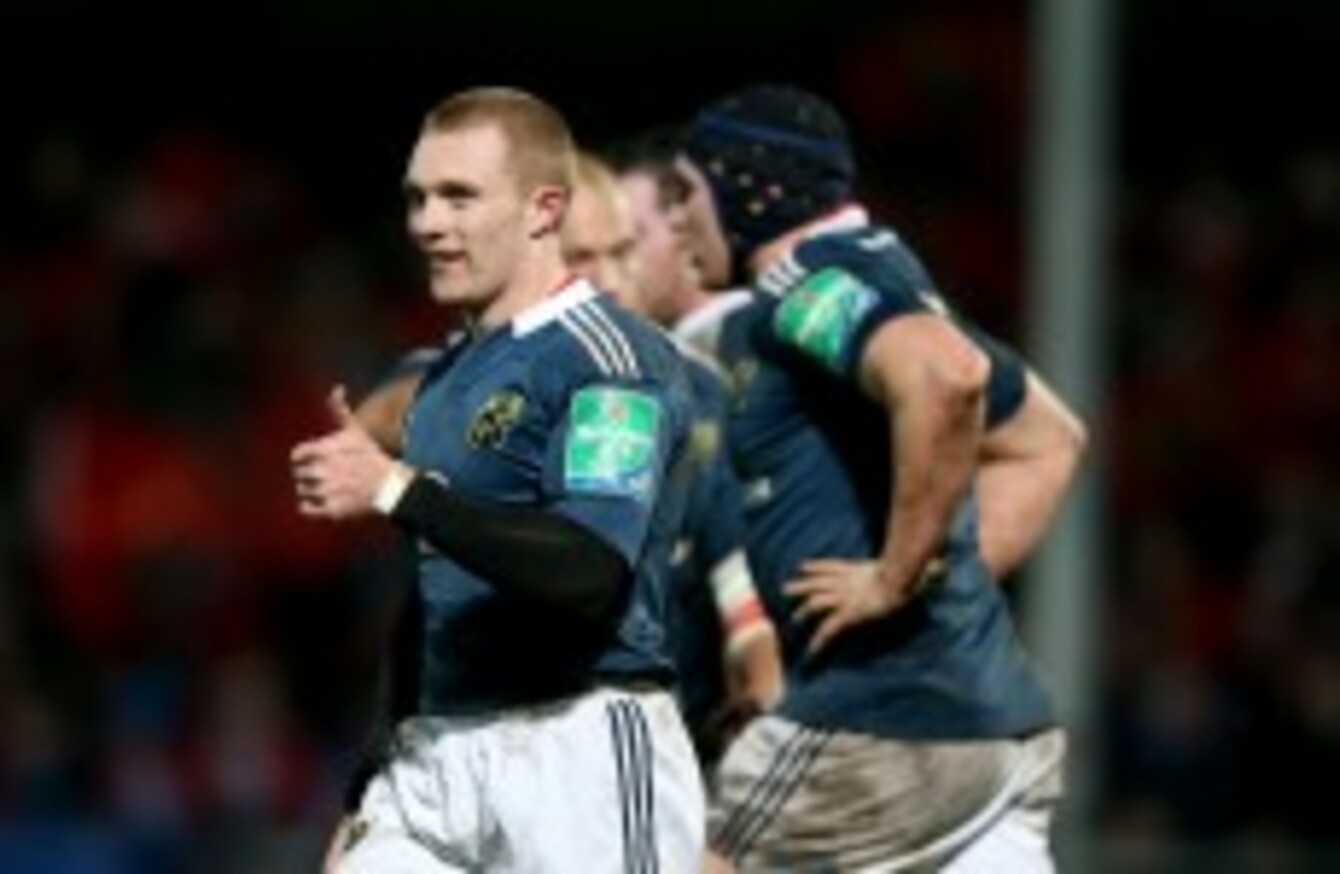 Earls was on hand to finish a wonderful team move for Munster last weekend.
Image: ©INPHO/Dan Sheridan
Earls was on hand to finish a wonderful team move for Munster last weekend.
Image: ©INPHO/Dan Sheridan
THERE HAVE BEEN times over the last season and a half when it has been difficult to understand exactly what Rob Penney wants from his Munster team in attack.
However, the immediate suspicion while watching the southern province's clash with Gloucester last weekend was that Keith Earls' try would be an intense cause of satisfaction for the New Zealander. Speaking at the in Limerick, Penney confirmed that inkling for TheScore.ie.
"Yeah, it was really pleasing," he stressed. "That's part of the game [Munster are striving for]; the type of game where individuals take responsibility and offload pre- and post-contact, people stepping up and taking the pressure off the nine and 10 by putting themselves into a position to accept and receive balls.
That was a great example of where we're trying to get to more consistently."
The effort finished by Earls was indeed a well-constructed, clinical try in which there was so much fine work to outline. Over eight phases of play, every single Munster player was involved somehow after the move began with a perfectly executed line-out and swiftly-driven maul.
The forwards carried with power, there were several strong leeches through contact [where the supporting player binds onto the ball carrier to power him through a tackle and maintain momentum], and some of the rucking was superb. The vicious clear-out by Dave Foley on James Hudson 40 seconds into the video below was a particular highlight in that regard.

Penney agreed that it was particularly pleasing to witness the handling skills of his forwards too, with the screen pass from Damian Varley and the offload by Paul O'Connell standing out as features the head coach wants to see repeated more regularly.
There was crisp delivery from Conor Murray, width provided by Ian Keatley's pass to Johne Murphy and excellent decision-making between the out-half and Earls for the final act. This is something approaching the true template for 'Penneyball'.
Another priority high on the Munster coach's wishes in terms of game plan is efficiency in possession. Penney is a believer in aiming to effectively convert possession into points, more so than enjoying a majority share of the ball. While that is certainly still an ongoing process, there were again promising signs against Gloucester.
Munster didn't have many prolonged stints of possession at Kingsholm but as the Kiwi explains, that is not always the aim.
It's a double-edged sword. You can have the ball all you want, but it depends on what you do with it. Often stats will tell you that you have X amount of possession and it will be a lot less than the opposition, but what you're doing with it is the key.
"If you're going through multiple phases but you're not going anywhere, then is that a good use of your possession? What I was really rapt about was our tactical appreciation, driving us into the right areas of the park. When you do that, through a more educated kicking strategy, obviously it means you're giving possession away.
"So our position stats [were good] and our line-out functioned really well, our go-forward area. Our scrum was a real weapon for us. We didn't make too many errors, so the ball we had we utilised really well. We scored two nice tries and when you're defending really well, with the opposition putting together multiple phases but not stretching you, we're comfortable with that."
Like rugby? Follow TheScore.ie's dedicated Twitter account @rugby_ie >