INVESTING LOTS OF time into something often leads to one fostering an understandable pride in whatever that piece of work is.
How true that appears to be of Rob Penney and the Munster scrum.
When scrum coach Paul McCarthy was let go at the end of last season as part of the province's measures to reduce their operating budget, it was presumed that the experienced prop BJ Botha would take on the bulk of the coaching responsibility.
However, early in the current campaign, Penney announced that he would be the new Munster scrum specialist, on top of his duties as head coach. The former back row was  defensive when his credentials in that role were questioned and insisted he could bring about improvements in the eight man set-piece.
The most recent test for the Munster scrum came in Dublin last weekend against Leinster, where Penney felt his side were left shortchanged by the match official.
As the southern province prepares to welcome a heavy Toulouse pack to Limerick on Saturday in the Heineken Cup quarter-finals, the Kiwi reacted to one reporter's suggestion that the Munster scrum was consistent in going forward against Leinster.
"Do you want to let Alain Rolland know that? It would certainly be helpful. We were confident in our scrummaging ability and it proved to be a really strong point for us last week. It's just a shame we never got rewarded for it.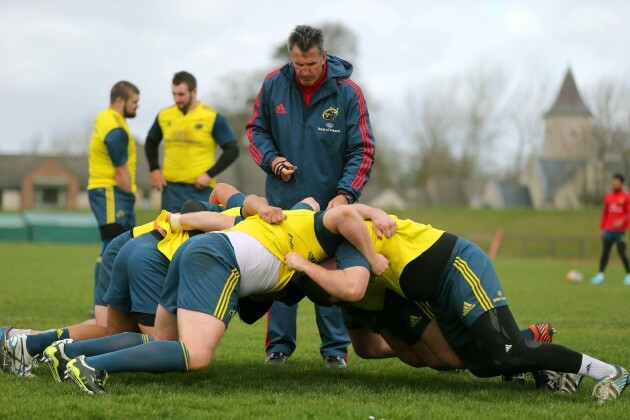 Cathal Noonan / INPHO Penney oversees Munster's scrummaging efforts in training. Cathal Noonan / INPHO / INPHO
"There were some difficult moments where we got pressure released off situations where we were clearly in a dominant position. Those moments in big games are costly. There was a scrum where we marched them off their own ball, then we marched them a few metres off one in the corner.
"So we were clearly dominant and I don't know why we didn't get rewarded for it. But we'll have those discussions and see if we can get some mutual growth out of that, unless we're seeing something different. The scrummage is something that the boys are really proud of, they work hard on it."
There was a slight element of tongue-in-cheek to Penney's initial response and the truth is that last weekend will be meaningless when Munster pack down against the bulk of the Toulouse front row.
138kg tighthead prop Census Johnston is working hard to prove his fitness but at 118kg, his understudy Yohan Montès is no lightweight. 119kg Christoper Tolofua is likely to be at hooker, while Toulouse can choose between Gurthrö Steenkamp [122kg] and Schalk Ferreira [110kg] at loosehead.
"We're up against a behemoth in Toulouse on Saturday," says Penney. "They're massive men and we're going to have to be technically really, really good to combat what they'll bring in that area.
Dealing with those mammoths in the tight is clearly a vital focus for Penney's side, but the New Zealander also points out that there is equal danger from Toulouse on the counter attack.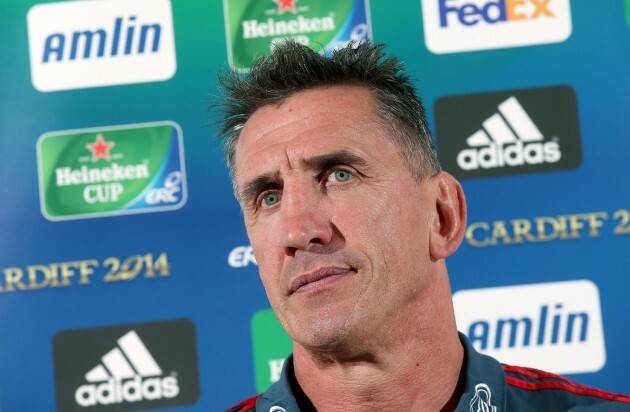 James Crombie / INPHO Penney is awake to the threat Toulouse pose on counter-attack. James Crombie / INPHO / INPHO
Guy Novès' men thrive on turnover ball, be it from a loose kick or an opposition handling error. The likes of Hosea Gear and Yoann Huget have pace, evasion skills and a thirst for open spaces. Preventing their influence is a basic process, says Penney.
"We just can't be loose with the ball, full stop. Everyone realises the threats that Toulouse have got across the park and on the bench. No matter which combination they put together, no matter what starting team they have for the game, they'll be rolling people off the bench.
They're magnificent athletes that are blessed with rugby talent. We've just got to try, as best we can, to keep the ball away from them in those fragmented, phase-type plays that they seem to excel in."
Scrum worries, turnover worries, even injury worries; Penney has many concerns on his plate ahead of this season-defining European clash. Not that they will prevent the Japan-bound coach from enjoying a thrilling occasion.
"It was surprising to me that Toulouse have never visited Thomond Park, so what a great occasion. It's going to be a special day having one of the teams with a great history in the Heineken Cup.
"They've been worthy champions four times. Them visiting us and us hosting them; it's going to be a great day."