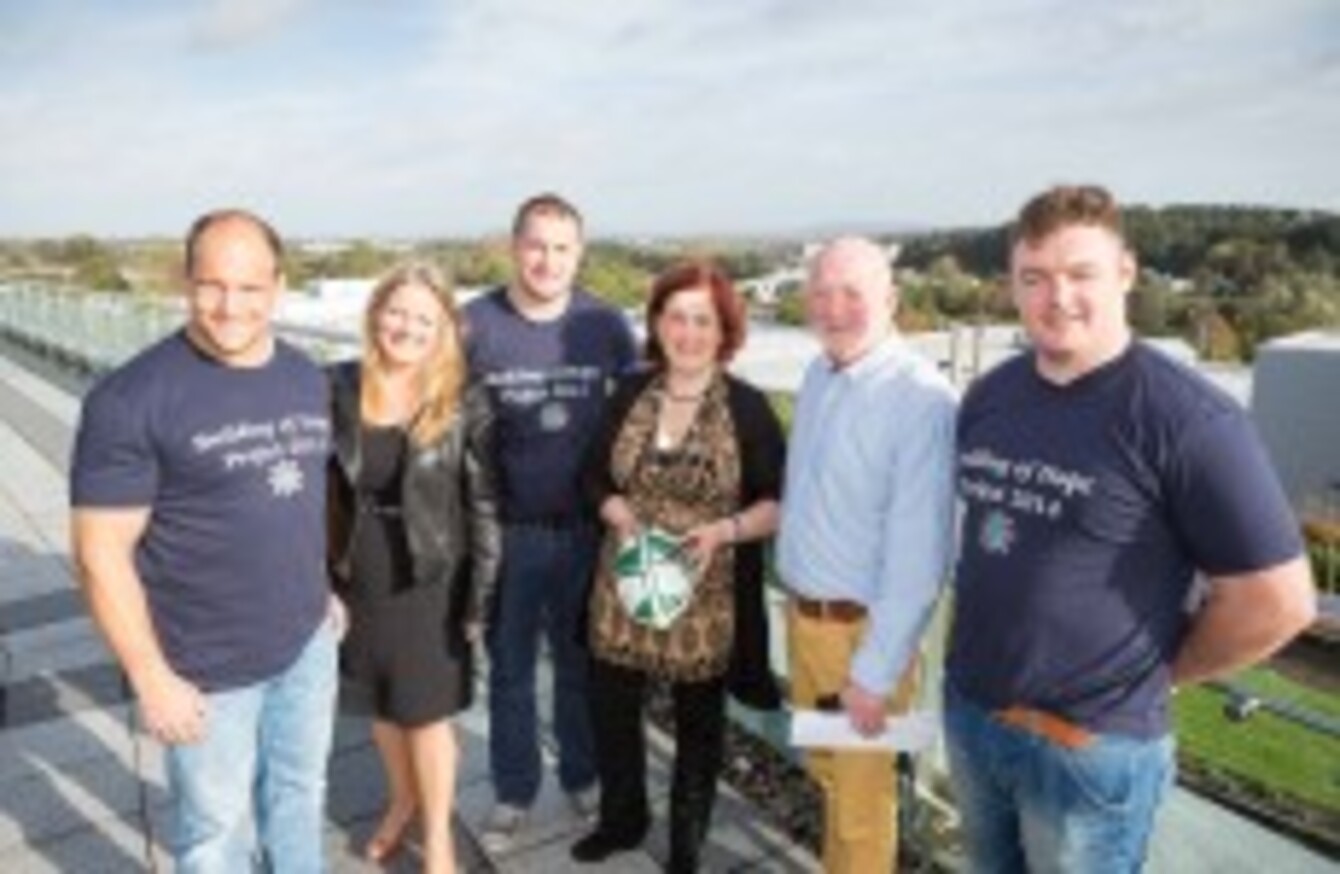 Munster players BJ Botha, Johne Murphy and Dave Kilcoyne with Building of Hope directors Maureen McCarthy, Jim Lynch and Mary Howard.
Munster players BJ Botha, Johne Murphy and Dave Kilcoyne with Building of Hope directors Maureen McCarthy, Jim Lynch and Mary Howard.
THREE MUNSTER PLAYERS have thrown their weight behind a charitable enterprise that is aiming to build a clinic and physiotherapy centre at a Kenyan school for the blind.
Johne Murphy, BJ Botha and Dave Kilcoyne have come on-board as ambassadors for the Building of Hope project. In 2012, the charity organised for 200 volunteers to travel to Mombasa and build a residential home for some 400 orphans at the Likoni school for the blind. Another tranche over volunteers will travel to Kenya later this month to get to work on the new clinic.
Murphy told TheScore.ie he has been inspired by the determination and commitment of all involved in the project. He said, "Representatives from Building of Hope came to Munster last year, looking for ambassadors. Myself, BJ and Dave decided it was something we would be interested in. As BJ is from South Africa, projects like this are close to his heart. He spoke very passionately about it. You are giving the children out there hope for a better life.
"They are going to build the clinic and physio centre beside the school that they built in 2012. It is a bigger job this time but, thankfully, the donations have been larger." One of the donations — made by an individual that prefers to remain anonymous — was a 20-foot container filled with supplies such as clothes, toys, books, hygiene products and more.
Some of the residential homes that were built at Likoni School for the Blind in 2012.
The volunteers raise money to pay for their travel fare. Once they arrive in Mombasa they get involved with the building and work closely with expert tradesmen, who are also volunteering their time. Murphy commented, "The plan was to try and get over to pitch in but the dates haven't fallen correctly with Munster's fixtures and any time we may have off. I'm very keen to get out there and if I can, later in the year, I will.
"It is two weeks of very tough work and physical labour but, from talking to people who have been over, you really get something out of it. It's about getting stuck in. There are skilled guys going out and you follow their lead. Once you get your hands dirty and your head stuck in you'll be all right." As a farmer's son, the Rathangan native says he is not averse to physical labour and jokes that he could be the best broom pusher on-site if he ever makes the trip to Kenya.
Building of Hope, through their Drumcondra office, also planning to pay a nurse's salary at the clinic and provide distance learning courses for 12 students of the Likoni School. "The thing that struck me," said Murphy, "is that they built the orphanage but didn't just leave it there. They are going back and have committed to staying involved in the area for five years."
To find out more on the Building for Hope project, click here. Those interested can also text HOPE2014 to 50300 to donate €4.