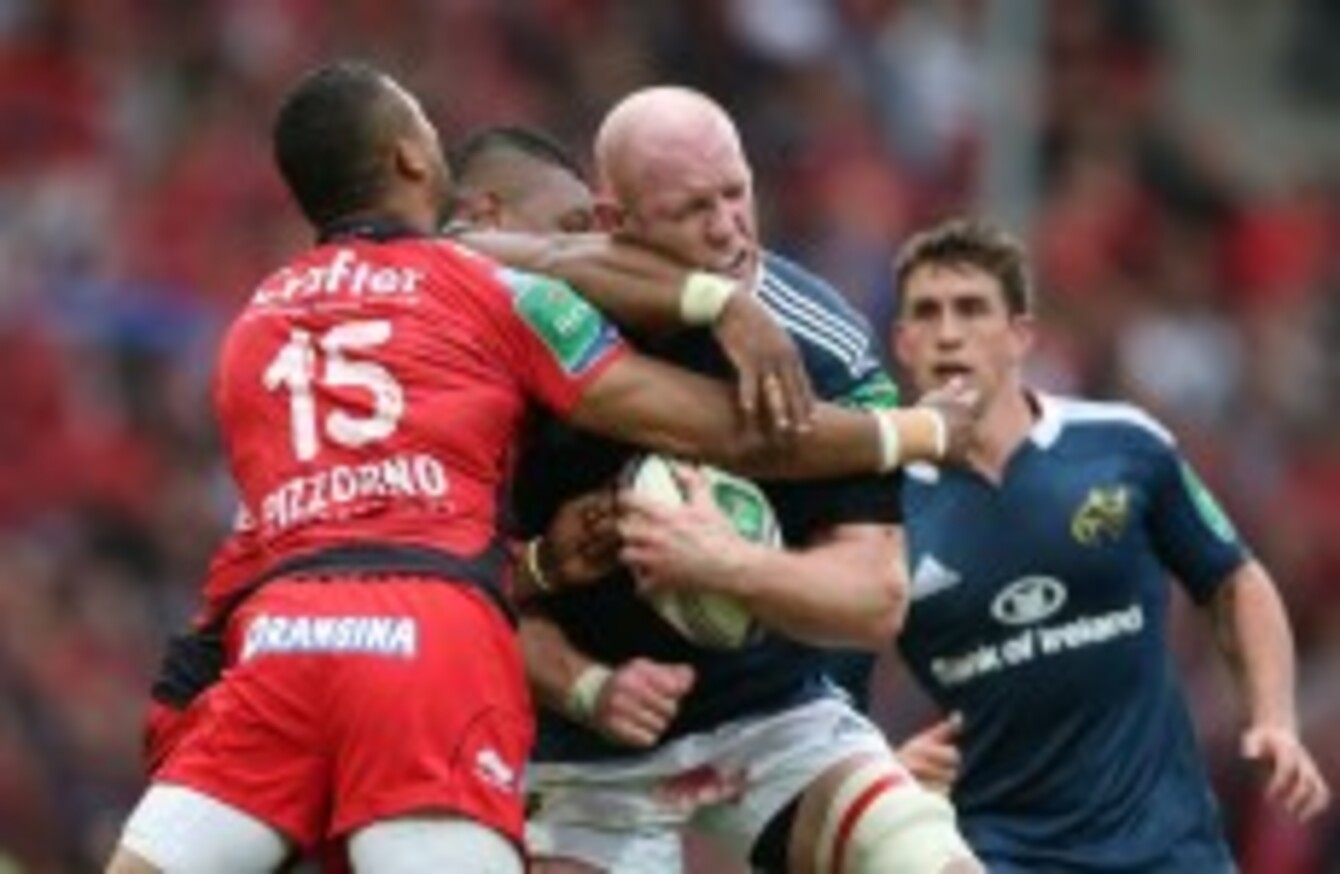 Paul O'Connell was as prominent as ever in the tight for Munster.
Image: Billy Stickland/INPHO
Paul O'Connell was as prominent as ever in the tight for Munster.
Image: Billy Stickland/INPHO
MUNSTER HAVE EXITED the Heineken Cup at the semi-final stages again and much like last season, the manner in which they were defeated will rankle for some time.
Rob Penney, his backroom staff, and players deserve plenty of credit for the excellence they brought to many aspects of the game against Toulon, but their disappointment will centre around the preventable errors they made in Marseille.
In the build-up to this semi-final, many of the concerns for Munster were focused on how they would manage the physicality of this Toulon side. As it transpired, that didn't prove to be a major issue in their loss, as they matched and even bettered the Top 14 outfit in many of the collisions.
The sense had been that if Munster could stand up to Toulon's power, that might have been enough to get them into a final. However, as we saw yesterday, there is more to winning these intense knock-out ties than just the hits, and Munster came up just short.
Taming the beast
Penney's men have excelled all season in the 'tighter' aspects of their play; turnovers at the breakdown, choke tackles, stripping the ball in contact, rucking and mauling. Those same features were prominent against Toulon, showcasing the superb technique of Munster's forwards, as well as demonstrating their their power has perhaps been underestimated.
CJ Stander was one of the stand-out players in these areas of the game against Toulon, combining his natural explosiveness with ever-improving skill levels.
We get an early example of that above, as Stander goes in high on Drew Mitchell, targeting the ball and then stripping it clear of the Australian wing's grasp. It's obviously poor ball security from a Toulon perspective, but it's clever, combative play by the Munster flanker.
Stander seems to relish these in-contact situations, where he can wrestle and grapple one-on-one in a confined space. Below, we see another instance where that happens, as the South African attempts a choke tackle on Mathieu Bastareaud.
While Stander doesn't actually manage to turn the collision into a choke, it's still impressive 'fight' from him in the tight. Before the game, we spoke about Munster possibly looking to slow Toulon in contact, thereby allowing their defensive line time to set up for an aggressive rush.
Little plays like that above from Stander [aided ably by Damien Varley] were invaluable in slowing down the Toulon attack. Bastareaud gets well over the gainline in this instance, but Stander's work means there is no quick ball as a result.
The 24-year-old was not the only man who stood out in the collisions, with No. 8 James Coughlan constantly answering Toulon's most physical questions. The excellent clean turnover of possession below was one such instance.
With Toulon running short off the preceding ruck, as Munster might have expected, Coughlan assists in the initial tackle by hitting high as BJ Botha goes in low. Coughlan then gets blasted off the ball as he looks to go in for the poach, but his reaction is brilliant.
The Dolphin clubman bounces off the deck and takes advantage of a split-second window to go back in on the ball. Paul O'Connell gets his hands in too, while Dave Foley intelligently falls into the space beyond the ball.
As a result, Coughlan has the chance to wrestle one-on-one with Jocelino Suta for the pill and comes up trumps.
Turnovers at the breakdown are not the most frequent of occurrences for Coughlan, with the example above having been more suited to his slow-twitch strength [as opposed to the bursts of steals the likes of Peter O'Mahony tend to make at the breakdown].
Where Coughlan's strength more often comes in useful is in the choke tackle, which was highlighted late on in the game against Toulon.
Stander makes the first-up hit on Konstantin Mikautadze before slipping off, but that allows Coughlan that 'window' to get his hands in underneath the ball. James Cronin, O'Connell and then Duncan Casey are swift to realise that the choke is on and they flood in to seal it off.
As mentioned before, Munster have quite a few players who are good in these areas of the game, and the intention here is of course to highlight the efforts of their entire pack rather than just the individuals mentioned above.
Below we see Sean Dougall and centre James Downey [who was magnificently aggressive in Marseille] initiate the choke, allowing their teammates to pile in.
Again, it's superb defensive play and demonstrates the fact that Munster managed to turn what had previously been strengths of the Toulon game into weaknesses. We highlighted pre-match how Laporte's side looked to use short linking passes to create more favourable collisions, but Munster were ready and waiting for that mini-tactic.
In the example above, Dougall resists the temptation to bite in on Craig Burden, stalling long enough to realise that the hooker is going to pop to Danie Russouw outside him. As that happens, Downey reads the play and steps in on the heavy South African lock.
Munster's best performances this season have also featured lots of the more spectacular steals on the deck, whereby one of their defenders snaps into the 'jackal' position in the split-second before the rucking players arrive following a tackle.
Varley is one of the men who regularly comes up with those turnovers for Munster [as well as O'Connell and Peter O'Mahony], and the hooker showed his skills in this area once again yesterday.
The GIF above is all about Varley's explosive reaction to a chance to steal possession, but it's worth noting the role of Botha in aiding the poach. The tighthead prop makes the tackle on Russouw [who had a very poor game] before falling into the space beyond and just delaying the arrivals of Xavier Chiocci and Burden to clear out Varley.
Botha is then quickly back on his feet, back around to enter through 'the gate' and clear Burden away to complete the turnover. Excellent work-rate from the 34-year-old.
Adding in line speed
Several of the examples we have looked at above involve those turnovers of possession by Munster in the tight, but there were many more instances where their aggressive in-contact efforts weren't rewarded with steals.
That doesn't reduce the importance of each and every attempt, however, as much of Munster's good work was about slowing down the tempo of the Toulon attack. In turn, that gave the visitors' defensive line increased time to set and then burst up aggressively.
The GIF above gives us a strong example of that, where Munster have been successful in making something of a scrap of the ruck wide on their left. That allows the defensive line to fill, organise and then get up quickly to tackle Toulon behind the gainline.
It is worth pointing out that achieving peak line speed is relatively easier in positions like the one above, especially with the excellent work in slowing the ruck in the wide channel. The defending team does not have to worry about covering both sides of the ruck and numbering up on attackers, instead focusing totally on their line speed.
The second example of Munster's defensive line below provides us with a nice balance between that suffocating speed in closing down the ball carrier, and their fight in completing the tackle as far up the pitch as possible.
Stander is the man centrally involved, with Varley also committing to drag Carl Hayman up the pitch an extra metre. Again, Stander's upper body strength in contact is on show as he finishes the collision on top.
Skirting the line speed
With Munster's defence around the fringes of the rucks generally working so effectively in phase play, Toulon had to find other ways to break their opponents down and they did that impressively at times.
There have been perceptions of Laporte's side as being one dimensional in recent seasons, but those negative stereotypes have been slightly unfair to many of Toulon's performances in the Top 14, where they often use wider patterns.
We saw some of that in their use of screen passes to shift the ball into wide channels against Munster, twice scoring points directly as a result of their efforts.
The early example above actually led to the opening penalty kick of the game for Jonny Wilkinson, as Stander failed to roll away having made the scrambling tackle on Bastareaud.
Munster are in a decent defensive position at the start of the clip, and it's clear that when the ball gets to Juan Martín Fernández Lobbe, Ian Keatley expects him either to carry or to play that short pass to Russouw directly outside him.
However, the Argentine is clever enough to realise that the 'back door' option is on and pulls his pass back to Bastareaud behind Russouw. The entire play is done flat to the gainline and as we can see at the original ruck, it comes when Munster haven't been able to commit bodies to slowing the ball down.
Toulon don't quite manage to create a clean hole in the Munster defence, but this is the kind of situation in which Bastareaud thrives, and he makes a 22-metre gain on this occasion, leading to Toulon going 3-0 up.
The clip above provides an even better example of Toulon skirting Munster's line speed with an identical play, although this time Suta is the man to make the key pass under pressure.
Wilkinson, at out-half, starts a little deeper to adjust for the increased number of bodies in the Munster line [which allows them to rush faster], but Toulon still put themselves in a risky situation close to the defenders.
It's perfectly executed and on the next phase, the space opens for Sébastien Tillous-Borde to snipe through, and Conor Murray concedes the penalty with a high tackle as he scrambles to rescue the situation.
Toulon scored six crucial points from running this exact pattern, possibly a wrinkle in the game plan that Munster might not have fully expected.
Toulon's backline fires
The French side's expensively assembled backline managed to create several openings in the Stade Vélodrome, even if they did not score tries as a result. Again, it's not something many of us will have seen a great amount from Toulon in recent times.
The starter play above was particularly memorable and only a technically superb tap tackle from Downey prevents Bryan Habana from doing more damage. This time, Toulon use a longer screen pass behind Steffon Armitage and Bastareaud to get the ball into the wide channel early.
From there, Delon Armitage hits Habana on a well-timed trail line inside and the space opens up for the South African wing as Munster drift hard from right to left.
Habana was involved in another bust of the away team's defensive line later in the game, as highlighted in the GIF below.
That basic screen pass to a trailing runner is the mini-play that cuts Munster open, and this linebreak looked almost certain to lead to points for Toulon until Russouw knocked-on just metres short the tryline.
Munster will be disappointed to have had their line cut with this particular play, as it's something their analysis of Laporte's men probably would have picked up on. As we pointed out before the game, Bastareaud's involvement as a decoy runner complicates the situation for the defence.
When 'Basta' runs directly inside a defender as he does to Keatley in this example, it's a hugely difficult decision for the potential tackler. Hitting the gigantic centre as soon as he catches the ball is often the key to stopping him, meaning he attracts defenders very frequently on this exact line.
While Munster did very well to recover in this instance, these types of linebreaks are often momentum sapping for the defending team, as in this case.
Munster's excellent restart strategy
Ideally, Munster would have been hoping to take as few restarts as possible yesterday, but it was highly intelligent of them to have a focused strategy for this aspect of the game. With Wilkinson on the pitch, Toulon were always going to score points.
The very first kick-off of the game set the stall out from a Munster point of view, as Keatley got incredible height on a kick that landed a full 40 metres down field.
That hang time in the air allows Simon Zebo to use his pace to get into a favourable tackling situation on No. 8 Armitage, who Munster looked to take out of these phases by kicking directly on top of.
With the Englishman getting hit almost the moment he caught the ball, he was put to deck immediately and was then unavailable as Toulon looked to put their exit strategy into play.
In the example above, Keatley actually gets so much height on his kick that Zebo arrives slightly before the ball lands in Armitage's hands. The left wing might even have been better looking to get into the air on this time, but it's excellent work rate from him to get to that position.
The intent on Munster's part was to create as much pressure as possible on Toulon's attempts to clear the ball out of their own 22, thereby providing promising attacking positions – either from countering off loose kicks or from subsequent line-outs as close to the Toulon's tryline as possible [or in other words, within mauling range].
The clip below provides us with an excellent example of Munster's success with their long re-starts, as they hit Armitage early and then force Wilkinson into a relatively loose clearing kick.
Unfortunately, following the clip above, Munster knocked the ball on as they went through their attacking phase play, meaning they came up empty handed after wonderfully executing their restart strategy.
Those individual mistakes, as well as a habit of giving away penalties in crucial positions are ultimately what cost them the game. We will examine those aspects of the semi-final in part two of this piece.