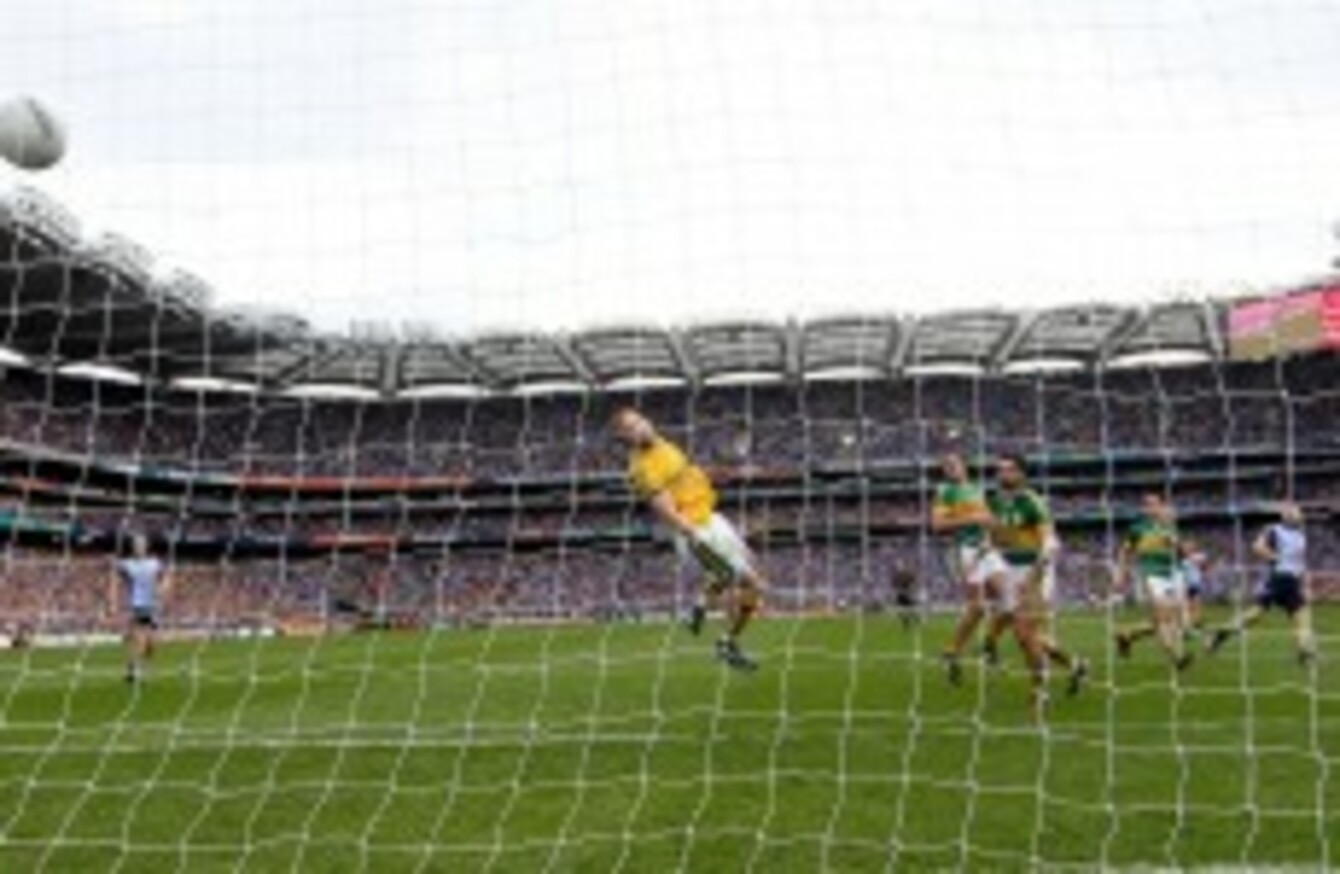 Kerry's goalkeeper Brendan Kealy looks on as Dublin's Kevin McManamon shot crosses the line for Dublin's second goal.
Image: INPHO/James Crombie
Kerry's goalkeeper Brendan Kealy looks on as Dublin's Kevin McManamon shot crosses the line for Dublin's second goal.
Image: INPHO/James Crombie
I HOPE YOU'VE all recovered.  Most of the people I spoke to after yesterday's extraordinary All-Ireland semi-final seemed to have gone through some sort of major emotional event; a kind of psychological dismantling, regardless of their allegiance.
It was an epic – for my money, the greatest game of football I've ever seen, and I'd sit down with anyone and argue the toss on that one.  There are a few games that come to mind that had everything – but this one had plenty of everything.
There can't be any doubt now that this Dublin team is the real deal.  The strength of character required to win that game, after the start they made, after the way Kerry moved 4 points clear in the third quarter, and to push on with it all up for grabs in the final moments, answered all the questions.
I like Jim Gavin, and I like the way he has a belief in how to play the game.  It's obviously brilliant to see teams play with the handbrake off as Dublin have done all year, but just because it works for Dublin doesn't mean it'll work for other teams.  So the people asking why we can't see games like this every week are being a little unrealistic.
We don't see games like this every week because this was one game where both managers spent the entire build-up trying to come up with a system that gave them the best chance to win, and they both decided front-foot football was the way to go.
You play the system that gives you the best chance to win.  If you don't happen to have 20 or more really top class players, as Dublin do, you have a duty to yourself to try and tilt the odds back in your direction a little.  If that means being more defensive than you'd like to be against teams that are better than you are, then unfortunately… that's good management.
I'd rather enjoy yesterday for what it was rather than assign any greater importance to it.  It's not going to signify a massive change in how managers around the country approach the game because most counties don't have the quality of footballer that Kerry and Dublin have.
And the sheer quality of the skills on show while performed at high speed on Sunday was breath-taking at times. Take out your old VHS machine, dust off a match (any match!) from the 1980s, and hit fast-forward.  That was basically what you were watching in real time in Croker yesterday.
The suspicion was always there that Kerry wouldn't be able to stay with the Dubs, and even though they were level going into the last minute of play, in the final analysis they were outscored 2-8 to 0-3 over the last 25 minutes.
Dublin's third goal was just a by-product of Kerry going up the field in desperation at the end, but even putting that aside, that's still a 8 point gap between the teams in the key part of the game.
Dublin's James McCarthy and Paul Galvin of Kerry get to grips with each other during yesterday's game.
Image: INPHO/Cathal Noonan
What are they
really like?
Rare insights on sport's biggest names from the writers who know them best. Listen to Behind the Lines podcast.
Become a Member
That's Dublin's fitness, but it's also the impact of their bench.  And Kerry just couldn't live with it.  I was so impressed by Mayo's ability to be steaming forward even in the final moments of last week's semi-final against Tyrone, and I'd be very surprised if one of these teams outscores the other by that amount in the final quarter.
Mayo and Dublin won't be as open as this, but there's every chance it'll be even more physical and played at an even faster pace.  Both of these teams took Donegal as their bench-mark, and have exceeded their fitness levels, and manic intensity from last year.
Despite Kerry's brilliance, the two best teams in the country have reached the All-Ireland final.  In a competition whose structure was effectively designed by feudal chiefs and the British about 900 years ago, that's something to be celebrated in itself.  With memories of what Mayo did to Donegal still fresh in the mind, many people will have them as favourites.
But if, as Andy Moran said he'd like to do when he spoke to us on the Second Captains @ The Irish Times show last week, he and his team-mates were there yesterday, they will realize the size of the challenge ahead of them.
They have history to beat, but they also have an exceptional opposition to overcome.
This week Murph was – thinking is there a single Clare hurling club secretary that hasn't been contacted by a Mayo club to arrange a swap-deal for All-Ireland final tickets yet… and if not, why not?  With the Dubs in the final, the Mayos will have to use all of their ingenuity this time around.