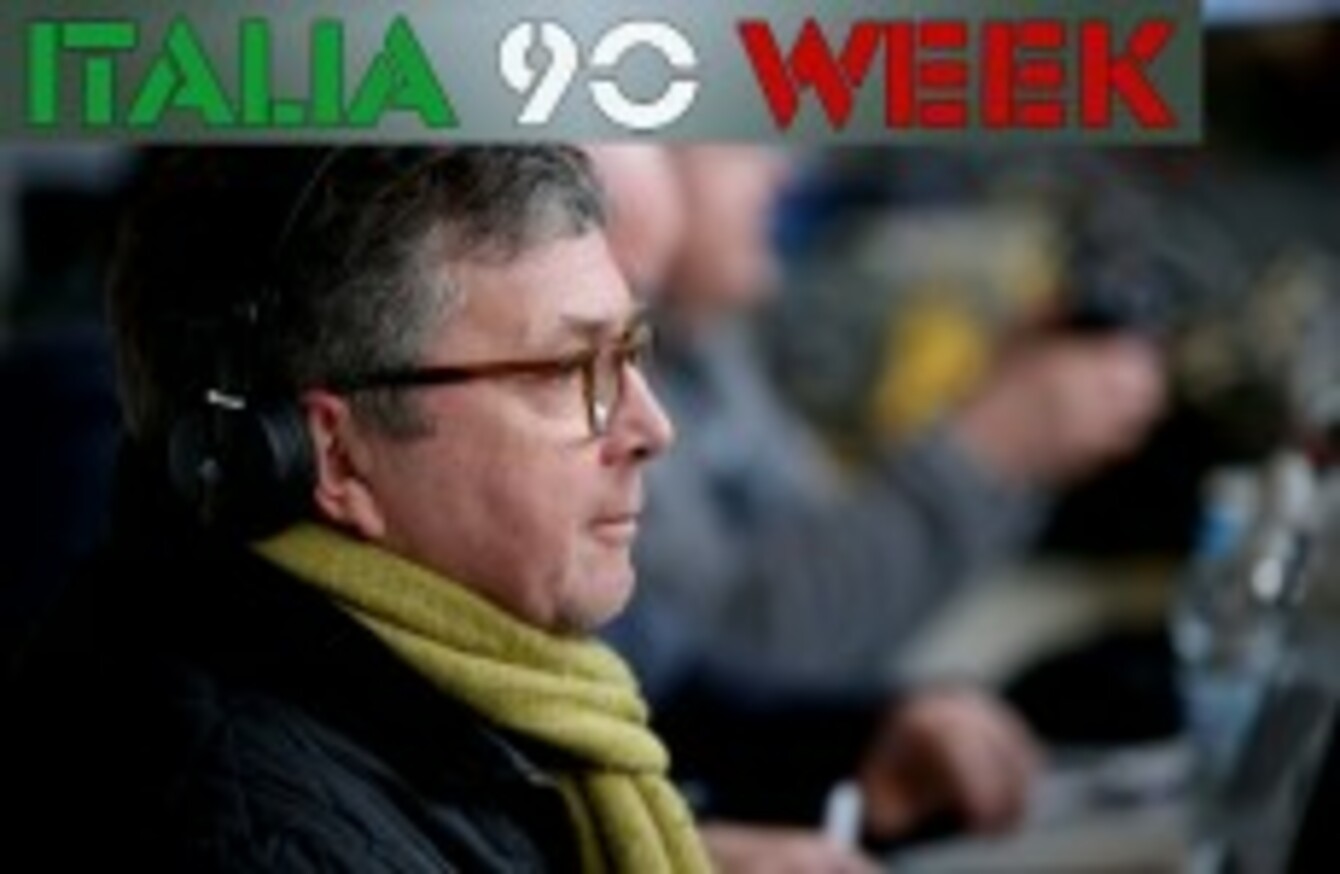 George Hamilton first worked at RTÉ for the 1978 World Cup.
Image: James Crombie/INPHO
George Hamilton first worked at RTÉ for the 1978 World Cup.
Image: James Crombie/INPHO
THE LATE SPORTSWRITER Con Houlihan was once asked: "What did you think of Italia 90?" "I missed it," he replied. "I was there."
Another of those who 'missed it' was RTÉ commentator George Hamilton. Still going strong in the role in his 60s, 25 years ago, Hamilton was already a well-known broadcaster with vast experience covering major tournaments.
"RTÉ, the World Cup and me are interlinked," he tells The42. "The whole reason I ended up with RTÉ was the World Cup of 1978. They were covering the World Cup for only the second time and they looked at the logistics of Argentina and decided they needed four commentators.
"It was six matches in Mendoza and then home. When I came back, they gave me a job, so that was what brought me to RTÉ in the first place."
Belfast native Hamilton later returned to the BBC — the channel with which he had started his career. However, he went back to RTÉ in 1984, shortly before the beginning of Jack Charlton's eventful tenure as Ireland manager.
By Italia 90, the Irish team were in upbeat mood and felt more confident than ever before on the international stage. Two years previously, they had reached Euro 88 and produced a highly creditable display in what was then an eight-team tournament.
The Boys in Green were pitted in a group that included England, in addition to the two eventual finalists, Holland and the Soviet Union. A 1-0 loss against Holland in the third game brought their tournament to an end — nonetheless it was a memorable experience in which they 'won the match they should have lost' (England), 'drew the match they should have won' (Soviet Union), and 'lost the match they should have drawn' (Holland).
"It was the first time that Irish fans had a chance to go abroad and wear green jerseys and support the team," Hamilton recalls. "After that experience, which was relatively short, there was a huge appetite for more."
There was consequently renewed confidence ahead of Italia 90, especially as on this occasion, the Irish side managed to qualify relatively comfortably, without the help of a Gary Mackay-inspired Scottish triumph in Bulgaria.
"The mindset was very different to what it is now where expectations are always high and you set yourself up for disappointment," Hamilton explains.
"There were six months leading up to the tournament and the expectations were huge. It was a World Cup, not just a European Championship and so, there was this great sense of pride at having got there and when the draw was made, we had England in the first match. From then on, it was all about the England match. The thinking was: 'If we get a good result in the England match, then the rest of the World Cup will take care of itself and it doesn't matter how far we get.'
"Getting out of the group, retrospectively, was a big achievement. I think we didn't really expect to get out of the round of 16, so the Romania game was a bonus. People went to the first two rounds of matches and then would ring the wife and say: 'I can't come home.' I think that sums up what the expectation was — we might get out of the group, but it does have England and Holland in it, so we might not."
Source: RTÉ Sport/YouTube
One person who was not quite so easy to please, however, was Hamilton's RTÉ colleague Eamon Dunphy. The pundit was infamously vocal in his criticism of Charlton's side, and in particular, their style of play over the course of the tournament.
"People remember Dunphy throwing the pen and saying it was a 'disgrace' the way they played against Egypt and all that. It became one of the moments of the World Cup coverage. But from my point of view, the end justifies the means.
"If you've 10,000 Irish people in a stadium, they're not going to be saying: 'God, I wish they weren't boring the pants off me.' We got a 0-0 and we're in penalty shootout with a chance of getting to the quarter-final of the World Cup. That's the reality of it… Pragmatism is what you take into tournaments — it's not playing like Brazil. And indeed Brazil don't always win the World Cup playing like Brazil."
He continues: "I don't see any reason why they couldn't do it again, but things came together under Charlton in a way they never will again. There will never be another first time. There will never be that extra wave of euphoria that lifted them a little bit, and that generation of players was also exceptional."
Hamilton travelled to Italy for the tournament along with the floor manager of RTÉ at the time, Tom Flanagan, who he describes as his "minder or wing man". With no co-commentators back then, he announced games alone.
"My production colleague had to look after the nuts and bolts of it, while I looked after other things," he explains. "So my memory was of flying up and down the place. I think we did 19 matches in all. We were doing all sorts of matches all over the place and then flying in to join the Irish party — you could probably use that term in both senses — and then flying off again to another match.
"The game against Holland in Sicily qualified them in the knockout phase, and there was a drawing of lots to see who Ireland would play next. I was assigned to do both the matches that Ireland might have got in that situation. The first of them was West Germany-Holland, which was the day before the famous Genoa match. Then I drove with Tom to Genoa to do the Ireland game against Romania.
"So we were dipping in and out of the Irish experience, unlike the majority of the Irish press corps, who were embedded, and more so than they are now. In those days, we travelled with the team on the same plane, stayed in the team hotel.
"The only time we weren't with the team was when they got on the bus to go to the match, which was private time for them. But for the rest of it, we were kind of lurking in the background everywhere, so it was a very different experience to these days, where we're at one remove."
Source: Chimpanzeethat/YouTube
Hamilton and his colleague had an arduous journey ahead of the Ireland-Romania game, as they were required to travel from Milan to Genoa earlier in the day.
"We were due to come back to Milan after the game for the night, but we decided that rather than run the risk of Ireland winning and us staying up terribly late and then trying to get back to Milan, we would take an overnight bag and just book in somewhere and then take it from there. So that's what we did.
"The Irish team were staying in a place called Rapallo, which was a small town outside Genoa. We found this Italian-style B and B. There was no air conditioning, but you could open the windows and let the light in and stuff like that. It was a nice, quaint B and B. We had driven down from Milan, checked in there and then went off to do the game.
"We bought a bottle of sparkling wine for the eventuality that Ireland might win, and when we did produce the sparkling wine after the match was over, it was warm and probably didn't taste too good. We presented it to David O'Leary and Packie Bonner. The last thing they wanted was a tepid, vinegar-like sparkling wine, so they took a slug of it and then poured it over my head live on TV."
Source: killianm2/YouTube
Of the Ireland-Romania match itself, Hamilton speaks particularly fondly.
"It's an astonishing game," he says. "Every last detail of it is etched in my mind."
Many people, including Jack Charlton, were stunned that when an opportunity arose for Ireland to score the winning penalty in a shoot-out, up stepped an unlikely candidate — David O'Leary, a substitute in the game, who had previously been ostracised from the team for many years after a falling out with his manager.
"At that point, there is always the margin for error that you get the sums wrong. I was more concerned that I had actually called it to the point where O'Leary's penalty was going to win it if it went in. I was fortunate in that everybody else had scored apart from Daniel Timofte, so it was a pretty straightforward shoot-out. They can become quite complex when people miss and you're trying to keep tabs on the thing.
"When he stepped forward, I was almost oblivious to the fact that it was David O'Leary, because of the significance of the kick — it could have been anybody taking it, but in hindsight, it was astonishing. The stories told of David O'Leary's child rushing from the house into the garden where the mother, who couldn't bear to look, was hiding. The child said: 'Daddy's about to take a penalty'. And Mrs O'Leary said: 'But Daddy doesn't take penalties.'
"But the fact that it was David O'Leary was some way down my list of priorities. The most important thing was to set the scene appropriately for the most significant kick in Irish sporting history probably up until that date."
Source: jazzforall/YouTube
As O'Leary stepped up to take the climactic penalty, Hamilton uttered what has come to be known as perhaps the most famous line in Irish sporting history: "The nation holds its breath."
The words were particularly appropriate, given that in addition to the game being shown on Network Two (now RTÉ Two), the Six One News were showing the penalty kicks as well. With TV3 or TG4 yet to be established, the match was literally all you could watch on Irish TV at the time.
"I guessed there would be a lot of [viewers], given that it was the Six One News plus our audience, which was pretty sizeable. It seemed like not too big a leap to suggest that everybody in Ireland was watching this, so the line came naturally. But in terms of thinking that this would sum it up and it would be the title of a book years later, no it didn't [register].
"But the next thing was how to follow it? The nation had held its breath and had exhaled."