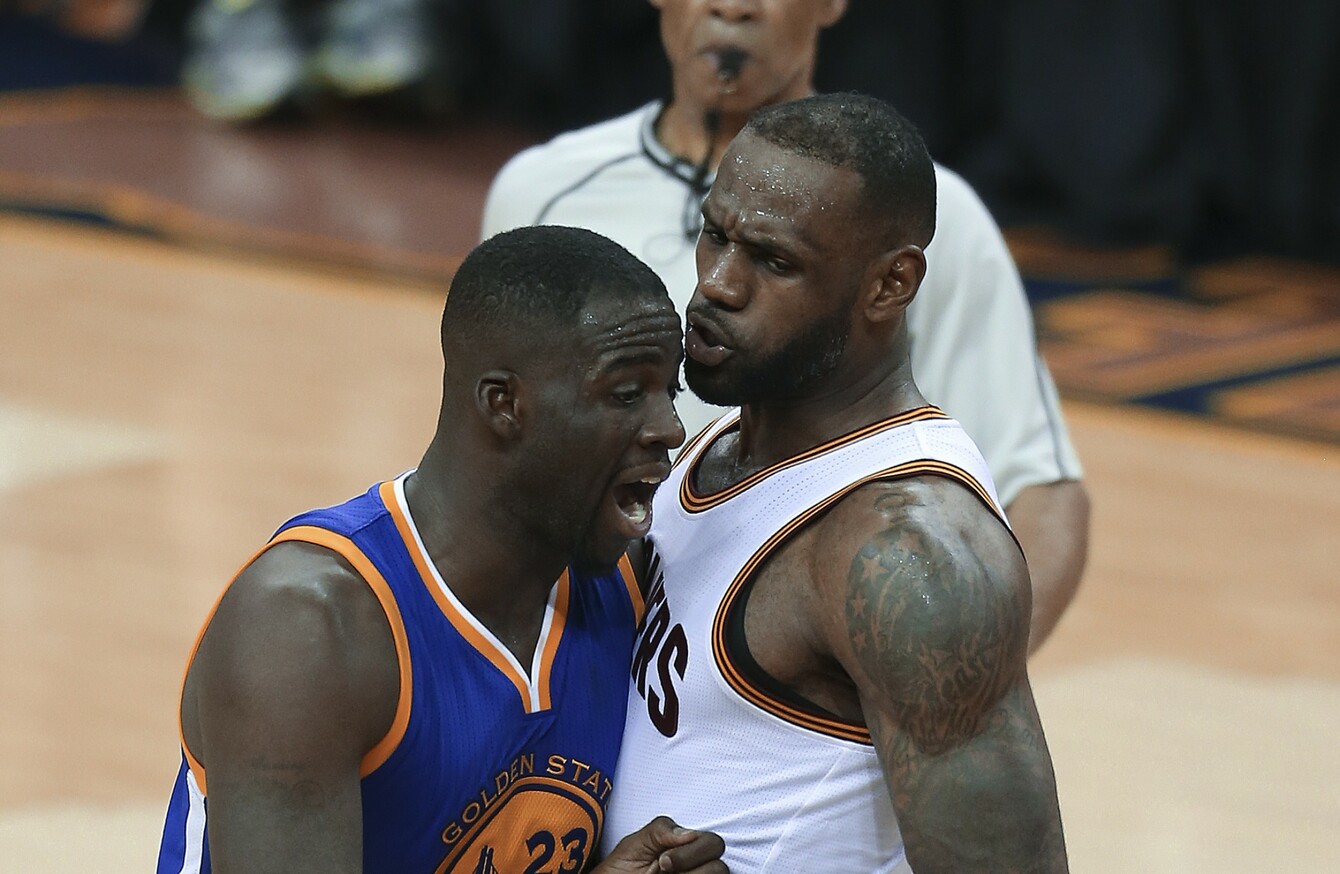 Image: Ron Schwane
Image: Ron Schwane
STEPH CURRY HAS called tonight's game six of the NBA Finals the biggest contest of his career while the revived Cleveland Cavaliers are confident they can dethrone the Warriors.
The defending champions lead tonight's hosts Cleveland 3-2 in the best-of-seven series entering a tension-packed showdown which will result in either a Sunday night game seven in California or the Warriors celebrating back-to-back titles clinched on the Cavaliers' home court.
"We have a chance to win a championship, so definitely (my) biggest game and I'm ready for it," NBA MVP and scoring champion Curry said.
LeBron James and Kyrie Irving each scored 41 points on Monday's 112-97 road victory that sustained Cleveland's title hopes, the first time teammates cracked 40 points in a Finals game.
"For us, it's just about coming out with that aggressive mindset, pushing in transition and getting easy opportunities," Irving said.
No team has ever rallied from 3-1 down to win the NBA Finals and no team in 50 years has even forced a seventh game.
"We have confidence we can win the series," Cavaliers coach Tyronn Lue said.
They have seen the blueprint is just being physical, being aggressive and attacking the basket. You don't play Golden State, you attack them. So we've got to attack."
The Warriors welcome back forward Draymond Green, banned from a game-five loss for accumulated playoff flagrant fouls. He is the only Warrior to play in every regular season and playoff win this season and is an emotional and defensive stalwart.
"He's going to play with that same aggression, same passion, leave it all on the floor but be smart," Curry said. "He can do that without having to take away a piece of what he does on the floor.
He won't get baited into any kind of altercations. I'm pretty sure he'll be talkative, but hopefully in a very constructive kind of way."
Green was suspended after his flailing hand struck the groin of James late in game four and was ruled a flagrant foul by the league.
"He knows if he gets another flagrant he misses game seven," Warriors coach Steve Kerr said. "I'd be shocked if anything happened on that front."
But Golden State will be without Australian center Andrew Bogut, who will be sidelined at least six to eight weeks with a left knee injury suffered Monday.
"It sucks not having him out there. He has anchored our defense," Golden State's Shaun Livingston said. "Not having his IQ, his passing ability, rim protection, it's going to hurt us. We've just got to grind it out."
https://vine.co/v/iLTZxim399X
James called out Cavaliers forward Kevin Love, who managed only two points and three rebounds Monday in his first start since a concussion kept him out of game three.
"We definitely need Kev to play better," James said. "But we don't want to add no more stress on him or added pressure. Just need him to be aggressive. We definitely need him. He's too big of a piece to our puzzle."
Said Love: "If you can't get yourself up for this, you might as well go home."
James averages a record 32.4 points a game when facing playoff elimination.
"I don't know what happens in elimination games," he said. "I understand the magnitude of it, but it doesn't bother me too much. I guess the last few elimination games have been pretty good and hopefully I can continue that."
James and Green downplayed their first game since the controversial foul.
"My only job is to get this win," James said when asked about Green. "We have a great opportunity to protect home court and go into two of the best words ever — game seven. That's all that matters."
Asked about James, Green replied, "He's a great player."
Unhappy Cavs anniversary
Game six will be played exactly one year since the Warriors won a game six in Cleveland to claim the title.
"It's an amazing feeling when you can quiet 20,000 screaming fans, celebrate on their floor," Green said. "It's hard. That's what makes it feel even better."
James said the memory of watching the Warriors celebrate on their court was not on their minds.
"We don't think about that stuff. We just get prepared to play," James said. "It's always one year to the date of something. Yesterday was one year to date that my son turned eight and he turned nine."
The42 is on Snapchat! Tap the button below on your phone to add!