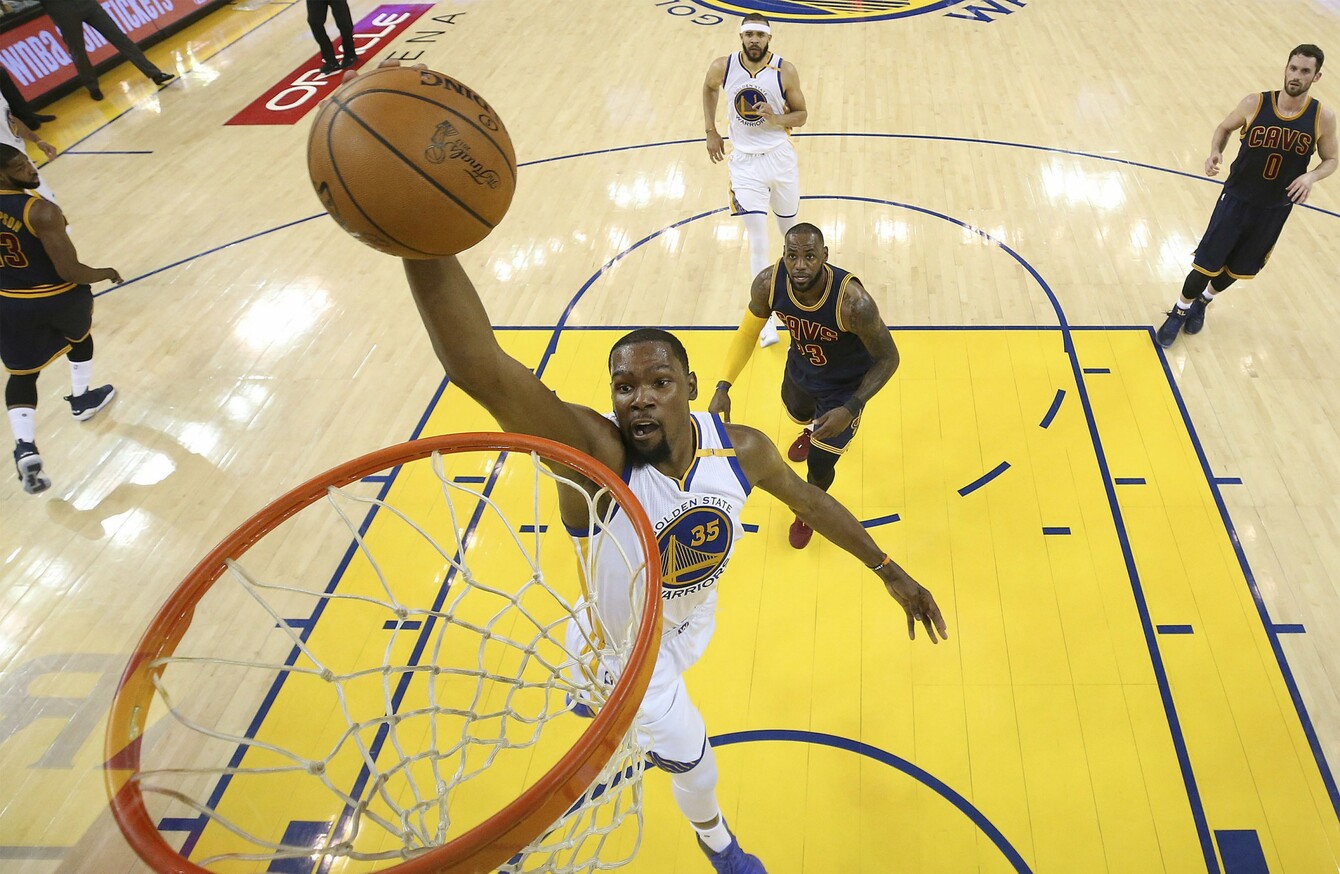 LeBron James wasted a lot of energy in defending KD in Game One.
Image: Erza Shaw/Pool/Pi
LeBron James wasted a lot of energy in defending KD in Game One.
Image: Erza Shaw/Pool/Pi
BOX SCORES CAN be misleading.
If you only saw the final result of Game One of this year's NBA finals, 113-91, you might think that the Golden State Warriors were comfortably the better team as they look to avenge last year's loss to the Cleveland Cavaliers.
That's only partly true.
For a start, the game was neck-and-neck until the third quarter when the home side put the game beyond reach and the Cavs realised the jig was up.
Secondly, the Warriors didn't really play that well. Klay Thompson and Draymond Green, for example, combined to shoot just 6-for-28 and, had the Dubs scored as proficiently as we've become used to, then really they could have won by 35 or more.
So the Warriors both won comfortably and played badly… that doesn't bode well for Cleveland.
But, all is not lost.
1. Slow the game down
The big takeaway from Game One was just how much the Cavs played into Golden State's hands by pushing everything and keeping a frenetic pace throughout the game that gifted the Warriors 106 shots.
In the four games Cleveland won against the Warriors in the finals last season, Golden State's shot count was: 76, 88, 82, and 83.
That's a hell of a difference.
Additionally, when the Warriors get to 100 points, they usually beat the Cavs. Indeed, in the 14 finals games they've played in the past three seasons, the Dubs have reached triple digits on nine occasions.
Their record? 8-1 in those games so Cleveland needs to keep everything at their pace, and not gift a 2-0 lead to the home side.
2. Forget about LeBron on Durant
Be part
of the team
Access exclusive podcasts, interviews and analysis with a monthly or annual membership.
Become a Member
Well, not forget about it but it seems like LeBron James's energy is better spent than on guarding a player like Kevin Durant who is going to score anyway.
In Game One, LeBron was making mental errors on a scale we're not used to seeing with eight turnovers and you could argue that was exclusively down to the mental and physical exhaustion of having to defend Durant.
This is not what the King is used to. Sure, he can still put in massive minutes and carry his team in both a scoring and play-making role, but that usually comes with being able to take a breather on defence.
Against KD, he just can't do that.
Of course, the alternatives for Cavs' coach Ty Lue are very much a case of pick your poison. Are Kevin Love or Tristan Thompson a better option?
Certainly not, but at least, if you put LeBron on Draymond Green, you're keeping his energy for a big offensive performance, limiting the turnovers.
3. Be more physical
It all starts with Tristan Thompson for Cleveland who managed no points and just three rebounds in 22 minutes in Game One.
This after averaging 1.6 points and 7.2 rebounds a game in the Eastern Conference finals.
Last year he kept close tabs on Steph Curry on screens but he was helped by the Warriors star carrying a knock.
This year, Curry looks as good as we've ever seen him but Thompson still needs to do more tonight if the Cavs are to have any chance.
*****
Of course, they could do all of the above… and if the Warriors improve too, it'll all be for nothing.