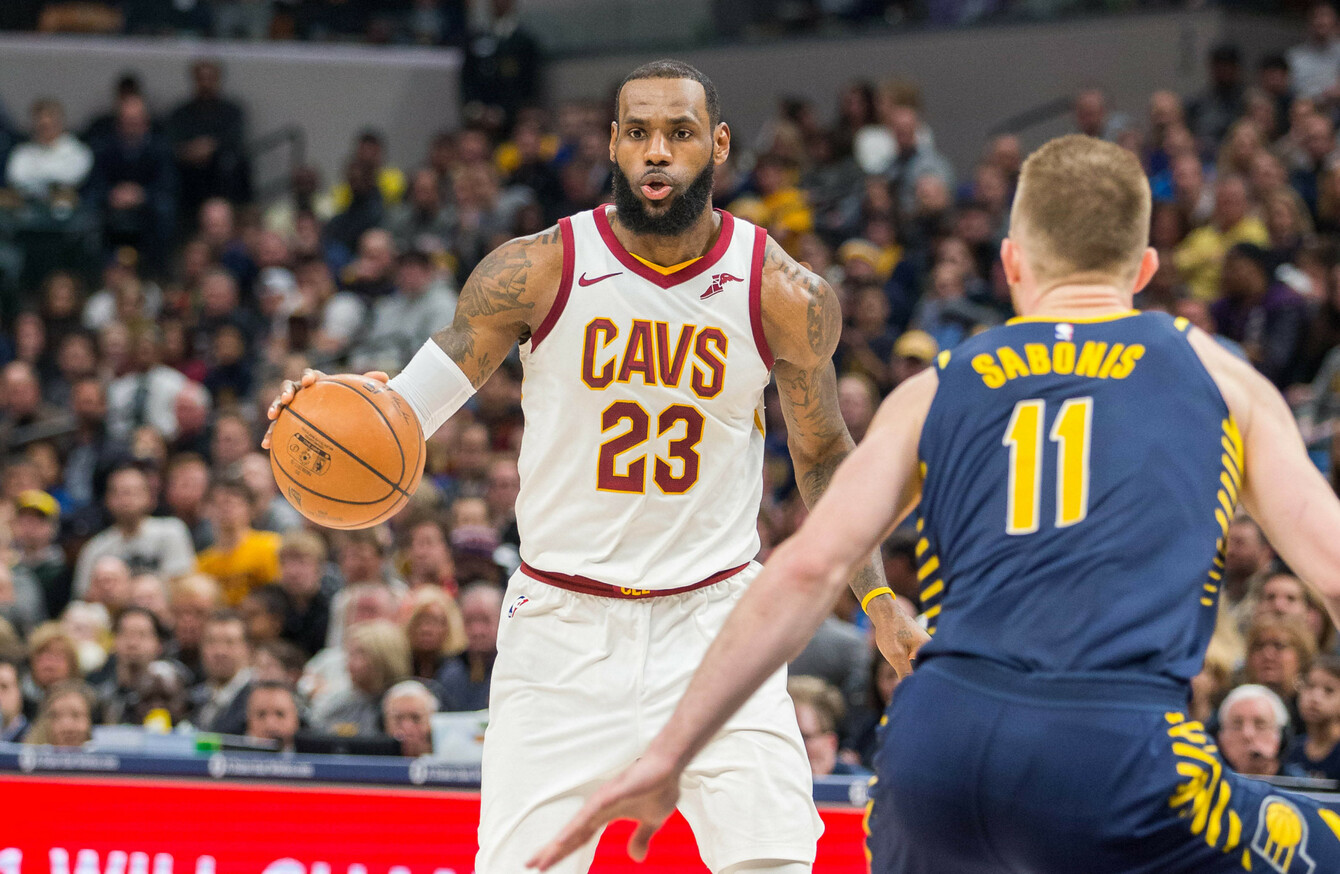 Will LeBron make his 8th finals in succession?
Image: SIPA USA/PA Images
Will LeBron make his 8th finals in succession?
Image: SIPA USA/PA Images
THE 2018 NBA playoffs get under way this weekend after the season — particularly in the west — came down to the wire this week.
Indeed, having an overtime, play-in win has many people thinking that might just be the format for the eighth seed in both conferences going forward but that's a decision for the offseason.
First, we've (potentially) 105 games left in this year's playoffs and it's far from certain the finals will be a repeat of the last three finals.
Indeed, if anything both the Cavs and Warriors come into this year's postseason with more questions than answers.
Eastern Conference
Toronto Raptors (1) v Washington Wizards (8) – Game 1, Saturday, 10.30pm
Toronto captured the number one seed for the first time in franchise history this season as they also secured a franchise record number of regular season wins (59).
However, the Raptors' problems come in the postseason where they've only made it out of the first round three times in nine attempts to date.
The Wizards were poor down the stretch, losing 14 of their last 21 games but do welcome back John Wall and he'll need to be at his All-Star best to take down the number one seeds.
Boston Celtics (2) v Milwaukee Bucks (7) – Game 1, Sunday, 6pm
The big question here is whether the Bucks with Giannis Antetokounmpo have enough for a Celtics team without Kyrie Irving and Marcus Smart?
Despite the injuries, the Celtics are a good defensive team but they could have trouble scoring points.
The Greek Freak will be the most talented player on the floor but he can't afford a single night off in this series if Milwaukee are to stand a chance of causing the upset.
Philadelphia 76ers (3) v Miami Heat (6) – Game 1, Sunday, 1am
The Sixers come into the playoffs on the back of 16 straight wins, making them the hottest team in basketball, but the fact remains they've beaten just four teams above .500 in that run.
They're a comfortable favourite in this series but the Heat might be the worst possible first round draw as a well coached team with a lot of depth taking on a bunch of guys more used to tanking than winning.
Miami will hope Joel Embiid misses the entire series but, even if he does return, slowing the game down might be the only way to get by Philly because with Embiid and Ben Simmons, the Sixers are coming out on top in any high-scoring affair.
Cleveland Cavaliers (4) v Indiana Pacers (5) – Game 1, Sunday, 8.30pm
The surest bet at the start of this year's NBA season was another Cavs v Warriors final but Cleveland have misfired all season and actually lost three of their four regular season games with the Pacers.
Victor Oladipo has been the man for Indiana and the fifth seeds will look to their All-Star to lead them in this one again.
For Cleveland, so much of it depends on LeBron putting in the work on defence after his team ranked 29th in defensive efficiency over the regular season.
Western Conference
Houston Rockets (1) v Minnesota Timberwolves (8) – Game 1, Monday 2am
The Timberwolves were the last team to scrape into the playoffs, earning their first postseason berth since 2004 and ending the longest drought in the NBA.
But they lost all four regular season games to the Rockets and could well get swept in this series too as they try to keep James Harden and Chris Paul in check.
However, they do have Jimmy Butler back and if Andrew Wiggins gives it more than 60% — seemingly his default setting — and Karl-Anthony Towns can take over a game or two, they might make it interesting.
Golden State Warriors (2) v San Antonio Spurs (7) – Game 1, Saturday, 8pm
The big question coming into this round one match-up is whether or not the Warriors can dispense with the malaise that has affected so much of their season and become the dominant force we've been used to?
Even if they don't, the Spurs may not be the team to make them pay, especially without Kawhi Leonard who has played just nine games all season because of a mysterious injury that may or may not be real.
Gregg Popovich will look to LaMarcus Aldridge instead but, even without Steph Curry in the opposing line-up, Kevin Durant might be a player too much for San Antonio to handle.
Portland Trail Blazers (3) @ New Orleans Pelicans (6) – Game 1, Sunday, 3.30am
This is, perhaps, the most intriguing match-up of the entire first round, east or west, even if Portland enter the playoffs having lost seven of their final dozen games.
If it wasn't for James Harden, Anthony Davis would be a legitimate MVP candidate for the Pelicans who, weirdly, have been a much better team since DeMarcus Cousins went down with an injury.
If Rajon Rondo can keep Damian Lillard in check — he put up 41 points the last time he played New Orleans — then this series is there for the underdog Pelicans to take.
Oklahoma City Thunder (4) v Utah Jazz (5) – Game 1, Sunday, 11.30pm
The Jazz won 17 of their final 21 regular season games on the back of the NBA's best defence down the stretch.
While Donovan Mitchell received a lot of the headlines — thanks in part to his off-the-court attire — Rudy Gobert's efforts at both ends of the floor is likely to have a far bigger impact on this series.
Despite his best efforts, the Thunder need to be more than just Russell Westbrook plus four and the Paul George who averaged in excess of 20 points per game in his final four could prove key in this one.
The42 is on Instagram! Tap the button below on your phone to follow us!