THE CLEVELAND CAVALIERS  punched their ticket to the NBA Eastern Conference finals on Sunday, holding off a desperate Hawks team 100-99 in Atlanta to complete a sweep of their second-round playoff series.
Kevin Love scored 27 points and tied his career-high with eight three-pointers to help Cleveland wrap up the 4-0 series victory.
The Cavs, who fell to the Golden State Warriors in last year's NBA Finals, will play either Toronto or Miami for a chance to return to the championship series.
Kyrie Irving scored 21 points and handed out eight assists. James added 21 points, 10 rebounds and nine assists — and came up big defensively on Atlanta's final possession.
The Cavaliers were up 100-99 with 10 seconds to play when James tied up Atlanta's German point guard Dennis Schroder on a drive inside the paint.
James won the ensuing jump ball as Cleveland held on for the win but it didn't all go their way:
https://vine.co/v/iQIPuAuBrhQ
Once again Cleveland were on fire from three-point range. They hit 16 three-pointers on Sunday, 10 in the first half, taking their tally for the final three games of the series to 62.
"We're in a great rhythm right now," James said. "We know where everyone is on the floor and exactly where we should be."
Cavaliers coach Tyronn Lue said the team was hitting its stride at the right time.
"The last three or four weeks of the season we really started playing good basketball on both ends of the court, and it's carried over," he said. "Team's playing well right now."
Schroder, who finished with 21 points, led a balanced Hawks attack, with five Atlanta players scoring in double figures.
The Hawks led by as many as 12 in the second quarter, but they couldn't hold off the eventual onslaught and the Cavs can now catch their breath as Miami and Toronto battle on in a series in which the Raptors lead 2-1.
Durant lifts Thunder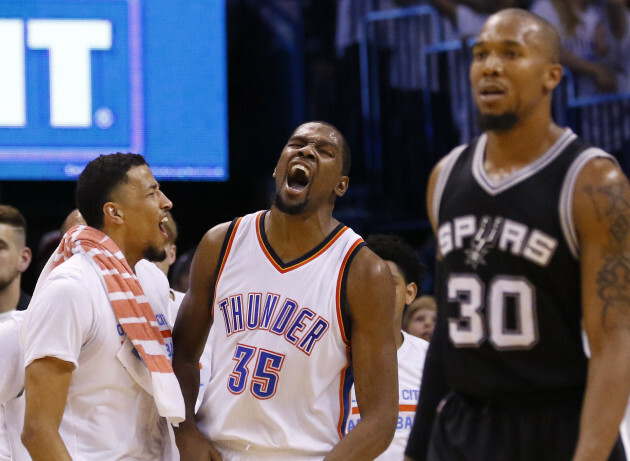 Alonzo Adams / AP/Press Association Images Kevin Durant was on fire last night. Alonzo Adams / AP/Press Association Images / AP/Press Association Images
In Oklahoma City, Kevin Durant tied a playoff career high with 41 points to lead the Thunder to a 111-97 victory over the San Antonio Spurs that knotted their Western Conference second-round series at two games apiece.
Down by four after three quarters, Oklahoma City outscored the Spurs 34-16 in the fourth quarter.
"They out-toughed us," said Spurs coach Gregg Popovich, who pointed to the Thunder's 40-34 advantage in rebounding as well as a solid contribution from the Thunder's role players in backing up Durant.
"They deserve credit," Popovich said. "They out-played us in the fourth quarter."
Durant connected on 14 of 25 shots from the field and 10 of 13 from the free-throw line.
"I just try to be consistent in what I do," he said. "I know that at any given moment, I can go off and hit a few shots. I just try and stay with it and play as hard as I can on both ends of the floor and leave it all out there and live with the results."
Russell Westbrook added 14 points, 15 assists and seven rebounds, while Steven Adams chipped in 16 points and 11 rebounds and Dion Waiters came off the bench to score 17 points.
Oklahoma City were up by four when Durant scored four straight points to stretch the lead to 105-97 with 2:04 to play.
San Antonio's Kawhi Leonard then missed consecutive three-pointers and Durant drained a three-pointer from the corner. Back-to-back baskets from Westbrook and Durant finally put the game away.
"I just tried to stay in the moment," Durant said. "We still had a couple of minutes left in the game, our crowd was phenomenal tonight. Probably the loudest I've ever heard them."
Veteran French point guard Tony Parker paced the Spurs with 22 points. Leonard scored 21 and pulled down six rebounds. LaMarcus Aldridge scored 20 points and grabbed six boards in the defeat.
The Spurs will host game five on Tuesday.