FIVE DAYS OUT from the most important fight of his career, it still hasn't quite registered for Neil Seery that he's about to compete on a big UFC bill in Las Vegas.
Saturday's meeting with Louis Smolka at UFC 189 will be Seery's fourth appearance in the octagon, but those previous outings in London, Dublin and Stockholm won't match what the 35-year-old flyweight will experience this week.
Featuring on a pay-per-view event in Vegas — albeit on the undercard — is as good as it gets for mixed martial artists like Seery, and it's something he never expected to get a taste of.
His base over the coming days is the plush surrounds of the MGM Grand Hotel — something that illustrates the extent to which the game has changed for Seery over the course of a 10-year career as a professional. How this fight against Smolka came about is another.
There's no animosity towards his American opponent on Seery's part, but it's hardly a coincidence that this match-up has been made five months after the pair traded hostilities on Twitter.
When Seery began fighting, social media wasn't around to give you access to your opponents. Sometimes you weren't even sure who they were. And you certainly weren't being put up in a swanky hotel on Las Vegas Boulevard.
"They were different times," Seery reflects. "What I used to do was fight and then go drinking. I'd barely be out of the cage and I'd have a pint in my hand. To me it was just about getting in and having a fight, and that was the end of it. Because the UFC wasn't really a thing in Ireland at the time. Not just for me, for anybody.
"People just wanted to fight, there was none of this media back-and-forth stuff. You didn't care who you were fighting, you didn't even know who it was. You just went out and fought because that's what you wanted to do. That's why you got into it.You'd walk into the place and and look around, wondering which guy is the one you're fighting. You'd have a name but not a face to put to it.
"I remember fighting Andreas Lovbrand down in Galway and we were being put up in a shed out the back of a place. There were four beds in the shed and this woman sent us out there; she said that's where they were putting us up.
"So we walked into this shed and there were two other lads in there… who turned out to be Andreas and his coach. That's the way it was. It was like when you're a youngfella playing hurling, you come out on to the pitch and you're looking around to see who's the fella you're marking. 'Bollocks, he's a big bastard' — that sort of thing.
"It's totally different now because you've got so many critics watching you and there's so much pressure. Fans are all over Twitter letting you know what they think. Back in the early days, you were fighting in GAA halls and there wasn't even 200 people there.
"I enjoy social media for slagging and stuff, but when it's about the fighting side of things and it gets serious, I'm not into that. It's not me. I've no interest in calling anybody out or being a dick to anybody."
Seery is now 18 months into his spell with the UFC and the veteran Dubliner continues to perform a pretty impressive daily balancing act. Competing in MMA's largest organisation is a full-time commitment, but so is his day job as a warehouse manager near Dublin Airport.
After a frustrating loss to Artemij Sitenkov — one of the two men to beat Conor McGregor — at Cage Warriors 46 in Kiev in February 2012, Seery was on the verge of walking away from the sport. Had you predicted then that he'd become the Cage Warriors champion just over a year later, questions would have been asked of your sanity. If you forecasted that Seery would be preparing to get his third consecutive UFC win in Las Vegas another two years further down the line, you'd have been laughed at — and by nobody more so than Seery himself.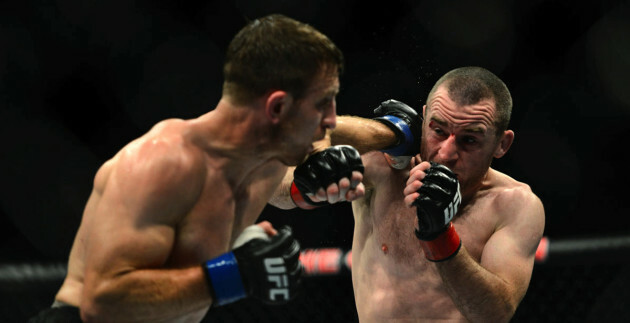 ©INPHO / Rodrigo Romos Neil Seery trades blows with Phil Harris at UFC Dublin. ©INPHO / Rodrigo Romos / Rodrigo Romos
"This is one of those things I never thought I'd experience. I never thought I'd make it to the UFC, let alone a big event like this in Vegas," explains Seery. "My record at flyweight is good but overall (15-10) it's terrible, more or less. On paper it's not great but I've shown that I can mix it with the best of them.
"It was Andy [Ryan, his coach] who kept telling me that I'd be in the UFC within a year after I won the Cage Warriors title. I just said "ah I won't" and didn't think much more about it. So getting to fight on the biggest card of the year at the MGM Grand… it's definitely taking a while to sink in."
The pain that followed the defeat to Sitenkov wasn't easy to endure. Seery was investing time and money into his career as an MMA fighter but he wasn't breaking even on the return.
Seery: "I was so frustrated after that fight. Obviously Sitenkov had done it to Conor as well and I think Conor went missing for a while after that too. A defeat like that can take a lot out of you. The trips are good and people say it's great to travel to these places, but it's not.
"You're going there to work. You're going there to win. The defeats are hard. I was't getting paid what I'm getting paid now and whatever we did get we were drinking on the way home. We were breaking our bollocks but earning very little.
"All throughout the years that I've been fighting, all of my holidays in work are used up by going to fight. All my weekends are taken up by cornering team-mates. You get three weeks out of work for the year so you're left with nothing at the end of it all. You're left with nothing in your pocket — it was actually costing me money to fight — and no holidays left, and then you fly around the world to get beaten. It was things like that which just made me think: Fuck this!"
As hard as he tried, however, Seery couldn't stay away from the Team Ryano gym on Dublin's northside for long. One would assume that a man with two full-time jobs and four children would welcome any opportunity to create some room for manoeuvre in his schedule. But in Seery's case, one would be incorrect.
"I don't think the buzz ever leaves you. I read an interview recently with Oscar de la Hoya. He's financially secure, he doesn't need to fight again but he's getting the itch to come back even at his age. I think that happens to every fighter.
"I'm still asking myself now, what am I going to do when it's over? How am I going to fill the hours? What the fuck am I going to do when I just have to go home after work instead of going straight to the gym? That was one of the main reasons why I came back after the Sitenkov fight."
Ultimate Fighting Championship Ultimate Fighting Championship
A typical day for Seery starts in work at 6.30am: "I'm there until half two in the afternoon. Then I'm in the gym for three o'clock, either in Team Ryano or with Paschal Collins in Blanchardstown. I'm there for an hour or an hour and a half. Then I'm home for something to eat and to organise the kids.
"They're all very active; they're either training in Erin's Isle or in Team Ryano. Every single day, someone needs to go somewhere before I can go back to the gym for a couple of hours at half six in the evening. It's groundhog day. It's hard but I wouldn't change it."
Such a hectic lifestyle is bound to take its toll at the end of each day. Sleep should come easy, but it doesn't. Switching off when the time comes to rest is often difficult.
"I was suffering from sleep deprivation and had to go and see someone about it. I was so wound up at night time that I just couldn't shut down. I was going to bed at midnight but still lying awake at two o'clock in the morning. Then I'm up at six. I was constantly wound up, thinking about what I have to do tomorrow. With so much going on you're always having to plan for how the next day is going to go."
The family holidays will have to wait until he calls it a day and Seery knows that at 35, the next fight could always be his last. But for now, he's on a good run of form and the curtain doesn't look likely to come down any time soon.
"I know what this game is about and I'm not a fucking eejit; I'm not staying in it to get thumped around by anybody.
"When that time does come, I am looking forward to going on holidays and that pressure being off. It's stressful. A lot of people think it must be great to have two jobs, but the stress is unnatural. You're working full-time, training full-time and getting the kids organised at the same time.
"They can't just be left to sit around the house while I do what I have to do. Realistically you're training for 10 weeks — two and a half months — for a fight. And you're still ticking over when you're not preparing for a fight, so it's a constant thing. It wouldn't be fair on anybody to leave the kids in the house."
Seery — along his partner and their four children — is making sacrifices for now, but they pay off when he gets his hand raised in the octagon before returning to the changing room and switching his phone on. That's the return on the investment he was searching for.
"The time I'm taking to be in Vegas is at my own expense. It's coming out of my pocket. I'm grateful to have a job and to have money, because a lot of people aren't in that situation, but I don't like losing out on money. Or holidays. I end up having to send the kids on holidays without me. It's hard in that sense. Everything is worked around me fighting.
"But all the crying and sacrifices aside, it's worth it in the end. And the kids understand that too. Getting the wins is when it's worth it; when all your hard work has paid off. And the messages that flood in on the phone from people, my kids, afterwards. That means more to me than anything else. More than the win itself.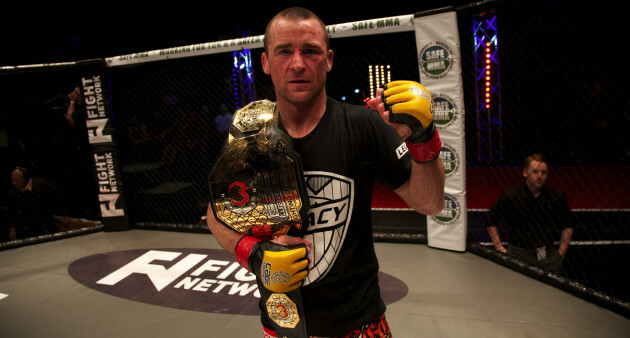 Dolly Clew Celebration time for Neil Seery following his Cage Warriors title win in June 2013. Dolly Clew
"That's when I know it's worth it. Most other lads can head off to other parts of the world for 10-week training camps. I don't have those luxuries. I don't whinge about it, so it just means more in the end when you get those messages from the kids."
Since putting in a brave performance in his debut against Brad Pickett in February 2014 — which Seery lost via decision after taking the fight on just two weeks' notice — the Irish veteran has proven that he's worthy of his place on the UFC roster.
He was very impressive in last July's win over Phil Harris and looked even better en route to a comprehensive victory over Chris Beal in January. It's rare to see an athlete in any sport continuing to improve when in the twilight of their career, but Seery is bucking that trend. Confidence has been the key, although there's still plenty for him to work on.
"I've dazed three opponents — I don't give a rat's arse about what any of them say, I've seen them buckle — but sometimes it's my own fault because I keep letting them off the hook. I caught Chris Beal and took a step back instead of moving in to put him away. So it's largely been my own fault.
"You can't do that if you want to move onwards and upwards. You have to cut that shit out of your game and finish the opponents. I'm not receiving great shots either or coming out of fights broken up. A lot of them are taking me to the ground so I have to be wary of that.
"Having a bit more confidence has made a difference. Winning the Cage Warriors title was a big turning point for that. Before that fight I had never been so nervous but the result went my way. Then the Brad Pickett fight was another big confidence booster. He was number six in the world at bantamweight but I dragged him the distance and nearly beat him.
"Why wouldn't I take confidence from that? In my eyes I won the fight. I might have lost it on paper but I won it because I'm after sailing on through it."
When the messages come in from his kids after Saturday's fight against Louis Smolka at UFC 189, Seery will be hoping that they're congratulating him on another victory. Regardless of the result, however, the Las Vegas bout will be the realisation of a dream.
Who needs holidays when you're competing for the UFC in front of a sold-out MGM Grand in Las Vegas?
- Originally published 0600