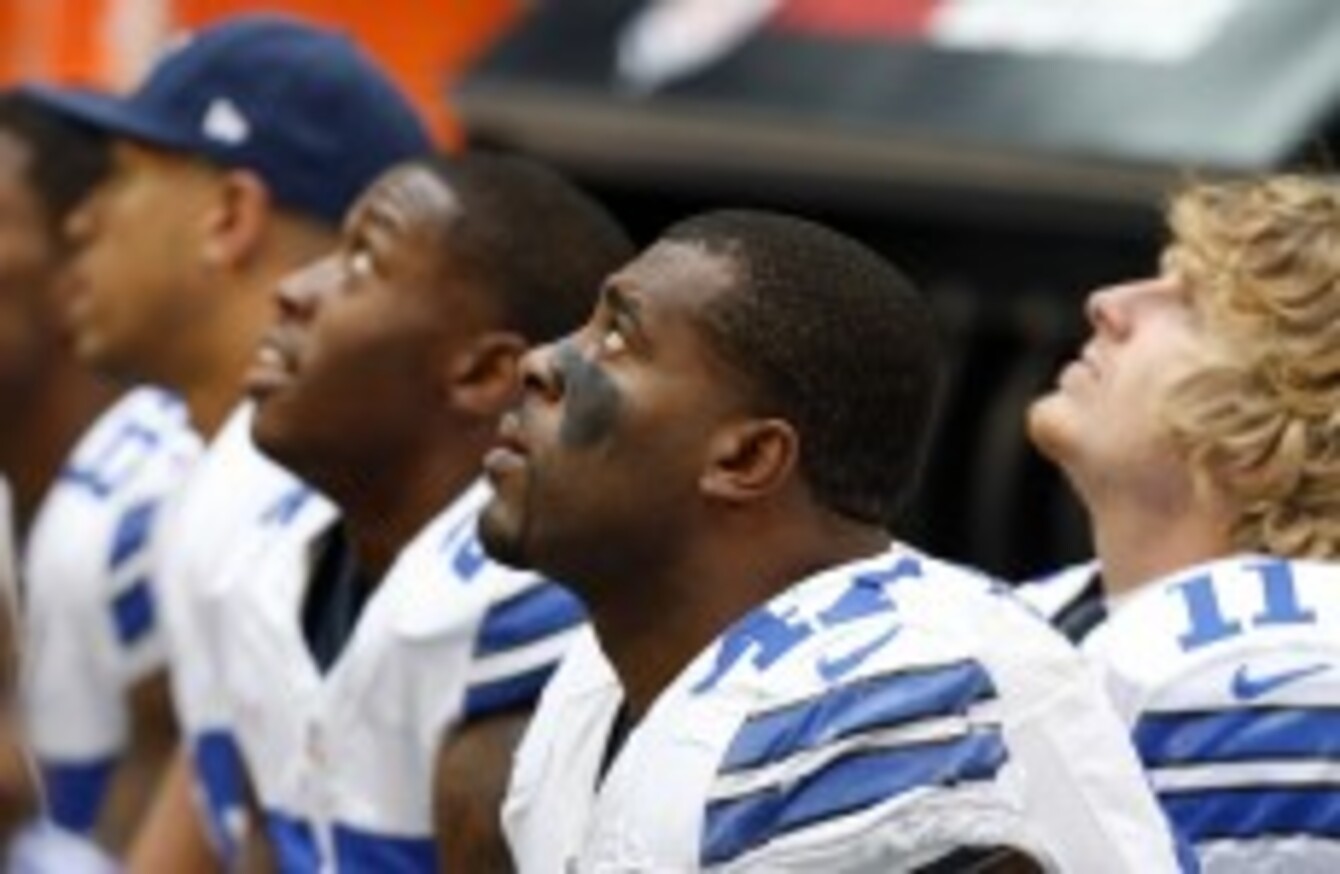 Image: Sharon Ellman/AP/Press Association Images
Image: Sharon Ellman/AP/Press Association Images
THE BATTLE FOR the NFL's NFC East division crown comes down to the wire tonight when the Washington Redskins host the Dallas Cowboys in the last game of the regular season.
For the Cowboys, winning is their only ticket into the playoffs, while the Redskins might advance as a wildcard even if they lose.
But Washington's sensational rookie quarterback Robert Griffin III doesn't want to do it that way, and the Cowboys know it.
Dallas defenders are focused on containing the versatile young star — something they failed to do in a 38-31 loss to Washington on Thanksgiving Day last month.
"I think one thing you have to do with him, especially when you have an option quarterback who's exposed: You have to inflict him with pain," said Dallas linebacker Brady Poppinga.
"Not that you're trying to knock the guy out or anything, but you have to tackle him … You want to get some good shots on him and you want to test his toughness."
Since the teams last met, Griffin has been sidelined by a knee injury, and may be less than 100 percent.
Nevertheless, Dallas linebacker Ernie Sims said the Cowboys are preparing for Griffin's best.
"Stopping RGIII, that's our goal," Sims said.
Offensively the Cowboys will be relying on quarterback Tony Romo and receiver Dez Bryant to continue the kind of inspired play that has seen the team claw back into playoff contention after falling two games below .500 midway through the season.
Romo must avoid the inopportune interceptions that led to defeats against Chicago and the New York Giants — something he has managed to do late in the season.
"He makes a ton of plays," Cowboys coach Jason Garrett said. "He's just not making very many bad plays. He's done a great job with the football. His decision-making, his care of the football has been very good."
The Minnesota Vikings can lock up one of two remaining playoff berths with a victory over visiting Green Bay.
The Packers, meanwhile, will be trying to secure a first-round bye and prevent Vikings running back Adrian Peterson from capping his remarkable comeback from a torn knee ligament by surpassing Eric Dickerson's NFL record of 2,105 rushing yards in a season.
Peterson needs 208 yards to break the mark set in 1984.
"I respect Adrian Peterson a lot," said Packers cornerback Sam Shields. "He's a great running back. But he's a big threat. We need to stop him."
If the Vikings lose, it could open the door for the erratic Chicago Bears, who visit Detroit, and maybe even for the New York Giants, who maintained the slimmest of playoff hopes heading into their season finale at home to a Philadelphia Eagles team that will have Michael Vick back as starting quarterback — taking the reins back from Nick Foles for what is likely his last game as an Eagle.
AFC South division winners Houston will try to lock up home field advantage and a first-round bye when they visit Indianapolis.
Playoff-bound
The playoff-bound Colts will be welcoming back coach Chuck Pagano, after he took time off to be treated for leukemia.
The Colts are locked into the fifth seed in the AFC. Baltimore, assured of at least the fourth seed, take on playoff-bound Cincinnati.
Seattle secured a playoff berth with a win over San Francisco last week. Now they'll try to claim the NFC West Crown over the 49ers with a win over St. Louis, while San Francisco, also assured of a playoff berth, host Arizona.
Perennial post-season contenders New England, still in the running for a first-round bye, host Miami, and Denver — also in the hunt for a bye — host lowly Kansas City.
Atlanta, already assured of home field advantage in the playoffs, wrap up their regular season against struggling Tampa Bay.
In other games, Buffalo host the New York Jets, New Orleans host Carolina, Pittsburgh host Cleveland, Tennessee host Jacksonville and San Diego are at home to Oakland.