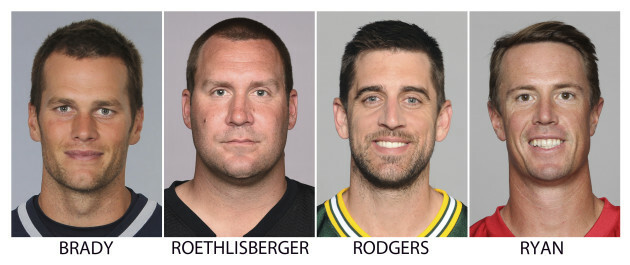 AP / Press Association Images And then there were four. AP / Press Association Images / Press Association Images
AND THEN THERE were four.
The NFL's Championship Sunday will see the Green Bay Packers visit the Atlanta Falcons for the right to lift the George Halas Trophy while the Pittsburgh Steelers and New England Patriots will battle it out for the Lamar Hunt Trophy in Massachusetts.
There seems to be some surprise among casual NFL fans that no elite defence has made it to either the AFC or NFC Championship Game but, when you dig into the numbers, it's not that shocking.
In 50 games, the Super Bowl champion has been a top-five defensive team during the regular season on 31 occasions while the winner has been one with a top-five offence 27 times.
Not that different.
And, in fact, if you consider the entirety of the playoffs in general (including this year), teams with a top-five defence have won 181 playoff games while teams with a top-five offence have won 186 games.
Again, it's a fairly negligible difference but it means we can probably stop saying defence wins championships.
Green Bay Packers @ Atlanta Falcons (-5.5) – 8.05pm, Sunday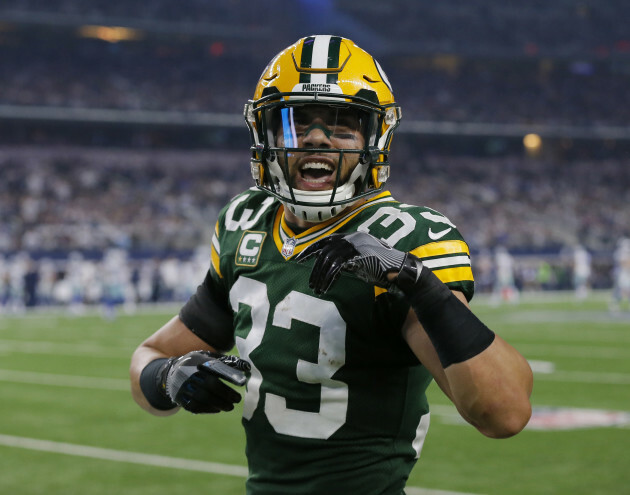 Tony Gutierrez / AP/Press Association Images Micah Hyde celebrates reaching the NFC title game. Tony Gutierrez / AP/Press Association Images / AP/Press Association Images
With former Seattle Seahawks defensive coach Dan Quinn at the helm, the Atlanta Falcons were supposed to be good on that side of the ball.
They are not.
Indeed, the Falcons gave up nearly 6,000 yards during the regular season which would not be so bad if they were a bend, don't break defence like Pittsburgh or New England.
Instead, they gave up touchdowns 72.7% of the time their opponents reached the red zone, the second worst number in the NFL.
To put the number in even greater context, the Patriots gave up touchdowns on 52.3% of visits and the Steelers a measly 45.6%. The Giants led the league with 39.5%
The Packers are well equipped to take advantage this weekend as they score touchdowns on 60.6% of their trips to the red zone.
However, they have their own problems stopping teams from scoring, giving up touchdowns on 62.6% of opponents' visits inside the 20-yard-line.
It is for that reason — plus having two of the best quarterbacks in the game — that the over/under is an incredible 60 points and yet most people are still taking the over.
However, there's a reason the Falcons are 5 point favourites. Quintorris Lopez 'Julio' Jones and a weird little statistical quirk unearthed by The Ringer this week.
While the Packers have been the best in the league defending passes of more than 20-yards to the left, they are dead last in defending deep passes to the right.
Oh, and Atlanta happen to be the best in the league in terms of completions (64.5%) and average gain (22 yards) when passing to that side of the field.
So while the Green Bay defence will be keeping a close eye on Jones both out left and in the slot, Taylor Gabriel will be making hay out to the right.
Verdict: Aaron Rodgers defies superlatives, but American football is a team game and eventually a team will out perform the individual… just as long as they don't give him the football back with more than 10 seconds on the clock. The Falcons have the better team, Atlanta by 6+
Pittsburgh Steelers @ New England Patriots (-6) – 11.40pm, Sunday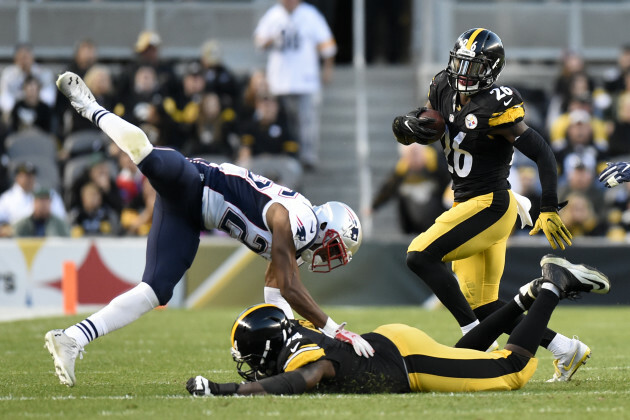 Don Wright / AP/Press Association Images Logan Ryan is blocked by Pittsburgh Steelers offensive tackle Chris Hubbard Don Wright / AP/Press Association Images / AP/Press Association Images
I've already written this week about how the Steelers, with a change in approach to blitzing, have become a real threat to opposition quarterbacks since week 11, bagging six already this postseason.
Exclusive Six
Nations Analysis
Get Murray Kinsella's exclusive analysis of Ireland's Six Nations campaign this spring
Become a Member
Last weekend against Houston — admittedly an even better front seven than Pittsburgh — Tom Brady was sacked twice but found himself under consistent pressure facing a further three QB hits and six more hurries.
Some of that is down to his offensive line, but the fact is that Brady isn't getting rid of the ball as quickly as he used to. This year, he was 21st in time to throw, taking an average of 2.57 seconds to release the football.
That's positively pedestrian compared to four years ago when he led the league in that particular stat at 2.49.
It might not seem a huge difference, but when you consider that 17 sacks this season took place in less than 2.57 seconds, and that nearly half the league's starting quarterbacks have an average time to throw of faster than 2.50, you can see why slowing down might get him in trouble.
Despite all of the above, Brady has the league's lowest sack percentage, but — like Rodgers last week – when under pressure his passer rating dropped dramatically against the Texans (68.6) and he threw as many interceptions (two) as he had done all season.
On defence, these are the quarterbacks faced by the Pats this year:
Carson Palmer, Ryan Tannehill, Brock Osweiler (twice), Charlie Whitehurst, Andy Dalton, Landry Jones, Tyrod Taylor (twice), Colin Kaepernick, Ryan Fitzpatrick (twice), Jared Goff, Joe Flacco, Trevor Siemian, Matt Moore and Russell Wilson.
Only one of those can be considered elite and they lost to him so, while the temptation might be there to focus on stopping Le'Veon Bell, New England has a much better chance of winning the game if he runs for 150 yards than they do if Ben Roethlisberger has 300 or so passing yards through the air.
Verdict: I would not at all be surprised if the Steelers went into Foxborough and recorded the win but the extra day and a half the Patriots have had to prepare could be crucial. New England by 6+
The42 is on Instagram! Tap the button below on your phone to follow us!