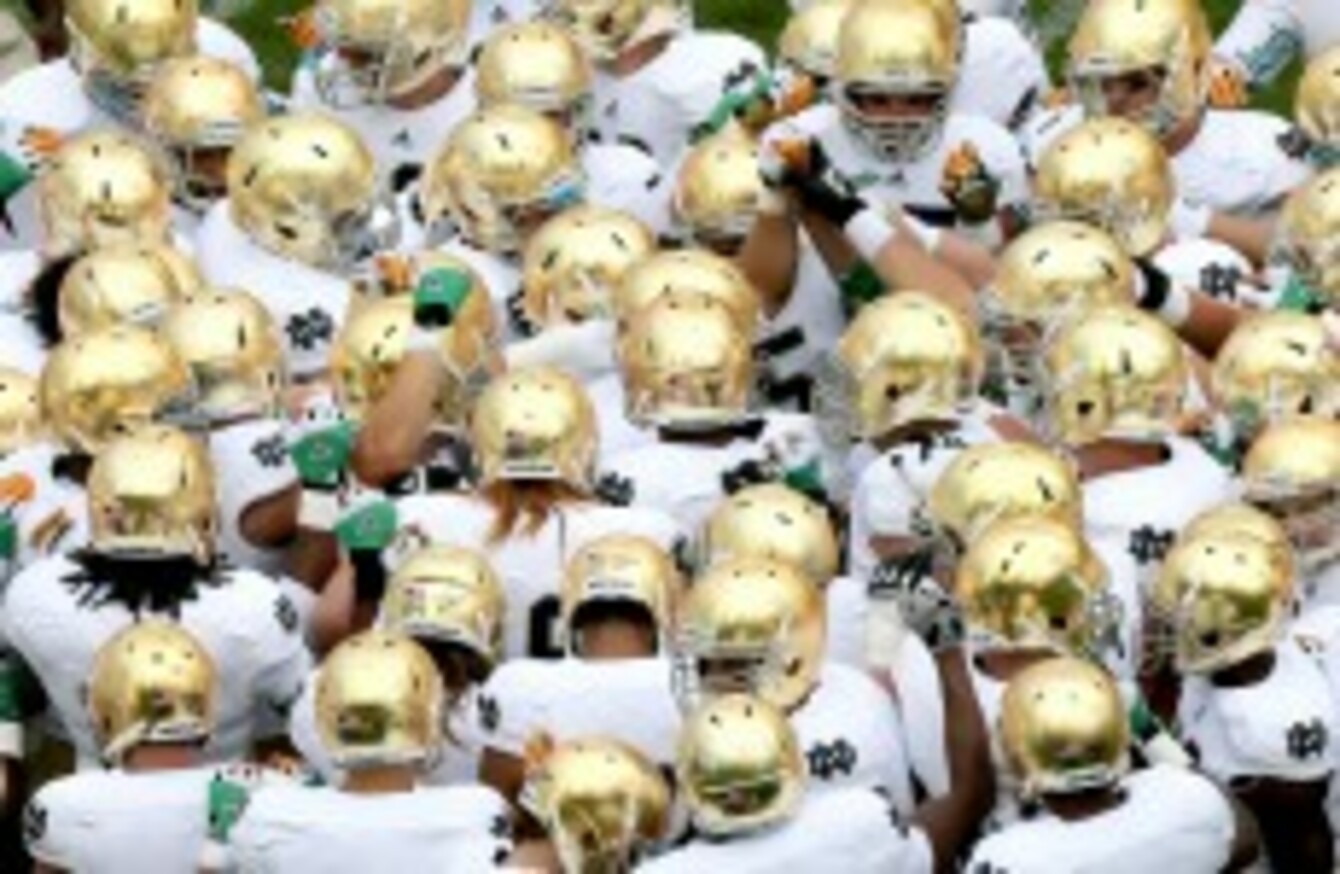 The Croke Park Classic is the second American college football game held in Ireland in two years
Image: James Crombie/INPHO
The Croke Park Classic is the second American college football game held in Ireland in two years
Image: James Crombie/INPHO
IRISH NFL FANS shouldn't hold out any hope of seeing their favourite franchise on home soil in the near future, according to Croke Park Stadium Director Peter McKenna.
There has long been rumours of a professional gridiron clash in Ireland, especially after comments made a few years ago by Pittsburgh Steelers chairman and former Irish ambassador Dan Rooney about potentially bringing his own franchise here.
But despite pitching Dublin as a viable location to the NFL, McKenna thinks the league will concentrate on bringing teams to London for the foreseeable future.
"We made a bid for the Pittsburgh Steelers game that was in Wembley last year," McKenna said.
"We made an impressive presentation to the NFL in New York and they were impressed with what Dublin could offer but they have invested a lot of money in London and decided to try and build a franchise there instead."
Besides preparing for the All-Ireland series over the coming weeks, Croke Park is also hosting the Croke Park Classic between Penn State University and the University of Central Florida on 30 August. This is the second American college football game held in Ireland in recent years with Notre Dame and Navy playing at the Aviva Stadium in 2012.
The date for the game has been questioned by many because it falls on the day before the second All-Ireland football semi final. McKenna said the GAA proposed the idea to play the game on that date because there is a bank holiday on the following Monday in America, which means the players will miss less class time with travelling. There were also commercial considerations in terms of television exposure.
"We want to get a weekend that works for colleges so we came to them with this weekend," said McKenna.
"Also, it is the opening weekend of the college football season so the game will get huge coverage on ESPN because we are the only game at that time slot. This is the weekend we will be encouraging teams to come here because we want to establish a series where there is a game here every other year. The NFL has really settled on London as being their overseas capital but we want to be the overseas capital for college football."
Another issue that has been raised about the game's close proximity to the football, is the potential state of the pitch. This won't be like rugby with a scrum every few minutes, but rather a game where every play is a series of mini scrums with multiple 20 stone behemoths cutting up the pitch. While there may be a risk to the surface, McKenna is confident that the wear and tear will be minimal and that the removal of the extra pitch markings will be manageable.
"Croke Park is a natural surface pitch and the players will use cleats rather than studs so there will be a degree of grass kicked out," McKenna said.
"We are probably at 95% coverage at the moment because of the spectacular growth period we have had with the weather. It is going to take a knock but it is not going to take an unrecoverable hammering. There is also a lot of marking on the field that goes along with the game. All the paint will be off but you will get some degree of discolouration because every mark needs to be put down."
Although McKenna sees this game as the second installment of an eventual series that sees two colleges come every second year, he said he was treating this game as an investment rather than an outright money maker.
"This game is worth less than seven figures to the GAA," McKenna said. "This is an investment to us and we have to build it to make it happen. As long as we break even with this one, I will be happy in the short term."