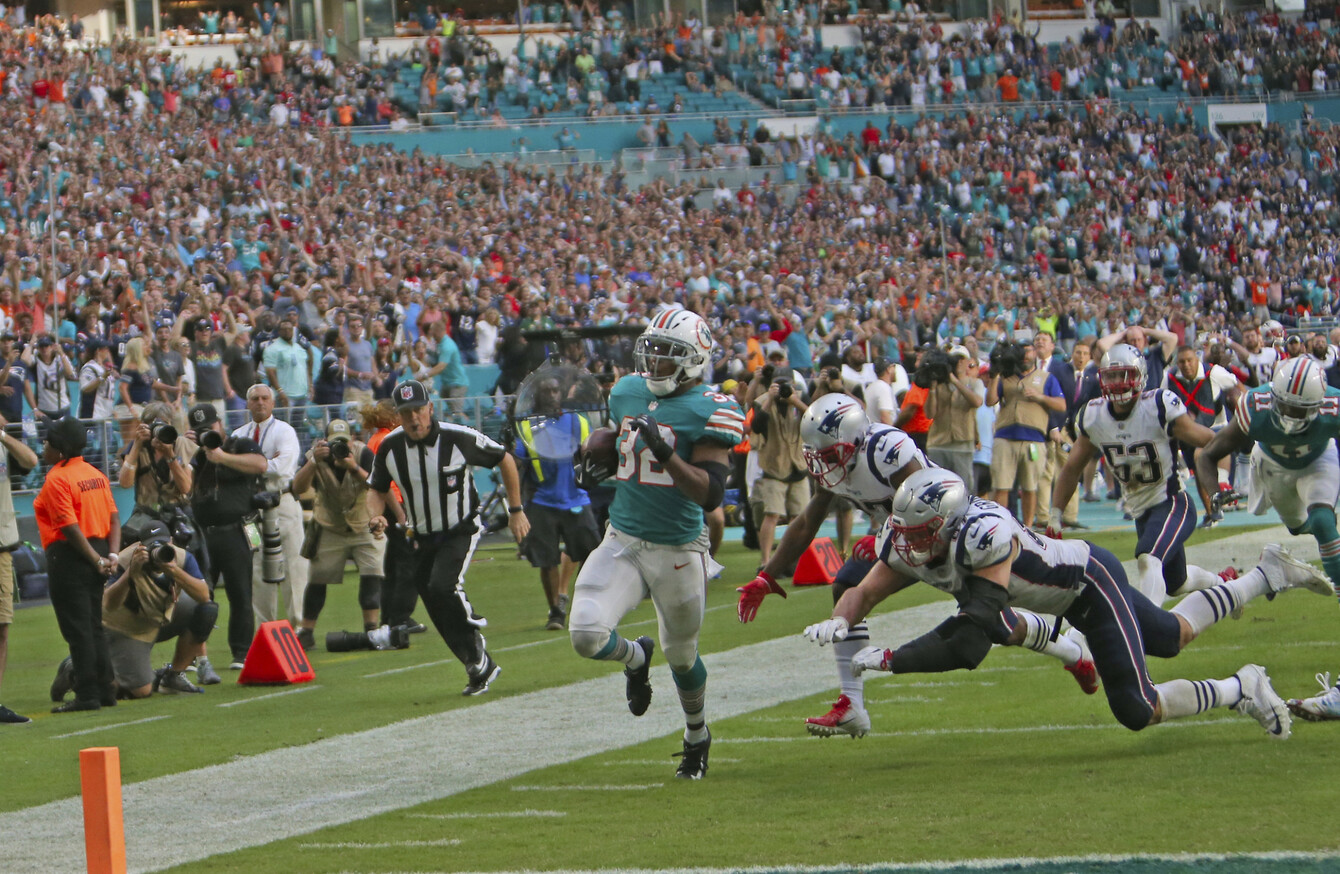 Miami Dolphins running back Kenyan Drake brings it home.
Image: AP/PA Images
Miami Dolphins running back Kenyan Drake brings it home.
Image: AP/PA Images
NORMALLY WHEN WE'RE in the car together, my son — Teddy (who is definitely not named after the former Minnesota Vikings quarterback) — has a predictable number of conversation topics.
"Steben," (he doesn't call me dad or really pronounce his vs) "how did the dinosaurs die?" Or "when you go fully bald will you be ebil like Lex Luther?"
You know, normal topics of conversation for a five-year-old.
This weekend, as we were heading to do the big shop, he suddenly became very interested in what I do with my life when I'm not at home.
I tried my best to explain that I was a writer, but he got the wrong end of the stick and is now convinced that I actually invent words for a living, and that I wrote the dictionary.
Regular readers of my typos will know that is far from the truth.
Confusion as to what a writer is aside, the conversation veered towards our favourite words. He knew really quickly that his were 'venom', 'Batman', and 'Mam', while I was a bit stumped as nobody has ever asked me before.
Ethereal is really satisfying to say, as is luminescence, but my favourite is probably schadenfreude.
Not only does it have a great 'mouthfeel' — as sommeliers are wont to say — but, much as most people are probably loathe to admit, it is also one of life's great emotions, particularly when it comes to sport.
This weekend, the NFL provided many examples of other people's suffering filling me with great joy.
First, our friends in Washington saw their playoff hopes all but disappear with one of the most inept performances from an apparently professional organisation I've seen in a long time.
After choosing to ignore the best available quarterback on the market due to his willingness to speak out against racial and social injustice in America — yet claiming it was because Mark Sanchez knew the system better — Washington watched their QB complete six of 14 passes for 38 yards and two interceptions.
He was also sacked five times for a loss of 29 yards. I struggle to think how he'd have played if he didn't know the system.
The second piece of schadenfreude came in Oakland where the Raiders managed to win yet another game, reminding everyone that while tanking in the NBA is an artform — hi, 76ers — nobody in the NFL outside of Indianapolis appears to understand how to do it properly.
And while I've nothing against Chris Boswell — whose plant foot went out from underneath him as he missed the potential game-drawing kick — there was something immensely satisfying about watching the Steelers throw away a game they acted all week like they just needed to show up to in order to get the win (see also the Broncos at 49ers).
Be part
of the team
Access exclusive podcasts, interviews and analysis with a monthly or annual membership.
Become a Member
Given his record this season of coming out and blaming everyone else for Pittsburgh's woes in their five losses and one tie, you can expect another round of finger-pointing this week from Ben Roethlisberger.
As team-building goes, having Roethlisberger as a leader is as good an idea as wearing kryptonite jewellery on a first date with Superman and his calling out of his team-mates may still cost them all a playoff place.
However, the most satisfying moment of the weekend came at the end of the Patriots' trip to Miami.
As I outlined in my Thursday preview, Tom Brady has traditionally struggled in south Florida, but he played incredibly well on Sunday only to watch his defence get carved open again and again.
Despite this, New England held a five point lead with just seven seconds left and the ball on the Dolphins' 31-yard line.
And then Miami pulled off what turned out to be the longest game-ending touchdown in the Super Bowl era. First, Ryan Tannehill tossed the ball to Kenny Stills, who lateraled it to DeVante Parker who, in turn, lateraled to Kenyan Drake.
Then Rob Gronkowski, who was only on the field for his size as the Pats expected a Hail Mary heave, took an awful angle and completely missed what would have been a game-winning tackle as Drake raced past him and into the end zone to give Miami the victory.
It was beautiful:
Source: NFL/YouTube
Now, we've seen the Patriots lose in odd ways a few times over their two decades of dominance — the helmet catch, for example — but rarely has a loss been so satisfying.
Of course, the reason everyone enjoyed it — and I mean everyone not wearing a Pats' jersey — is because New England has been so dominant for so long. Over the course of the past twenty-odd years we've had to watch them win again and again and again.
So when they lose, particularly in circumstances as outrageously unlikely as this one, what else can you do but sit back and bask in the schadenfreude?
After all, with no clear favourite this season, would anyone really be shocked if they end up winning the Super Bowl anyway?
Subscribe to our new podcast, Heineken Rugby Weekly on The42, here: