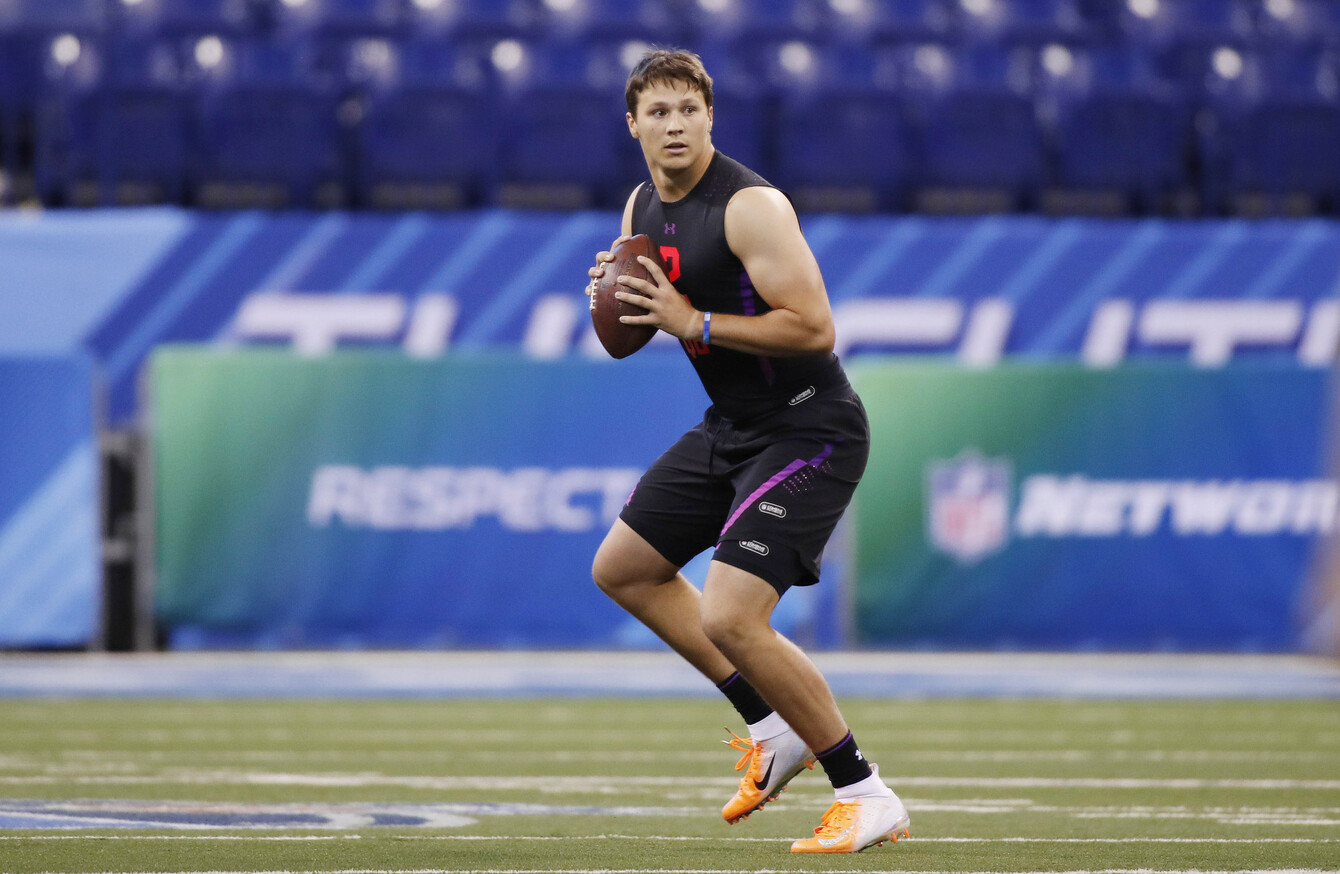 He can throw the ball far, but can Josh Allen sort out his accuracy issues?
Image: SIPA USA/PA Images
He can throw the ball far, but can Josh Allen sort out his accuracy issues?
Image: SIPA USA/PA Images
MOCK DRAFTS ARE guesswork.
They are the sportswriting equivalent of tarot cards and crystal balls because the second the Browns hit peak Browns and draft the wrong QB with the first overall pick, it all becomes one big glorious mess and you'll be lucky to get 25% of your selections correct.
Still, that's a better hit rate than NFL scouts and GMs, especially when it comes to the quarterback position.
By now, you'll know that as many as six quarterbacks could go in the first round, joining the 48 selected in the first round since 2000.
Of those 48, just four — Eli Manning (two), Ben Roethlisberger (two), Joe Flacco and Aaron Rodgers — have won Super Bowls, and Manning and Roethlisberger were drafted in the same year.
It's almost as if scouting and evaluating NFL talent is difficult.
And before you jump straight to the comments section, Carson Wentz — who has never played in a postseason game, never mind won one — absolutely does not count as a Super Bowl-winning quarterback no more than David Carr does for Super Bowl XLVI.
Anyway, back on topic. Both NFL drafts and mock drafts are a crap shoot and, with that in mind, here's one that's a combination of what we think might happen, what we hope could happen and what will inevitably lead to you calling me an idiot.
I've explained my thinking behind the first 16 picks and just listed the second half.
1. Cleveland Browns: Sam Darnold (QB) – USC
He's not the QB I'd select if I was the Browns but Peter King appears to have the inside line about this one and, to be fair, he's a much better choice than Josh Allen.
2. New York Football Giants: Saquon Barkley (RB) – Penn State
Tell me the last time a running back won his team a Super Bowl? Still, with their first choice Darnold gone, the G-Men plump for a generational talent in the backfield.
3. New York Jets (via Indianapolis Colts): Baker Mayfield (QB) – Oklahoma
There are issues with his height and his hand size but a Heisman Trophy winner might be a way to keep the New York media at bay after a disastrous run of quarterback selections.
4. Cleveland Browns (via Houston Texans): Quenton Nelson (OL) – Notre Dame
My personal preference is for the Browns to take a second QB here just to mess with everyone but, if they don't trade out, Nelson is the best player on their board at this spot.
5. Denver Broncos: Josh Allen (QB) – Wyoming
John Elway wanted to give Brock Osweiler $15 million a year. He's no judge of quarterbacks and that's why he selects the wrong Josh in this year's draft.
6. Indianapolis Colts (via New York Jets): Bradley Chubb (DE) – NC State
What a coup for the Colts, to take all those draft picks from the Jets and get the best defensive player available all the way down at six.
7. TRADE – Buffalo Bills (via Tampa Bay Buccaneers) Josh Rosen (QB) – UCLA
The best quarterback in this year's draft gets taken by the Bills but they have to give up their two first round picks to get him. Let's just hope they treat this quarterback better than their last one.
8. Chicago Bears: Derwin James (S) – Florida State
Derwin James is what draft experts like to call a Swiss-army knife. That means they're not really sure what his best position is but they know he's an incredible athlete so he needs to be drafted highly.
9. San Francisco 49ers: Roquan Smith (LB) – Georgia Bulldogs
As The42's resident Oakland Raiders fan I'd love the best linebacker in the draft to fall to them but their Bay Area rivals will grab the elite playmaker at nine.
10. Las Vegas Raiders: Denzel Ward (CB) – The Ohio State University
You can point to any spot on the Oakland defence and find a need. For the second year in a row they draft an Ohio State corner.
11. Miami Dolphins: Mason Rudolph (QB) Oklahoma
The Dolphins need a quarterback and panic into taking the sixth-ranked one way, way, way too early.
12. Tampa Bay Buccaneers (via Buffalo Bills via Cincinnati Bengals): Minkah Fitzpatrick (DB) – Alabama
Can play in the slot, can play safety, is an absolute ballhawk and the Bucs pick him up and still have another first round selection in hand.
13. Washington Professional Football Team: Derrius Guice (RB) – LSU
Because of his explosive running style he could have a short career but he could also be a Rookie of the Year candidate.
14. TRADE: New England Patriots (via Green Bay Packers): Lamar Jackson (QB) – Louisville
This is very much in the realms of things I'd love to see rather than what I expect. The Pats need a successor for Brady, Jackson has the highest ceiling of every QB in this draft, and the Cardinals will definitely take him if New England doesn't move.
15. Arizona Cardinals: Calvin Ridley (WR) – Alabama
With no QB left, Arizona take the best player left on the board in Ridley. If he can learn to beat press corners he'll be one of the most productive receivers in the league. Just a shame the Cardinals have no quarterback to throw to him.
16. Baltimore Ravens: Mike McGlinchey (OT) – Notre Dame
Poor offensive line play is becoming a bigger issue every year. McGlinchey is the best tackle in the draft and should give Joe Flacco plenty of time to throw the ball downfield in the hope of a pass interference penalty.
17. Los Angeles Chargers – Tremaine Edmunds (LB) – Virginia Tech
18. Seattle Seahawks: Harold Landry (LB) – Boston College
19. Dallas Cowboys: Da'Ron Payne (DT) – Alabama
20. Detroit Lions: Hayden Hurst (TE) – South Carolina
21. Cincinnati Bengals (via Buffalo Bills): Isaiah Wynn (OL) – Georgia
22. Tampa Bay Buccaneers (via Buffalo Bills via Kansas City Chiefs): Marcus Davenport (LB/DE) – UTSA
23. Green Bay Packers (via New England Patriots via Los Angeles Rams):  Vita Vea (DT) – Washington
24. Carolina Panthers: Mike Hughes (DB) – UCF
25. Tennessee Titans: James Daniels (OL) – Iowa
26. Atlanta Falcons: Taven Bryan (DT) – Florida
27. New Orleans Saints: Kolton Miller (OL) – UCLA
28. Pittsburgh Steelers: Rashaan Evans (LB) – Alabama
29. Jacksonville Jaguars: DJ Moore (WR) – Maryland
30. Minnesota Vikings: Conor Williams (OL) – Texas
31. Green Bay Packers (via  New England Patriots) - Will Hernandez (OL) – UTEP
32. Philadelphia Eagles: Sony Michel (RB) – Georgia
Who do you think your team is going to draft? Let us know in the comments section below.
The42 is on Instagram! Tap the button below on your phone to follow us!