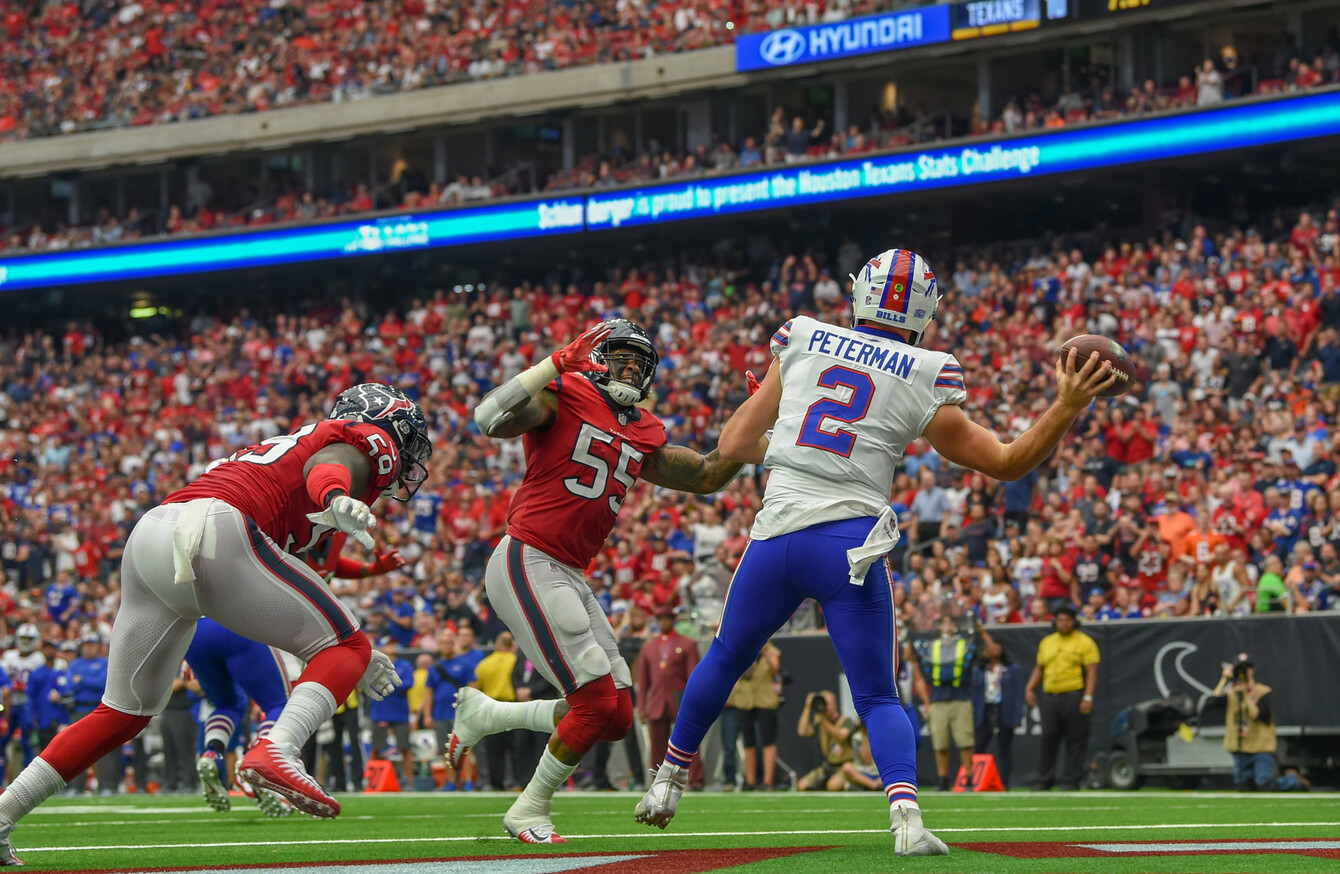 Peterman (right) had a meltdown against the Houston Texans.
Image: Ken Murray
Peterman (right) had a meltdown against the Houston Texans.
Image: Ken Murray
THE 2017 BUFFALO Bills ended the longest playoff drought in American sports when their 9-7 record was good enough to see them reach the postseason for the first time in 19 years.
They did so despite, for no football reason I can think of, benching their starting quarterback Tyrod Taylor in the middle of the season.
Taylor is not the best quarterback in the world, often too slow with his decision making in the pocket, but he was playing just fine in Buffalo and helping him to their best season of the millenium when his team opted to start a rookie in his place.
That rookie was Nathan Peterman who went on to record one of the worst stat lines in NFL history when he completed just six passes to his team and five to the opposition… in the first half alone.
His adjusted yards per pass figure of minus -11.36 was the worst of the 2018 season, and the worst QB performance since Dan Pastorini's 32 yard, one touchdown, five interception performance in the Houston Oilers' week six loss to the Pittsburgh Steelers in 1977.
When Taylor was injured in the Bills' playoff game with Jacksonville — a 10-3 thriller — Peterman came into the fold and promptly fired the game winning interception to the Jags' defence, ending their fairytale season.
This summer, the Bills let Taylor leave for Cleveland and back-up AJ McCarron head to the Raiders. That left just Peterman and rookie Josh Allen — himself a player prone to a turnover or two — in the quarterback room.
Peterman started the 2018 season as he left off last year, completing just five of 18 attempts for 24 yards against the Ravens, throwing another two interceptions en-route to a 47-3 hammering; confirming Buffalo's status as one of the worst teams in the NFL.
After three quarters of that game, Bills' coach Sean McDermott saw enough and pulled Peterman for Allen who has held the job ever since. That is, until Sunday night when Peterman was called into action for the injured rookie against the Houston Texans.
At the time, his team were in a 10-6 hole, with their defence playing exceptionally well and looking to secure a third shock win of the season after victories over the Tennessee Titans and Minnesota Vikings.
Peterman even managed to help drive his team downfield, finding Zay Jones on a 16-yard pass to secure just the third touchdown of his career. However, we didn't have to wait long to see the real Nate Peterman.
After the Bills' defence once again stepped up, forcing Kai'mi Fairbairn to a field goal to level things up at 13-apiece, the Bills had 90 seconds to get into field goal range and secure the win for themselves.
Peterman, however, had other ideas. First, he underthrew a curl route to Kelvin Benjamin and could only watch helplessly as Jonathan Joseph picked him off and trotted into the end zone to make it 20-13 to the Texans.
Then, as Peterman attempted redeem his error and at least force overtime, he managed to find another Texans player, this time Kareem Jackson, whose pick ended the contest.
All told, Peterman has three touchdowns and a remarkable nine interceptions in his career.
According to Pro Football Reference, the worst career pass interception percentage of all time is held jointly by Eddie LeBaron and Bob Waterfield at 7.9%.
Remarkably, in his short career, Peterman has thrown a pick on 12.2% of his passes.
Just think about that for a second; more than one of every 10 of his pass attempts ends up in the arms of the opposition.
As Bill Barnwell pointed out on Twitter on Sunday, the best interception rate during Peterman's time in the NFL is Alex Smith. And Smith could throw an interception on each of his next 91 throws and still have a better pick rate than Peterman.
After last night's game, the Bills' quarterback didn't seem too bothered about his growing reputation as the opposing team's best weapon, telling Bills' beat reporter Mike Rodak:
At the end of day I know where my true identity lies; in Christ. Being a child of God, basically. Not finding my identity in football. Just trying to find it in who I really am. I love this game and put everything I have into this game, but can't let it define me."
And that's great that he has a life outside of sport because, honestly, he'd be better off in church on a Sunday than anywhere near a football field.
As it happens, there is a quarterback out there looking for a job who has the second lowest interception percentage in NFL history.
And, if I were Colin Kaepernick's attorney, I'd be putting together a 'highlight' reel of all Peterman's picks and using it as incontrovertible evidence in his collusion case against the NFL.
Subscribe to our new podcast, Heineken Rugby Weekly on The42, here: