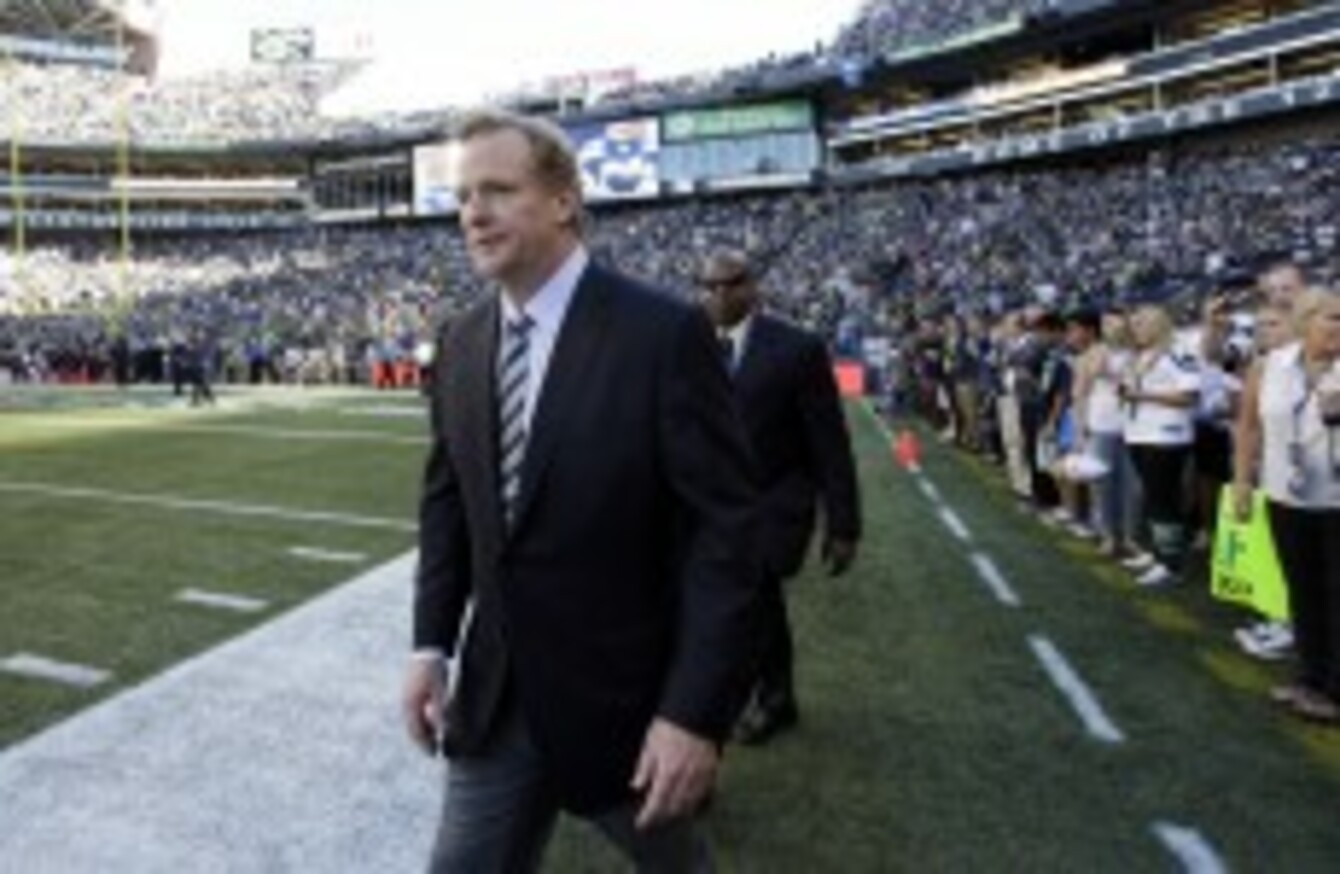 Roger Goodell has had better weeks as the NFL commissioner.
Image: AP/Press Association Images
Roger Goodell has had better weeks as the NFL commissioner.
Image: AP/Press Association Images
THIS WEEK WAS difficult if you're a fan of American football and the NFL.
On Tuesday, we saw graphic footage emerge of Ray Rice punching his then fiancée in the face, knocking her unconscious before dragging her out of the elevator. Rice – who was serving a two-game ban at the time for the assault – was subsequently dropped by the Ravens and suspended from the league indefinitely.
Now, why anyone needed video proof to make this call – how exactly did they think Janay Palmer (now Rice) came to be unconscious? – is beyond me. However, it's never too late to do the right thing and even if the league botched the initial decision they have set a very strong precedent.
But for every Ray Rice kicked out of the game, there's also a Greg Hardy. The Carolina Panthers player is still on their roster – though he was deactivated for yesterday's game – despite being convicted of strangling, assaulting and threatening to kill his girlfriend. Hardy's conviction is currently under appeal.
Then, on Friday night, we learned that Adrian Peterson – a former league MVP – was accused of beating his four year old son with a 'switch' so badly that the police became involved and the Minnesota Vikings running back will almost certainly face criminal charges after a grand jury in Texas found he had not used 'reasonable discipline'.
It's unclear what will happen to Peterson. He was dropped by the Vikings for yesterday's loss to the Patriots and the NFL have said they will review the case for violations of its personal conduct policy.
Buried among all this news was the admission by the league that it expects one in three players to develop long term cognitive problems, a much higher rate than the general population.
This admission comes after years of disputing the evidence that its players were more at risk than you or I. But what do we expect? The NFL has always celebrated on-field violence. It's getting better but you can still hear the glee in some commentators' voices when a big hit goes in, even if it involves a head injury.
Don't get me wrong – I love seeing a well-executed tackle or hit – as long as it doesn't target the head – as much as the next person. It's just as much a part of the sport as a brilliant run or amazing one-handed catch.
But I can't help shake the feeling I'm watching men put their futures, their lives on the line – admittedly for significant financial reward – for our entertainment. That's the way the NFL has always been, that's the way it will always be and no innovation in helmets or padding is ever going to change it.
Exclusive NZ - IRE
Rugby Analysis
Get Murray Kinsella's match analysis and Garry Doyle's updates from New Zealand exclusive to members
Become a Member
That said, I think everyone who is a fan of American football has come to terms with what goes on between the tramlines. We've made our peace with the violence that takes place during games but when it spreads off the field, we get to see just how blasé the league can be on the issue.
Roger Goodell and the NFL have made an example of Ray Rice but there's a lot more to do. Violence against women or against children by men whose job it is to be stronger, faster and fitter than everyone else can never be acceptable.
Will things change? Who knows, but the league has never had a better opportunity to confront its ugly side, help those that need help and cut adrift those beyond it.