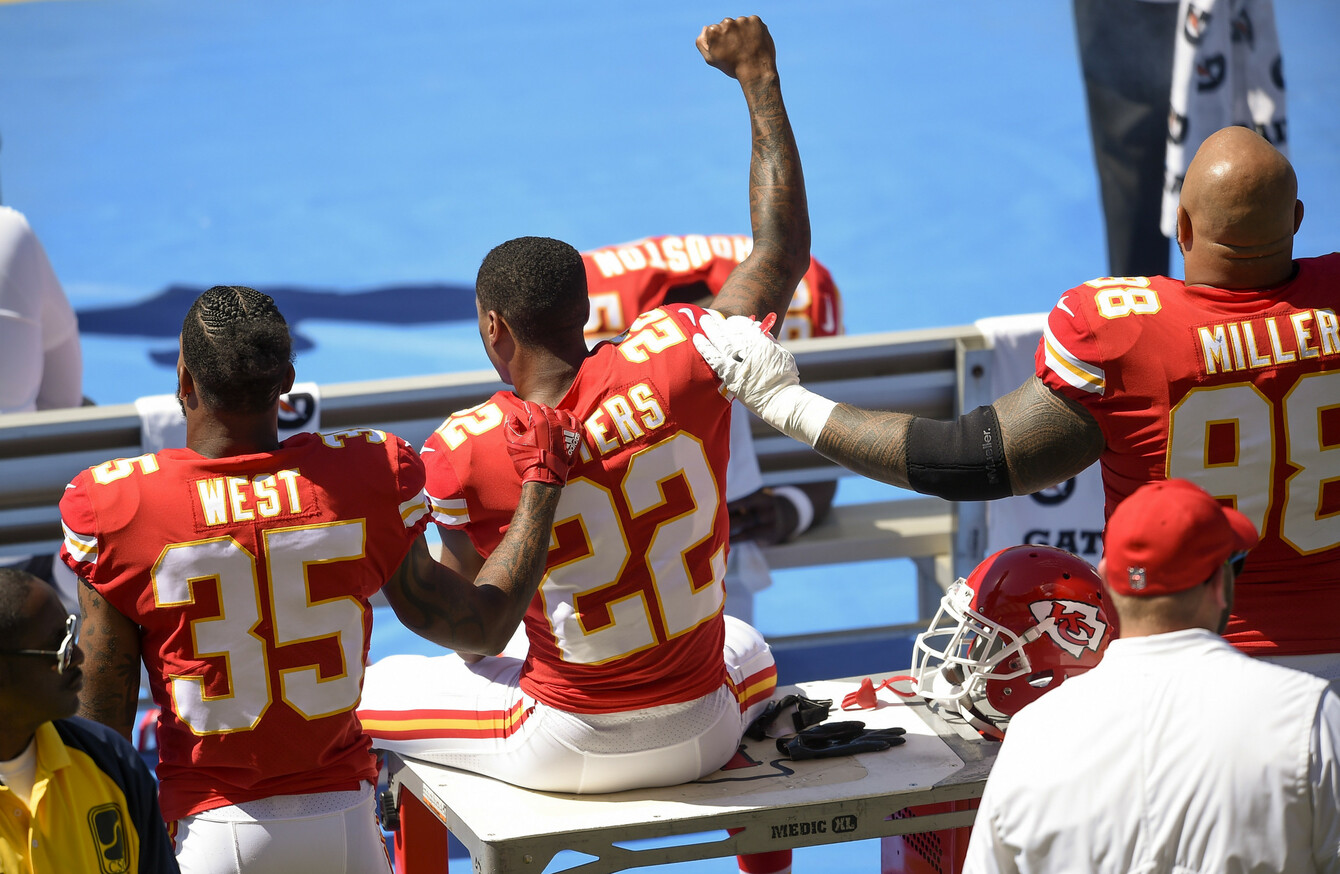 Image: SIPA USA/PA Images
Image: SIPA USA/PA Images
IN A WEEK where Dallas Cowboys owner Jerry Jones said his players will have to respect the flag and the anthem in order to avoid losing their place, it seems that we could be looking at a shift in attitude towards the protest.
It comes after United States vice-president Mike Pence and his wife walked out of Lucas Oil Stadium after he spotted players kneeling during the Star Spangled Banner.
After weeks of solidarity between players and management, we could be approaching the end of players taking a knee during the anthem.
At the very least, it will be interesting to see how many teams will stand united for the protests this weekend considering that other clubs are rumoured to have followed the example of Jones and the Cowboys, and told their players they must stand for the anthem.
President Trump has maintained a keen interest in the whole situation, and even suggested this week that the NFL should be stripped of its "massive tax breaks," to punish those who continue to ignore the anthem.
Trump has friends among the management teams of various NFL clubs, and still speaks of them fondly.
This could be the moment where they decide whether or not to show loyalty to him.
Sunday — 6pm
Chicago Bears @ Baltimore Ravens (-6.5)
The Ravens look poised to win this one, having registered a big win in week 5, but the bruised Bears appear to have found a reliable quarterback in Mitchell Trubisky. He marked his NFL debut during the week with 12 completed passes of 25 for 128 yards.
Bears will take some encouragement from his impact on the team, but the Ravens should come away with a result.
Verdict: Ravens
Green Bay Packers @ Minnesota Vikings  (+3.0)
Green Bay are aiming for their fourth consecutive win this weekend which would extend their lead in the NFC North. They have a strong winning record against Minnesota and in Aaron Rodgers, they have a talented quarterback.
In their win against the Dallas Cowboys, he threw for 221 yards. Minnesota is a side that can provide a tough opposition but they will be without their quarterback Sam Bradford, through a knee injury, which could prove costly for them.
Verdict: Packers
 San Francisco 49ers @ Washington (-11.0)
The 49ers (0-5) are looking to climb out of a slump at Washington this weekend. They have been unlucky against Seattle and the Rams among others, losing by three points or less in four straight games.
Meanwhile, Kirk Cousins and wide receiver Terrelle Pryor Sr. are still struggling to link up in games.
Verdict: Washington
Detroit Lions @ New Orleans Saints (-4.0)
The Saints have been improving over their last two outings and are trying to get above .500 for the first time since 2013.
The Lions are considered to be somewhat unfortunate to have a (3-2) streak, having lost out to Carolina last week, but they have defeated the Saints in each of the last three seasons.
Verdict: Lions
Miami Dolphins @ Atlanta Falcons (-13.0)
The Falcons are the favourites for this one, as they return from their bye week. Wide receiver Julio Jones also looks set to make a return from injury, which should give the Miami defence a lot of trouble.
Verdict: Falcons
Cleveland Browns @ Houstan Texans (-10.0)
The Texans are without two key defenders following the injuries sustained by JJ Watt and Whitney Mercilus. These are big losses for the club, but they should have sufficient power to overcome Cleveland (0-5).
Rookie quarterback Deshaun Watson has been in good form for the Texans and he should impress again against Cleveland.
Verdict: Texans
New England Patriots @ New York Jets (+9.5)
The Jets have been something of a surprise package this season, particularly their three-point victory over the Jaguars. But against the Patriots — despite their deficiencies in defence — the Jets are unlikely to spring a shock victory.
Verdict: Patriots
Sunday — 9.05pm
Los Angeles Rams @ Jacksonville Jaguars (-2.5)
The Jaguars' defence has been impressive of late, with Jalen Ramsey leading the charge that ranks them first in the NFL for sacks and interceptions.
However, their quarterback Blake Bortles continues to struggle to make an impact.
The Rams have a defence that could upset Bortles. The performance of running back Todd Gurley could prove vital for the Rams in this one.
Verdict: Jaguars
Sunday — 9.25pm
Los Angeles Chargers @ Oakland Raiders (-3.5)
Despite fracturing a bone in his back, the Raiders expect their quarterback Derek Carr to be ready for the arrival of the Chargers this weekend.
The Oakland side will be looking to him to end their losing streak against a side who rallied to beat the Giants last week.
Verdict: Raiders
Pittsburgh Steelers @ Kansas City Chiefs (-4.0)
The undefeated Chiefs (5-0) continued to storm their way through the campaign, with quarterback Alex Smith excelling in his position.
The Steelers have a strong offensive line, but they are likely to be without Travis Kelce who has concussion.
This should allow the Chiefs to extend their winning run.
Verdict: Chiefs 
Monday — 1.30am
New York Giants @ Denver Broncos (-11.5)
The Giants were dealt a huge blow earlier in the week, following the news that their receiver Odell Beckham Jr. has been sidelined with a broken ankle.
He was one of four Giants' receivers who was injured who suffered injuries against the Los Angeles Chargers last weekend.
They're facing a highly-fancied Denver Broncos side that have a (3-1) record so far.
Verdict: Broncos
Tuesday — 1.30am
Indianapolis Colts @ Tennessee Titans (+6.5)
Following their 16-10 defeat to Miami last weekend, the Titans are hopeful that resident quarterback Marcus Mariota can sufficiently recover from his hamstring problem to come back in for Matt Cassel.
They have an unenviable record against the Colts of 11 straight defeats and will need Mariota to break that run.
Colts' quarterback Andrew Luck is still making his return from injury, having undergone shoulder surgery in the off season.
Verdict: Colts
Subscribe to The42 podcasts here: