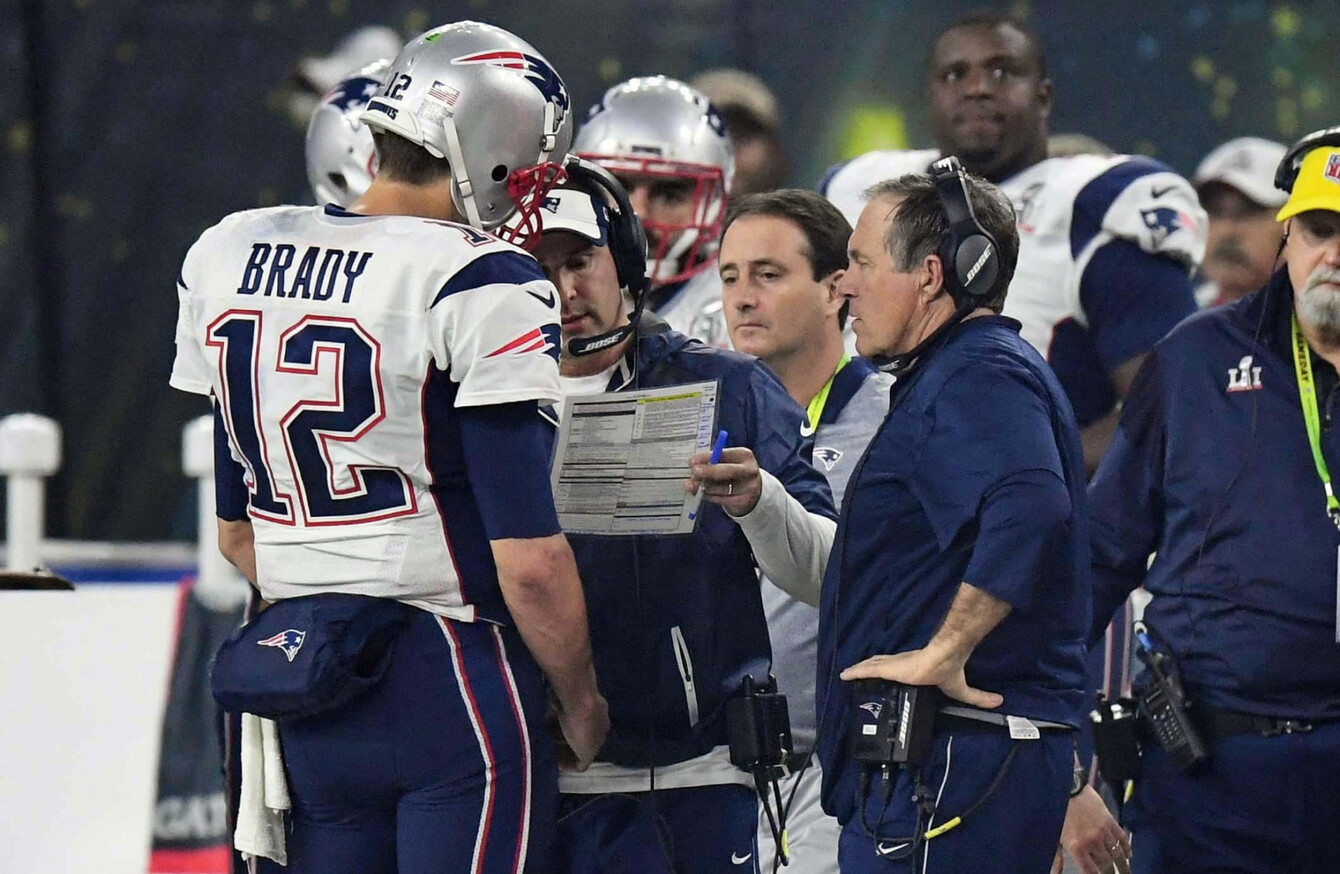 The Patriots have a real shot at going back-to-back for the first time since the, eh, Patriots.
Image: SIPA USA/PA Images
The Patriots have a real shot at going back-to-back for the first time since the, eh, Patriots.
Image: SIPA USA/PA Images
WHISPER IT, BUT after seven long, lonely, months… football is back, baby.
It seems like only yesterday I watched on in Houston's NRG Stadium as the New England Patriots mounted the biggest comeback in Super Bowl history when they dug themselves out of a 28-3 hole to win a fifth Vince Lombardi trophy.
Blurry-eyed and whatever the opposite of bushy-tailed is, I penned an early morning love letter of sorts to Tom Brady from my hotel room in the immediate aftermath of the game.
I couldn't get my head around what I'd witnessed. Sure, the Falcons obviously contributed to their own demise but still, was there another team, another quarterback who could have pulled off such a result?
The answer then, as it is today, is no.
And guess what, the Patriots are a better team this year than in any of their other Super Bowl winning years.
Ed: We promise that's the last time this season Steve is allowed mention he was at the Super Bowl. 
32. New York Jets
The Jets know they're bad. They're deliberately trying to be bad. Their defence is probably not bad enough for them to go 0-16, but it'll be a surprise if they're not picking number one overall in the 2018 NFL Draft.
31. Buffalo Bills
The good news is that Bills fans are well used to not making the playoffs, so not playing meaningful football for the 18th consecutive January should come as no surprise. The bad news is that the Jets are likely to have first choice when it comes to quarterback next year.
30. Jacksonville Jaguars
If you give Blake Bortles a starting job in the NFL, you get what you deserve. The Jags have some of the pieces to be a contender in the AFC, but with a questionable offensive line, even their run game could stutter this season. Still, they 'won' free agency.
29. San Francisco 49ers
New 49ers head coach Kyle Shanahan is a genius, but Brian Hoyer — as serviceable as he can be — is no Matt Ryan. And there was a very good reason why Shanahan and general manager John Lynch were given six-year contracts; this is a long rebuilding project.
28. Indianapolis Colts
Head to toe one of the worst rosters in the NFL and a team forced to start Scott Tolzien in week one (at least). The defence showed signs of life against the Steelers in preseason but you can't win in this league without an offensive line and the Colts have none.
27. Cleveland Browns
The Browns are not winning the AFC North this year, but they're not going to be the annoying wasp of that division's picnic, sticking around and causing more than one panic. The pairing of DeShone Kizer and Corey Coleman will help a few fantasy football players too.
26. Chicago Bears
The Bears defence isn't woeful. So there's that. What Chicago needs to avoid doing this season is flinging rookie quarterback Mitchell Trubisky into the firing line with nobody to throw to. Their run game may well cause a few teams problems.
25. LA Rams
The LA Rams defence without Aaron Donald is a very different prospect for teams than one with the perennial defensive player of the year candidate. If you're an Arsenal fan, you probably already know why owner Stan Kronke hasn't paid Donald.
24. Denver Broncos
We know the Denver defence is good. They were great last year and Denver still missed the playoffs for the first time since 2010. And there's no Wade Phillips to call plays this season which means the other side of the ball is going to have to take a huge leap forward. That is unlikely.
23. Miami Dolphins
I suffer from Jay Cutler blindness. I'm willing to overlook all his poor decision-making and inaccurate throws because he's capable of really special passes and is someone I'd gladly go for a pint with. I would not want him as the quarterback of my favourite team.
22. Baltimore Ravens
According to Pro Football Focus, the Ravens have lost 8,449 snaps of experience this offseason, nearly four times as many as the Steelers lost in the same division. It's very difficult to replace that. Plus Joe Flacco was no great shakes last year, why should he be any better with less talent around him, and less preparation, this season?
21. New Orleans Saints
There are people out there a lot higher on the Saints than I am. Sure, Drew Brees will throw for 5,000 plus yards again but a defence that has finished last and second last in terms of Defence-adjusted Value Over Average (DVOA) in Dennis Allen's two years in charge needs to take a big step forward this year.
20. Cincinnati Bengals
Decent defence, decent run game, decent quarterback, great wide receivers; the Bengals have a chance to do brilliant things this ye… wait, is that probably the worst offensive line in the league's music I hear? That line is going to cost Bengals games it should be winning.
19. Washington
Kirk Cousins said this week that God told him to take his new one-year contract in Washington. You'd think he'd have better things to be doing with his time. Coupled with serious question marks over their defence, Washington could well miss out on the playoffs this year.
SEE SPORT
DIFFERENTLY
Get closer to the stories that matter with exclusive analysis, insight and debate in The42 Membership.
Become a Member
18. Minnesota Vikings
I don't read a huge amount into preseason but when a starting offence fails to register a single touchdown in August, I start to get worried. That said, they are certainly capable of nine or 10 wins and, as will all teams 10-20 in this ranking, will be there or thereabouts when it comes to a wildcard spot.
17. Detroit Lions
They may have made Matthew Stafford the highest-paid player in NFL history but success for Detroit will be down to an improved run game this year. Afterall, they made the postseason last year despite finishing 30th in rushing yards.
16. Houston Texans
Now that Brock Osweiler has been run out of town, the Texans can't be any worse on offence but that's not how Houston will win games. If JJ Watt, Jadeveon Clowney and Whitney Mercilus can even play 12 games together this season, Bill O'Brien's men should taste postseason football yet again.
15. LA Chargers
The over/under on the number of times I accidentally write San Diego Chargers this season sits at about 15. If they can avoid the injury curse that has plagued them in recent years, it's possible the Chargers could be one of three teams to emerge from the AFC West.
14. Carolina Panthers
Again, I could have had the Panthers anywhere from 20 to 10 on this list and I'm putting a lot of blind faith into Cam Newton coming back resembling anything like the player we saw two seasons ago. There's also the fact Christian McCaffrey could be about to become your new favourite player.
13. Dallas Cowboys
The Cowboys hid their defence last year by keeping it off the field as Zeke Elliott ran down clock after clock. How this year goes for Dallas is defined not only by how many games the running back is suspended for, but also how they cope with the loss of two veterans from what was the league's top offensive line.
12. Tampa Bay Buccaneers
The pick-up of TJ Ward is a nice bonus at the back-end of a defence that already has Gerald McCoy wreaking havoc up front. For them to challenge for AFC South honours, however, Jameis Winston needs a Derek Carr-esque leap.
11. New York Giants
I was very impressed with the Giants defence last year so there's no worries on that side of the ball. However, there were signs of a decline in Eli Manning's arm last year and what good is having Odell Beckham Jr if you keep throwing the ball into the dirt five yards in front of him?
10. Arizona Cardinals
I share some of Bruce Arians' own reservations about the Cardinals receivers but they certainly have a top-10 quarterback in Carson Palmer and one of the league's best multi-dimensional weapons in David Johnson. If Tyrann Mathieu returns as the player I think he is, Arizona will give the Seahawks a run.
9. Philadelphia Eagles
The NFL averages half a dozen new playoff teams every year and the Eagles could well be among that group this season. I'm probably a little higher on them than most but with more to work with on the outside, Carson Wentz has the chance to be a good quarterback if he can be protected.
8. Atlanta Falcons
I really like the Atlanta defence but we need to talk about the assumption the Falcons are just going to waltz back to the playoffs. Steve Sarkisian is not Kyle Shanahan and favours a power-running offence while the Falcons, and most importantly their offensive line, has been used to a zone-run offence under their former offensive coordinator. These things matter.
7. Tennessee Titans
The Titans are this years Raiders, rightfully generating a lot of hype before a ball is snapped in anger and, like Oakland, I fully expect them to live up to it. Expect Marcus Mariota to have a breakout year too.
6. Kansas City Chiefs
The Chiefs will make the playoffs and the Chiefs will lose their first match in the playoffs. This is how it is and how it always shall be with the combination of Alex Smith and Andy Reid.
5. Oakland Raiders
I could literally write the exact same preview as I did for the Raiders last year. Great on offence but that secondary is an obvious weak spot and Khalil Mack needs some sort of help up front. That said, if Derek Carr is let off the leash under new offensive coordinator Todd Downing, they'll be a match for nearly anyone this season.
4. Seattle Seahawks
The loss of Earl Thomas last season completely derailed any hopes the Seahawks had of winning the Super Bowl but it's a shame he can't play offensive line this year. They'll make the playoffs, but  you can't keep ignoring the guys who protect your franchise quarterback and expect to win the Super Bowl.
3. Green Bay Packers
While the Packers have some issues on their offensive line, it's nothing like Seattle's struggles. Their secondary probably plays better than advertised and, if they're struggling, Aaron Rodgers can always dial-up a Hail Mary to get the offence over the line. Kicker Mason Crosby is a bit of a worry though.
2. Pittsburgh Steelers
Sure Le'Veon Bell hasn't played a meaningful snap this preseason but when he does get up to speed he'll be joining arguably the best offence in the NFL with Antonio Brown and the returning Martavis Bryant set to give defensive coordinators lots of sleepless nights. The addition of Joe Haden doesn't do a whole lot for the secondary but their front seven should protect it well enough.
1. New England Patriots
The loss of Julian Edelman is more than made up for with the return of a fit-again Rob Gronkowski and the signing of a deep threat in Brandin Cooks. Adding Stephon Gilmore on defence, especially as they somehow kept Malcolm Butler, means they're certainly better on that side of the ball too. Repeat anyone?
Disagree? Of course you do. Let us know your thoughts in the comments section below.