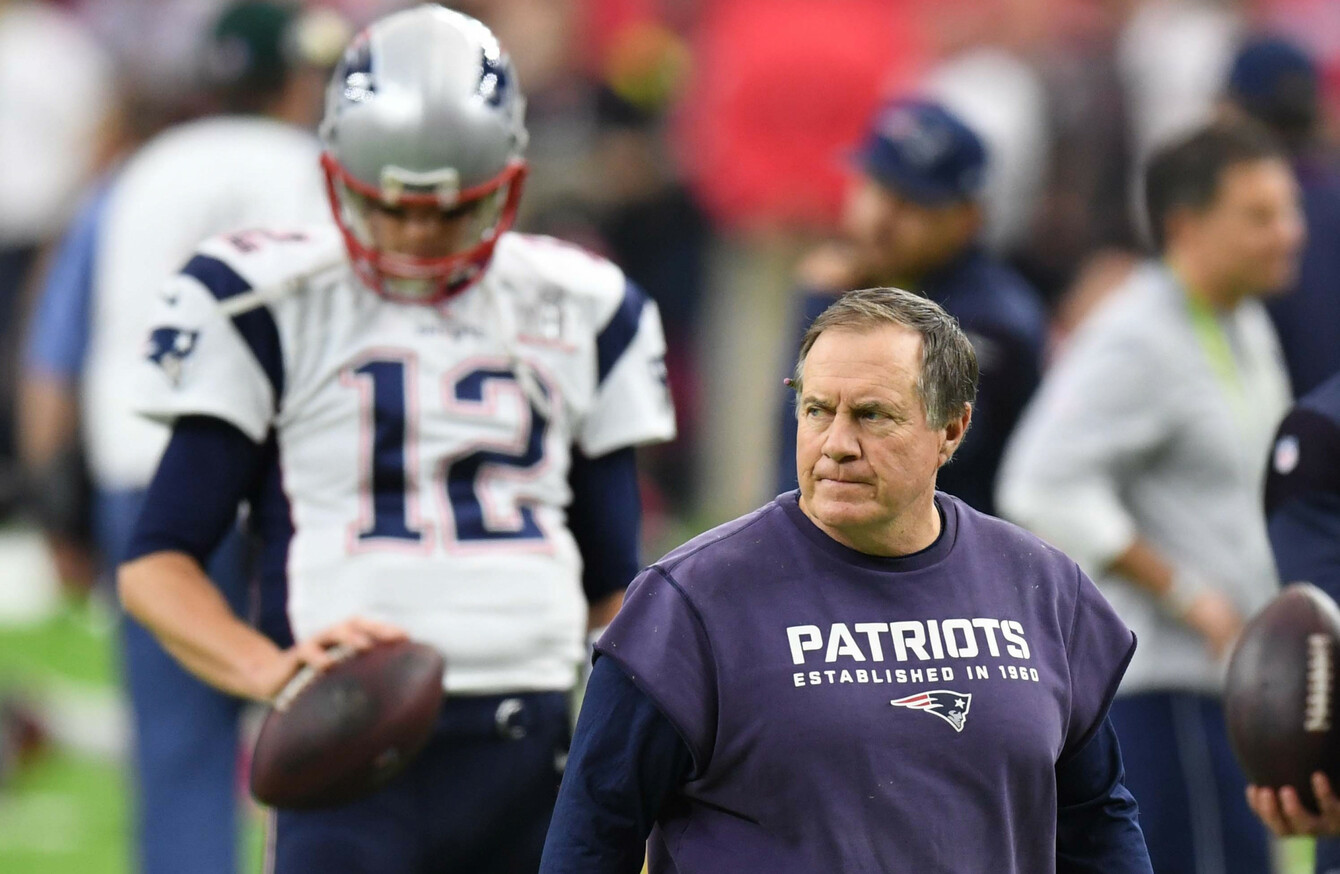 Name a more iconic duo, I'll wait.
Image: SIPA USA/PA Images
Name a more iconic duo, I'll wait.
Image: SIPA USA/PA Images
IT SEEMS LIKE just yesterday when the New England Patriots mounted the most unlikely of comebacks to beat the Atlanta Falcons at Super Bowl LI and, yet, here we are on the threshold of a new season.
But what does the 2017/18 NFL season have in store?
As always, it's impossible to know for sure, but here are five storylines that are likely to dominate the next five months.
1. The Scam for Sam
Tanking is rare in the NFL. Giving up on an entire season is more of a basketball thing.
The one exception in recent years was when the Indianapolis Colts 'sucked for [Andrew] Luck' but even Jim Irsay and company weren't as blatant as the New York Jets have been this offseason in their pursuit of the number one overall pick.
Of course, the Jets claim they're not tanking but have spent a lot of 2017 purging their roster of most of its talent. The likes of Ryan Clady, Breno Giacomini, Nick Folk, Nick Mangold, Darrelle Revis and Brandon Marshall were all cast aside, and that was just in February.
This week alone they've traded Sheldon Richardson and named Josh McCown as starting quarterback all in the hope of having the number one pick and a chance to draft one of Sam Darnold (USC), Josh Allen (Wyoming) or Lamar Jackson (Louisville).
Having McCown should do the job for the Jets. In two of his last three seasons in the league his team has had the number one overall pick (and the year they didn't they were number two). Beware the Bills, 49ers and Jags in the race to the bottom, however.
2. The emergence of the Browns
The Cleveland Browns are going to be better in 2017/18. And, let's face it, they can't be much worse.
Better, of course, is a subjective term and they're not suddenly going to become Super Bowl contenders overnight. They won't even post a winning record for the first time in 10 years, but they are undoubtedly a team at the start of an upward curve.
In Myles Garrett, they appear to have a legitimate stud on the defensive line and DeShone Kizer and Corey Coleman have the opportunity to build a special rapport on offence this season if the latter can stay healthy.
When you consider they have 13 picks in next year's NFL Draft — including five in the first two rounds — Hue Jackson and his coaching staff just need to show some signs of improvement (five or six wins) to keep ownership and fans believing in their rebuild.
3. Perfect Patriots?
Later this week on The42, we'll have a piece looking at the 2007 Patriots as a near perfect — and not just in terms of record — football team.
The 2017 incarnation has a better chance of going undefeated.
Think back to 2007, and how good the AFC East was then, and still the Pats swept all before them. This year, with the Bills and Jets among the worst teams in the league and the Dolphins starting Jay Cutler at quarterback, you can already pencil them in for six wins.
Last year, with Brady as a starter, they lost just one game and — even with the loss of Julian Edelman for the year — they're arguably better on paper this season, especially if Rob Gronkowski can stay healthy.
Of course, going 19-0 is virtually impossible, and you've probably already jumped to the comments section to tell me I'm an idiot but, in all the years I've been covering football ,I can't recall a time when a team going 19-0 would not be a shock. Until this year.
4. Anthem protests spread
Blake Bortles has a job in the NFL. Colin Kaepernick does not.
Josh McCown has a job in the NFL. Colin Kaepernick does not.
Geno Smith has a job in the NFL. Colin Kaepernick does not.
Ryan Mallett has a job in the NFL. Colin Kaepernick does not.
I could go on. I don't know if the former quarterback with the San Francisco 49ers will play in the league again, but the movement and protest he started gained a lot of momentum in the preseason and shows no sign of abating any time soon.
5. Full-time referees
When you consider the multi-billion dollar value of the NFL, it's somewhat farcical than its officials are dentists, accountants and solicitors.
That's set to change this year after the league announced in August that it would hire 21-24 full-time game officials over the course of this season to "enhance NFL officiating."
Whether or not this will clear up the painfully flawed catch rule remains to be seen (spoiler: it probably won't).