LAST WEEK, DAN McFarland became the first of our contributors to correctly call all six NFL games and, in doing so, jumped right to the top of our Pick Six leaderboard.
This week, Kilkenny's All-Ireland winning goalkeeper Eoin Murphy will attempt to equal or better his team-mate Jackie Tyrrell's efforts earlier this season with the 24-year old shot-stopper admitting he's a big fan of the Baltimore Ravens.
"I missed out on the Ravens 2001 Super Bowl win as I only started watching around 2002, 2003 but I really liked what their defence did and obviously Ray Lewis is a bit of a legend.
"I haven't managed to get over to a game in Baltimore yet but I was at a Giants v Eagles game with a couple of the lads on the team a few years ago and the atmosphere was something else.
"I don't, unfortunately, think we'll be repeating our Super Bowl success this year."
Here are Eoin's picks this week:
Kansas City Chiefs @ Oakland Raiders
Eoin Murphy: The Raiders are just awful so I can't look past Chiefs here. They won't get it all their own way though as it's a divisional game on the road. But, while I like Derek Carr, whoever is playing quarterback for the Raiders tonight, they're going to be under pressure from that Kansas City defensive line. Maybe tonight we'll finally see a Kansas wide receiver touchdown?
TheScore.ie: Regular readers of TheScore.ie will know how much the Raiders have broken my heart over the last two decades. With the exception of Khalil Mack and Derek Carr, the only positives I can take from the season is the hope the team get numerous draft picks in return for their inevitable number one overall pick. So it's Chiefs for me and it could be by a landslide.
Detroit Lions @ New England Patriots
Jeff Haynes / AP/Press Association Images Calvin Johnson has had a poor season by his own high standards. Jeff Haynes / AP/Press Association Images / AP/Press Association Images
Eoin Murphy: Patrick Peterson showed Calvin Johnson up last weekend and Revis Island might well do the same on Sunday. Reggie Bush and the run game haven't been doing it at all for the Lions and, to win, Stafford needs an off-the-chart game but I can't see it happening. I think the Patriots will win and win quite well, maybe by as much as three touchdowns.
TheScore.ie: I genuinely had the Lions tagged as the best team in football until last weekend. Their struggles in the run game and Megatron's below-par performances finally caught up with them last weekend and going into Gillette Stadium is far from ideal if you're looking for a return to winning ways. The Patriots to move to seven wins in a row.
Arizona Cardinals @ Seattle Seahawks
Eoin Murphy: This NFC West is a crazy division. You have the Rams as the 'worst' team and yet the Broncos went there last week and were turned over quite easily. I love what Bruce Arians has done with Arizona but Drew Stanton is going to have to take care of the football.  I actually predicted the Cardinals would win the Super Bowl at the start of the year so I'm going to stick with them in this game.
TheScore.ie: The defending Super Bowl champions are in real danger of missing out on the playoffs altogether but it should be pointed out that three of their four losses have been by one touchdown or less and only the Chargers – remember when they were good? – have inflicted any sort of heavy defeat on them. In Seattle the 12th man will help the Seahawks over the line.
Miami Dolphins @ Denver Broncos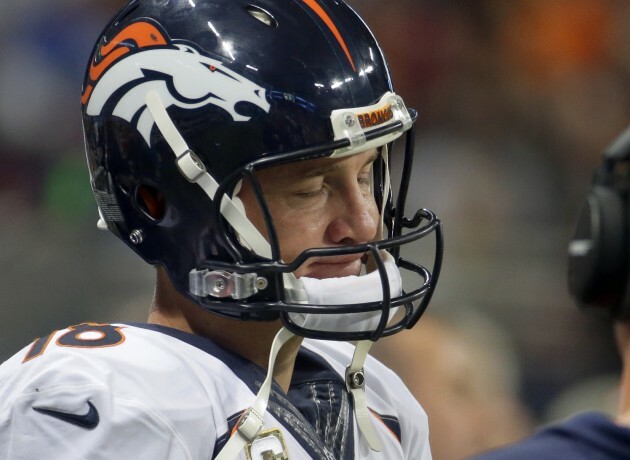 Charlie Riedel / AP/Press Association Images Peyton Manning will look to bounce back from last week's disappointing loss. Charlie Riedel / AP/Press Association Images / AP/Press Association Images
Eoin Murphy: I only watched the highlights of their game last Sunday but Peyton Manning looked very poor and the news today is that he could be without two of his wide receivers. However, I think he'll bounce back and have at least four passing touchdowns this week. Manning is well used to these conditions – and while it'll be interesting to see how Ryan Tannehill gets on in Denver – I think the Broncos will win.
TheScore.ie: The Broncos were so bad last week that Peyton Manning failed to have a single drive enter the redzone for the first time in 13 years. Indeed, if it wasn't for some busted coverage on defence, Denver would not have scored at all. Miami are still in the playoff hunt but Mile High at this time of year is an intimidating place to go. With that in mind, the Broncos to keep the race for the AFC West alive.
Exclusive Six
Nations Analysis
Get Murray Kinsella's exclusive analysis of Ireland's Six Nations campaign this spring
Become a Member
Dallas Cowboys @ New York Giants
Eoin Murphy: This is the one game where I think there could be an upset. Everyone is going to expect Dallas to win but when they seem to be favourite going into games they struggle. They don't seem to give the ball to DeMarco Murray on key third downs even though he's been their best player this year. However, with a fit Dez Bryant and Tony Romo, the Cowboys will come out and win, but only just.
TheScore.ie: As bad as Peyton Manning was last week, Eli was worse throwing five interceptions and yet somehow the Giants were still in their game with the 49ers late on. This should be an easy win for Dallas but, as Washington proved, divisional games can be notoriously difficult to predict. However, Big Blue are too erratic so it's the Cowboys for me.
Baltimore Ravens @ New Orleans Saints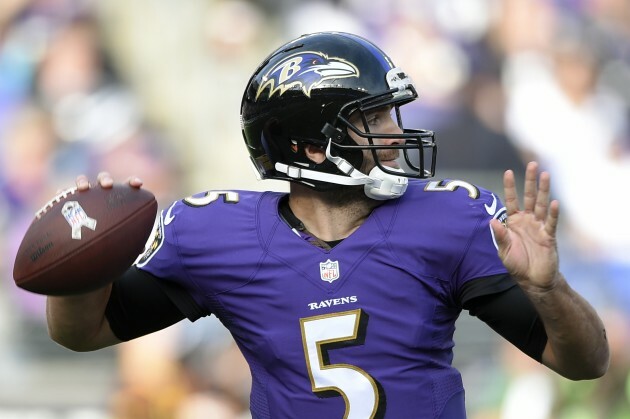 Nick Wass / AP/Press Association Images Joe Flacco will look to become the first QB other than Drew Brees to win in New Orleans this season. Nick Wass / AP/Press Association Images / AP/Press Association Images
Eoin Murphy: I think I'm being a little biased here but the bye week is going to be good for Baltimore and I think they'll try get Steve Smith back into the game as make him as influential as he was early in the season. They'll have to limit Jimmy Graham's impact on the game but I think Elvis Dumervil and Terrell Suggs will get at Drew Brees and the Ravens will win.
TheScore.ie: The Saints are so good in New Orleans it's difficult to see any result other than a home win but while they are playing in by far the worst division in football (all four NFC South teams have losing records right now), Baltimore are in the best and, probably needing to win four of their last six to reach the playoffs. You can't ignore that home record though so I'm going with the Saints.
Pick Six leaderboard
Dan McFarland 6-0
Jackie Tyrell 5-1
Daniel Goulding 5-1
TheScore.ie 5-1
Kevin Cadle 4-3
Shane Jennings 3-3
– First published 18.32, 20 Nov