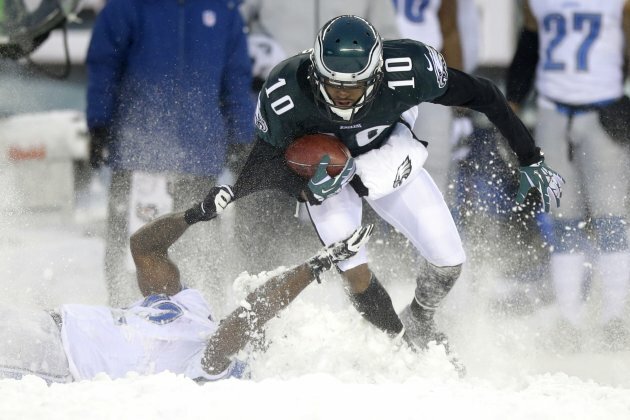 Philadelphia Eagles' DeSean Jackson (10) is tackled by Detroit Lions' Jeremy Ross.
Image: Michael Perez/AP/Press Association Images
OH THE WEATHER outside was frightful, but the NFL was so delightful, and since we'd no place to go, let it snow, let it snow, let it snow.
There are few things as exciting as watching American football in the snow, especially when you're sat on your couch with a hot (or cold) beverage in hand, and not one of the unfortunate punters who sat in freezing conditions for five hours.
However, as exciting as it is to see our favourite NFL players have to endure this: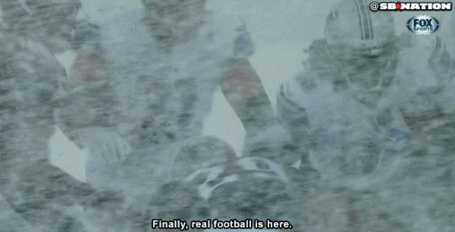 GIF: SB Nation
It also plays havoc with trying to make sense of a weekend where 14 of the 16 games were won by the home team.
Just how good, for example, are the Philadelphia Eagles? Nick Foles certainly looks the real deal and you can't really fault him for finally getting around to throwing an interception given the conditions. Significantly, Philly are now 6-0 in games Foles has started and finished and with LeSean McCoy rushing for a franchise record 217 yards last night — including touchdowns of 40 and 57 yards — their offence looks to be clicking into gear.
However, the Eagles did benefit from the fact that Detroit — a dome team — fumbled seven times in the snow, losing three. Most of mistakes came on muffed exchanges with Joique Bell (playing in place of Reggie Bush who injured himself in the snow) fumbling twice and Matthew Stafford and his center making a mess of the snap on five different occasions. Right now though, Eagles fans will only care that they won — and took the lead in the NFC East — not how they won.
Another team that took advantage of playing a bowl team in snowy conditions last night were the Baltimore Ravens. After a less than stellar opening half, the defending Super Bowl champions and Minnesota Vikings combined for no less than five touchdowns in the final 125 seconds in the most exciting finish I've seen to an NFL game in a long time.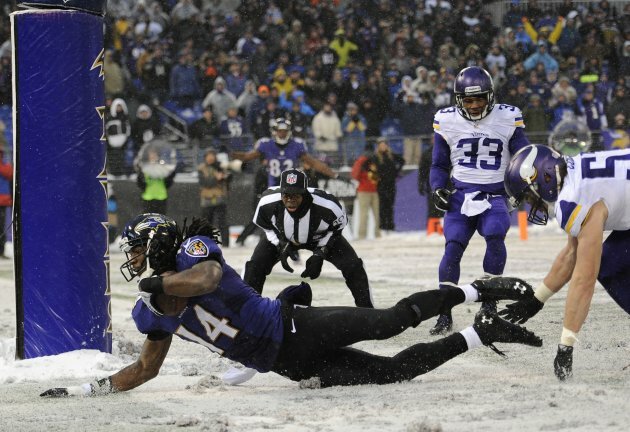 Baltimore Ravens' Marlon Brown with the game winning touchdown
Image: Nick Wass/AP/Press Association Images
It looked as if the Ravens would finally be vanquished when Matt Cassell threw a 79-yard touchdown pass to Cordarrelle Patterson with 45 seconds remaining. However, Joe Flacco found rookied Marlon Brown at the back of the endzone with just four seconds left to keep his side in the playoff picture.
As exciting as pulling a win out of the bag like that is, last gasp wins over an Adrian Peterson-less Vikings doesn't exactly inspire confidence that the Ravens will be able to repeat last year's success.
What to make of the Patriots
Although their game wasn't affected by snow, it's still really hard to tell if the Patriots are a very good bad team or just a bad good team. Last night, for example, they needed a recovered onside kick — their first in 18 years — sandwiched between two Tom Brady touchdowns in the final minute to overcome the 4-9 Cleveland Browns by a solitary point.
It's the third time in three weeks the Pats have fallen well behind only to fight back and win in the fourth quarter but you just wonder how many times they can dig themselves into a hole before they're eventually swallowed?
At 10-3, they remain well in the hunt for the number one spot in the AFC but the loss of Rob Gronkowski to a suspected torn ACL in the third quarter is potentially season shattering. Since the tight end returned from surgery after missing the first six weeks of the season he has been the top tight end in the league with 39 catches for 592 yards and four touchdowns. Just how an already depleted Patriots offence can cope without him, remains to be seen.
Week 14 results:
Houston Texans 20 @ 27 Jacksonville Jaguars
Atlanta Falcons 21 @ 22 Green Bay Packers
Indianapolis Colts 28 @ 42 Cincinnati Bengals
Cleveland Browns 26 @ 27 New England Patriots
Oakland Raiders 27 @ 37 New York Jets
Detroit Lions 20 @ 34 Philadelphia Eagles
Miami Dolphins 34 @ 28 Pittsburgh Steelers
Buffalo Bills 6 @ 27 Tampa Bay Buccaneers
Kansas City Chiefs 45 @ 10 Washington
Minnesota Vikings 26 @ 29 Baltimore Ravens
Tennessee Titans 28 @ 51 Denver Broncos
St Louis Rams 10 @ 30 Arizona Cardinals
Seattle Seahawks 17 @ 19 San Francisco 49ers
New York Giants 14 @ 37 San Diego Chargers
Carolina Panthers 13 @ 31 New Orleans Saints