LAST UPDATE | Sep 30th 2018, 10:00 AM
ISN'T IT FUNNY how the type of person who likes to throw around the term snowflake — male, white, face the colour of boiled ham — is exactly the sort of individual who gets outraged by the most inconsequential of things.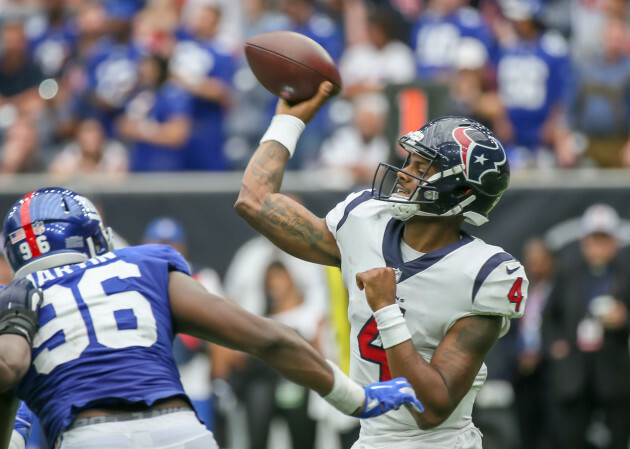 Leslie Plaza Johnson Deshaun Watson in action. Leslie Plaza Johnson
Recently, Thomas the Tank Engine came onto their radar. His crime? Launching a new series featuring multicultural characters and female protagonists.
You'd think diversity would be welcomed. But no, Derek in Milton Keynes has been reading and watching the same characters chugging around Sodor for the best part of eight decades and he doesn't want his tiny little world to change.
Derek's Texan comrades haven't quite heard the news about Thomas yet, because they've been too busy protesting the resignation of Lynn Redden, the superintendent of the Onalaska Independent School District.
Redden thought it would be smart to share the following on Facebook about the Houston Texans' Deshaun Watson following their week two loss to the Titans:
"When you need precision decision making, you can't count on a black quarterback."
They argue Redden grew up in an age when no black quarterbacks were drafted in the first round. They argue, for all sorts of outdated and nonsensical reasons, that quarterback is a white man's position, and they'll point to the vast majority of teams in the league starting white players as 'proof'.
But Watson isn't the first quarterback to suffer this type of prejudice and, sadly, is unlikely to be the last. Cam Newton, Russell Wilson, Colin Kaepernick, Robert Griffin III — actually, name any black quarterback and they've had to put up with racist tropes critiquing their play in recent years.
'Athletic, yes, but not really smart enough to play the position' is a refrain you'll never hear about a white quarterback.
But black quarterbacks are judged by a different standard because — like the frankly insane idea that cartoon trains should be male, British, and white — preconceived notions die hard for some people.
'You have to change your whole style of play to suit him' is another common refrain that peaked when people were still spouting the nonsense that Colin Kaepernick was out of the league for football reasons. But the rise and fall of Robert Griffin III is probably more pertinent.
After winning pretty much every award available to him in college, including the Heisman Trophy, Washington bet the future of the franchise on RGIII in 2012 when they gave up three first-round and one second-round pick to move up from sixth to second overall to get their man.
Griffin's rookie year is one of the best we've ever seen; making an instant impact when he became the first rookie quarterback to win NFC Offensive Player of the Week on his debut.
In November, he became the youngest player in NFL history to post a perfect 158.3 passer rating, throwing for 200 yards and four touchdowns against the Eagles. And, after the season, he was named NFL Offensive Rookie of the Year.
But then Washington turned his career to cinders and ash.
After an injury in the playoffs in his first season, they repeatedly put Griffin in positions — quite literally lining him up at wide receiver — to fail and get reinjured.
They made him a pawn in a political chess match between ownership and coaching staff. They told him one week he was the face of the franchise and the next dropped him for Colt McCoy.
They judged him — like teams and fans judge Cam Newton, Dak Prescott, Tyrod Taylor, Russell Wilson, et al — by standards they don't judge Blake Bortles or Blaine Gabbert.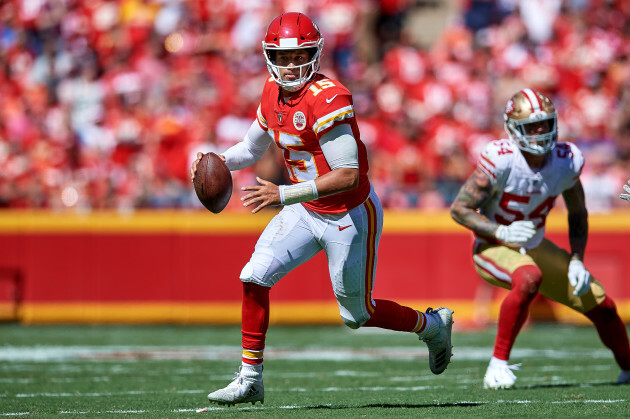 Robin Alam Patrick Mahomes. Robin Alam
So it's hard to watch Patrick Mahomes and his record-setting start to the 2018 NFL season and not think about RGIII.
It's hard to watch Patrick Mahomes and not ask why — in a league where 70% of players are black — just four other black quarterbacks (assuming Jameis Winston doesn't get the nod) will start under center this weekend?
It's hard to watch Patrick Mahomes and not to ask why NFL owners, GMs, coaches, and scouts — all of whom are allowed remain anonymous while providing quotes — let age-old racist stereotypes impact their evaluation of who can and can't be a quarterback?
It's hard to watch Patrick Mahomes and know — because it's happened so often, to so many before — that if and when things start to go badly, he'll be judged by a different standard than his white peers.
Picks (season record 26-21-2)
Sunday – 6pm (H3)
Buffalo Bills @ Green Bay Packers (-10)
Speaking of Buffalo, as shock results go, few match what they achieved in hammering the Vikings last weekend. The Packers are coming off a bad beat by Washington so the temptation could be to think this might be an interesting contest. It won't.
Pick: Packers
Cincinnati Bengals @ Atlanta Falcons (-5)
Dare I say it, but the Falcons offence looked as good last week against the Saints as their record-setting 2016 version, even if they lost in overtime. The manner of the Bengals' loss was much more worrying — especially for the offensive line — but Atlanta is down five starters which is worrying.
Pick: Falcons
Detroit Lions @ Dallas Cowboys (-3)
Dallas fans can at least take solace in the fact that, should the season continue the way the first three weeks have gone, they won't have to put up with Jason Garrett any more. Because of how they beat the Patriots, it's easy to forget just how bad the Lions were in weeks one and two. Still, the Cowboys are awful.
Pick: Lions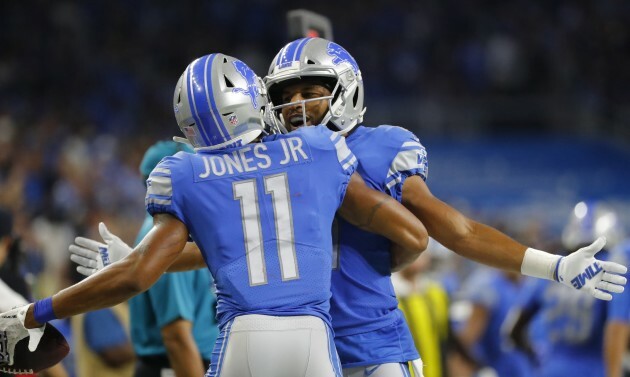 Rick Osentoski Rick Osentoski
Houston Texans @ Indianapolis Colts (-1.5)
The Colts were unlucky not to defeat the reigning champions while Deshaun Watson is showing just how hard it is to return from an ACL injury. Andrew Luck's inability to throw the ball more than 20 yards will affect the outcome of other games, but not this one.
Pick: Colts
Exclusive Six
Nations Analysis
Get Murray Kinsella's exclusive analysis of Ireland's Six Nations campaign this spring
Become a Member
Miami Dolphins @ New England Patriots (-7)
How the Dolphins must wish this was their home game in the series as they are 4-1 in their past five meetings in Miami. However, they haven't secured a win in Foxborough since 2008. Despite that, something's not quite right with this New England side and a 1-3 start is really on the cards.
Pick: Dolphins
New York Jets @ Jacksonville Jaguars (-7.5)
The Jets have had 10 days to dwell on allowing the Browns their first win in well over 600 days, while the Jags are coming off a really bad performance and loss to the Titans, Tennessee are something of a bogey team. Jacksonville's secondary is going to enjoy playing Sam Darnold this week.
Pick: Jaguars
Frakes-Heald Frakes-Heald
Philadelphia Eagles (-4) @ Tennessee Titans
The Eagles looked better last week with Carson Wentz under center, but only a bit. Tennessee is fresh off a defensive divisional battle but are proof that style points don't really matter. The health of Marcus Mariota is a hugely important factor in this game.
Pick: Titans
Tampa Bay Buccaneers @ Chicago Bears (-3)
The Fitzmagic finally ran out in the early hours of Monday morning but 2-1 is still a good start to the season for the Bucs, especially as we've no idea who'll play quarterback in this one. People will claim the Bears defence is more than just Khalil Mack but the former Raider is an early frontrunner for league MVP.
Pick: Bears
Sunday – 9.05pm (H3)
Cleveland Browns @ Oakland Raiders (-3)
Fun fact: The Raiders have not trailed on any snap in the first three quarters of a game this season and yet find themselves at 0-3. Most of that is because, until a garbage-time field goal last weekend, they had failed to score in the final quarter. Can Cleveland make it back-to-back wins for the first time since November 2014?
Pick: Browns
Seattle Seahawks (-3) @ Arizona Cardinals
A divisional battle between two of the worst offensive lines in the league but a divisional battle nonetheless. Josh Rosen gets the start for the Cardinals this weekend but he'll have his work cut out trying to chip away at the league's worst points differential (-54).
Pick: Seahawks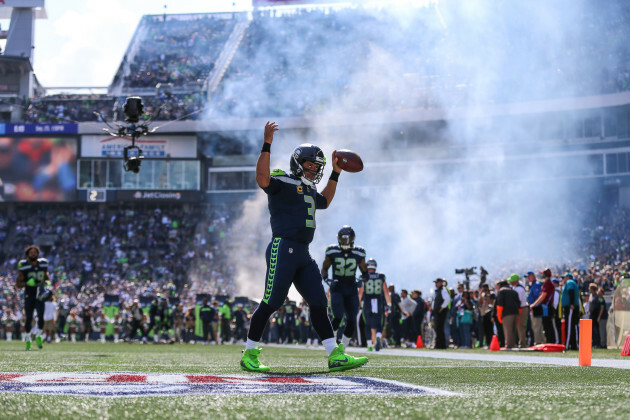 SIPA USA / PA Images SIPA USA / PA Images / PA Images
Sunday – 9.25pm (H3)
New Orleans Saints (-3.5) @ New York Giants
The Saints had to battle it out in overtime with the Falcons last week but if rookie Calvin Ridley can torch their secondary, imagine what a fit Odell Beckham Jr might do. However, even if he's at his best, I'm not sure the New York defence can live with Drew Brees and his range of offensive weapons.
Pick: Saints
San Francisco 49ers @ LA Chargers (-10.5)
CJ Beathard started five games last year, throwing four touchdowns and six interceptions. So good luck with that San Francisco.
Pick: Chargers
Monday – 1.20am (H3)
Baltimore Ravens @ Pittsburgh Steelers (-3.5)
As I say so often in these previews, form goes out the window in divisional clashes but it's difficult to look past the fact that Baltimore is finding an offence while the Steelers, despite finally getting a win, still has huge holes in its defence.
Pick: Ravens
Tuesday – 1.15am (H3)
Kansas City Chiefs (-4.5) @ Denver Broncos
Monday Night Football can be difficult for those of us of an east Atlantic disposition, but the opportunity to see Patrick Mahomes in action should never be missed. Denver's defence is still pretty good but Case Keenum and company just won't be able to keep up with the pace set by the Chiefs' offence.
Pick: Chiefs
The42 is on Instagram! Tap the button below on your phone to follow us!