Reid kneeling during the anthem while at the San Francisco 49ers last year.
Image: Marcio Jose Sanchez/AP/Press Association Images
Reid kneeling during the anthem while at the San Francisco 49ers last year.
Image: Marcio Jose Sanchez/AP/Press Association Images
GIVEN WHAT HAPPENED three years later, it's easy to forget how important to the Irish psyche the events of 1913 were.
At 9.40am on Tuesday, 26 August, the tram drivers and conductors of the Irish Transport and General Workers Union (ITGWU) abandoned their vehicles to strike for better pay and conditions.
Their efforts were somewhat half-hearted because the organiser, 'Big' Jim Larkin — no relation to 'Big' Ben Roethlisberger — knew he could only rely on 25% of the tram workers to support him.
This was mainly because some 200 workers had already been sacked by the Dublin United Tramway Company, leaving the remaining employees fearing for their jobs.
On 31 August, fueled by the failure of the tram strike — which saw scab workers take up the jobs vacated by the strikers — and an impassioned speech from Larkin, union members took to the streets to riot. The reaction was brutal with the Dublin Metropolitan Police and Royal Irish Constabulary injuring up to 600 people in clashes on O'Connell Street.
By the following week, chairman of the tram company, William Martin Murphy, had convinced 400 companies across Dublin to lock out any worker who wouldn't abandon membership of Larkin's union. At the end of September, over 20,000 were locked out of their jobs.
The lockout would end in February 1914 with Murphy, having pushed many workers to the brink of starvation, claiming total victory as they returned to their jobs and abandoned their union.
However, while the ITGWU had less than 25,000 members at the start of 2013, by 1920 its membership was in excess of 120,000. Murphy won the battle, but he categorically lost the war.
The lockout also allowed Irish people to question what sort of society Ireland would be once it was able to throw off the yoke of Perfidious Albion.
In a sense Larkin, and his ITGWU colleague James Connolly, lived the new Colin Kaepernick campaign; they believed in something, even if, for the latter in particular, it meant sacrificing everything.
Eric Reid's decision to publicly support Kaepernick's protests against racial injustice and police brutality looked for a long time like it was going to cost him his professional career.
Reid was a top-five free agent safety but, three weeks into the 2018 NFL season, found himself unsigned. Along with Kaepernick, he filed a grievance case against the league, alleging that NFL teams were locking him out of a job because of his protests.
On Tuesday, Reid said — at a press conference where he wore an #IMWITHKAP t-shirt — that he would continue his case, despite being signed by the Carolina Panthers.
"We're going to continue to hold America to the standard it says on paper, that we're all created equal, because it's not that way right now," Reid said.
Next year will be 2019. It will mark 400 years since the first slaves touched the soil in this country. That's 400 years of systemic oppression. So this has been happening since my people have gotten here. So I just felt the need to say something about it."
Their causes might seem worlds apart, but Larkin and Reid, Connolly and Kaepernick are not all that different. When it comes down to it, whether you're an NFL player or a Dublin tram driver, all you want is to be treated fairly by your employer.
That, and the right to earn a living in the first place. Reid got his chance, will Kaepernick ever get his?
Week 5 picks (season record 35-26-2)
Friday – 1.20am
Indianapolis Colts @ New England Patriots (-10.5)
The Patriots made me look like an eejit last week and could continue to find their stride in week five. That's because the Colts have lost seven games on the bounce to New England dating back to 2010, two years before Andrew Luck was drafted. Indy have looked okay this season, but in Foxborough okay is usually never enough.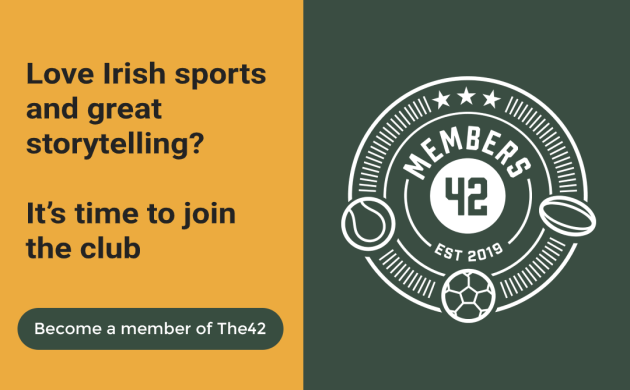 Pick: Patriots
Sunday – 6pm 
Atlanta Falcons @ Pittsburgh Steelers (-3)
Both these teams have had no issues finding the end zone this year but have spectacularly failed to stop teams from running up a score. For Atlanta, they can blame a defence that has been decimated by a number of key injuries but the Steelers have no such excuse. The Falcons record against Pittsburgh is horrific, but I'm still edging them here.
Pick: Falcons
Baltimore Ravens (-3) @ Cleveland Browns
I give the Ravens a hard time, mostly because they paid Joe Flacco an awful lot of money to do very little since their Super Bowl win. This year, however, they're well in the hunt for a playoff spot and have a defence that gets better as games go on. The Browns, on the other hand, continue to pull out Browns-type results.
Pick: Ravens
Denver Broncos @ New York Jets (-1)
I'm old enough to remember when Sam Darnold was going to be the saviour of the New York Jets franchise. To be fair, he still might be, but has managed just one touchdown to four picks in the three weeks since. Denver's defence, as it was the last time they won the Super Bowl, is the heart of this team and will relish the contest.
Pick: Broncos
Green Bay Packers (-1) @ Detroit Lions
In being hammered by the Jets and then comfortably beating the Patriots, few teams in the NFL are as inconsistent as the Detroit Lions. If there's any solace, they did beat the Packers twice last season. However, Aaron Rodgers and not Brett Hundley will be playing quarterback this week.
Pick: Packers
Miami Dolphins @ Cincinnati Bengals (-6.5)
Are Miami the team that went 3-0 or the one that was soundly beaten by New England? The truth is they're probably somewhere in the middle but face a tough task this week. Cincinnati are quietly one of the better AFC teams, even if I was roundly mocked for placing them in the top-five in my power rankings after week two.
Pick: Bengals
Jacksonville Jaguars @ Kansas City Chiefs (-3)
While the woeful Cowboys are in prime time, two of the most interesting teams in the NFL are stuck in a early kick-off. Still, those of us on this side of the Atlantic can't complain when we get to see the league's second best offence and best defence go head-to-head. Usually, I'd side with the defence in that scenario, but there's something special about this Kansas City outfit.
Pick: Chiefs
New York Giants @ Carolina Panthers (-7)
A win for the Panthers, with the newly acquired Eric Reid, would bump them to first place in the NFC South until Monday night at least. The Giants, according to ESPN, rank second last in the league in air yards per pass attempt at 6.2. The inability of Eli Manning to get the ball downfield will cost them wins all season.
Pick: Panthers
Tennessee Titans (-3.5) @ Buffalo Bills
The Titans raised a few eyebrows by beating the defending Super Bowl champions in overtime last week but, even before that game, they were quietly staking a claim as one of the tougher outs this season. Only Arizona have been outscored more than Buffalo in 2018.
Pick: Titans
Sunday – 9.05pm 
Oakland Raiders @ LA Chargers (-5.5)
As I wrote on Monday, the Raiders were incredibly lucky to get their first win of the season against the Browns. Frustratingly, Derek Carr looked like his brother David at times in that game, but also made some MVP-style throws. The Chargers may have two losses on their CV already this season, but they were to the Chiefs and Rams so there's no shame in that.
Pick: Chargers
Sunday – 9.25pm (H3)
Arizona Cardinals @ San Francisco 49ers (-4.5)
The Cardinals are the worst team in the NFL — though the Bills run them close — and will have a rookie quarterback starting just his second NFL game. However, divisional match-ups can be weird and I'm backing Josh Rosen to get his first win as a professional.
Pick: Cardinals
LA Rams (-7) @ Seattle Seahawks
The Rams are running an offence that most high school teams could run — a fly/jet sweep concept — and yet they are terrorising the NFL with it. It's actually quite amazing. Seattle, meanwhile, would give anything for a high school standard offensive line as they continue to make the worst of Russell Wilson's best years.
Pick: Rams
Minnesota Vikings @ Philadelphia Eagles (-3)
Two teams who can't figure out what they are in 2018 go head-to-head. The Vikings look the better of the two but it really is a coin toss. While Khalil Mack has been generating all the headlines, Minnesota's Danielle Hunter also has a sack in every game so far this season.
Pick: Vikings
Monday – 1.20am 
Dallas Cowboys @ Houston Texans (-3.5)
The Texans finally got a W on the board last week, even if they had to rely on some interesting play calling from the Colts to secure it. Dallas may have solved their problems at wide receiver by lining Zeke Elliott up at that position but they also need him to do all the work in the back field.
Pick: Cowboys
Tuesday – 1.15am 
Washington @ New Orleans Saints (-6.5)
Washington are coming off their early bye week and face a Saints team struggling to find an identity on defence. After giving up tonnes of points in the opening three weeks, they kept the Giants quiet last week. Still, they're likely to back themselves to outscore anyone.
Pick: Saints
The42 is on Instagram! Tap the button below on your phone to follow us!