THE WAIVER WIRE in NFL fantasy football is something of a crapshoot as you're making decisions of the future of your franchise based, mostly, on the limited sample size of the previous weekend.
However, in The Wire, we hope to steer you right and look at not just previous production but the upcoming match-up.
Don't blame us if it all goes horribly wrong though.
Quarterback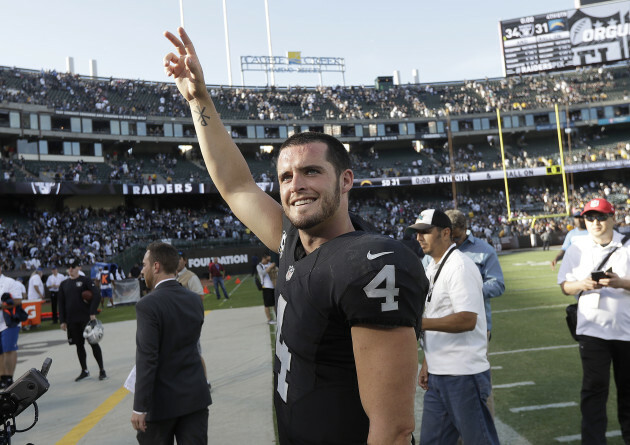 Marcio Jose Sanchez / AP/Press Association Images If Carr is available in your league, grab him straight away. Marcio Jose Sanchez / AP/Press Association Images / AP/Press Association Images
Pick Up – Derek Carr
Somehow, Carr is still available in 12% of leagues so, if yours is one of them, get that waiver claim in ASAP. The Raiders quarterback is averaging 20 points per game and has 11 touchdowns to two interceptions in those five match-ups.
Worth a punt - Marcus Mariota
The Titans quarterback is only owned in 32% of leagues and, after picking up 30 points against the Dolphins last week, faces an even easier defence in the Cleveland Browns this Sunday. The risk with the Tennessee man is that he only scored 12 points combined in the two previous games.
Ignore – Matt Ryan
Matty Ice is still available in more than 16% of leagues and the temptation may be there to look his way if yours is one of them. However, he faces fantasy football's stingiest pass defence this week in the Seattle Seahawks so, if you do pick him up, it might be best to stash him on Sunday.
Running Back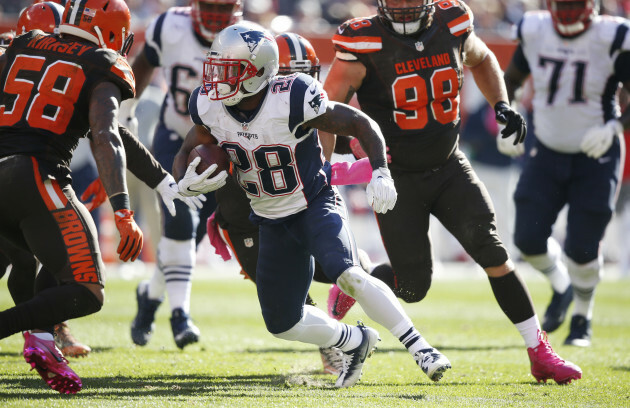 Ron Schwane / AP/Press Association Images White's role will increase as Brady shakes off the rust. Ron Schwane / AP/Press Association Images / AP/Press Association Images
Pick Up – Tevin Coleman
Coleman is somehow still available in more than 20% of leagues despite averaging more than 14 points per game. Last week against a much-vaunted Broncos run defence, he scored 17 (and even more in points per reception leagues) and could easily hit double digits this week again, despite the opponents.
Worth a punt - James White
Nobody is happier to see Tom Brady back under center for the Patriots than White who is #12′s favourite pass-catching running back. White doubled his average score last week with the return of Brady and will only see his workload increase going forward.
Ignore – Spencer Ware
Ware is available in 22% of leagues for those players looking to fill roster spots as bye weeks start to impact decision making. However, the return to fitness of Jamaal Charles will severely limit his upside in the coming weeks.
Wide Receiver/Tight Ends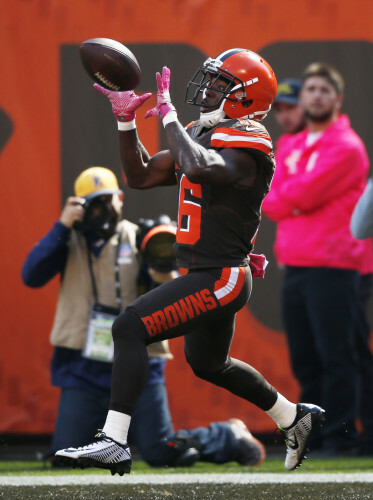 Ron Schwane / AP/Press Association Images Andrew Hawkins makes a touchdown grab against the Patriots. Ron Schwane / AP/Press Association Images / AP/Press Association Images
Pick Up – Hunter Henry
He may sound more like a WWE character than an NFL player but the Chargers tight end caught three passes for 74 yards and a touchdown against the Raiders despite the return of Antonio Gates. Averaging nearly seven points per game, Henry is still available in 45% of leagues.
Worth a punt - Sammie Coates
The Steelers wideout comes with a massive health warning as he's a boom or bust prospect. However, while he's subject to drops, he's yet to have less than 50 yards in a game this season and will hope to add to his two touchdowns against a Dolphins defence that is always susceptible to big plays.
Ignore -Andrew Hawkins
The Browns receiver is owned in less than 1% of leagues which means he's almost certainly available in any league that doesn't contain one of his family members. However, with question marks over an already dodgy Cleveland quarterback position, can you really stake your match-up on any Browns receiver?
The42 Weekly Fantasy Update
We've had a couple of high-scoring weeks with Stuart Mackenzie-Smith leading the way with 130 points in week 4 while Ciarán Bohane has the highest score of the year so far with 147 points in week 5.
It helps when you have Tom Brady, Ezekiel Elliott, TY Hilton and Sammie Coates all scoring in excess of 20 points.