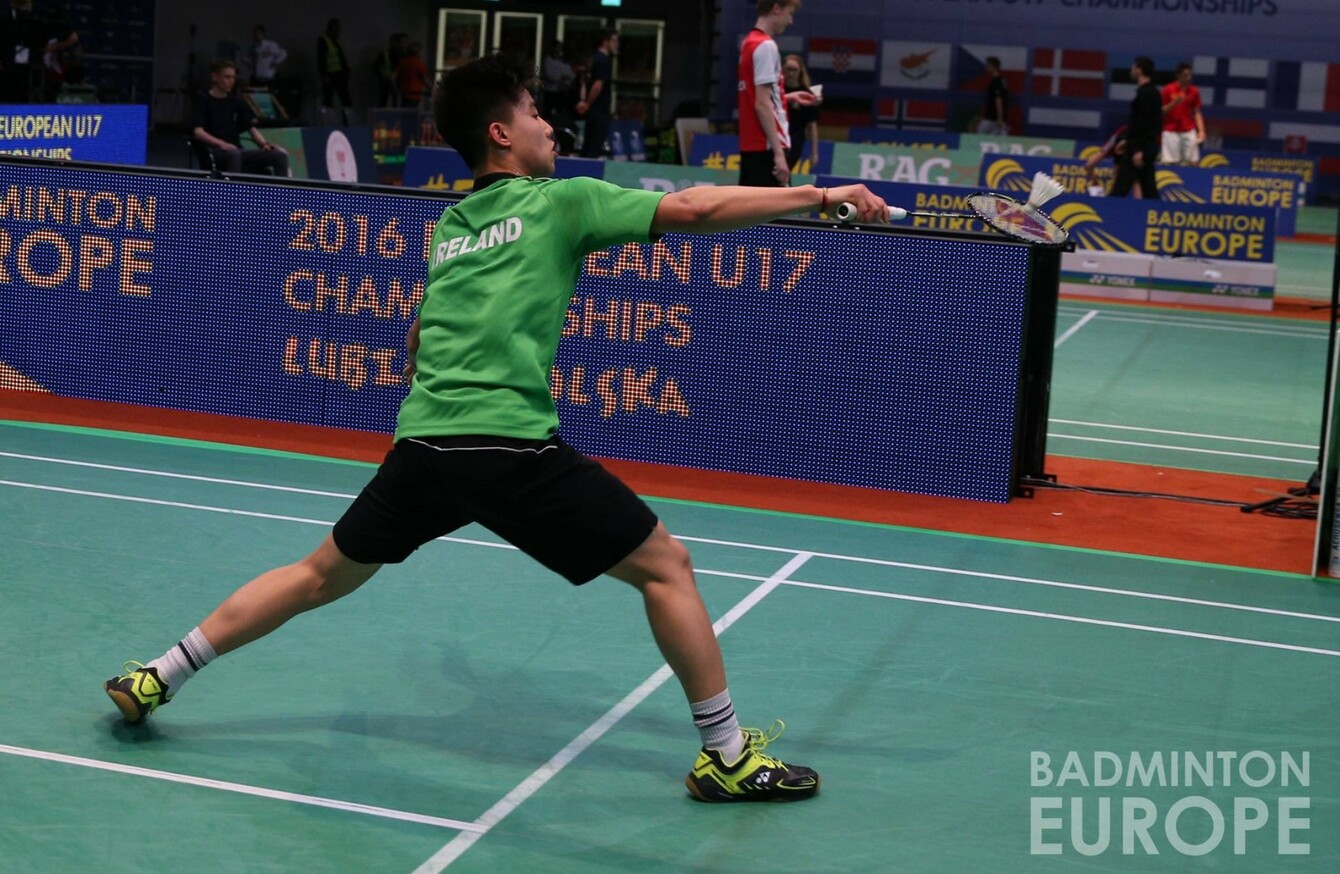 Nhat Nguyen on his way to winning European gold for Ireland.
Image: Mark Phelan
Nhat Nguyen on his way to winning European gold for Ireland.
Image: Mark Phelan
THE PIERCING SCREECHES of trainers on the hardwood floor echo down the corridor and moments later, after swinging open the gym's double doors, I find European U17 champion Nhat Nguyen getting down to work.
The 15-year-old, who left Vietnam for Dublin 11 years ago, along with his mother, father and sister, is practising a serving drill; flicking the shuttle over the net before powering his legs in a backward sprint and leaping for an imaginary smash shot that he would expect his opponent to play.
Nhat, pronounced with a silent 'h', rounds off the drill with another sprint towards the net. A quick gasp for air, he steadies himself, and repeats.
On the court to his left is Badminton Ireland performance pathway coach Dan Magee, brother of Ireland senior internationals Chloe and Sam, who last week were knocked out of the mixed doubles quarter-finals at the European Championships in La Roche-sur-Yon in the west of France.
Donegal native Magee is firing shuttles at Paul Reynolds, whom Nhat partnered to a doubles bronze medal at the U17 European Championships in Lubin, Poland six weeks ago.
It was a historic Easter weekend in eastern Europe for Irish badminton, the highlight being Nhat's gold-medal performance in the singles.
His success, the first Irish U17 gold at a European championships, was missed by many at the time but it is worthy of attention. Nhat beat six of the continent's best players, many of them a year older, to be crowned Europe's top U17 player. And without losing a set.
Clad in a fluorescent orange training top, Nhat buzzes about the court with ferocious speed and is so engrossed in his drill that yours truly nearly cops the tail-end of his back-swing on the noggin, as Magee attempts to introduce Irish badminton's star pupil.
This humble sports hall in the Marino Institute of Education, just a stone's throw from famed Dublin GAA club St Vincent's, is where the spadework is done for European glory.
So, having had a few weeks to reflect on his achievement, seeing off England's Johnnie Torjussen 21-17, 21-11 in the final, how does it feel to be the European champion?
"It was a nice surprise," Nhat tells The42.
"I had competed with a few of the top guys before, a few of the top French guys. And I had close wins against them.
"Some people knew me there but most of them didn't. It was kind of a good thing.
"The first day was the team event and we played France. I played the French number one and he was the favourite for the tournament. I beat him and people started recognising me, I got a bit of confidence after that."
Of the five events in Poland, Nhat was the only non-Dane to win gold. And the laid-back St David's, Artane Junior Cert student seems to have taken it all in his stride.
"I was still quite relaxed going into the final. Pressure does get to me but I think I'm pretty good at coping with it.
"Before the final my mind was racing but I think I kept it under control in the final and I had a lot of support from everyone too: Badminton Ireland, my family, my school and my coach."
There is a steely competitiveness in the youngster who left Hanoi 10 years ago with no English, to start a new life with his family in Ireland's capital. Athletic talent is clearly in the genes; his older sister Tham has represented Ireland in weightlifting.
He was a keen footballer, playing as a striker, but struggled against the more physical defenders.
It was his father, a keen badminton player himself, who introduced Nhat to the game about seven years ago. Nhat initially had reservations, but within 12 months there was nothing else he wanted to do.
"I just love hitting the shuttle," he says with a grin.
"I'm addicted to it. I like thinking on court too, I like to outmanoeuvre my opponent."
Once Nhat discovered his love for the sport, his desire to improve began to dominate his thoughts, which saw him seek a change of scenery, from a small club in Baldoyle, four years ago.
"I'm very competitive. I just wanted to get better. All the kids were better than me so I came to Dan, he was a well-known coach," Nhat says in a confident Dublin accent.
Rapid progress ensued; Nhat became Ireland's number two-ranked male player, behind double Olympian (2008 and 2012) Scott Evans, at the age of 14, and earlier this year he became the youngest winner of the Irish senior men's title, although Evans wasn't competing.
Did it come as a surprise to be crowned national champion at such a young age? Absolutely not.
"I came into the tournament expecting myself to win," Nhat explains.
What are they
really like?
Rare insights on sport's biggest names from the writers who know them best. Listen to Behind the Lines podcast.
Become a Member
"Obviously Scott pulled out. I had beaten the other guys throughout the season and had been ranked number two in the country for about six months at that stage."
In Evans, Nhat has a role model who has been there, done that and carved a path to follow. The 28-year-old Dubliner became the first Irishman to compete in badminton at an Olympic level in Beijing and plays professionally in the Danish Premier League.
Evans left Wesley College in Ballinteer, racket in hand, to pursue a professional badminton career as a 16-year-old. And he has since admitted his regret at not leaving school sooner because he felt he was playing catch-up from the offset.
But Nhat is confident that he has the tools he needs to succeed in Ireland, particularly with his beloved, one-named coach Irwan on board.
The ultimate dream is to become a professional athlete but first, he plans to complete his Junior and Leaving Cert before hopefully doing a third-level course on a part-time basis.
It's a dedicated existence for the teenager. Eleven training sessions per week cover his strength and conditioning, cardio, and on-court work. But there's nothing else he'd rather be doing.
"It's a variety of everything. Badminton is speed, agility, endurance and technical so there are a lot of things to cover," Nhat explains.
Indonesian native Irwan works as a high performance coach with Badminton Ireland following a successful playing career that was cut short by injury, which was followed by coaching stints in Wales and Cyprus.
He is overseas at the moment, his absence adding to the mystery of this badminton guru, as Nhat steps up his pre-season training for another major season that will culminate in the U19 European Championships in France next April.
"He's been like a father to me," Nhat says of his roughly 40-year-old coach.
We get along great, I owe everything to him. If it wasn't for him I wouldn't be where I am now.
Olympic aspirations are on the back-burner for now, although Tokyo 2020 as a 20-year-old has a nice ring to it, he admits.
In the meantime, Nhat will keep feeding his addiction; hitting shuttle after shuttle in pursuit of his dream.
The42 is on Snapchat! Tap the button below on your phone to add!