SLIGO ARE ON the look out for a new senior football manager after Niall Carew today announced that he was departing the position.
James Crombie / INPHO Niall Carew has departed as Sligo manager. James Crombie / INPHO / INPHO
Carew had been set to continue for a fourth senior campaign in 2018 but in a statement released to The Sligo Champion, he confirmed his decision to step down.
He has been at the helm since the start of the 2015 season with the Yeats County with work commitments cited as his reason to vacate the role.
In his opening year they claimed a notable win in the Connacht semi-final against Roscommon before losing the final heavily to Mayo and exiting the championship in a Round 4B qualifier against Tyrone.
In 2016 they exited in Connacht at the hands of Roscommon before defeating Leitrim in the qualifiers and then losing out to Clare.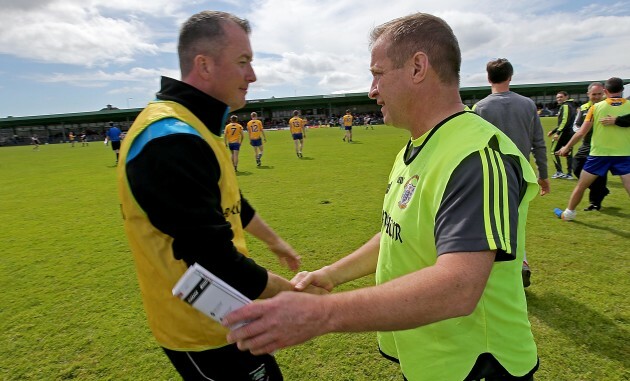 Donall Farmer / INPHO Niall Carew and Colm Collins after last year's qualifier. Donall Farmer / INPHO / INPHO
This season Sligo defeated New York and were beaten by Mayo in Connacht, and then the qualifiers saw a win over Antrim and a loss to Meath.
"It is with regret that I announce my resignation as manager of Sligo's senior football team after three seasons.
"I have recently changed jobs and the demands would make it impossible for me to commit to Sligo in the manner I would deem necessary.
"I am extremely thankful to the county board, who gave me the green light to continue into a fourth season.
"I was looking forward to continuing the progress we had made but unfortunately the landscape changed in my professional life in the meantime.
"Throughout my time in Sligo, the officers of the county board and Club Sligo have been very supportive and we never wanted for anything.
"The players worked hard and bought into what we were trying to achieve. Management always gets mistaken and portrayed in the media as a one-man gang when the truth is that nothing is possible without selectors, coaches, backroom and support staff.
"The clubs were fantastic with their backing as were the fantastic Sligo supporters.
"I thank all stakeholders for what they did to help move Sligo football forward in the last three years. In Scarden, the county has a tremendous facility.
"With players from the U21′s, minors, recent schools' teams and development squads coming through, there is cause for optimism in the future. It may take a few years but I am confident Sligo will have senior success to celebrate in time.
"We had some good days, including reaching the Connacht final. This year, we were competitive in all our games including against Mayo, who are now All-Ireland finalists.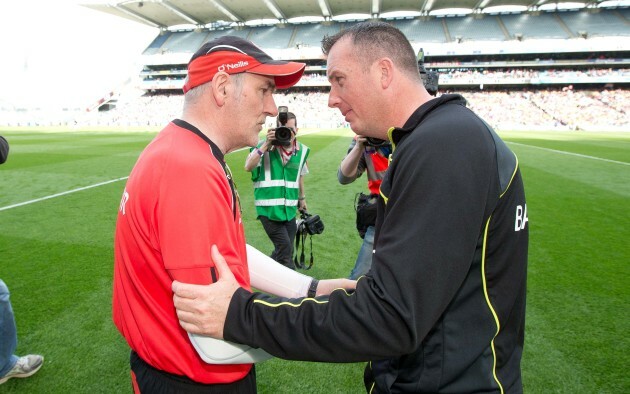 Morgan Treacy / INPHO Mickey Harte and Niall Carew in Croke Park in 2015. Morgan Treacy / INPHO / INPHO
"With a small bit of luck, that was a game we might have won, that's how close I think Sligo are to making a real impact.
"Advances were made and I would like to think that they will continue under my successor and call on the county board, players, clubs and supporters to get behind him the same way they got behind me.
"Finally, I would like to thank my wife Michelle and three children Sadhbh, Caoimhe and Páidí, for their support and patience over the past 10 years that I have been involved with Kildare, Waterford and Sligo. Without that, none of it would have been possible."
Subscribe to The42 podcasts here: