THE BUILDUP TO this year's United Soccer League (USL) final has been dominated by one man: Didier Drogba.
Now 40 years old, he'll take to the field for the very last time later tonight as Phoenix Rising – the Arizone-based side he co-owns with a bunch of businessmen and musicians, including Pete Wentz and Diplo – face reigning champions Louisville City FC. 
But Niall McCabe is intent on spoiling the party. 
The Dubliner has his own objective: to win back-to-back titles with the club he joined in 2015 and with whom he's racked up over a century of appearances.   
"The whole Drogba thing is a bit mental," he says.
"You grow up watching him as a Liverpool fan and you watch him cause all sorts of bother when he's playing against them. And now he's here and such a big talking point for the final because he's such a big name. And whatever publicity the game gains from him being involved is great. As long as we come out of the right side of the result I don't care."
Though the campaign has ultimately gone according to plan for Louisville, it was very nearly derailed completely in the summer.
James O'Connor, who guided them to the title in 2017, stepped down as manager to take over Major League Soccer side Orlando City SC and the top brass were taken by surprise at how quickly he departed. They didn't want to rush a decision on his successor but with games coming thick and fast, it meant the players had to essentially fend for themselves.    
"It was mental, to be honest, because James left suddenly," McCabe says. 
We were basically managing ourselves for eight games. One of our strikers, Luke Spencer, just had a minor knee operation the week before James left and was to be sidelined for about two months. So Luke became the 'manager' during our games because he was sidelined. Along with our captain Paolo DelPiccolo and George Davis – one of our more senior players, the three of them took charge."
"We were all showing up to training and it was just us because James took all of the coaching staff with him – the goalkeeping coach, fitness coach, head coach were all gone. So it was just us training ourselves and putting the work in, which is hard to do. I don't think many teams would be able to do it but we actually won lots of games and not a lot of people were expecting us to. When John Hackworth was announced as head coach, we didn't miss a beat to be fair and we just kept doing our stuff and playing well."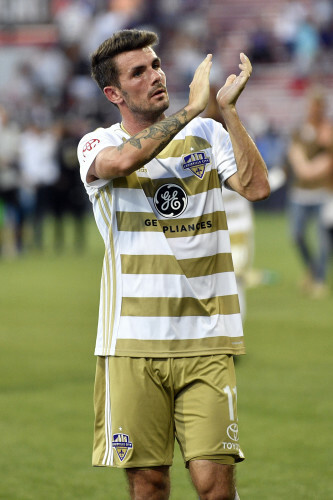 USA TODAY Network USA TODAY Network
As Louisville stepped up, faced the music and subsequently progressed through the postseason, the togetherness and resilience they showed at such a difficult time has inevitably been referenced by the group. There's a bond and a spirit there and McCabe acknowledges that with a different set of personalities, things could've turned out dramatically different.  
"It was a real collective effort, we can be proud of everyone who was involved and hold our heads high," he says. 
The ship didn't sink. The three lads – Luke, Paolo and George – were the ones watching the tapes on the opposition, doing the scouting, piecing together the week's training and, on game-day, passing on the instructions. But we all knew it was a weird scenario to be coaching ourselves. The situation was unprecedented so we all needed to put in our own shift and take our fair share of the weight. So we all chipped in and helped out. We all watched games and passed on what we saw." 
"It's still talked about and reporters here will still bring up when we were coach-less. But we always had a strong dressing room even when James was still here. And when John came in, he didn't try and shake anything up. He knew what we had was good but he took it to the next level as well."
The USL – which is effectively the second tier of football in North America though there is no promotion or relegation across the leagues – is split into the East and West Conferences. But for the regular season, you only play teams in your own division. So, that means Louisville – who finished runners-up in the East – don't know much about Drogba and co.   
"It's difficult because we don't play them at all," McCabe says. 
"Sometimes we might play teams four times, between regular season and the playoffs – so you don't need to scout too much because you know them inside out. But with Phoenix, you really don't know. You can watch the videos but it's different when you're in the heat of the battle. We're fortunate because when John took the reins, he brought in Danny Cruz as his assistant. He'd been at Real Monarchs and played Phoenix twice earlier this season so he's given a lot of input."
This time last year, Louisville had home advantage for the championship decider and it worked a treat as Cameron Lancaster's 88th-minute strike was enough to beat Swope Park Rangers. 
Football in the lower echelons of the United States is a unique environment and Lancaster is the perfect reflection.
A product of the Tottenham academy, he was in the same youth side as Harry Kane. In January 2012, he made his Premier League debut under Harry Redknapp and came on for Emmanuel Adebayor in a 3-1 win over Wigan. He was set for stardom but snapped his groin off the bone soon after and spent a year trying to get back. When he did manage to complete the rehab, he did his anterior cruciate ligament and was released in 2014. He drifted down the league ladder but the US gave him a lifeline and he's been crucial to Louisville's success in the past two seasons.    
Robin Alam Cameron Lancaster was part of the same Tottenham youth team as Harry Kane but injuries derailed his progress. Robin Alam
"I heard they rated him higher than Harry Kane at Tottenham but injuries derailed him, including the ACL," McCabe says. 
"If you're at that level and out for that long, they just have a conveyor belt and you get moved on. And he was just so unlucky. That's the way football goes, unfortunately. But thankfully he's with us now and he's been banging in the goals."
McCabe was on the bench for last year's decider but that won't be the case this time around. Under Hackworth, he's been used in a different midfield role and revelled in it. 
"John started playing me as a number 8, like box-to-box and I've felt like I've been playing really well in that position," he says. 
"I feel like I've been in good form and I scored twice against Indy in the first round of the play-offs. We played James Chambers' team – Bethlehem Steel – in the next round and I set one up in that game and then set another up in the Conference final against New York so I've been enjoying it. It's been new for me and there's a lot more on the defensive side than what I was used to playing as a true 10. But I've got the engine to get there and back so John likes me there and the mobility I can give."
McCabe has struck some important goals this season having been moved into a deeper midfield role by coach John Hackworth.
Earlier this year, McCabe became the first player to reach 100 appearances for the club. It's a reflection of how settled he is in Kentucky. Content, stable and grateful to Louisville for giving him what he always craved: a professional football career.   
"We'll get a lot of fans at the game so hopefully that can give us the 12th man thing," he says. 
"The little man (Luca) will be there and the missus and lots of our friends too. Family back home will tune in and that's the big thing: they treat it like I'm playing for Real Madrid – my Ma and Da, aunties, uncles, cousins. They're all buzzing. It was my Auntie's 50th and there was a surprise party and the way TVs are now, they chanced it and managed to get the conference final on and they were all tuned in. Afterwards I had loads of videos and it looked like a proper buzz."
And that's what it's about, making them proud of you. I don't really have a big interest in doing interviews and that kind of stuff – I don't really care about it. But they like reading it and it makes them feel proud and they get a real buzz from seeing my name out there. Maybe I don't get the same headlines because I didn't play in the League of Ireland but I won the USL championship last year and have a chance of doing it again. I like seeing their reaction when they see good things happening for me. That's what I like most about it."
"I just like seeing them happy."     
Subscribe to our new podcast, Heineken Rugby Weekly on The42, here: