ON 13 NOVEMBER 1967, the Indiana Pacers of the American Basketball Association trailed the Dallas Chaparrals 118-116 with a solitary second remaining on the clock.
They inbounded the ball to a man named Jerry Harkness, who stood 92 feet away from the basket. Void of any other option, he heaved the holy mother of all Hail Marys, sinking the ball off the backboard to utter pandemonium.
Many of the 2,500-strong crowd were of the belief that Harkness had leveled proceedings and forced overtime. In actual fact, he had let rip from 68 feet behind the brand new three-point line, which had been introduced to American basketball's top leagues that same year. Harkness himself was unaware that his miracle shot had indeed won the game.
"We were running off the floor to huddle up for the overtime when the official, Joe Belmont, came up to me and said 'Jerry, it's over. That was a three-pointer,'" he recalls in the book Loose Balls. "I said, 'I forgot all about that. A three-pointer.' Then we were celebrating again, because we found out that we won the game."
It was another 12 years before the NBA adopted the three-point line, and to much derision. The naysayers, averse to change, contested that it was a silly gimmick. At that point many of them were not aware of a 23-year-old named Larry Bird, who had been drafted by the Boston Celtics a year previously but had opted to play out his final season at Indiana State before beginning his professional career.
Bird went on to become one of the greatest marksmen of them all. He understood the psychological impact of three-pointers. He took them in the big moments, sinking them with sinister intentions, often as a coup de grace as his Celtics side turned the screw.
In his and the three-point line's second season in the NBA, 'Larry Legend' stung the Houston Rockets in game 6 of the NBA Finals. Having trailed 84-67 in the fourth quarter, the Rockets had cut the Celtics' lead to three. Back came Bird. He converted a close-range layup, a 15-foot jump-shot and then fed Cedric Maxwell with an assist as the Celtics began to pull away once more. Then, with 1:36 remaining on the clock and the Rockets desperate to stem the Celtics' flow, Bird dropped a back-breaking three-pointer from 24 feet. Given it was still a new and rarely-utilised concept, he was halfway down the court before viewers could come to terms with the score. "That hurt," said co-commentator Jack Madden matter-of-factly. "You know, you're trying to keep them from taking a shot, and they make a three-pointer."
It was Bird's only three-pointer in the 1981 Finals. He saved it for when it counted most, shooting the Rockets out of the sky, killing the series and winning his first NBA championship.
'Long way back to Niall McCarthy from here', you're probably thinking. Could be an uphill battle, all right. For one thing, McCarthy isn't quite a bona fide hurling great, much less an NBA icon. For another, the Cork man, for all his merits, scarcely exuded jaw-dropping class to the same extent as 'The Hick from French Lick'.
But it was this gulf in relative ability which played into why, during a recent Bird deep-dive, I couldn't help but be reminded of the two-time All-Ireland winner from Carrigtwohill.
I've long argued that every time McCarthy swung a ball over the bar at a crucial juncture, it was worth two points to Cork from a psychological standpoint.
He was never the wristiest of players, to put it mildly. Scoring always seemed to take infinitely more effort, and more out of him, than it would your typical centre half-forward, and so to witness him brace his oddly shortened grip and land one from over his left-hand shoulder evoked a disproportionate, guttural response from anyone wearing red. When Niall was on, Cork were on. That was no coincidence.
McCarthy was the pitch-level embodiment of the Cork fan, an extension of the blood and bandage contingent in the stands or sat at home roaring at their tv – McCarthy himself often the subject of their ire. Cork supporters could relate to him because he generally behaved like one: He fist-pumped with more snarling, come-on-to-f*ck savagery than I've ever seen in another hurler. If he won a free anywhere on the pitch, even if it was 90 seconds into a Munster quarter-final against Kerry, he'd let loose with atomic fervour – hurley swinging, spit flying, bottom jaw seemingly protracted to the point that he vaguely resembled the antagonist in an Alien film.
I once saw him celebrate John Gardiner drive the ball down the field from a full 50 yards away, an oddity I had wrongly presumed exclusive to fans.
Corkonians related to him and pucked every ball with him, meaning everything he did – good or bad – provoked an exaggerated response. Be it an uproarious score or a shank wide, McCarthy would have you on your feet making noise.
His presence in Cork's back-to-back All-Ireland-winning side of 2004 and 2005 was akin to the Ewing Theory in reverse; McCarthy wasn't necessarily a 'star' on the Cork team of the mid-'00s, and would have been considered one of the weaker hurlers from a technical perspective, but Cork were exponentially more potent for having him in their half forward line. He was the beating heart in a team brimful of luminaries, and frequently acted as catalyst when their backs were to the wall.
This was never more evident than during the 2004 All-Ireland final.
Morgan Treacy / INPHO Morgan Treacy / INPHO / INPHO
The 114th hurling showpiece holds a special place in my heart, given that it was the first time I watched Cork win an All-Ireland live. I was six for the JBM-led triumph of '99, and while I remember the celebrations clearly, I watched Mark Landers lift Liam McCarthy through the mesh of 'The Zoo' in Leisureplex (the Colisseum, to you oul'fellas), where I was attending a birthday party. My old school friend Seán Hartnett still has an awful lot to answer for.
I recalled '04 as being an exhilarating spectacle for a full 13 years, and then I watched it back. It was an appalling game of hurling.
From a neutral's standpoint, perhaps the best thing you could say for it is that it introduced us to RTÉ's 'Reverse Angle', which rest assured was a far bigger deal at the time. Had the game been draped in DHL logos and involved a team composed of players from four counties, there would have been calls for the All-Ireland to be abolished as a concept. At one stage, Ger Canning was so starved of action that he was forced to describe Diarmuid O'Sullivan as 'an artist' for lamping a ball clear.
The only modicum of information that I remembered accurately from Cork's 0-17 to 0-9 victory over Kilkenny at a windswept, sodden Croke Park was that Niall McCarthy was monumental that day. In fact, unawares to me, he was later named Man of the Match.
It was all the more remarkable in that he endured what was in retrospect one of the worst opening halves of hurling I've ever laid eyes upon. His sole positive contribution in the first 35 minutes, along with the added four, came mere moments after throw-in. Cork were being dominated in all areas of the field, trailing 0-2 to 0-0, and spraying the sliotar either into Kilkenny paws or out of play like it was nobody's business.
About three minutes in, Brian Corcoran made a nuisance of himself 30 yards from goal, forcing JJ Delaney to fly-hack a ball away after a scramble. McCarthy, looking typically demented, gobbled it up and simultaneously received a flying knee to the jaw. A shrill blast of Aodán Mac Suibhne's whistle coincided with one of the most wild celebrations of a free-in ever witnessed at Headquarters.
McCarthy, in mid-air of his own accord, wildly swung his fist, and by association, his hurley, not once but twice. Had we been treated by RTÉ to a reverse angle viewing, John Mullane – wherever he watched it – would have felt compelled to reach for a notepad. Strikingly, the awarding of the free was greeted by only warm applause from the 50,000 Rebels in the stands until McCarthy dragged the devil out of them with his double fist-pump. The raucousness increased by the pump, and if there were any subconscious doubts amongst McCarthy's teammates as to the fact that they were participating in an All-Ireland final, they were vanquished in that moment. Joe Deane tapped over the free.
In the 35-and-a-half minutes which followed, McCarthy possessed the ball twice, coughing it up on both occasions. He conceded three fouls. Cork's first point from play arrived on 32 minutes, and Kilkenny weren't much better.
This was no game of two halves in terms of quality; offerings in the second were as scant as the first. McCarthy, however, was stratospheric relative to the rest. He opened the scoring after the restart having collected a pass from his 'brother', Timmy – no relation – to draw the sides level. But after an exchange of points and a few more minutes of what amounted to a poor game of shinty, the Carrigtwohill McCarthy planted the first seed of doubt in the minds of the back-to-back champions.
No sooner had Michael Duignan reiterated his point that if one team could play good hurling for 10 minutes they'd pull away, McCarthy caught a puck-out on the left flank, tearing past two Kilkenny defenders before sinking an extraordinary point from 60 yards while slipping to the soaked canvas. A gobsmacked Duignan claimed we'd be lucky to see another score as good as it in an All-Ireland final, and from a man who gets an awful lot of stick as well (the latter point an obligatory caveat where McCarthy was concerned).
The reaction from the Cork fans in the Davin Stand was such that it immediately struck as the game's defining momentum-swing. McCarthy's fellow players went suitably ape as he strutted back to his station, head down. There was no violent swing of the arm this time. There was no need. McCarthy knew he had already flicked the switch, and suddenly, Cork were on.
They duly tore away. After his two poor wides versus the same opposition in the final a year prior had been met with typical derision, the Carrigtwohill forward stuck the pin in the balloon with his third score – a nonchalant finish in space – to give Cork a game-biggest two-point lead. Kilkenny didn't register another score. McCarthy had broken their will, and his teammates swarmed in for the kill.
Even a Dónal Óg Cusack save somehow culminated in the 23-year-old, two short passes later, sending an onrushing midfielder for chips before ripping a 50-yard pass into Joe Deane, who was creased by James Ryall and won a free from point-blank range. It was at this point Michael Duignan pinpointed McCarthy as the standout contender for Man of the Match.
He repeated the trick five minutes later, again finding Deane with a rocketed diagonal ball. Another easy free, another score. Cork were halfway to Josephine's at this point. McCarthy had willed the game in their favour.
INPHO Joe Deane of Cork is tackled by James Ryall of Kilkenny INPHO
If you've been reading the Irish Examiner's GAA coverage over the past couple of years, there's a fair chance you'll have cast your eyes upon some masterly prose regarding the concept of 'Corkness'. It's been curated if not created by Larry Ryan of Tipperary, who during Cork hurling's recent woes has often delved deep into the Rebel psyche in an attempt to find The Truth. He's knocking on the door, all right, is Larry.
Enda McEvoy is another who had a congenial stab at shedding light on our essence ahead of Cork's Championship opener with the All-Ireland champions last month, and he's from Kilkenny. That's when I realised the mighty had truly fallen.
Intriguingly, their colleague Kieran Shannon often alludes to Corkness, but opts to skirt around its fringes. He's a Cork man, of course, and inherent to the Cork state of mind is that it's for us to know and for you to find out. Apparently there's a bit of Clare in Kieran, which would explain why he leaves the window ajar at all.
Corkness is intrinsic, of course. We're not provided with leaflets as we leave the womb. Frankly, we wouldn't want them reaching the wrong hands, and not all of our mothers are from Cork. But The Examiner's ongoing investigation is well founded. Until recently, there was a genuine fear that Corkness had all but dissipated – from the male population, at least; the women have been Corking opponents for half a generation.
It was almost a year after the 2004 All-Ireland final when I first 'got' Corkness, and I owe a lot of that to Niall McCarthy. Firstly, the nation sunk its teeth into Corona-gate, a primitive type of GAA controversy which would now likely rank somewhere between Davy Fitzgerald 'getting involved' at centre-field and Aidan O'Shea getting sunburned in the outrage stakes. McCarthy and Kieran 'Fraggy' Murphy donned the Corona Extra logo on their boots, and by my recollection of the reaction, almost brought the GAA to its knees.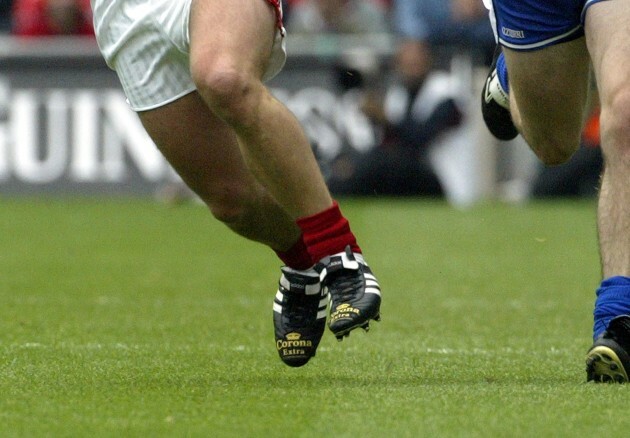 Dan Sheridan / INPHO Dan Sheridan / INPHO / INPHO
It was an audacious piece of arse-chancery given that two years prior, there was uproar about a bookies' logo being plastered across hurleys. McCarthy and Murphy's venture was suitably rebellious. It was very Cork.
The ensuing talk was that the matter might derail Cork's efforts to retain the All-Ireland. Three weeks later, they trailed Clare by six points at half-time of their All-Ireland semi-final, but pulled the rug out from under the Bannermen. McCarthy put in an monumental second-half shift.
With less than three minutes to go, he equalised, turning back towards halfway as the sliotar bisected the sticks. Head down, no fist-pump. We'd seen it before.
"Niall McCarthy answers his critics!" roared Ger Canning during RTÉ's broadcast, opting to address the 2004 All Star by his full name such was the magnitude of the score.
You could have stuck a fork in Clare at that stage. Sure enough, Jerry O'Connor's winner amounted to no more than a procession as a shell-shocked Clare rolled out the red carpet in Croke Park.
O'Connor barely celebrated, but smirked and wagged his tongue as if to suggest Cork were at it again. And they were, but we knew that as soon as Niall McCarthy launched over one of his vintage two-pointers seconds before.