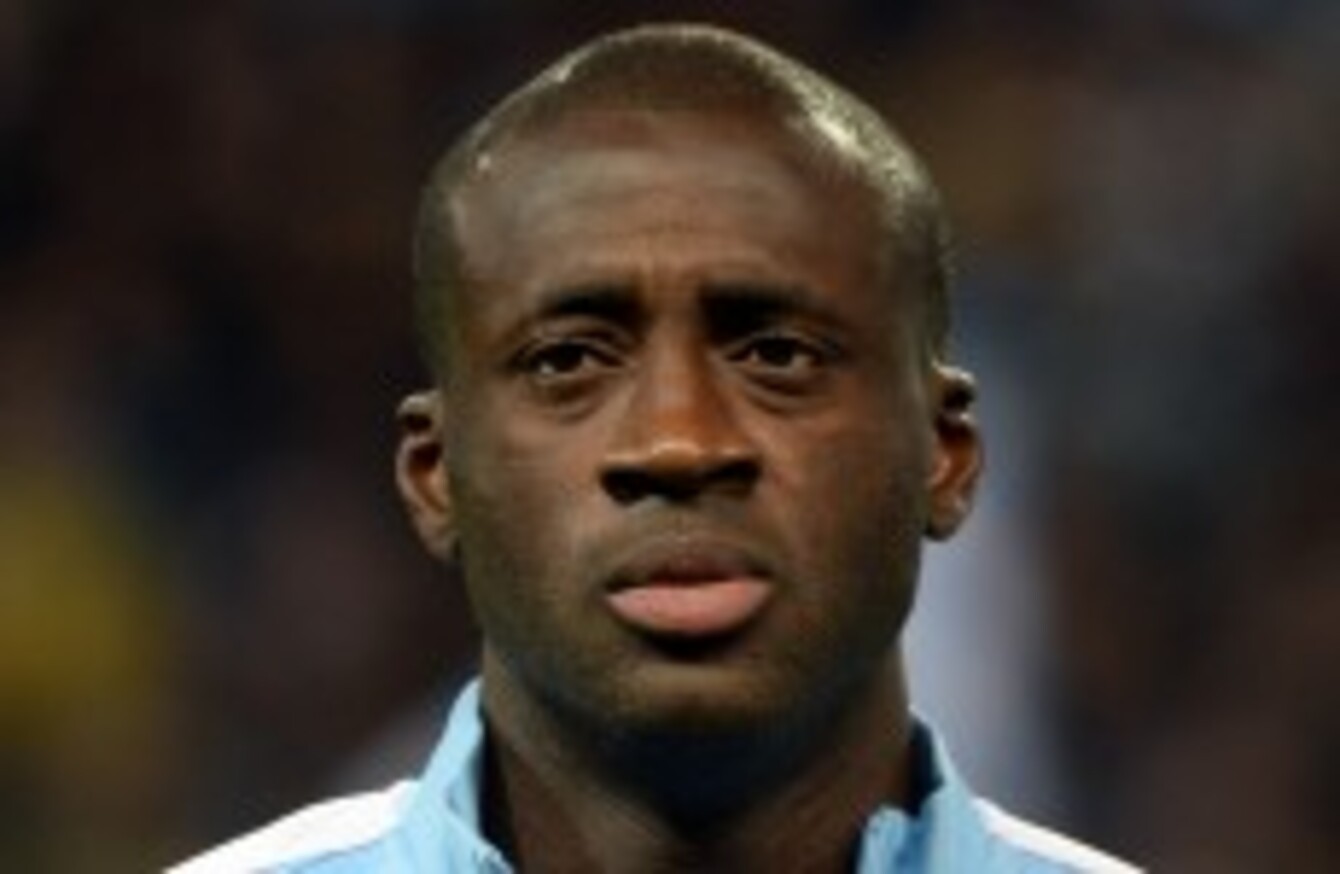 Sky pundit Niall Quinn feels Yaya Toure's attacking prowess could be a vital factor in Sunday's game at Old Trafford.
Sky pundit Niall Quinn feels Yaya Toure's attacking prowess could be a vital factor in Sunday's game at Old Trafford.
FORMER IRELAND AND Man City striker Niall Quinn has highlighted Yaya Toure as a key player in Sunday's Manchester derby.
Toure is routinely cited as one of City's best footballers, despite earlier this week complaining that he feels underappreciated in England, and with a number of key players such as Sergio Aguero and David Silva unavailable to face United, extra responsibility will naturally fall on the Ivorian's shoulders.
"The important player for me is Yaya Toure. Yaya changed the game against Sevilla (in the Champions League on Wednesday)." Quinn tells The42. "(Kevin) De Bruyne got the headlines, but Yaya Toure was the only constant threat that City had, and that was when he ventured forward from the defensive midfield spot to join in on rampaging attacks.
"Without Silva, Nasri and Aguero, I'd really look to Yaya Toure to be pushed into a more attacking role, certainly not a holding midfield role — they've enough players who can do that like Fernando and Fernandinho. So Kompany's the rock at the back, but Yaya's the driving force, and without Silva and Aguero, the onus is on him to play a more offensive-minded game this weekend, as he has done in the past."
Man City are many people's tip to win this season's Premier League, having impressed at times this season, racking up a total of 11 goals in their last two league matches alone against Bournemouth and Newcastle respectively.
However, Quinn feels his former club must show a greater level of consistency than has been the case thus far, with losses against Tottenham and West Ham undermining their more positive performances.
"At five games in, I would have said yes, certainly (they'll win the league). Having said that, they've had a couple of awful performances. I did the game on Wednesday night and it was a smash and grab. Sevilla are going home thinking not only how did we lose the game, but how did we not win it? City were second best, but they got there, so there's a bit of resolve there in fairness to them.
"Kompany came on on Wednesday — I think having him at the heart of the defence is a must. It's a big game at the weekend — either they keep Man United at arm's length or Man United are right back in the thick of it.
"But I think if you beat Man City, you'll win the league, I certainly can't see Man City finishing outside the top two.
"They've been breathtaking in some of the league games this season, they have this ability to turn it on like Aguero did at Newcastle, like what happened the other day against Bournemouth. But the derby will be different, it'll be a cauldron, it'll be a real battle of strength."
Similarly, despite some positive recent results, Quinn is yet to be convinced that Man United have what it takes to win the league ultimately.
"I like the way they're going," he says. "They're not going to suddenly rediscover what all the old teams had and just become title contenders. But remember, there were times with Manchester United under Alex Ferguson where they won games because it was just habit — developing that habit of winning when you're not playing great is how you win leagues. Naturally, there were also some five star performances thrown in.
"The big six pointers are key. Man United went down to Arsenal and lost the first real battle of pretenders to the throne. If you throw Chelsea, Liverpool and perhaps even Spurs in there, you've got a little mini-league at the top there and normally speaking, the team who come out on top in that generally win the league. They're finding a way to win. They're not the finished article, but winning is a great place to be. Winning (against the top teams) is another matter though, which is why this weekend's game is so big for them."
Niall Quinn on Jürgen Klopp…
His press-conferences already have brought imagination and he shows his character straight away. You can feel him taking the club by the scruff of the neck and shifting them to his way of thinking. I think it's a great thing that he's in our league with a big club like Liverpool trying to re-discover the good old days. It's a big test for him, of course — the jury's out as to whether he can turn Liverpool around, but it's going to be fun while it all goes on.
"The fact that Sterling is playing and scoring for Manchester City — it shows how difficult it is for Liverpool. That said, they came awfully close (to winning the league) a few years ago — it's a benchmark for him. Brendan Rodgers might say he's been brought in to replace me, he's going to have to do something like that. Champions League football and getting them used to it again would be a great return.
Last year, they were playing teams they were far better than on paper (in Europe) and I know Suarez wasn't around, but they hadn't got used to the big time yet. If Klopp can bring them Champions League football over the next couple of years, get them to the knockout stages after the group games — something like that to get the whole thing going would be great.
"Naturally, domestically as well, he perhaps needs to win a cup to keep the whole show rolling. There's enough clubs with the same agenda and the same carrot from their supporters. The demands are probably the same as they are at four or five other top clubs in the UK, so it's not going to be easy, but I'm looking forward to the ride while he's in charge."
Niall Quinn on Sunderland v Newcastle…
"Both teams have to kick on a little bit from where they are. The inverse of that is that it's a wonderful opportunity for one of the teams to really put the boot in with a victory and a derby, not just on points, but also on morale. It's a stinking feeling when you lose a derby up on the North-East. It hangs around longer than any other derby. Sunderland are on a great run in the derbies but they would have to be worried with their form versus the fact that Newcastle scored six goals the other day and are truly off and running, whereas Sunderland are desperate for a win.
"The situation suits Newcastle, but Sunderland, under Sam Allardyce, can come out and produce something that alters that and gets a result. A win would make it six in a row, which is pretty good considering that Sunderland have been poor the last number of years. It really would kickstart their season.
"So it's an even bigger derby than normal. This has a more devastating effect for Sunderland. It's going to be really difficult to pick up and get out of this hole they're in should they lose."
Niall Quinn on Gary Neville's recent suggestion that Newcastle and Sunderland find it hard to convince players to come to the North of England…
The very top players want to go to the likes of Man United and Chelsea. You have to understand that. And what clubs, outside of that bracket, no matter where you are geographically in the country, you try to get a few gems in your squad. That will eventually make their way to those bigger clubs. You have the likes of Southampton and look at how they emerged from the third tier in English football. Your recruitment system gets these things in and you hope that the thing will keep firing as opposed to being able to compete with those big clubs. Some of them can't pay £55million on Raheem Sterling. It's a real tough position to be in for a Premier League club.
"But going back to my day, we were lucky. We got a few gems, we had Jordan Henderson coming through, Darren Bent was scoring goals. And it's not just Sunderland (who find it difficult).
"But geographically, I see Gary's point. But there are other clubs like that too. If you're outside the top table, you don't get any Matt Le Tissiers anymore, who hang on for 15 years (at the same club). They're lost to the agent — even for ones that come through. We'd have loved to have kept Jordan Henderson and Darren Bent for a couple more years, but it wasn't to be."
Niall Quinn on the upcoming Ireland-Bosnia game…
I'm happy with the draw because I think there were tougher teams that we might have got — Ukraine and Sweden, who can turn it on and off and if you met them on a good day, you'd better watch out. I would have taken Hungary, but Bosnia is not so bad. I think we've got a chance. It's not an easy game, but the teams are well matched, as they were both third in their group. I don't think they're too far ahead of us in the rankings. When you look at their talisman, Dzeko, you wonder will he be fit and will Shane Long be fit.
"If Shane could make it back, it would be great. They have other good players, like (Miralem) Pjanić, who have great experience. It's a real test for Martin O'Neill, because it would be some result to get in via this process, given that time and again, it's been said that we haven't got the players. That phrase wasn't used after the Germany game, but suddenly it was back to type (after the Poland game). A lot of people were saying 'how can we compete with Poland who have better players than us'. But I think this is a one-off, this is a chance for our spirit to shine through.
"Martin O'Neill is one of the most exceptional motivators in the game over the last 20 years. There's no doubt about that. And this is his prize fight, where he is the master of his team. Hopefully, we'll have our strongest possible side and we'll see the characters that he's helped turn these players into. We hope they really go for it now and get this award at the end of it. It'll be a low place to climb out of if it doesn't go well."
Niall Quinn on Shane Long v Daryl Murphy up front…
Shane Long has waited long enough for Ireland managers to take him seriously. Having said that, Martin is a canny man and he knows how to pick his teams. Daryl Murphy has obviously impressed Martin and suits the way he wants to set his team up. There's an opportunity for Daryl to keep on impressing, but that little bit of pace Shane Long showed against Germany and the finish was spectacular. We don't really have that pace elsewhere. And the way the game has evolved, that little yard he has is critical. And I'd like to see him use that yard in the team while he still has the pace.
"And he's a player I like watching — he brings some excitement, he's good in the air, he's all action. I don't know what he's like in training. Sometimes in training, you can see players' strengths and weaknesses more clearly. But he's done very little wrong in a green shirt and I hope his career kicks on."
Sky Sports will be showing three Premier League games back-to-back this Super Sunday – Sunderland vs. Newcastle, Manchester United vs. Manchester City and Liverpool vs. Southampton. Sky TV customers can save over €100 per year on the Sky Sports package by upgrading now. Visit ww.sky.ie for more details.