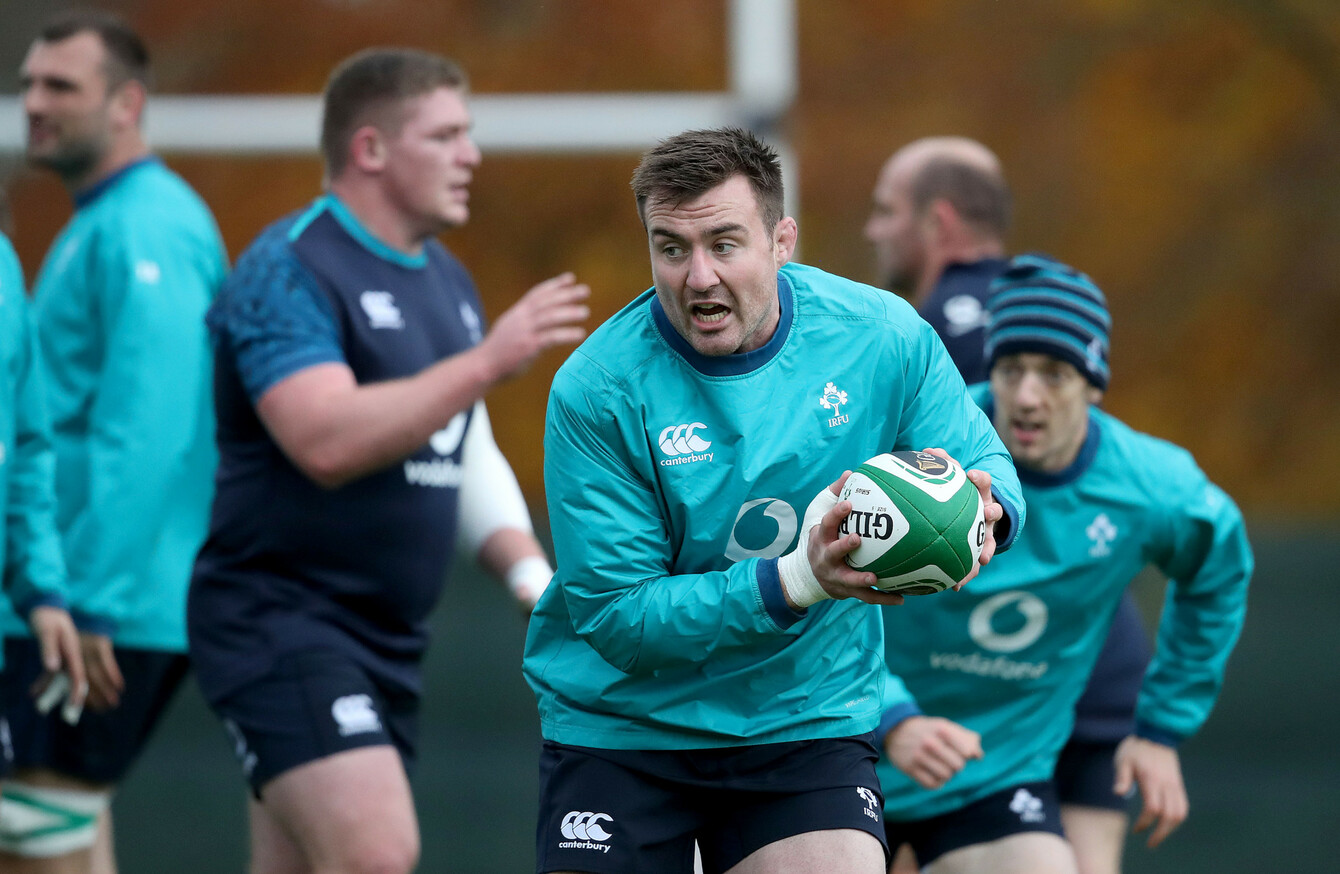 File photo: Niall Scannell in training this month.
Image: Dan Sheridan/INPHO
File photo: Niall Scannell in training this month.
Image: Dan Sheridan/INPHO
THE WHOLE PURPOSE of this November window was built around one important task, laying down the most meaningful marker and beating New Zealand.
Now that has been achieved, there is a new challenge to be tackled. 
Ireland's series-closing Test against the USA will kick-off at roughly the same time as the seismic win over the All Blacks, but there the comparisons will end.
The crackling sense of anticipation in the crowd, the personnel on the field and the nerve-jangling knowledge of how quickly the opposition can punish the hosts if they let their guard down. It will be a different world.
However, those who will be part of Saturday's meeting with the USA hope to be able to draw a line through the levels of effort and clinical execution that was on display against New Zealand. That, they know, will be the first step on the way to dislodging the All Black-beaters and earning a place for any great occasions that might be around the corner.
"There is an inspiration factor, just in terms of watching them execute what they said they would do last week," Scannell said at Carton House today.
You know, if you get a chance against the USA this week, that's where the bar is. You have to get to that standard."
"Every chance you get in an Irish jersey you have to put your hand up, that's the responsibility you take on when you play with Ireland. It's certainly an added factor. I didn't play last week and I want to show what I can do.  It's our last chance in a green jersey before we go back to our provinces."
Having played a key role in Australia, Scannell is certainly among the men who can count themselves unlucky to miss out on what was a momentous day for Ireland. His new team-mate in the southern province Tadhg Beirne might have been equally cursing the intense competition for places. Both men are in line to play a key role in Ireland's tight five against the Eagles.
"(Beirne) has acquitted himself unbelievably well, especially in training. He brings the edge that you see every week, he provides that in training.
"That was obviously brilliant for the lads last week preparing for the New Zealand breakdown and the same against Argentina. Tadhg's been unbelievably positive. With all of us there is disappointment… he would have liked to have been involved more, but I'm sure it won't deter him, he'll be the same this week if he gets a chance. Same as he did against Italy, he'll put his best foot forward and I'm sure he'll be thinking that between now and the Six Nations as well.
"I have a bit of an additional benefit with Tadhg being in Munster, but I played U20s with Tadhg, same with Iain Henderson and we had the Italy game with Quinn (Roux).
"We don't have the team yet, but there were different combinations out there today. That's part of the excitement as well, you're with guys who some of us haven't been with since Italy.
"When Joe picks the team then, whatever combination it is, we can try to lock down and make sure we put in a performance."
The stakes won't quite be the same, but the long-term incentives remain the same for this group.