NIAMH BRIGGS' TWITTER bio reads 'Irish rugby captain embarking on the year of our lives.'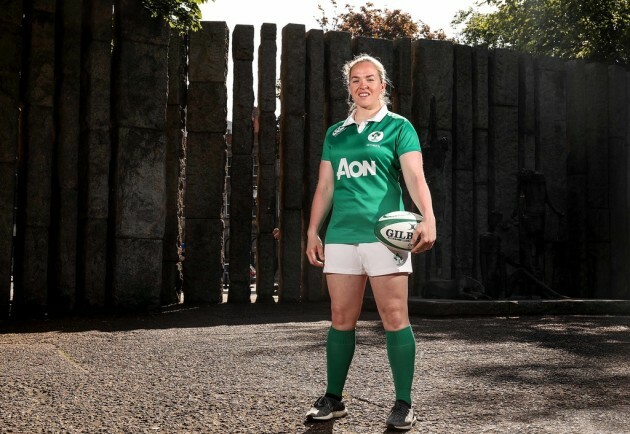 Dan Sheridan / INPHO Dan Sheridan / INPHO / INPHO
The year of her life is set to reach its pinnacle in August as she leads her side to the Women's Rugby World Cup on home soil. But in early 2017, it looked like we could have seen the last of Briggs in the green jersey.
Hampered by injury towards the end of last year, she made it back to captain her side against New Zealand in the last of the November Tests.
She may not have been 100% fit at the time, but she was back where she wanted to be.
The rehab hours were put in over Christmas, so that she was fully prepared for the year ahead, and 'ready to embark on the year of their lives.'
With the Six Nations looming, disaster struck. A 'really unfortunate freak accident,' as she puts it, left her on the sidelines with a serious hamstring injury.
There was hope that she may have made her return at some stage in the campaign, but that was slashed as a scan confirmed the extent of the damage before the France game, and ruled the 32-year-old out for the remainder of the competition.
"It was hugely gutting. It was mentally tough to try and take.
"You go from really excited to be going into a tournament and leading into a World Cup at home to not knowing if you'll play again and that's where I was.
"I've been really fortunate to be involved with every squad since I got first capped, and to miss out completely, it was hard. You're out of it, you're not involved. I had to quickly shift my focus, not away from them [the team] as such, but more onto my rehab and trying to get myself back as quickly as possible.
"That was hard to take, it was difficult. You find out little things about yourself — I'm not a very good supporter, I get too nervous.
"It was difficult to watch because you miss out, not even games as such, you miss camps, you miss being in and around the squad, the girls, the craic. You're missing out on it all.
"They are all preparing for huge games and that adrenaline that comes with it, and you're either sitting in Santry, or sitting at home on your couch with your mum. It's a big comparison.
"It was tough at times, but I think I'm out the other side of it now."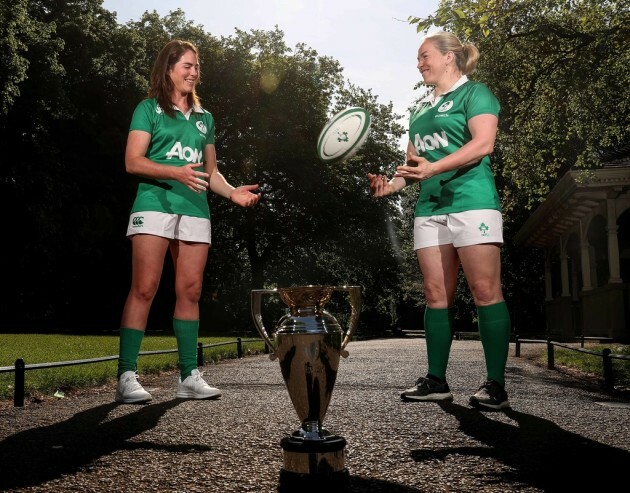 Dan Sheridan / INPHO Dan Sheridan / INPHO / INPHO
Beaming from ear to ear, the Waterford native's year is back on track and all is going to plan again. She's worked hard through the tough times and with the help of the medical team and the staff at Santry Sports Clinic, yet again, she's back to where she wants to be.
Briggs is back running. There's no contact yet, but she's 'not far off it'.
"When I make it back there, it will be definitely down to them [medical staff she has worked with]. I'm nearly there now. I see light at the end of the tunnel so it's good.
"I'm the one that's getting flogged on the sidelines when all the girls are training, I'm looking miserably across as they're doing passing drills and I'm running lengths of the pitch.
"But, there was a huge moment where I wasn't sure I'd get back at all so I'm willing and happy enough to take the punishment now. That's what I keep telling myself anyway — when the moments get tough, and I feel like I'm going to get sick in the corner, that's it.
"I feel like I could go and do it now [back to contact], but I think the way it went and the history of it [the injury], it's just better to be safe than sorry.
"I've another few weeks to get fully integrated but I'm nearly there. I'm just delighted to be back in and around the girls, it's brilliant. I'm chilling raring to go now."
The lay-off brings quite a contrast in preparation to that memorable 2014 World Cup Briggs starred in.
She smiles that she went to France 'probably playing the best rugby of her life,' whereas pointing towards this tournament, there's a stark change.
It's a different kind of preparation for the fullback, but she's relishing her full return.
"At least I'll be fresh anyway, there'll be no excuse there. The long road, it's nearly there now and I can see the end of it.
"It's less than 80 days [until the World Cup], it's mad. You can start to think that it's less than 80 days, and at time you can freak out about it. But it's about rowing yourself back, thinking there's still loads of time left.
"There's a lot of rugby to be played before that in terms of warm-up games and camps. Girls have been training so incredibly hard, it's been brilliant to see it. I've been very inspired to get back and try and get myself into that group.
You don't want to get too far detached from it because they're just going to run away from you."
Of course, captaining her country to a home World Cup is a huge honour, but she tries not to let herself get too carried away.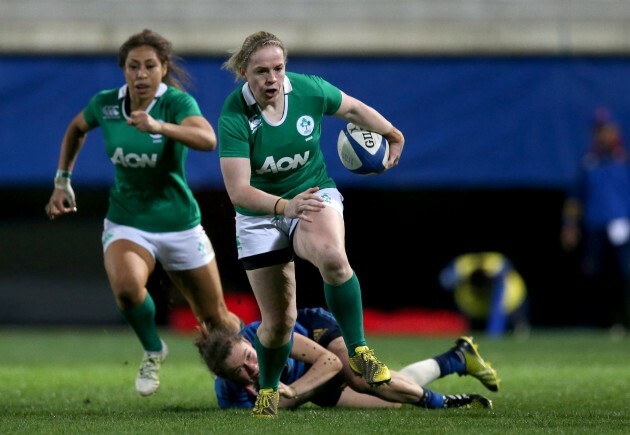 Ryan Byrne / INPHO Ryan Byrne / INPHO / INPHO
She has a job to do first — to be named in the squad when it's narrowed down in July.
"It'll be a huge proud moment. I'm not going to say that I'm there yet because I still have a lot of training to do and I still have to get selected.
I haven't played a lot of rugby this year and some girls have played some really good rugby. I've got to be on my toes and keep pushing. I've got to make sure I get myself back fit and start playing well, because I really want to get selected for it.
"It'll be a hugely proud moment to be able to represent Ireland, irrelevant to being captain or not, in a home World Cup.
"You can let your mind run away with you at times, and think about how amazing it would be. I can always visualise myself and the girls winning on the final day and being up those steps of Kingspan and lifting the trophy. I can see it.
"And then you have to try rein yourself in because you have to get up for gym at 6 o'clock in the morning. There's a long way to go."
In a group with Australia, France and Japan, Briggs believes that her side's Six Nations' performances may not have been the most aesthetically pleasing but the gritty wins will reap their benefits come August.
Playing and in the moment, it's often hard to draw positives from some of those encounters, but she says that watching from the outside looking in brings a different angle.
"When you step back from that you think — against Scotland and against Italy, we showed huge fight, and a will to go and get the job done even though it wasn't pretty.
"Against Wales, they had a huge personal tragedy themselves, and we were able to come in and grind out a win there without being overcome by the emotion of the occasion.
"I think that was huge as well — a home Wold Cup, the emotion of the occasion is going to be huge for the first game. For us, we have to detach ourselves from that. It's going to be really important.
"France was a huge performance for us. To put in a shift like that, the pack were outstanding. It showed me, and I think it showed them, and everybody, the level that they can get to and play at when up against it.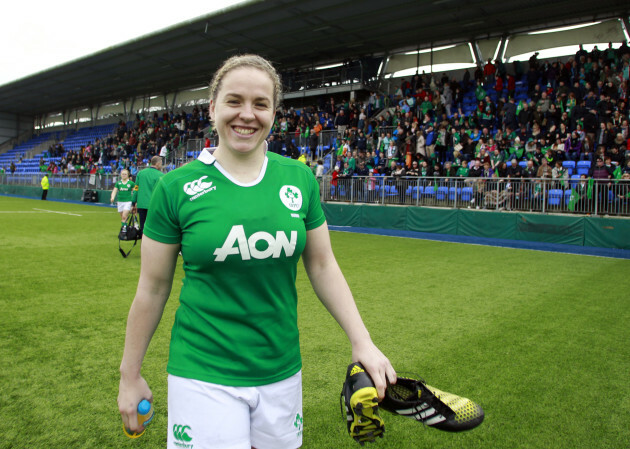 Colm O'Neill / INPHO Colm O'Neill / INPHO / INPHO
"The England game, it's still disappointing. 60 minutes in and the floodgates open because they're so fit. It's not a reflection on our rugby ability, it's a reflection, I think that we just weren't fit enough to be able to last their pace.
"What it shows me and the squad is that we can have a huge amount of confidence thinking our rugby ability is not in question and the fitness element can be fixed really quickly."
Referring back to the emotion linked to the World Cup on home turf, Briggs welcomes the slight element of pressure and is anticipating the support and noise from the home crowd to push herself and her teammates over the line.
"As high performing athletes, they're the games you want to play in. They're the ones that you thrive on and for us, I think it's important that we don't run away from the occasion and that we embrace it and cherish it for what it is.
"It's hugely exciting to be able to play a tournament of this magnitude on your home soil. It's generational.
"Home support can be so big for us. I remember in the last World Cup, 70 odd minutes in we're sucking diesel because it was so warm, and somebody starts singing 'The Fields of Athenry.' I'll never forget it, it still gives me goosebumps.
"Likewise, you go play France in a 3rd/4th place play-off and they have 20,000 people there, so patriotic, and it's pulling them over the line.
"It's going to be big and I hope the crowd will play their part. I know they will because the Six Nations gone and November, we've had big crowds and they've been very vocal. It's been brilliant."
Ireland head coach Tom Tierney, captain Niamh Briggs and fly-half Nora Stapleton were speaking at the Aon Thought Leadership Series on the topic of wellbeing, which explored the link between employee health and their financial wellbeing. 
Aon is a leading global professional services firm providing a broad range of risk, retirement and health solutions, and proud sponsors of the Ireland Women's Rugby Team and the Women's Rugby World Cup which kicks off on 9th August. Follow the action on twitter: #JourneyToGreatness
The42 is on Instagram! Tap the button below on your phone to follow us!