OVER THE COURSE of the next few weeks, five players will be seeking to take their first tentative steps into the 15s international arena with Ireland.
Regular fixtures on the Sevens circuit in recent years, Amee Leigh Murphy Crowe, Emily Lane, Eve Higgins, Stacey Flood and Grace Moore have all been named in the Ireland squad for the 2021 Women's Six Nations.
Operating under a new condensed format this year – two pools of three teams each instead of the traditional round-robin series – Adam Griggs' charges will have their feet up for the opening weekend of the Championship, before opening their campaign against Wales at Cardiff Arms Park next Saturday.
The presence of an uncapped quintet in the current set-up reminds one of Ireland's finest ever players of her own debut at this grade. A two-time Six Nations winner during a glittering 10-year spell in green, Niamh Briggs made her international bow against Italy in February 2008.
"One of my favourite moments was getting my first cap. It was just such a huge honour. This is their last camp now this weekend before the first game, so there'll be a bit of nervousness and they'll be a bit angsty," Briggs says of Ireland's newest hopefuls.
While she isn't a fan of this new structure for the Six Nations – which will see Ireland playing just three games in total – Briggs believes the timing of it presents the organisers with a unique opportunity to grow the game. Whereas it traditionally finds itself in direct competition with the male equivalent of the Six Nations during the months of February and March, the 2021 version of the women's tournament will be a standalone affair.
"People at the moment, in these times, are craving live sport. It's a huge opportunity for the Six Nations, to be able to have the women's game front and centre. I think it's important for people to be able to see it and also for the long-term effect, in terms of sponsorship and support.
"People are going to be tuning in now, that are not regular watchers and supporters of women's rugby. Because they've either been at the men's games and missed the women's or have got caught up watching other stuff. The fact that it's standalone is super good."
The COVID-19 pandemic has provided World Rugby with an abundance of time to consider ways in which the women's game can achieve even further growth. The introduction of a new three-tier global tournament – to be known as WXV – from 2023 onwards will be linked into the expanded 2025 Rugby World Cup (rising from 12 participating nations to 16), whilst the possibility of establishing a British & Irish Lions women's team is also being explored.
"I'm a little bit jealous I'm not playing anymore, because the opportunities are coming thick and fast for these girls. The global tournament will be interesting to see how it pans out. I think the Lions thing is unbelievable," Briggs acknowledges.
"What an opportunity for players this side of the world to be able to come together and play as one, against the likes of a New Zealand or Australia. It's hugely exciting and something that I think the game has been crying out for, for a long time. I'm giddy with the direction that the women's game is going."
Throughout her decade as an international (2008-2018), Briggs was front and centre for a number of landmark international victories. That first-ever Test win over England on the way to securing a historic Grand Slam in 2013 is a clear stand-out, as was the phenomenal defeat of defending champions New Zealand at the following year's World Cup.
A Six Nations triumph in 2015 rounded off a golden period for Ireland women's rugby, but the foundation for these success stories had been put in place several years earlier. In the opening round of the 2009 Championship, Briggs converted a Fiona Coghlan try to give Ireland a shock 7-5 win against France – a side they had failed to beat in 15 previous encounters.
"Those moments, like beating France the first time in Ashbourne, were brilliant. It gave us huge confidence as a squad and it just allowed us to know that we were on the right track, but also that we could dine at the top table," Briggs recalls.
When Ireland next beat France in 2013, it left Philip 'Goose' Doyle's outfit just one game away from claiming a Grand Slam. The Triple Crown and the Six Nations title were already guaranteed, but Briggs and her team-mates were hell-bent on completing a clean sweep with victory against Italy in the final round.
Having been rank outsiders for their second round showdown with England at Ashbourne, her 10-point haul from full-back – superbly complemented by a hat-trick of Alison Miller tries – gave the hosts a stunning 25-0 win.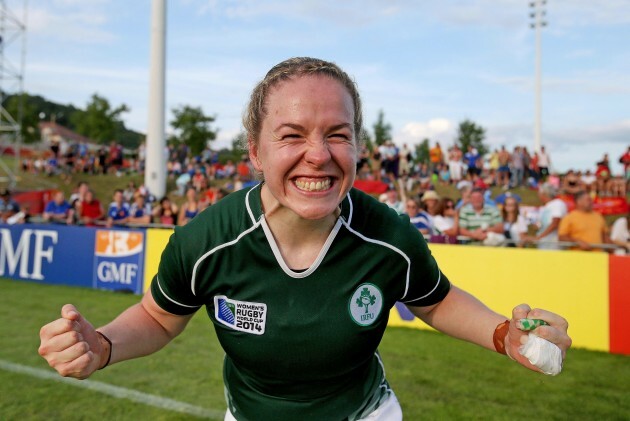 Dan Sheridan / INPHO Niamh Briggs celebrates after Ireland defeated New Zealand at the Women's Rugby World Cup in 2014. Dan Sheridan / INPHO / INPHO
Treacherous weather conditions in Milan made it difficult for Ireland to implement the same kind of game plan in the closing stretch of the tournament, but with Briggs using her right boot to good effect, Ireland came away out on the right side of a 6-3 scoreline.
"It's funny because the day before the sun was shining. We were walking around in shorts and t-shirts. We were staying in this little small boutique hotel and the owner of the hotel said 'we're expecting snow tomorrow!' We were just like 'yeah, right!' Just laughing away," Briggs remembers of that trip to the Italian city.
"When you wake up the next morning, you're excited about the game and you draw back the curtains, there's snow on the ground. It was unbelievable and as the day went on, the weather was getting worse. The pitch just went to absolute muck and made it incredibly difficult to play our game. The fact that we were able to eke it out was unbelievable."
Following a semi-final finish at the 2014 World Cup in France ("probably the best three weeks of my life"), Briggs found herself taking on greater responsibility within the Irish team. The retirement of Fiona Coghlan led to the UL Bohemians star assuming the mantle of captain.
Under new head coach Tom Tierney, Briggs was a guiding force behind Ireland's second Six Nations success in three seasons. As an addition, her 49-point tally made her the tournament's top-scorer in 2015.
"That was a huge honour. Not really one that I was expecting, but one that I really cherished. Overall, what pleased me most was our ability as a collective. We really were riding on the crest of a wave. A lot of confidence in that group and new players had come in after 2014. To be able to go and win it was really pleasing."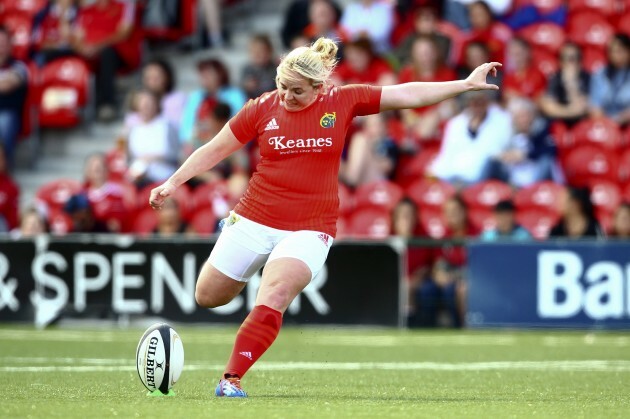 Ken Sutton / INPHO Briggs kicks a conversion for Munster at Musgrave Park. Ken Sutton / INPHO / INPHO
An ever-present in the 2016 Six Nations, injuries subsequently hampered Briggs' international career. In Tierney's final 13 games at the helm, she only managed a single appearance – a November 2016 Test reversal to New Zealand in UCD.
This meant she missed out playing at a third World Cup – the finals hosted by Ireland in 2017. In the wake of their disappointing eight-place finish at that tournament, a plethora of retirements left the Irish squad in transition for the following spring's Six Nations.
With Adam Griggs placed in charge on an interim basis, an injury-free Briggs didn't hesitate when the New Zealander asked her to take over from Nora Stapleton at out-half. On mature reflection, however, she feels this Championship came a year too early for her.
"Now that I look back on it, I definitely wasn't in the right frame of mind or physically right either. I had been out for so long and had only been back running a few weeks before the first game of the Six Nations. I wish probably that tournament had come the year after maybe for me, when I got myself in a better position.
"I was probably too stubborn and probably felt that my mind was way sharper than my body was, and thought that I might be okay. There's definitely a regret there for sure, but the hurt of the previous couple of seasons all rolled into that, I was just excited to get back playing."
A final round defeat to England on 16 March, 2018 was to be Briggs' 62nd and final appearance for Ireland, with Griggs (now in permanent charge of the team) opting to leave her out for that year's Autumn internationals and the following season's Six Nations.
Although naturally disappointed to be excluded, she perfectly understood the reasons behind the former Lansdowne scrum-half's decision.
"The frustrating part for me was that once I had gotten my mind back to a place that I could play international rugby, the opportunity was gone. I went on to play one of the best club seasons I had played in a long time. I understood too that I was getting older and there's always a need for new people to come in, and you've got to perform at the highest level. I didn't do that in 2018.
"From that perspective, I completely understood and got where the decision was made. Once I got myself into a better space, I definitely played some really good rugby with the club the following year. In my mind that put me at ease, that I was able to get back there if needed to be. That's all that I really wanted."
Away from the field of play, the Waterford native (who represented the Déise county in the All-Ireland intermediate ladies football final of 2010) also has a lot on her hands. A Limerick-based member of An Garda Síochána, Briggs has been working steadily throughout the pandemic.
"It has obviously been a challenge, because the whole world are facing challenges. It's not just us in the Guards. I love my job. I love going into work every day and I love meeting people. From that element, I'm still getting the same buzz out of it that I have done previously and long may it last," Briggs says.
"In general, people have been quite good and very compliant. It has been a tough year for everybody and I think that's important to note. Obviously as a Guard you're on the frontline and it's more prevalent, but I think everybody's life has been impacted in some shape or form. It is what it is now and I really hope that we're starting to come out the other side of it."
As someone who has been at the coalface of women's rugby since first being introduced to the sport in 2007, Briggs recognises the challenges the sport will be facing in years to come.
However, she is very optimistic about the future of the domestic game and, with her club and provincial team-mate Ciara Griffin driving standards, believes the international side are capable of returning to the top table in the Six Nations.
 "We've got to sit back and applaud her. She's kept this group tipping nicely along. How she's managed to manage expectations and motivation over the last year I'll never know, but she's done an incredibly good job of it. I think this group is hugely exciting," the 36-year-old adds.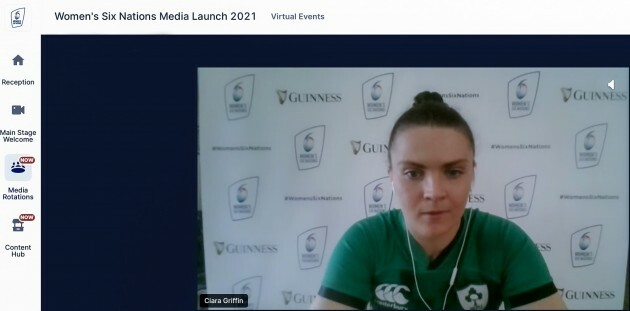 Women's Six Nations / INPHO Ireland skipper Ciara Griffin facing the press. Women's Six Nations / INPHO / INPHO
"The likes of Beibhinn Parsons are jumping off the Richter scale and rightly so. There's another few that could get to that level too. Dorothy Wall, Enya Breen, Amee Leigh Murphy Crowe. These are all really, really good players.
"Definitely players that can become world class on an international stage. They just have to be given opportunities and opportunities of games. It's coming now, so I just can't wait to see them."
The42 Rugby Weekly / SoundCloud
Murray Kinsella, Bernard Jackman and Gavan Casey look back on the Pro14 final and ahead to the provinces' European knockout games.