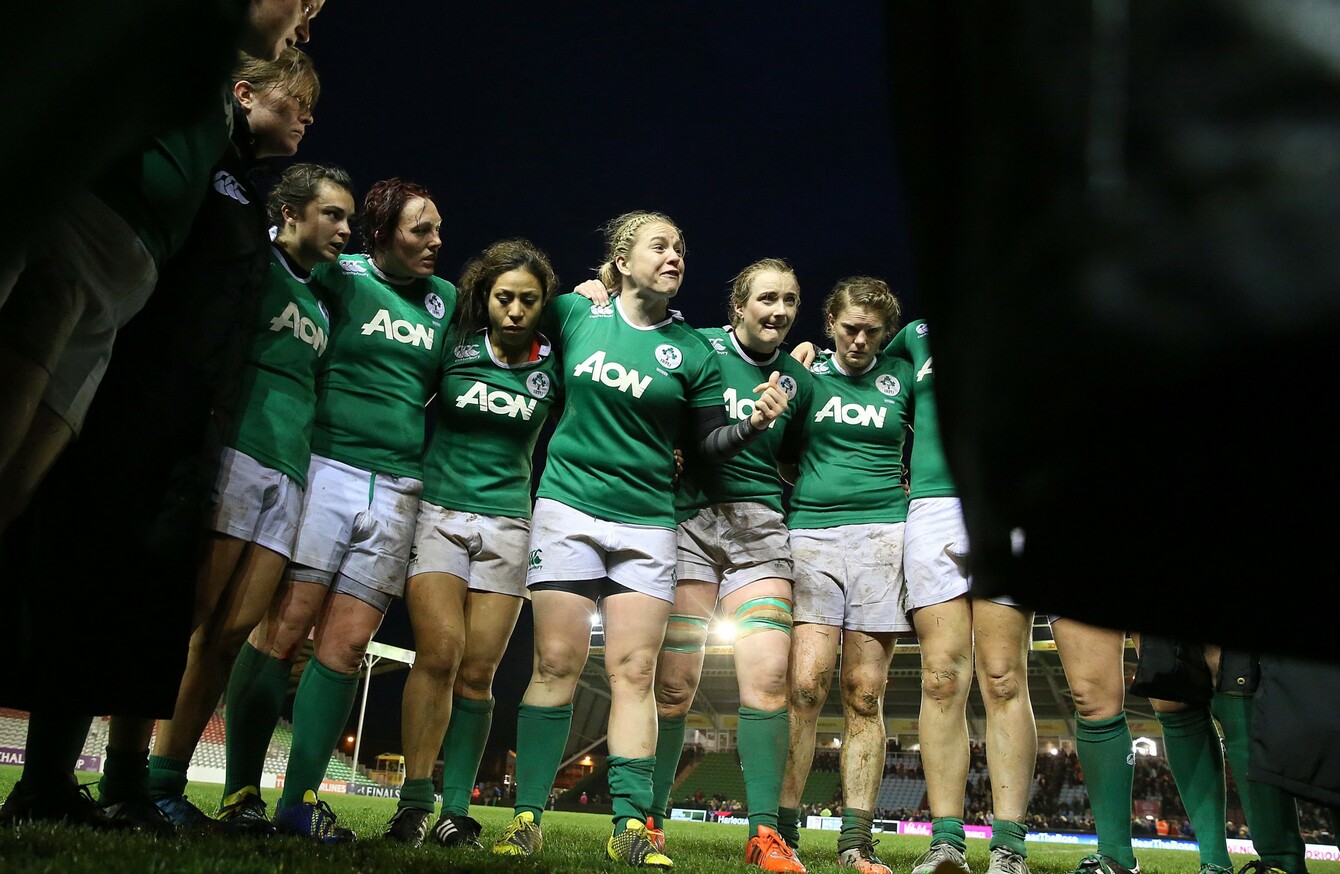 Image: Dan Sheridan/INPHO
Image: Dan Sheridan/INPHO
NIAMH BRIGGS IS the embodiment of the fabled old-fashioned Munster rugby spirit.
Ireland's women's captain and full-back both plays and speaks with her heart on her sleeve, honestly detailing how she becomes racked with anxiety before every match.
Yet it would seem that a steely determination to fight alongside her teammates causes these nerves to disappear the moment she takes to the field.
One of the catalysts in creating a whole new generation of rugby fans in Ireland from the late nineties and early noughties was how, during Munster's halcyon Heineken Cup days, people could emotionally connect and empathise with that combination of raw emotion, doggedness, underdog mentality and stoicism, all stitched together with a strong thread of humility.
Even if they were not fully acquainted with the finer technical nuances of the game or they had not grown up surrounded by a rugby culture, fans of all ages and provinces hopped on the Munster bandwagon.
Of course the legendary pride and passion that helped to fuel the bandwagon, and propelled sayings such as 'Superman wears Paul O'Connell pyjamas' into popular parlance, came from a heritage rooted in the amateur era. The almost mythical victory against the All Blacks in 1978 contributed to building what would become the Munster brand of the professional era.
Briggs can also claim to be part of an exclusive club of All Black – or, more properly, Black Fern – slayers after Ireland's landmark victory over New Zealand in the Women's Rugby World Cup in 2014. However, following in the tradition of Munster's amateur and professional men, Briggs comes across as deeply self-deprecating and possesses an extremely likeable and relatable 'girl next door' quality.
The contrast between Briggs becoming choked up during the anthems and how resolute she appears in striving for success on the field again brings to mind her male Munster and Ireland counterparts such as Peter O'Mahony. However, the key difference is that the men are professionals, while the women as amateurs must juggle playing for club, province and country with careers outside rugby.
SEE SPORT
DIFFERENTLY
Get closer to the stories that matter with exclusive analysis, insight and debate in The42 Membership.
Become a Member
Ireland's final fixture of the 2015 Six Nations campaign, against Scotland, was the culmination of a period of intense juggling of rugby, work and personal lives for each squad member. Head coach Tom Tierney named a side unchanged from the one that had put Wales to the sword the previous week. The team would have the opportunity to seize history after the grand-slam-hunting French had capitulated against the Italians in the previous round.
The occasion was obviously a landmark for each woman in green, but it held an extra significance for Captain Briggs, as the match in Broadwood Stadium, Cumbernauld – a satellite town to Glasgow – would mark her 50th cap. Being 'crippled with fear' on the eve of the match was part of the process Briggs endures before every international: 'I am a very emotional type of person, so I would normally cry before each match, during the anthems and that. This year I was trying to fix that because I am trying to work on the positive side. I didn't allow myself to get as emotional that night before but I was still getting sick at five o'clock in the morning.'
This sort of nerves is indicative of an individual who is giving every inch of herself for the cause. In order to understand what motivated the Ireland captain to this extent, it is important to travel back a few years with Niamh Briggs.
The other part of her life – as a member of An Garda Síochána based in Limerick City, working as a community garda in areas with 'tough' reputations, such as Southill – helps to shed further light on her character. To a journalist listening to Briggs the rugby player and Ireland captain during this Six Nations campaign she always came across as confident and self-assured.
However, she points out that this was not always the case, and credits her work in policing: 'When I first joined the Guards, I probably would not have been the most confident person. It has taught me how to be assertive, to respect people and to probably understand people without jumping the gun, to take a minute to assess the situation. That has helped me massively on a rugby pitch … when things are all gung-ho and [you] just need to be able to clear your mind for a second. The Guards has probably contributed a massive amount to my rugby and probably vice versa, my rugby has contributed massively to my role in the Guards. So, they complement each other very well.'
This is an extract from Six Nations, Two Stories by Kate Rowan and Peter O'Reilly which is published by O'Brien Press.