WHILE 2018 WAS a big year for Mayo star forward Niamh Kelly, she's hoping that 2019 can be bigger and better across the board.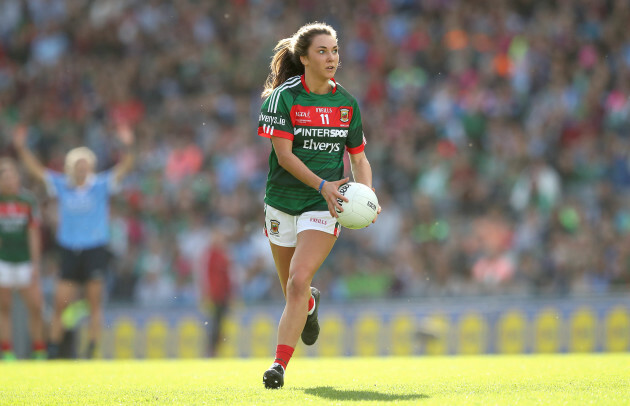 Ryan Byrne / INPHO Mayo captain Niamh Kelly. Ryan Byrne / INPHO / INPHO
The summer was, of course, tainted by off-the-field matters in a year that started out so exciting for the 23-year-old, one half of the Sister Act spearheading Mayo's quest for glory.
The previous September, Niamh and her sister Grace led the way as the Westerners reached the All-Ireland final in Croke Park, bidding for their first crown since 2003.
A late flurry of goals saw Dublin get over the line that day but as the new season commenced, that hurt and heartbreak drove them on with fire in their belly as Peter Leahy, who had come on board as a coach in 2017, took the managerial reins.
A good start to Division 1 in the league ensued and with both sisters enjoying success on the college football scene, they ended up going head-to-head in the O'Connor Cup final. 
Niamh's DCU edged past Grace's UL leading to a touching scene of contrasting emotions at the final whistle.
"Ah stop, I was nearly more upset than she was," Niamh, recently named Mayo captain for 2019, tells The42 at the launch of the Lidl Ladies National Football Leagues.
"I didn't know if I was coming or going. It was very weird, very weird. It was disappointing to see her like that. Looking back on it now, it's funny. We're usually on the same team so it's different."
Video: 'Sisterly Love' - See DCU's Niamh Kelly go straight to her sister Grace at the final whistle of the Gourmet Food Parlour O'Connor Cup Final. 'It was hard for me to see her like that, it's the first time we haven't been on the same team'.. https://t.co/joKYMT2ceh pic.twitter.com/9PsJvnGE80

— Jerome Quinn (@JeromeQuinn) March 11, 2018
In fact, it was the first time the Moy Davitts sisters had ever played against each other, leaving their parents in a pretty tricky situation in the stand at Abbotstown.
"I remember it was Mother's Day that day and my mother was nearly having a heart attack on the sideline. It was cool, it was mixed emotions really, that's the way I'd put it."
They're finished college now and missing the third-level football, it must be said. Both teaching in Dublin with Niamh in a Sandymount-based school, she and Grace are as close as ever and train together during the week in the capital, which is a welcome addition. 
After last year's O'Connor Cup glory, a Division 1 league final followed for Niamh as she impressed week in, week out on the inter-county scene between her electric pace, impressive scoring exploits, direct running and influential attitude.
That appearance at Parnell Park was another to forget how and ever, an 11-point defeat to Dublin before things started to unravel into the summer months.
11-time All-Star Cora Staunton made her long-awaited return after a stint in the AFLW but Galway ran out two-point winners in the Connacht final on 24 June. By 10 July, a mass player walkout dominated the headlines ahead of their All-Ireland championship opener.
Mayo were in the spotlight for all the wrong reasons with a group of 12 players including Staunton, captain Sarah Tierney and vice-captain Fiona McHale and two selectors departing the panel.
Morgan Treacy / INPHO Mayo celebrate that win over Cavan in Clones. Morgan Treacy / INPHO / INPHO
"It was quite difficult at the time," Kelly reflects. "It was an emotional week leading up to the Cavan game.
"I suppose I was just focusing on my own game, trying to win the next game. That's always the focus: the game ahead, and whatever 15 players you have on the pitch, you have to play and work hard.
"Look, it gave girls opportunities to step up and this year, the younger girls have become leaders on the team. It was difficult but yeah, we have to put everything to bed and focus on the year ahead."
The remaining group well and truly did their talking on the pitch in Clones that day against Cavan and made it a win to remember for the Green and Red.
When complimented on her performance and that of the team, she smiles: "It's funny when you go out onto the pitch, you just focus on the 15 players that you have on the pitch.
"We really wanted to win that game from the get-go, it was always going to be a big game. We knew the championship game against Cavan was going to be big. We were lucky that we got the win in the end. It was exciting."
The curtain came down on their year after a 5-11 to 0-12 All-Ireland quarter-final loss to Galway at Dr Hyde Park which was disappointing, Kelly says, but Galway, to their credit, are their biggest rivals and it's always a battle.
With 2018 well and truly in the past, 2019 brings a fresh slate as Leahy's charges put everything behind them and go again.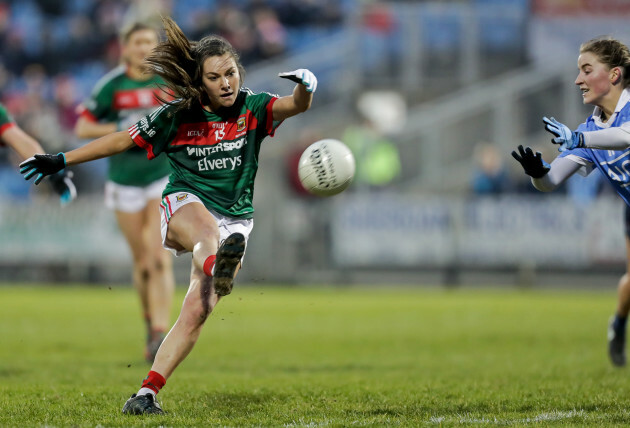 Laszlo Geczo / INPHO Facing Dublin in MacHale Park last February. Laszlo Geczo / INPHO / INPHO
They're almost a brand new team with fresh faces aplenty — 25 who had never played inter-county football before in a panel showing 16 clubs represented as Leahy told The42 at the same launch.
While we spoke before their first-round fixture against newly-promoted Tipperary, Mayo started their year on the right foot with a 2-11 to 0-12 win at Swinford.
Last weekend brought a narrow defeat to a very strong Donegal side, but it's early days yet and everything is looking up. It's exciting times, Kelly agrees.
"It'll really test us," she says of the league. "We've a lot of young, new players in. We've been training quite a while. It's all new and fresh. It's exciting, you have so many new girls in and they bring this different level of energy.
"You're learning things from them, but it will take them a while to settle into senior. A few of them have made their debuts so it's exciting but it's really tested us to see where we're at.
"It will be very hard for us this year, we have to keep taking every game as it comes."
With Sarah Rowe in Australia for the next few weeks, the Kelly sisters, Rachel Kearns and Fiona Doherty have all assumed seniority now as survivors of the 2017 All-Ireland final.
Greater leadership roles fall on them, but Kelly believes there's an onus on everyone to step up. Rising expectations, rising standards, a rising profile of the game; everything is on the up.
"It's great this year that a few of the games are double-headers because that will create a bit more exposure for the game too," she adds.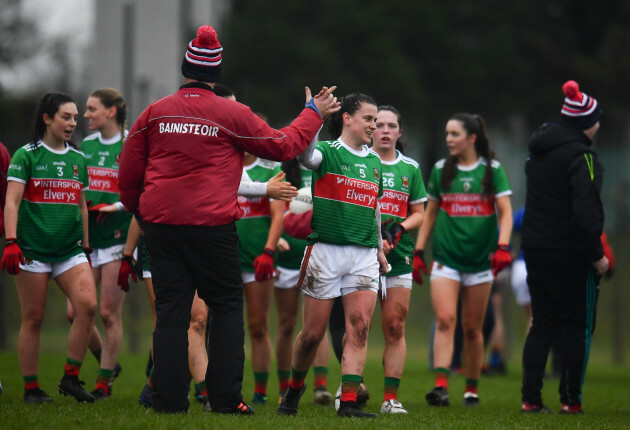 Sam Barnes / SPORTSFILE Leahy celebrating with his side after beating Tipp. Sam Barnes / SPORTSFILE / SPORTSFILE
Mayo face both Galway and Cork in MacHale Park, Castlebar but next up, it's back-to-back All-Ireland champions Dublin in Croke Park on Saturday week.
"That'll be lovely. It's nice to be in Croke Park early in the year, especially for the new girls coming in. They're excited to get their game in Croke Park. That will increase exposure and improve the profile of the game. 
"It'll bring more of a crowd, that's what you want at the end of the day, bringing that bit more of exposure and getting more people interested in playing the game. It's a nice touch to have the double-headers."
Cliché, but they'll take it game by game as they rebuild from the tough times.
With Leahy in charge until 2021 and the bulk of the group that finished out last year still involved, continuity is key and Mayo will hope that they can soon hit the heights they did not so long ago once again.
"It's nice that we've all stuck together," Kelly concludes.
"We've been back training since the end of October, beginning of November. We're working hard. It's great to have Peter and the management there. They're still training us hard, so look, we're keeping the heads down and training hard to see how things go."
Subscribe to our new podcast, The42 Rugby Weekly, here: