GROWING UP, GAELIC football was always a huge part of life in the Kelly household.
James Crombie / INPHO Niamh Kelly. James Crombie / INPHO / INPHO
"It was always a big thing in the family," 22-year-old Niamh, who's now one of Mayo's high-flying forwards, smiles as she casts her mind back through the years
"We all have a huge grá for football."
Another of those soaring stars in the Westerners' attack is her older sister, Grace. She's 23. Then there's their brother, Sean. He's 25. They've always been like three peas in a pod.
"We're all fairly close. The three of us have always played between ourselves when we were younger and that. We all get on fairly well."
It's a few weeks back now when Niamh Kelly picked up the phone on a Wednesday afternoon for a quick interview ahead of the announcement of eir sport's live coverage of three Lidl Ladies National Football League Division 1 fixtures.
The second of the three throws in tonight as Mayo welcome reigning All-Ireland senior champions Dublin to MacHale Park, Castlebar. Of course, it's a repeat of September's championship decider with the hosts gunning for revenge.
At the time of our conversation that was the last thing on her mind though, kept on her toes after a busy morning of college. She's in her final year of training to become a primary school teacher at St Pat's, and playing O'Connor Cup football with DCU.
There's a bit of chit-chat about that at the start, and a few words about Mayo's season opening win over Westmeath. That day, herself and Grace combined for seven points, with Niamh accounting for her three from play.
She tells tales of how it all began. The three siblings spent hours every day in the garden playing away, and when they came of age to head down to the local club, Moy Davitts, they were there in a heartbeat.
"It came from there then," she tells The42.
"U6s, U8s… We played with the boys underage really to start off with and as it went up older, U13 and U14 then we started playing with the women."
On the Mayo front, Grace took the plunge and went into the U12 county set-up first. A year later, her younger sister followed suit and they rocketed through the underage ranks.
They were both pin-pointed as huge prospects from early days. Similar in the way they play — pacy, skilful, accurate, and each with an eye for goal — word got around the county fairly quickly of the talented Kelly duo.
Ryan Byrne / INPHO Kelly in action in last year's All-Ireland senior final. Ryan Byrne / INPHO / INPHO
Niamh played quite a bit of soccer too, donning the Ireland jersey for a year at U15 level.
"I always loved both Gaelic and soccer really but I made a decision then just to stick with the Gaelic from U16 onwards," she explains.
"I just had more grá for it and more passion for it. To be honest, I always found the Gaelic to be much more enjoyable. You've great friendships from it as well. It was obviously a tough decision because I left it after the year I played for Ireland.
"It was tough at the time but we had no club then after that. Definitely, I always preferred the Gaelic. It was always more challenging and I found it a bit more exciting as well.
"It's great to have the memories there," she adds, when commended on her feat of representing her country.
"Obviously it was a huge honour and a great experience to play with Ireland. It was a huge experience but I'd always stick with the Gaelic over the soccer still."
As she said goodbye to the soccer, she graduated to the Mayo senior panel. Grace was playing, while Niamh was 'acting as a watergirl,' and just training away because she was still U16.
"But yeah, we were young," she concedes. "15, 16 when we first joined the Mayo panel.
"We're just so used to playing together now at this stage and we get on very well because of it. We're very used to each other's runs on the pitch and playing with each other.
"We do get on very well. I suppose when it comes down to it and you're under pressure, there'd be a few words here and there. They'd be forgotten about then after when you're off the pitch. But ah no, we get on very well.
"The only time we play apart would be outside in the garden, it'd be the only time we'd be against each other!"
But it's looking very possible that for the first time ever, they may face off on opposing teams in the coming weeks. With Grace having recently started a Masters in University of Limerick (UL) and Niamh playing her college football with DCU, they've both booked their respective O'Connor Cup semi-final positions.
Should both sides progress to the decider, it'll be a compelling affair.
"If we do meet, it'll be interesting to see how that fares out," she laughs, not saying too much. "It'd be a game of tug of war I'd say between the two of us!"
That's to the back of her mind though. The focus is on MacHale Park tonight and the 60 minutes of hard-hitting, fiery football between Mayo and Dublin. They've played on the Castlebar turf before, but this is an occasion they're truly relishing with the eir cameras present.
Ryan Byrne / INPHO Niamh's sister, Grace. Ryan Byrne / INPHO / INPHO
"We haven't played too much there, just the Connacht final. It's great to be able to play there that day with the lads," Kelly continues, as she hails the game being brought to a new audience.
"Ah, it's absolutely fantastic. It just shows you it's really raising the profile of ladies football and eir are putting in huge work. It's excellent to see. It's more exposure for the ladies football.
"Hopefully for people who can't come out and watch the games now, they can be aware and watch it on the TV. Especially for young girls as well, to get them interested. If they can't go watch the game, they can see it on TV.
"The more exposure that ladies football gets, it'll raise the standard of the game and raise the profile of the game. It's brilliant."
She adds, speaking similarly of the increased double-headers: "It's brilliant to see all the work that's done in the background, it's all falling into place and happening.
"It's something that we've been striving for for years; to try and get double headers and now it's actually happening. It's excellent to see that."
46,286 is a number which means a lot to avid followers of ladies football. That was the attendance at last year's All-Ireland finals day in Croke Park. It shattered the previous record set in 2016, and marked an increase of almost 12,000.
For those who don't follow it as closely, that record-shattering attendance was also quite monumental. It's created more of a buzz around the game, increasing interest and recognition across the board.
Although it ended in bitter disappointment, the day itself was a once in a lifetime experience for Kelly, who laughs that she played a small match at half-time in HQ before but nothing could compare to the atmosphere of 24 September 2017.
"Ah yeah," her voice breaks slightly as she recalls the finer details though.
"It was a huge disappointment obviously to lose but Dublin are a fantastic side. To be honest, on the day they deserved the win. It was a fantastic experience to get the opportunity to play in Croke Park especially for the younger girls, a lot of us who had never been there before, it was a great experience.
"Hopefully we'll be back again this year but we just have to keep our heads down and keep working up until then. It was a huge experience. We couldn't get over the crowds on the day, it was fantastic to see all the support that was there."
A first All-Ireland final appearance since 2007 capped a roller coaster championship campaign for Mayo last year. They fell to Galway in Connacht but dusted themselves off and powered through the All-Ireland qualifier route.
The semi-final win to end Cork's bid for their 12th All-Ireland title in 13 years was probably the sweetest moment though. Back in the showpiece, and what a way to do it.
"For the last 10 years plus, Cork have always honestly been the team to beat," she notes,
"Ah, it was fantastic to beat them. We never thought for a second…. The feeling after the game….. To date now, it was probably the best feeling I've ever had after a game; to beat Cork. It was brilliant.
"They're a fantastic team. They're a lovely bunch of girls as well, they've great personalities too. It was great to beat them."
2017 also marked a year where younger girls like the Kelly sisters and Sarah Rowe stood up in the Mayo attack to be counted, taking the spotlight off Cora Staunton. They well and truly showed that there's more to Mayo than Cora.
And it was perfect timing, with the 11-time All-Star currently in Australia lining out for Greater Western Sydney (GWS) in the AFLW.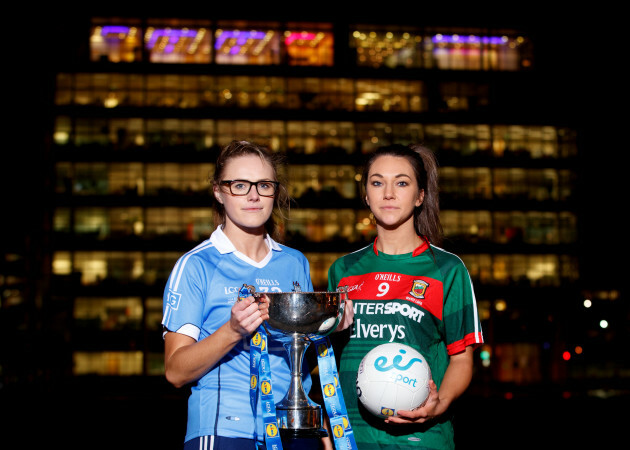 James Crombie / INPHO Dublin and Mayo go head-to-head in Castlebar this evening. James Crombie / INPHO / INPHO
"It's a huge change obviously playing without Cora this year," Kelly acknowledges.
"That will give the younger girls the life to step up more in the team and take more responsibility. It's a fantastic opportunity that she was given to go over and play the AFL.
"I've been so lucky to have played with her for the last couple of years. We've always relied heavily on her, she's a fantastic footballer. It'll be great to see how we all get on and exciting to see if everyone performs and steps up to the mark."
They seem to be doing fairly ok anyway, with two wins from their three league games under their belts. There's younger players being blooded and Peter Leahy, who was involved in the latter stages of last year, is settling into his new role as manager nicely.
"The new set-up is brilliant this year," Kelly smiles.
"Peter and his background team, they're very professional and extremely enthusiastic and positive. It's made the whole set-up very exciting, especially for new girls coming in.
"There's lots of new girls coming in, very young girls so it's brilliant to see them coming on and to see how we'll get on in the next few years as well. Hopefully we'll all stick together and keep going. Peter's doing a great job in there, he's extremely enthusiastic and positive.
She adds: "I suppose I've always been one of the youngest players.
"As it ends up now with younger players coming in, you take responsibility and you have to step up to that and become more of a leader on the pitch. We all have to step up and become leaders as well.
"It's exciting really. Change is good as well. Hopefully we'll keep going and keep a positive outlook."
A final word goes to balancing it all; club, college and county football, teaching placement, college work and splitting herself between Mayo and Dublin.
"If you want something bad enough, you'll work for it and make it work," is the general gist of the answer.
That she does, and will continue to do.
Cork's Melissa Duggan, Dublin's Amy Connolly, Mayo's Niamh Kelly and Kerry's Aislinn Desmond were in Dublin to announce details of eir sport's LIVE coverage of the forthcoming Lidl Ladies National Football League Division 1 fixtures
Mayo take on Dublin on Saturday 24 February and Dublin face Kerry on 3 March.All fixtures will be shown on eir sport 1 at 5pm.
The42 is on Instagram! Tap the button below on your phone to follow us!