ULSTER FORWARD NICK WILLIAMS is still struggling with a knee injury that has dogged him for the last 18 months.
Williams, who won the IRUPA and Pro12 player of the year award in 2013, is feeling his way back into pre-season due to a left knee that sustained knocks against Glasgow [January 2013] and Munster [May 2014]. While many of the Ulster players have been in pre-season for more than three weeks, the 30-year-old is in with the physios as he seeks to ensure his knee is in working order. It may mean he misses Ulster first couple of league games.
"Obviously, I honestly haven't had much to do with the main squad. I'm still broken," Williams told a crowd of over 250 Ulster fans at an official jersey launch at Kingspan Stadium last night. Expanding on his graduated return to play, Williams joked, "I'm just in the background, doing all the tough work. The lads have been getting away with it, keeping fresh." He added that he was eager to get back into full training to 'break a few fellas'.
Teammate Darren Cave returned Williams' compliment by remarking that local rugby photographer John Dickson was spotted in training more often than the New Zealander.
Williams added, "It's the same injury that happened against Munster and the year before I did it against Glasgow. It's a new injury and an old injury so I'll take my time to prepare for the new season
Williams will hopefully be fully fit and firing again by the time the new European Champions Cup gets underway in October. Asked if Ulster were truly in the group of death — with Toulon, Leicester and Scarlets — the forward said a simple, "Yes."
He added, "That's why we play the game and why folks come halfway around the world, to play these competitions. A lot of guys coming up from New Zealand and South Africa." Williams joked, "You come to play these big boys from across the water and the eye-gougers over in France."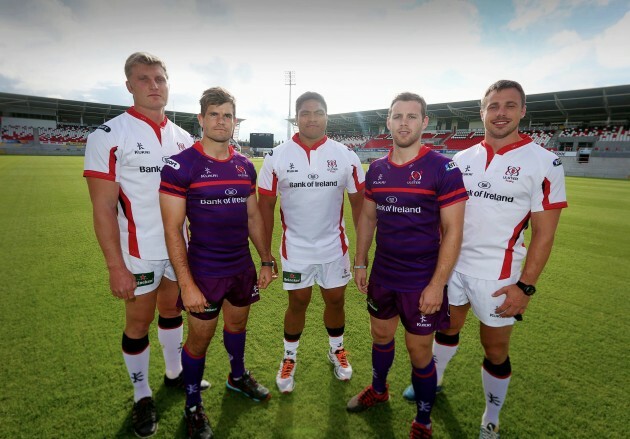 Matt Mackey / Press Eye Ulster players (left to right) model the new Kukri jersey: Nick Williams, Daren Cave, Tommy Bowe, Louis Ludik and Franco van der Merwe. Matt Mackey / Press Eye / Press Eye
The phrases 'going forward' and 'moving forward' were common as Ulster's quintuplet of newly-kitted out players discussed upheavals at Kingspan Stadium and the season ahead.
While Tommy Bowe, the eldest of the five players present, let slip with 'Ravenhill' on a couple of occasions, backline colleague Cave joked that the ground's new name coincided a little too closely with the departure of director of rugby David Humphreys [to Gloucester].
Aside from Williams' quips and one-liners, Cave elicited the biggest laugh of the night when asked why he felt Humphreys had jumped to the Aviva Premiership. The centre found out the news, along with his roommate Rory Best, via a Stephen Ferris text during Ireland's tour of Argentina.
"I think David wanted to get over and make sure John Afoa could get home [to New Zealand] a few times next year," said Cave.
When the last of the season ticket holders had filtered off, Cave was honest but no more forthcoming to the assembled media when it came to the departures of Humphreys and former coach Mark Anscombe. "We don't know a lot about the circumstances," he confessed. "Even with me having my surgery and being on holidays, I haven't been in the room when [Ulster chief executive] Shane Logan has addressed the squad and spoken about them.
"I don't know a lot about it but, I suppose, if I did I wouldn't be getting into it either."