LESS THAN EIGHT months ago, Garry Ringrose was with the Ireland U20s under Nigel Carolan's tutelage.
Fast forward to the present day and there are many who feel the gifted Leinster centre should have been named in Joe Schmidt's Six Nations squad.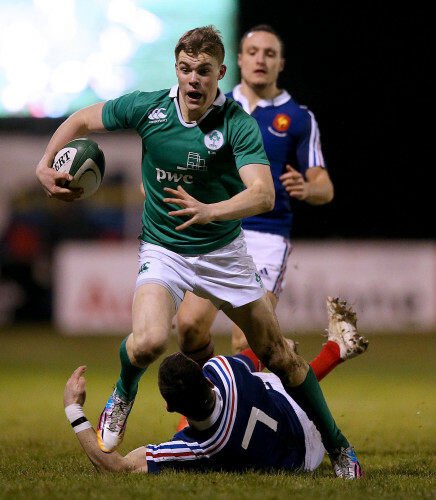 James Crombie / INPHO Ringrose was superb for the Ireland U20s. James Crombie / INPHO / INPHO
The fact that Ringrose played two years at U20 level – being nominated for the world player of the year award in 2014 – underlines the fact that he is a particularly special talent, but Carolan is hopeful that some of the latest crop in his Ireland U20 squad can rise as rapidly.
Carolan, who combines the head coaching of the U20s with his role as manager of the Connacht academy, stresses that this level of rugby is not the reason the likes of Ringrose go on to prosper, but it is a "notch along the way."
The former Connacht player yesterday named an exciting 30-man squad for the upcoming U20 Six Nations and says there is major talent within that group. There may be doom and gloom in Irish rugby after the Ulster, Leinster and Munster failed to exit their Champions Cup groups, but Carolan believes the conveyor belt will continue to deliver.
I think there is real quality in this squad and there are guys that, without doubt, I can see playing international rugby, particularly up front," said Carolan yesterday in the Sandymount Hotel. "Again, that might take three or four years.
"We take Garry Ringrose for example; even this time last year we said he's going to be an international rugby player. It's a case of when.
"I personally think he's being managed correctly in Leinster. He's got a little bit of exposure, he's been recognised by the national side and I think Leo [Cullen] and the guys in Leinster are doing the right thing for him. They're putting him first and looking after his needs first. He still needs development, he still needs exposure."
Carolan believes Leinster's patience with Ringrose will add "longevity" to his career. Nonetheless, having worked so closely with the outside centre, the Ireland U20 coach says the ability to play Test rugby is there.
"I think Ireland have been looking for a bit of x-factor in the backs and Garry is that… He's one that maybe after the Six Nations or at the back end of it, if he got a taste of that it would bring the guy on."
Ryan Byrne / INPHO Carolan is in his second season as Ireland U20s head coach. Ryan Byrne / INPHO / INPHO
So what of the latest crop of Ireland U20 players? With only four players returning from last year – Ulster's Sam Arnold is currently injured but may return upon recovering – Carolan is dealing with a group that is largely new to this level.
Ireland finished fifth in last year's Six Nations under Carolan, starting promisingly with wins over Italy and France as a talented backline shone, before their back was punished by Wales, England and Scotland to ensure a disappointing campaign overall.
At the World Rugby U20 Championship, a seventh-placed finish was respectable, but again the Welsh beat Ireland up front in the play-offs.
With less than two weeks before their opening Six Nations meeting with Wales in Donnybrook on Friday 5 February, Carolan is confident that this year's pack is far more physically capable of competing and even dominating.
"The pack are, when you see them, there are some physically imposing guys," said Carolan, pointing to likely starting propping pair Andrew Porter and Conan O'Donnell as "pro standard in terms of their physical development."
With further prime specimens in the likes of 120kg+ Connacht lock Peter Claffey, as well as returning hooker Adam McBurney, and back rows Max Deegan and Ciaran Gallagher, the Ireland U20 pack will, for a change, have size and power on its side.
Captain James Ryan is perhaps the most interesting of all. The lock was an exceptional schools player in his time with St. Michael's and stood out on his first start for Leinster A this month against Rotherham.
"He is an intelligent player but he is also a physical player and knows how to back it up," said Carolan, who is joined by new faces Peter Malone [lineout and defence], Conor Twomey [scrum and breakdown], former Dublin GAA man Martin Kennedy [S&C] and Nick Lawlor [physio] in the backroom team this year.
In the backs, the injury-enforced absence of the prodigious Munster out-half Bill Johnston is disappointing – he may have recovered from shoulder surgery in time for the summer and is underage again next season – but Carolan sees more exciting quality.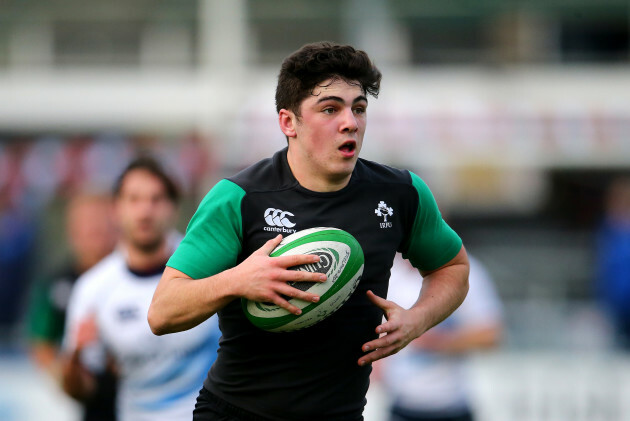 Cathal Noonan / INPHO Jimmy O'Brien is a player to watch this year. Cathal Noonan / INPHO / INPHO
The Munster trio of scrum-half John Poland and centres Paul Kiernan and Shane Daly are promising, while midfielder Jimmy O'Brien, who came through Newbridge College, is skillful and intelligent. Overall, Carolan believes this squad has "an interesting blend."
The Connacht academy man has been open about his desire to give his Ireland U20 players as much decision-making freedom as possible in order to truly push their skills towards improvement.
Carolan wants to win every game he oversees, but he has a genuine understanding that this age grade is about sending players on towards senior rugby with more rounded skills and a deeper understanding of the game.
"I don't coach with a remote control," is how Carolan puts it, and he will not be removing the players' autonomy this year just because Ireland didn't win every game they played in 2015.
My philosophy is about trying to empower players and it is not that it is loose," said Carolan. "The way we train and how we play is what I would describe as organised, but because we are trying to play with tempo and high intensity, players have to organise themselves and read where the space is. We are not a patterned team.
"We don't have designated space to attack, so it is up to the players to recognise that and try to exploit it. That's how we train. Sometimes it works and when it does it is good. When it doesn't it is maybe accuracy and skill under pressure in a melting pot.
Exclusive Six
Nations Analysis
Get Murray Kinsella's exclusive analysis of Ireland's Six Nations campaign this spring
Become a Member
"That's the environment they will experience coming through."
Carolan's U20 side were thrilling to watch at times last year, creating wondrous scores from long range when the players did make good decisions and execute accurately.
However, there were also many instances of a failure to fully capitalise on scoring opportunities. It's an issue that has afflicted Munster and Leinster this season at senior level too, and it is something that Carolan has looked to address in recent months.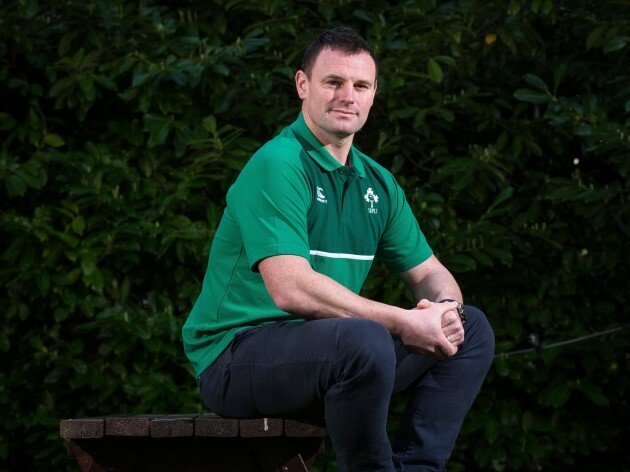 Ryan Byrne / INPHO The Connacht academy manager is excited by the latest crop of players. Ryan Byrne / INPHO / INPHO
"Of course it can be frustrating, but very often it comes down to skill under pressure," said Carolan.
"The scores we left behind us were two-v-ones, a dropped ball over the line or pretty close to the line. So we're doing enough to create the opportunities, it's just that cool head when we do get into those scoring zones.
"You see some of our provincial sides at the moment who are struggling with the same thing. It's something that we've put a bit of focus on, particularly accuracy in the green zones.
"Maybe lower the risk and increase the intensity and just try and make sure that we capitalise on every opportunity, because we only get seven or eight chances in a game to score. We have to make them all count.
That's maybe the difference on the analysis from last year. It's looking at the small margins and certainly green zone efficiency is high up there. It's mental and it's technical. We've got the physical but it's just an understanding that every shot has got to count."
With Wales only around the corner, it is those small margins that Carolan and the Ireland U20s are focusing on.
"It is our intention go out and win every game but we have to look at them one at a time – that is Wales at this stage," said Carolan. "They were our bogey team last year. They beat us both in the Six Nations and in the World Cup.
"When we look at the game in the World Cup it was actually the one that we created the most opportunities so they are fine margins involved. That is what we have learned: that the devil is in the detail and a missed tackle or a missed opportunity has pretty big consequences for these guys."