SOMETIMES YOU DON'T realise how much you want something until it's taken away.
Connacht's Niyi Adeolokun had that experience when he was cut from the Leinster U19s squad just a week before the inter-provincial championships in 2009.
Having trained with the group all summer, the flying wing was dumped just before the real action began.
James Crombie / INPHO Adeolokun has become a fan favourite at the Sportsground. James Crombie / INPHO / INPHO
Heading into sixth year at De La Salle College Churchtown in Dublin, Adeolokun hadn't taken rugby too seriously up until that point, training irregularly as he combined it with Gaelic football and soccer.
But missing out on playing for the representative side hit the Nigerian native hard.
"When I got into the squad at the start of that summer, I was thinking that I could get by easily, make the team without working that hard and maybe even get into the Leinster set-up from there," says the now 25-year-old Connacht wing.
"I got cut a week before the inter-pros and it just hit me. I didn't think I really wanted to play rugby that much before, but when I got cut I realised I wanted it.
"That was when Leinster started doing well in Europe as well and I was thinking, 'Imagine what it would be like to be amongst that.' It hit me hard and it was a big driver for me."
A week after Leinster cut him loose from the U19s set-up, Adeolokun dropped out of soccer. He had been playing with Shelbourne's U20 side at the time, but the pain of failing in rugby drew him back towards the oval ball more fiercely than ever.
He trained flat out through his final year in De La Salle, before principal and rugby coach Lorcan Balfe's friendship with Trinity director of rugby Tony Smeeth brought Adeolokun to Dublin University Football Club.
The drive Adeolokun had discovered when spurned by Leinster didn't fade over the next four seasons as he eventually earned himself a shot at professional rugby with Connacht. Now he finds himself first choice under Pat Lam as Connacht enjoy a stunning season.
"It didn't go away even when I was playing with Trinity," says Adeolokun of his drive. "I was trying to make pro rugby that whole time."
Growing up in Ibadan in the southwest of Nigeria, Adeolokun was as unaware of rugby as the vast majority of the city.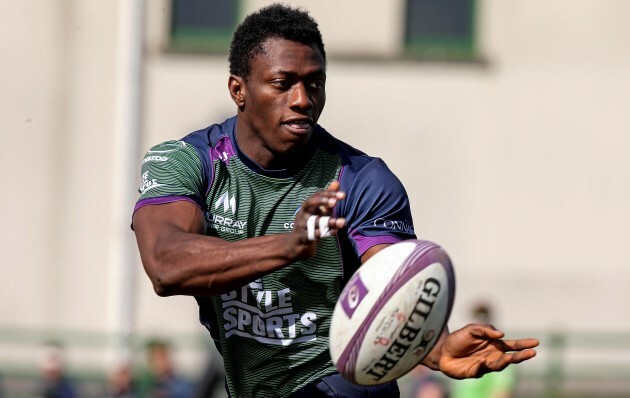 Donall Farmer / INPHO The 25-year-old is a popular member of Connacht's squad. Donall Farmer / INPHO / INPHO
Football is the national sport of the African nation, and was therefore most of what Adeolokun knew as a child. He was five when the Super Eagles, led by Jay-Jay Okocha and Sunday Oliseh, won gold at the 1996 Olympics, and seven when Nigeria shocked Spain with a 3-2 win at the 1998 World Cup, Oliseh scoring the winner.
"Football was the only thing and I can remember my granny would be giving out to me for staying out late playing football," recalls Adeolokun.
When he was 10, Adeolokun found his life uprooted and relocated to Ireland as his mother, Rebecca, brought himself and his brother, Laurence, on a one-way journey of more than 5,000km.
"It was big," says Adeolokun of settling into life in Ireland, "you have no friends. It's obviously a different country and you're starting all over again. It was a weird feeling, but I'm the kind of individual who just likes to get on with things.
"Whatever life throws at you, you can't do much with it apart from moving on. I like to think I make friends as easily as possible."
The young Adeolokun had studied English at school in Nigeria so communication wasn't an issue.
"I remember my uncle in Nigeria giving out a lot and telling me to speak English as much as possible. We would have been told that speaking English is privilege, so they tried to make us speak English as much as possible."
Adeolokun stills speaks his native tongue Yoruba when conversing with his family, but laughs when recounting that other Nigerians he knows in Ireland slag him for "losing some of the accents and stuff like that."
He has cousins in London and after 15 years in Ireland, Adeolokun still feels a deep connection with the country where he was born: "100%, that's where my family still are. I enjoy having both sides."
Sport was hugely helpful for the young Adeolokun, who was enrolled at St. Joseph's in Terenure to finish his primary education. He quickly discovered the joy of Gaelic football with Templeogue Synge Street and threw himself into the sport.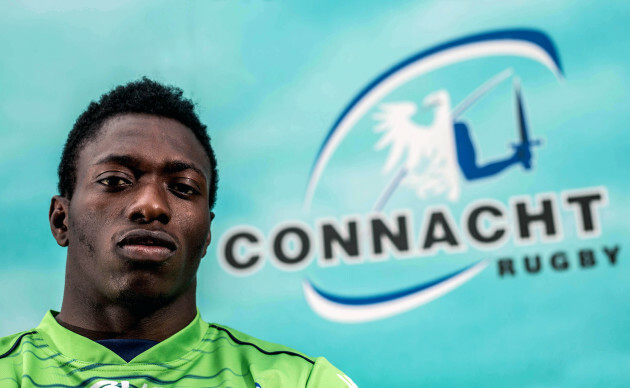 James Crombie / INPHO Adeolokun joined Connacht in 2014. James Crombie / INPHO / INPHO
"Even when I was in De La Salle, I was playing Gaelic and I would have actually given it a lot of my time earlier on. From 12 to 15, Gaelic would have been the main thing. I played a lot and I would have given serious thoughts to hoping to play for Dublin. I always loved it."
He still kicks a ball around with his Connacht teammates whenever head of fitness Paul Bunce has his back turned. There are several players in the squad with notable GAA pedigrees, but Adeolokun says Kiwi import Bundee Aki shows most enthusiasm of all.
"When we do get our hands on the football, Bundee loves it. He's not very good but he gets on it and tries to mess around. We have a bit of fun, Bundee looks like he's going to hurt himself though!"
Damien Duff, who was at De La Salle before moving to Blackburn Rovers as a trainee, is perhaps the most famous sporting alumnus of the school. Adeolokun points out that John Kavanagh, Conor McGregor's coach, also went there, while Jim Stynes and his brother Brian passed through the halls too.
De La Salle – a public boys school – won the Leinster Leinster Schools Senior Cups in 1983 and 1985, but the power of the private schools has taken over since those glory days.
There were photos of some of its former rugby heroes on the walls of the school, Des Fitzgerald – father of Luke – among them, but the youthful Adeolokun didn't pause to study them in his own time as a De La Salle student.
He was too busy off pursuing his own love for sport. Adeolokun played tennis, basketball, badminton, squash, rugby, football and anything else on offer in De La Salle, "as much as I could, mainly so I could get out of class."
It was the oval ball that took his sole focus in sixth year after that chastening experience with Leinster, however, and it was the beginning of a pathway that has led him to today's Challenge Cup quarter-final against Grenoble [KO 8.05pm Irish time, BT Sport].
His education continued in DIT after school, but the vast majority of his time, thoughts and effort went into making a success of his move to join Trinity on the rugby front.
Having recognised that he needed to work harder on his game and train with more focus, Adeolokun discovered a new work rate. In truth, it was waiting to come to the fore all along.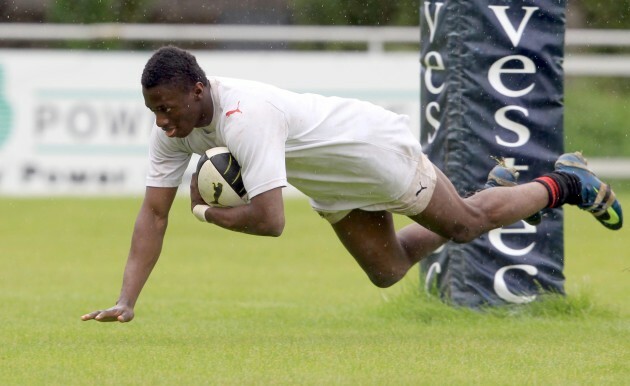 Donall Farmer / INPHO Adeolokun scoring for Trinity. Donall Farmer / INPHO / INPHO
He had always been a hard worker on the pitch in any sporting code, but his training took on new levels of diligence. Adeolokun simply had to look at his mother for a role model in terms of work ethic.
A nurse at St. James' Hospital in Dublin, Rebecca had previously travelled around Nigeria to work and provide for her family before the move to Ireland, which was primarily based on the chance of securing a more secure job. Niyi only ever saw his mother working hard and selflessly, a habit that has rubbed off on him.
"I definitely give her credit for that," says Adeolokun. "There's a lot of family and extended family back home that she would take care of. She does work hard for them, for my granny and the people my granny looks after.
"That is motivating for me and there would be times when she was sick and tired and would still get up and to go to work. She is a big motivation to me."
Determined to make it as a professional rugby player, Adeolokun threw himself into the Ulster Bank League with Trinity, scoring some exceptional tries along the way and also helping DUFC to two All-Ireland Sevens Championships.
Smeeth, who formerly worked as USA attack coach, with Blackrock College School and Blackrock RFC, was a major influence and remains in regular contact with Adeolokun.
"Tony is Mr. Rugby," says Adeolokun. "He can talk rugby all day without getting tired of it. He loves the game and he loves developing younger players, watching them grow.
"He always talks about the Blackrock kids, the likes of AJ MacGinty, who he would have coached, Andrew Conway, Brendan Macken. He takes pride in seeing all those players he coached developing into professional players.
"Tony takes pride in making the best out of you and helping you become the best you can be in rugby."
Adeolokun says the set-up at DUFC was as close to professional as he could have hoped for, with early morning gym sessions, intense training under Smeeth on the pitch and a collective mindset of working to improve.
TheBlackbuj / YouTube
Scott Lavalla, who went on to play for USA and Stade Français, and former Ireland U20 flanker Dominic Gallagher were both driven characters, with Adeolokun joking that he followed the American around.
As his impact grew with Trinity, Adeolokun played the occasional game with Leinster's development side, but there was never any concrete interest shown by the province. There was a brief trial with Ulster, though that didn't stick either.
The well-connected Smeeth helped Adeolokun put together a compilation of video clips showcasing his ability and his thoughts turned to France.
"I was in my fourth year with Trinity and I was starting to think there was nothing in Ireland," says Adeolokun. "That's why we were looking at France, where there are lots of options."
Out of the blue, Connacht came calling. Prolific talent spotter Nigel Carolan had seen footage of Adeolokun in action at just the right time. The Connacht Eagles coach got in contact and asked Adeolokun if he would feature in a clash against Russian side Enisei in April of 2014.
The Trinity flyer jumped at the opportunity and started on the right wing in a 54-21 win at the Sportsground for an Eagles squad that featured Caolin Blade, Jack Carty, Ultan Dillane, Finlay Bealham, Rory Parata and Adeolokun's current housemate Jack Dineen.
Exclusive Six
Nations Analysis
Get Murray Kinsella's exclusive analysis of Ireland's Six Nations campaign this spring
Become a Member
Adeolokun was content with his own performance in the victory, but was surprised when Connacht head coach Pat Lam approached him after the final whistle.
"Pat came over for a word straight after the game. I was extremely shocked and I was thinking, 'If he really believes in me like that, there's no way I'm going to look at other options.' I just wanted to come straight to Connacht."
Lam complimented his defensive reads and some of his attacking contributions, before asking if the wing would come to Connacht for a year "and see how it goes." There was a late expression of interest in Adeolokun from Munster, but already his mind had been made up.
Adeolokun signed a one-year deal, moving to Galway for pre-season in that summer of 2014 and encountering a new level of professionalism.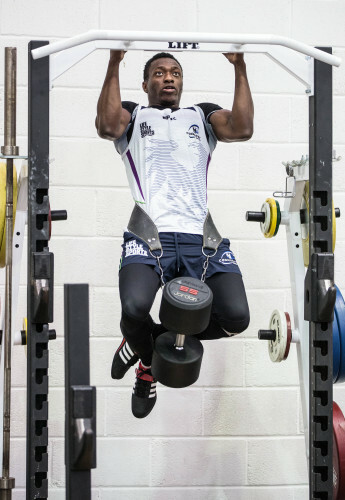 Cathal Noonan / INPHO Adeolokun has worked hard on the S&C side. Cathal Noonan / INPHO / INPHO
He weighed in at just 79kg when reporting for duty under Lam and Connacht's strength and conditioning department set him a target of gradually hitting his current 90kg weight.
"I have to say it was a lot easier to put on at the start and now it's slowed down a lot," says Adeolokun with a laugh. "Pre-season is the main part where you put it on. It did start becoming a slog and you start getting sick of seeing food at times."
More than anything, the speed and intensity of Connacht's pitch sessions under Lam took Adeolokun by surprise. With cameras recording every movement for analysis even in training, he had to find his feet rapidly.
"Pat has this saying, 'Train like you play,'" explains Adeolokun. "Every day coming in you have to be on point, train as hard as you can in the gym, lift as heavy as you can, give your best every single day. In Connacht, there's no hiding."
Adeolokun adapted wonderfully, impressing Lam and earning extensive involvement on the right wing after his debut against the Dragons in the Guinness Pro12 in September. Such was Adeolokun's impact that Connacht handed him a new two-year contract in November of 2014, tying him to the province until 2017.
However, a persistent injury in his knee slowed Adeolokun's superb start to that 2014/15 season on the pitch and meant he played far less in the second half of the season.
Having put down another good early pre-season block last summer, Adeolokun then had the biggest setback of his still-fledgling professional in a friendly game against Grenoble in August.
Knee surgery sidelined him for over a month. By the end of October he had fought his way back to fitness and having earned his first start of the season on that infamous trip to Siberia to face Enisei last November, he has been first choice for Lam ever since.
Adeolokun feels Lam is selecting him based on his overall contribution, rather than his raw pace or finishing ability.
"Absolutely, because I haven't scored that many tries!" says Adeolokun. "Pat is massive on work rate. He'd be big on the detail and how we actually got the win, what he calls the process."
Ryan Byrne / INPHO Adeolokun is loving the Connacht adventure. Ryan Byrne / INPHO / INPHO
The mention of a lack of tries in interesting, given that we so often focus on five-pointers when talking about wings. Adeolokun scored two in his debut season and has three in the current campaign, but he's not getting caught up in the light-hearted abuse his teammates are sending his way.
Having been prolific for Trinity and regularly scoring incredible tries at that level, Adeolokun has had to learn to be patient. Over on the other wing, Matt Healy is touching down on behalf of the team, and that's all that matters.
"I just need to catch a break for the tries," says Adeolokun. "I'm confident enough to know that if I get a chance, I'll score.
"I work hard for the team and that will come. The lads, especially Aly Muldowney, were slagging me about being a non-try-scoring winger. I said, 'I'll take that as long as I'm getting picked and helping the team to win!'"
That's the impression Connacht fans have had of Adeolokun over the past two seasons, a selfless individual who has taken every opportunity given to him by Lam.
"I've enjoyed every single day here," says Adeolokun. "There's no cliques here, even the older guys are very easy to talk to. You might think the likes of Tom McCartney or John Muldoon would be all up in their box, but you can have a joke with them.
"Galway has grown on me and I can't wait to stay here for as long as I can."
The42 is on Snapchat! Tap the button below on your phone to add!