MY BROTHER WAS in Heathrow on the morning of the All-Ireland final in 2004, and he was telling me last week of the scene that presented itself.
There were old stagers from Mayo, men who maybe hadn't seen the home sod in quite a while, with tattered old green and red jerseys on underneath their suit jackets, heading back to Dublin for that day's All-Ireland final.
The image stuck with him because it was obvious that their time in England maybe hadn't done them too many favours, and the emigrant experience stretching back to the 1960s is a national tragedy told in a thousand different, very personal chapters. But the colours of their football team was their link to home, their umbilical cord.
I know that there are plenty of people who will be making that same journey this Sunday morning, from both counties, and the place that football has in the affections of the people of Mayo and Donegal make this a final truly to savour.
I've said in this column before I believe that no All-Ireland final in the 128-year history of the GAA has thrown up a pairing as emotive and unique as this one, and as the clock ticks down nothing I've seen has forced me into a re-think.
I have connections, such as they are, with both counties – having been a student in St Jarlath's College where the boarding community was made up almost entirely of Mayo and Donegal students.  And all of those kids sent southward on the Feda O'Donnell bus knew my home town of Milltown, because of its position on the N17, just out the road from Tuam.
And when I went to college in NUI Galway, it was more of the same.  Wild Donegal men (and their often insane women), and recent graduates of the Mayo minor team (and their inflated opinions of themselves), were ten a penny.
Milltown was a border town, so it was always one of the major hot-spots when the Galway-Mayo rivalry threatened to boil over.  The five years I spent in St Jarlath's, between 1995 and 2000, happened to be the five years when the Galway-Mayo rivalry was at its most relevant, on a national stage, since the mid 1960′s.
And there is no doubt that things got a little heated.  The gentlemen from Milltown responsible for drawing a white line over the bridge leading to Ballindine, on the Mayo side of the county boundary, and writing "Sam Stops Here" in 1998 after Galway won the All-Ireland would no doubt regret that action now… (maybe not!).
And having discussed this with a few Mayo people, they felt that maybe we weren't as gracious as we could have been in '98, after Mayo's heartbreak of the previous two Septembers.
The 1999 Connacht final was probably the nadir of cross-border relations – Mayo beat us as All-Ireland champions in Tuam, in front of 35,000 people who took up every vantage point imaginable in the creaking old ground. John Maughan was chaired off the field after the final whistle. It was tough to watch, certainly, but we had our All-Ireland, and there's no doubt that was consolation enough.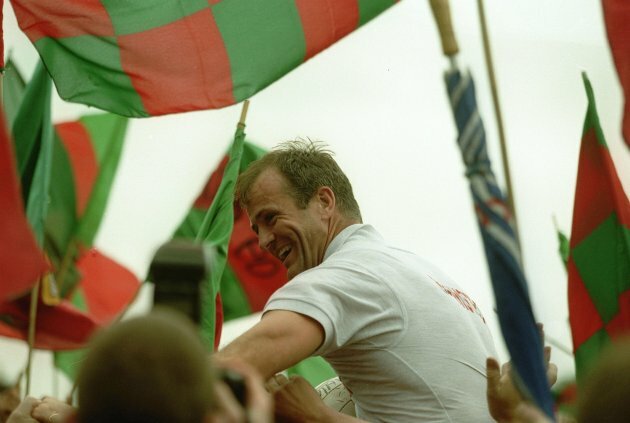 John Maughan after the 1999 Connacht final. Pic: INPHO\Billy Stickland
That Galway would succeed where Mayo had failed in such cruel circumstances was always going to be tough for Mayo people to take, and a bitterness on both sides set in, which thankfully only lasted a short while. Galway would win another All-Ireland, in 2001, without having faced Mayo on the way there, and when Mayo reached an All-Ireland out of the blue in 2004, I was living in Dublin and away from it all, all of a sudden.
If you move east 140 miles, it gives you perspective, and I grew to admire the betes noires of my youth – David Brady, Ciaran McDonald, James Nallen.  The 2006 All-Ireland semi-final against the Dubs sealed their place in my affections forever – Pillar Caffrey's Dubs were a particularly hard-to-love group, but the sheer… Mayoness… of that victory was intoxicating.
Now coming up to Sunday, I have a feeling similar in some respects to that which I had prior to Galway's appearance in the hurling final. I knew Michael Conroy as a minor when my dad used to talk football with him in a petrol station where he worked in Ballindine.
Andy Moran and Alan Dillon denied me a Connacht U21 title by one point in Tuam Stadium in 2003 (a footnote in their glittering football careers, but the pinnacle for mine).  Colm Boyle no doubt took part in the Exiles Cup tournament in Garrymore, just over the border in Mayo, against my club team.
There has been plenty written and said about how crazy the people of Donegal have been going since their All-Ireland semi-final against Cork.  Jim McGuinness himself said that they had every right to go mad, and he certainly wasn't going to stand in their way.  But people forget – 1992 is not that long ago.  The Galway hurlers have been waiting longer for their next All-Ireland than the Donegal footballers.
The reaction in Mayo to their semi-final win over Dublin is necessarily more complicated – their need is greater, their wait has been longer.  The closer I get to Sunday, the more doubts creep into my mind.  Donegal were my choice for the All-Ireland back in July, after their Ulster final win over Down, but I'm wavering.
And there would be no man outside Mayo happier to be proved wrong.