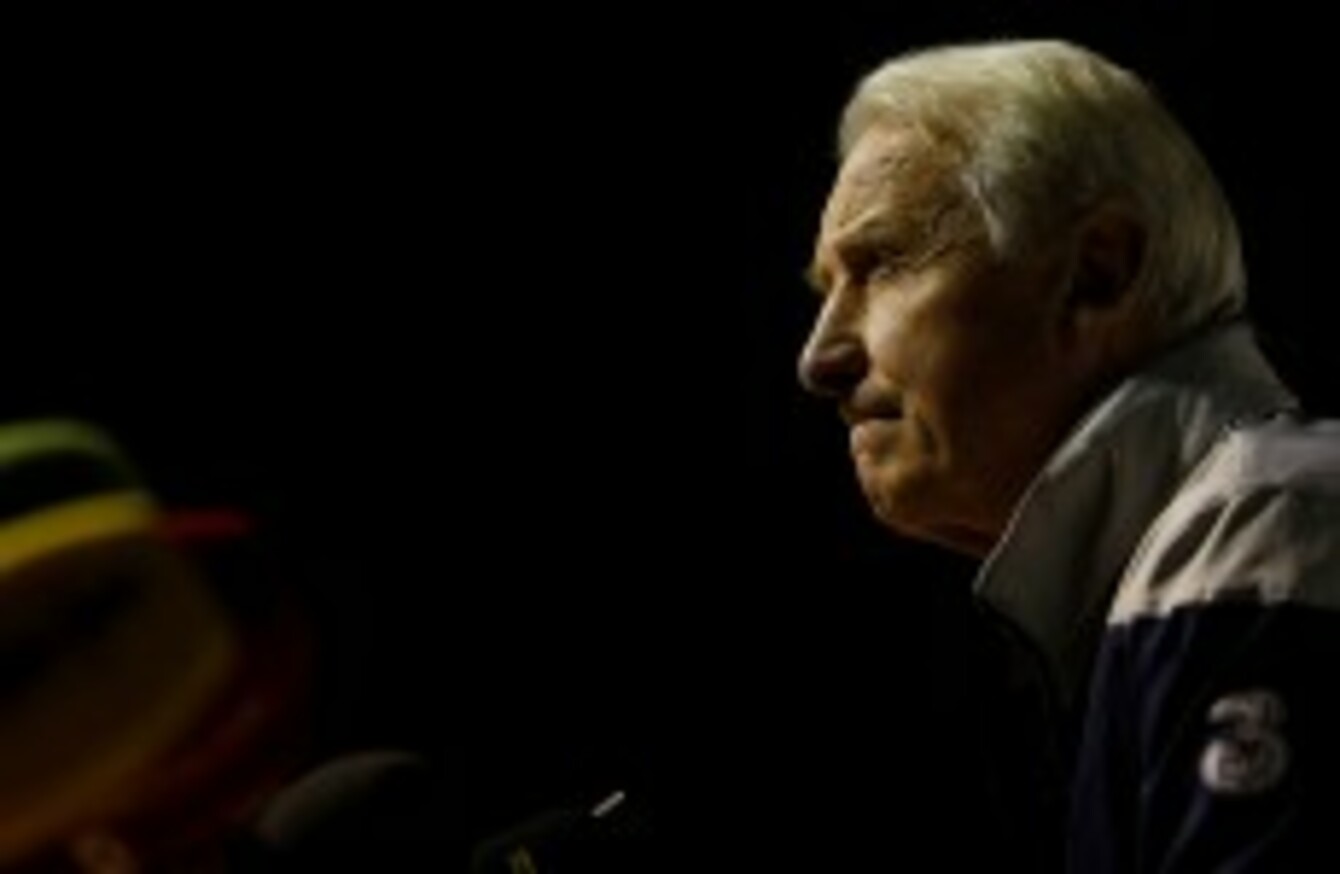 Giovanni Trapattoni: other plans.
Image: Julien Behal/PA Wire/Press Association Images
Giovanni Trapattoni: other plans.
Image: Julien Behal/PA Wire/Press Association Images
IRELAND WILL NOT play Brittany in a friendly during the crucial run-up to next summer's European Championships.
Stade Rennais defender Romain Danzé yesterday tweeted that he'd been selected to play for the region against the Boys in Green on May 26.
The mooted venue was said to be the French city of Nantes.
However, an FAI spokesperson has since told The Irish Times' Emmet Malone that the proposed fixture is 'not a runner'.
And Bretagne Football Association chief executive, Fanch Gaume has told TheScore this morning that the organisation will remain Ireland's 'number one fan' at Euro 2012, despite the disappointment.
"Further to a meeting on 22 March 2011 in Paris at the UEFA congress between our association and the FA of Ireland  - with president, Paddy McCaul; Honorary Secretary, Michael Cody and chief executive, John Delaney – and our visit to Dublin on 29 May, we both had agreed in principle upon a one-week training camp and a 'test match' between Brittany and Ireland on 26 May 2012 in Nantes, Brittany," he said.
"Since the FAI have now put forward other options for May 2012, we are going to activate our own other options for our game scheduled for 26 May 2012 as well as remaining Ireland's passionate 'number one supporter' for Euro 2012."
The Brittany XI select is not, clearly, a national team – and is not affiliated with FIFA or UEFA – but gathers the best professionals from the region for games.
"Please note we don't mix football and politics," adds Gaume, "and cannot be put on the same terms as Catalonia, the Basque Country and even Corsica, not to mention Chechnya…"
The document tweeted by one player yesterday. Credit: Romain Danzé
The FAI, then, still need to firm up plans for next year's friendlies before the trip to Poland. A much-anticipated proposed fixture with England is now unlikely according to John Delaney this week.
Ireland have been drawn in the same group as Croatia, Spain and Italy in pool C and manager Giovanni Trapattoni may want to test his side against similar outfits.