THE STORY OF how Noel Hunt became a professional footballer is quite something.
Growing up in Waterford, the striker says, he didn't even like the game, or sport in general.
At that point, scoring in the English top flight and lining out for his country in crucial World Cup qualifiers would have seemed thoroughly inconceivable.
"I was from a little village called Clonea Power, and it was all hurling," he tells The42.
However, his brother, Stephen, who would also represent Ireland and play in the Premier League, was a formative influence.
In contrast with Noel, the older Hunt sibling always wanted to be a footballer, and was a fine hurler too.
"Because I lived out in the middle of nowhere, I could be off gallivanting for days and no one would even know about it," he recalls. "I'd be gone for hours at a time and I'd come back when I was hungry and I'd be gone again.
I think it was probably Stephen getting into football that maybe opened my eyes to it a little bit. Then I always played football on the street — I didn't even like it, but all my friends did, so I ended up playing with them."
He continues: "It's quite a weird one — when I did play, I played in goal. I went on trial over to Crystal Palace at 15 and a half or 16 as a goalkeeper. They told me that I was too small — they were probably right. I played my first game, scored from six yards at U13. The ball didn't even hit the net — that's how small and weak I was. I couldn't take penalties, I couldn't reach the goal. But I could run fast and I could bring the ball with me, so I got away with it."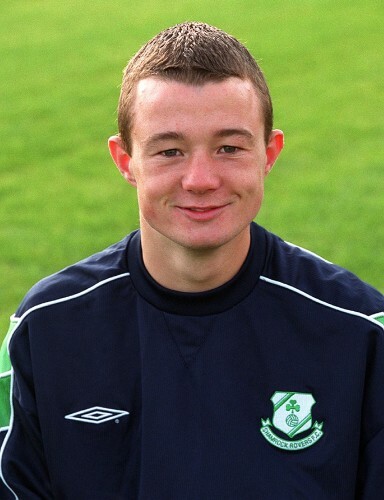 INPHO Hunt pictured in 2001 during his Shamrock Rovers days. INPHO
1. What if?
Hunt had a sliding doors moment, or so he suspects. It was one training session at U16 level where everything went right. It could so easily have been another fairly irrelevant evening rather than a crucial hour or two in the context of his life. Had it panned out slightly differently, the forward doubts he would here talking to me today as a footballer.
"I went up training with my junior team," he explains. "We had too many goalkeepers, so I went outfield. I had a bit of a crack, because my friends were still playing there. I scored three or four goals [in training] and on the Sunday, I was playing up front.
"It was my mum's partner who put me up there. He was a big part of it, to be fair. He managed in the Kennedy Cup, he manages Waterford Youths now. He manages the Munster U18s. He knows his players. He's had John O'Shea, my brother, Daryl Murphy, Brian Murphy, he's had them all through the ranks. But he stuck me up front my first game, I scored four goals and we won 4-1, and that was it.
I look back and think if there weren't too many 'keepers that night, would I ever be [where I am now]?
"At the time, because it was my mum's partner who was the manager, everyone in the dressing room probably thought one thing — I was treated differently because I was living with him.
"But obviously, he saw something in me that no one else did, and it just progressed from there.
"My career's been like that really, I've been very fortunate. Don't get me wrong, I've worked hard — I was always first in, last out, I always try to be top of the stats in terms of hard work and whatnot.
"I wouldn't be the most talented of players, I never was. But I get myself in the right areas more often than not and that gives you a better chance of scoring."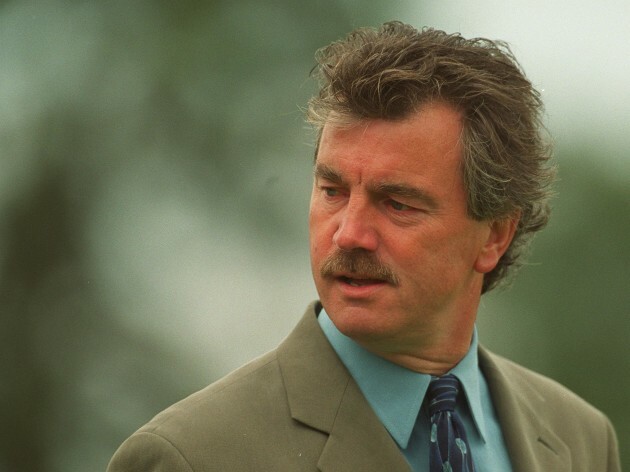 Andrew Paton / INPHO Damien Richardson brought Hunt to Shamrock Rovers. Andrew Paton / INPHO / INPHO
2. Hoop dreams
From that stage onwards, Hunt's career developed steadily. In 2001, when he was 18, then-Shamrock Rovers boss Damien Richardson brought him to the club. 
A still quite raw youngster who needed first-team football, he was subsequently loaned to hometown club Waterford, who were in the First Division at the time, during the 2001–02 season. His talent quickly became apparent, as he notched a couple of goals in this brief period away from his parent club. Soon, he was playing regularly back at Rovers, making 25 appearances and scoring 14 goals in all competitions for the Hoops. Impressed by the youngster's exploits, British clubs began to circle.
"I always said that if I got €10 more for playing football than working, I'd play football. And that was the way it went," he says.
It was only halfway through the next season that people started to talk about me going abroad maybe. That was six months before I went, and I didn't really listen to any of it anyway. I just thought that it was hearsay and didn't really read too much into it. So when it did happen, it was a shock for me."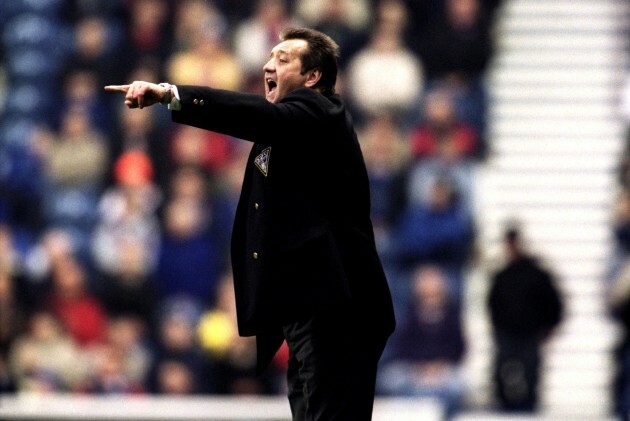 EMPICS Sport Hunt worked under Jimmy Calderwood at Dunfermline. EMPICS Sport
3. The move across the water
Hunt had been linked with a number of clubs, including Portsmouth, but ultimately chose a £100,000 move to Dunfermline, who were fourth in the Scottish top flight at the time, in January 2003. The presence of former Waterford player, Gary Dempsey, helped persuade the youngster to make the switch.
It was a vital period in the young striker's career, with success in the game far from a certainty — Dunfermline sought to pay Rovers based on the number of appearances he made in their first team.  
There were some setbacks — a knee injury limited Hunt's game time early on. But his stint at the club was ultimately a success, with the attacker winning the Young-Player-of-the-Season award at the end of their 2002-03 campaign.
Manager Jimmy Calderwood was cautiously optimistic about the player, saying he had a "massive future". In May 2003, he told reporters. "The lad has not had a rest for about two and a half years and, at 19 years old, that is not very wise.
"You have to bring him in gently, but [Craig] Brewster and [Stevie] Crawford aren't the easiest players to displace.
"It would mean leaving one of those two out or putting him into midfield, which we did for a couple of games, where he doesn't like playing.
"Noel has got a lot to learn, but the raw talent is there.
"He has got to play between 60 and 90 games before he will cost us £100,000 — it is all related to appearances."
Hunt ultimately made 80 appearances for the club in the Scottish Premier League, featuring 96 times in all competitions.
For the first couple of years under Jimmy Calderwood and Jimmy Nicholl, we finished fourth in the league. We had two great managers, a great team, got to the cup final. I was at two cup finals with Dunfermline [losing 3-1 to Celtic in the 2004 Scottish Cup final and 3-0 to the same opposition in the 2006 League Cup final]. We didn't win, but we were still there. In the last season, Jimmy left. The club had a bit of trouble, the team struggled and I thought it was best to move on really."
In June 2006, Hunt joined Dundee United for £50,000. In two campaigns there, he played and scored with relative consistency. The standout moment was undoubtedly the 2008 League Cup final. A shock looked on the cards, after Hunt's goal gave his side a first-half lead over Rangers. However, Kris Boyd equalised four minutes from time. The game then finished 2-2 after extra time and the underdogs' hearts were broken amid a 3-2 defeat on penalties.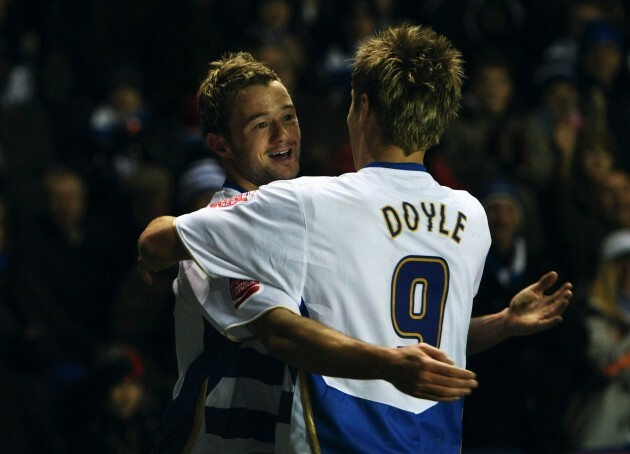 Getty Images / INPHO Noel Hunt celebrates with Kevin Doyle after scoring. Getty Images / INPHO / INPHO
4. The promised land
As disappointing as the cup final loss was, Hunt was at least about to undergo the best period of his career. In the summer of 2008, he joined Reading for a reported fee of £600,000. Steve Coppell's side had just been relegated from the Premier League and in need of dogged, determined players like the Irishman to help grind out victories amid the notoriously unforgiving environment of the Championship. The move also meant a fairytale link up with brother Stephen — the first of two spells they would play together at club level (the other being Ipswich).
I've been very lucky to play for some great clubs and Reading by far is my favourite," he says. "I loved it there. I was five years there and I would have stayed forever. It was a great club, great people involved there, great memories. I've still got the best of friends there and it was fantastic.
"And it came out of the blue, I couldn't believe it. It was just surreal, because I was playing with Stephen — and all my career, I tried to get to his level. He came down a level [after Premier League relegation] and I went up a level, but we scored goals together, he set me up loads and I set him up for a couple. It was amazing, I really enjoyed it.
"I had a couple of offers for other clubs, but I wasn't interested. I spoke to Stephen and Stephen had said he was staying for another year, because the manager was staying, and that was good enough for me.
"It wasn't about money or any of that. Memories are worth more than any money, in football and in family. You don't have to have loads of money to be very wealthy. In my head, I've had plenty of memories and feelings to keep me happy. It was about making memories, and that's what we did, from the first goal, the first training session, it was just all surreal and one of the best times in my life."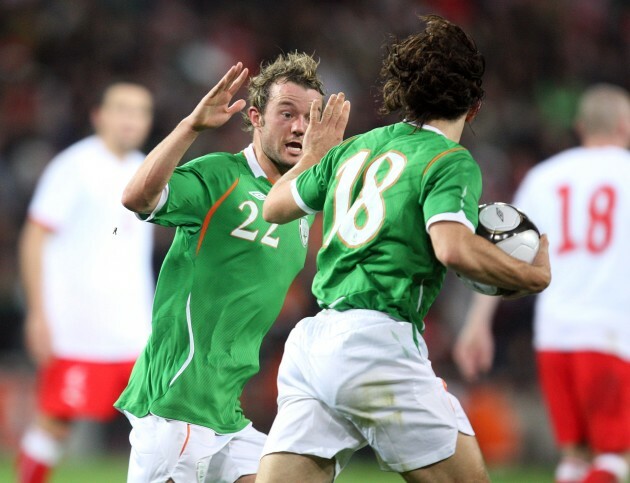 Cathal Noonan / INPHO Noel and Stephen Hunt played together at various points for Reading, Ireland and Ipswich. Cathal Noonan / INPHO / INPHO
5. Joy to despair
While Stephen moved on from the Royals after the 2008-09 season, joining Hull for a reported fee of £3.5 million, Noel stuck around and helped the club to prosper. During the 2011-12 campaign, he featured in 41 out of 46 matches under Brian McDermott, as Reading finished top of the Championship.
The Irish star enjoyed a promising start to life in the Premier League, registering two goals in their opening six games — a header in a 2-2 draw with Newcastle and a volley in a game that also finished 2-2 against Swansea. Yet the situation quickly went pear shaped. The goals dried up, Hunt picked up a bad injury, the team were relegated and by the end of the season, he had been released — a stark illustration of how quickly a dream can turn into a nightmare in football.
"I'd worked so hard to get in the team, because we'd made a couple of signings that season. They were big-money signings and I worked harder than I ever worked before to get in the team, and when I got my chance, I felt I took it.
"I played at QPR in a cup game in midweek and did really well. I played against Newcastle on Saturday and scored — took a bad knock in that game. I played in the Swansea game the week after, scored again, but I just got a few bad injuries that kept me out for four or five weeks in that time.
Then we had a change of manager over that period. I was gutted, because I felt the owner at the time was ruining the club. He had knocked everything we had done and built, because it was his club. That was his prerogative.
"But I was one of the longest serving there, along with Adam Federici, I felt I'll go say something to him. It was a conversation we had over a year's contract that was on the table, but I don't think the conversation went well, I felt the players he brought in had changed the ethos of the club.
"He had given these players mega money for not doing anything really, not being proven in the Premier League. I felt that it was wrong, because we had a very hard-working ethos. If you disrupt that, it'll change very quickly. You feel the disruption — your team and your flow and your chemistry. You start to carry too many players then and there are other players over-working in other areas, trying to cover the ground of these other players, and you don't do any real job of your own.
"We got relegated and we saw we weren't good enough to stay in the league, because I felt that four or five players that came in that had to play under the owner didn't really suit where we as a team had got to. We worked damn hard for that and that was my biggest regret, that we didn't get a proper chance, a proper go at [the Premier League]."
Simon Cooper Brian McDermott worked with Hunt at both Reading and Leeds. Simon Cooper
6. Leeds nightmare
In the summer of 2013, Hunt linked up with his old Reading boss McDermott, who was managing Championship club Leeds by then. It seemed like a good idea at the time — little did the player know what he had let himself in for.
"I was gutted and don't think I'd fully recovered from leaving Reading, to be honest," he says. "I was full-hearted, we're going to go into this, have a proper go, I knew the size of Leeds, I knew the history of it, I spoke to many people that played for Leeds, my mind was made up.
"So I really did know what I was getting into, had a decent pre-season, came back, unfortunately got injured in the first game, and I tried to continue to play for probably 5-6 weeks with a bad injury and I shouldn't have. It was my decision, I didn't tell anybody about what was happening, and then when I got a scan, it was worse than what we thought and I was out for [several] months."
On the pitch, he had a difficult spell, with no goals in 19 appearances. To make matters worse, controversial Italian entrepreneur Massimo Cellino took over the club and subsequently criticised Hunt. He publicly rebuked the striker for his performances and erroneously claimed he was earning £25,000 a week.
During that time, the new owner came in, and all hell broke," he recalls. "It became a bit of a farce, he used me as a scapegoat.
"That was what it was. I've nearly really spoken about it, but as far as the club goes, the players that were there, the boys that are still there and the people that are still there — lovely people. They deserve the best, because they work hard. People who have been there for years and years and have gone through everything."
Hunt was out of action with a back injury at the time, but Cellino's comments virtually made the player's position at the club untenable. The owner's claims were noted by fans, and endless abuse followed by a section of the Leeds support.
"I've never had a pulled hamstring or any tears, I've been very lucky," he explains. "A lot of [my injuries] have been impact. A few in the last couple of years were bad ones — red cards, stupid tackles, people I couldn't avoid, misfortune. But that's football and people don't see that side of it.
I feel sorry for her, because my wife went through it, she's the best in the world. No one knows what she went through when I done my back at Leeds. It was very hard for her, when you're walking down Leeds high street and there are people throwing bottles of Coke and stuff in your direction, when you're just walking with your wife, trying to go for something to eat. When you go into restaurants on a Sunday afternoon and people try to start on you, because they consider what they heard from the chairman to be true.
"I was not bitter towards Leeds as a football club. I understand as a fan what it's like. Every club I've played for, I've been a fan of, I've wanted to win desperately. I still get frustrated and it does overboil. It's part and parcel of the game. But when [erroneous claims] are made about you through the radio from a chairman because he mixed you up with a different player, it's just not right, and he never really rectified it either.
"Ultimately, it didn't help on the field, and I think I got the brunt of it. It was just tough to take at the time and I'd never really had that before.
"I begged him to let me go and he wouldn't [let me]. I wasn't allowed play, I wasn't involved. I wanted to go and play, I was getting older, I hadn't played in a year because of circumstances with injury."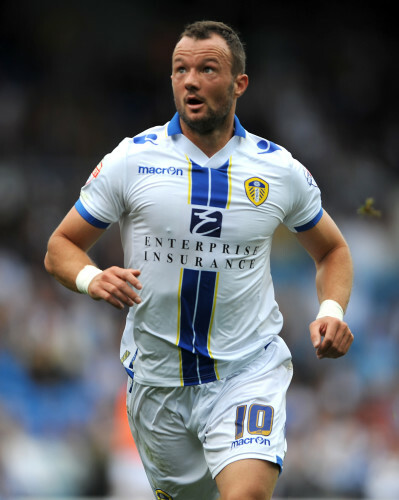 EMPICS Sport Noel Hunt had a difficult time at Leeds. EMPICS Sport
7. Tormented by trolls
The bad fortune on and off the field was compounded by the constant abuse Hunt received through social media — something that affected him at the time, but which he has learned to brush off with experience.
"I've learned so much from Twitter, I've grown such a thick skin. Everything I read now on Twitter about me or whatever, it just falls off me. It didn't at Leeds, it was the magnitude of the abuse I was getting. If you're told you're this, that and the other so many times, you almost start to believe it, because it's tough.
You have to be very mentally strong for these kind of things. I was a strong character, but I wasn't as strong as I thought. It did affect me, it really did. And it does make you reflect, it does make you stay awake at night and struggle to sleep and not want to get up in the morning, not want to get to work. All these things happened until I snapped out of it. I said: 'Right, the only way I'm going to get out of it is by getting myself out of it.' And that was pretty much what I had to do.
"I still get abuse now off Leeds fans. And they're the only fans [who abuse me]. Wherever else I've been, I've done okay, I've left it all out there. I'm not saying I didn't leave it all out there [at Leeds]. It just didn't happen for me. The harder I tried, the worse I was. That happens with players. That's just football. I understand that.
"I still get [abuse], but now it doesn't bother me, it really doesn't. It's just small-minded people who want you to bite. I just laugh at most of them, to be fair. But 95% of the Leeds fans were beside us all the way. They could see that I was trying, and trying to do the right thing. It was just a small minority, but Leeds is a big club. 10% of that club wouldn't be like 10% of another club. But you've got to go with it."
Josh Barber / YouTube
8. A new beginning
In 2014, Hunt joined Ipswich — initially on loan, and then on a permanent deal. After the debacle at his previous club, Mick McCarthy felt like the perfect manager to restore the forward's confidence and get him back to his best.
"When he's fit he is a real handful and I'm delighted to get him here," the former Ireland boss said at the time.
Hunt, meanwhile, was delighted with this much-needed change of scenery.
"That chance to go to Ipswich, it was like a saviour, like I'd gone to heaven. Mick McCarthy, TC [his assistant, Terry Connor], they were so good to me, the fans were amazing.
"I scored in the first game and the relief — I remember I was sitting on the train coming back to Leeds. I went down on the Thursday train, played on the Saturday morning on the telly live on Sky, I was crying on the train [afterwards] for about an hour. It was such relief and happiness that I proved myself. I'd proven all the doubts in my own head wrong. Even my wife, she was just so happy when I came home.
"She couldn't stop smiling and laughing all day. It was just nice, a lovely part of football."
Hunt credits McCarthy and others at the club for helping to rejuvenate his career.
"[Mick is] a lovely man, a simple man, played the game right — just chilled and relaxed, wanted things done like he asked. 
When I went to Ipswich, it was a dressing room. You had these big characters who were the best people in football — Luke Chambers, who is underrated and not often spoke of, he's still there now as captain. Whatever he earns in football, he deserves, and more. For what he does, the way he has the dressing room, how he conducts himself, how his teams conduct themselves.
"Cole Skuse, he's still there, he's another absolute diamond. Strong people and a strong dressing room is what makes a dressing room successful.
"It doesn't matter who [else] you have, it doesn't matter the quality of the player. If you have Mick McCarthy, TC, people like Luke Chambers, Cole Skuse, and you put in 15 average players, they will do okay for you. They will not be relegated. They will hold their own, and overachieve, because of the people that are involved."
By the time his Ipswich stint came to an end, Hunt's career was approaching its twilight years. He spent an injury-ridden season with Southend in League One, before a spell under Paul Cook at Portsmouth, where he helped the club win the League Two title and played 24 times in all competitions. From there, he followed Cook to League One outfit Wigan, where the pair again enjoyed a title triumph last season. Hunt made 13 appearances with the Latics in total, and was on the bench for their incredible 1-0 FA Cup win over Pep Guardiola's Man City.
"Portsmouth is an amazing football club, amazing people. We won the league and it was something special, and I'm forever grateful. The people at Portsmouth and the staff that Cookie had. Then he took me to Wigan with him. He asked would I come to Wigan and I said: 'Oh yeah, 100% I will." He was that good to me and I like to think that I'm a loyal person. When he asks me [something], it's 'whatever you need'.
"I went up to Wigan. I had a fantastic year up there, won the league as well. So I owe Paul Cook a lot, in terms of opening my eyes about football, how he likes to play, and obviously having a couple more medals in my cabinet."
HQFootball / YouTube
9. The highest honour
During his time in England, Hunt also won three caps with Ireland between 2008 and 2009, appearing in a friendly against Poland, in addition to World Cup qualifiers versus Montenegro and Italy. The Italian match, in particular, is a standout memory.
Trailing 1-0 at the Stadio San Nicola as a result of a 10th-minute Vincenzo Iaquinta strike, Ireland badly needed a goal to keep their qualification bid on track. With Italy down to 10 men as Giampaolo Pazzini was sent off after just three minutes for catching John O'Shea with a flailing arm, it was rare attacking display from Giovanni Trapattoni's side. Hunt and fellow striker Caleb Folan were both introduced off the bench and eventually, this pressure told.
With three minutes remaining, Shay Given's long punt upfield was awkwardly knocked down by Folan, and what happened next has been heavily disputed. Both Keane and Hunt went for the ball, which subsequently found the corner of the net. The goal was credited to the Dubliner, but his strike partner has always maintained it was he who got the decisive touch.
Doing what I did out there, I felt like that was a special moment for me. Things didn't go my way, which I'm gutted about, and I know what's right and what's wrong. But I know myself what happened out in Bari and that's good enough for me."
And while Trapattoni often received flak in some quarters for his less-than-attractive style of football, Hunt thinks highly of the Italian coaching legend, who gave him the opportunity to represent his country.
"He wanted simple things — football played at tempo, he had his defensive ideas, and to be fair to him, we were reasonably successful, so I cannot complain one bit.
"To meet a man with his experience and a man with his career, along with Marco Tardelli — for them to be totally respectful and nice to me, you couldn't ask for anymore.
"You got a little insight into their world, which is totally different to mine."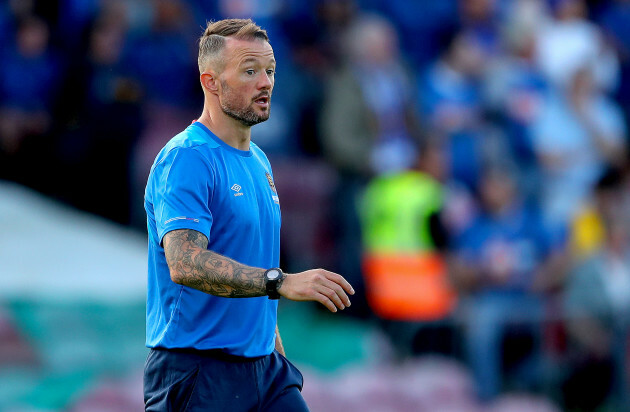 James Crombie / INPHO Hunt is currently a player and assistant manager at Waterford. James Crombie / INPHO / INPHO
10. A sort of homecoming
Nowadays, Hunt is back at his hometown club, Waterford, having left Wigan following their promotion to the Championship at the end of last season.
The move saw the 35-year-old sign on as player/assistant manager back in May.
"I got into coaching a long time ago with Brendan Rodgers and Eamonn Dolan at Reading," he remembers. "I got a long-term injury and Brendan said: 'Right, get into the coaching, I think you'd be good at it, you've got a good way about you. Start picking up things now, start writing things down.' So the last couple of years, every manager I've had, I've wrote good points and bad points, but not many bad points — thankfully in my career, I've been very lucky with the managers I've had.
"I've put down nearly every session day by day for the last two or three years. I've got a lot of [notes], what we done and how we done it and whatnot."
In their first season back in the top flight, Waterford have exceeded expectations. Hunt has played a handful of games, as the striker bids to improve his match sharpness, and while Friday's 3-0 loss to St Pat's was a setback, with six games remaining, the Blues trail Hunt's former club Shamrock Rovers by just two points in the battle for third spot.
The standard of the League of Ireland has been "a lot better" than Hunt originally anticipated, while he feels Waterford have made significant strides since his previous loan spell at the club 16 years ago.
When I left playing for Waterford, there were probably 80 people there. Now you're playing and there's 2,500, the place is bouncing, the town is vibrant, you see loads of Blues shirts around — the kids are wearing them. So it's definitely growing and definitely having an impact on the young people around the town. 
"We've been speaking about how to get even more kids back into the fold and down to the games, plans for the future for the club, talking about how everything is marketed into schools and go from there.
"But number one is the football — making sure we do well and get this [third] spot cemented down as quickly as we can, because we're excited to be involved in the European places. We know there are an awful lot of games to go. It'll be hard, but I think we're up for the challenge."
In switching to Irish football, Hunt had to make some sacrifices. His family are living back in Britain. Leaving them behind for an indefinite amount of time "wasn't an easy decision". As we speak, Hunt is minding his two-and-half-year-old daughter for the week, before she goes back to the nursery, while his wife gave birth to a second child last month. He goes over and back to the family every weekend, but still finds it tough being away for long periods.
"Long term, we're settled in the UK, so if I'm here for a year or two, that's not a problem at all, or if has to be a bit longer.
"But the end goal is obviously to get back to the UK with a good CV. Ireland is a great learning curve for young coaches and young managers. It's a good league. I think it's underestimated in certain places, but it's got plenty of talent."
While one chapter of his memorable and in many ways improbable time in football appears to be coming towards its climax, the ex-Ireland international looks well equipped for a lengthy stay on the sidelines.
As he reflects on all he has achieved to date, it is clear that Hunt is the perfect example of a player who while not as gifted as a number of his illustrious peers, through his sheer attitude and worth ethic, managed to carve out a successful career in the game regardless.
You don't have to make it to the top to be happy in football," he concludes. "If you enjoy playing football in the street or five-a-side and that gives you fulfilment, be happy with that.
"Every weekend, we're blinded by the best of the best and we're spoiled with how many games are on television. But for me, football is the greatest game in the world. So many cultures, so many people from different parts of the world, so many races together as one, which is as it should be, regardless of any religion or beliefs, any colour. It's just a game that should be played with total happiness and enjoyment."
The42 is on Instagram! Tap the button below on your phone to follow us!